The Container Store is coming into the closet. Last month in Los Angeles, the organization products retailer opened its first-ever location dedicated entirely to custom closets. The store, situated at the historic Farmers Market, features more than 65 displays to showcase the brand's growing product line.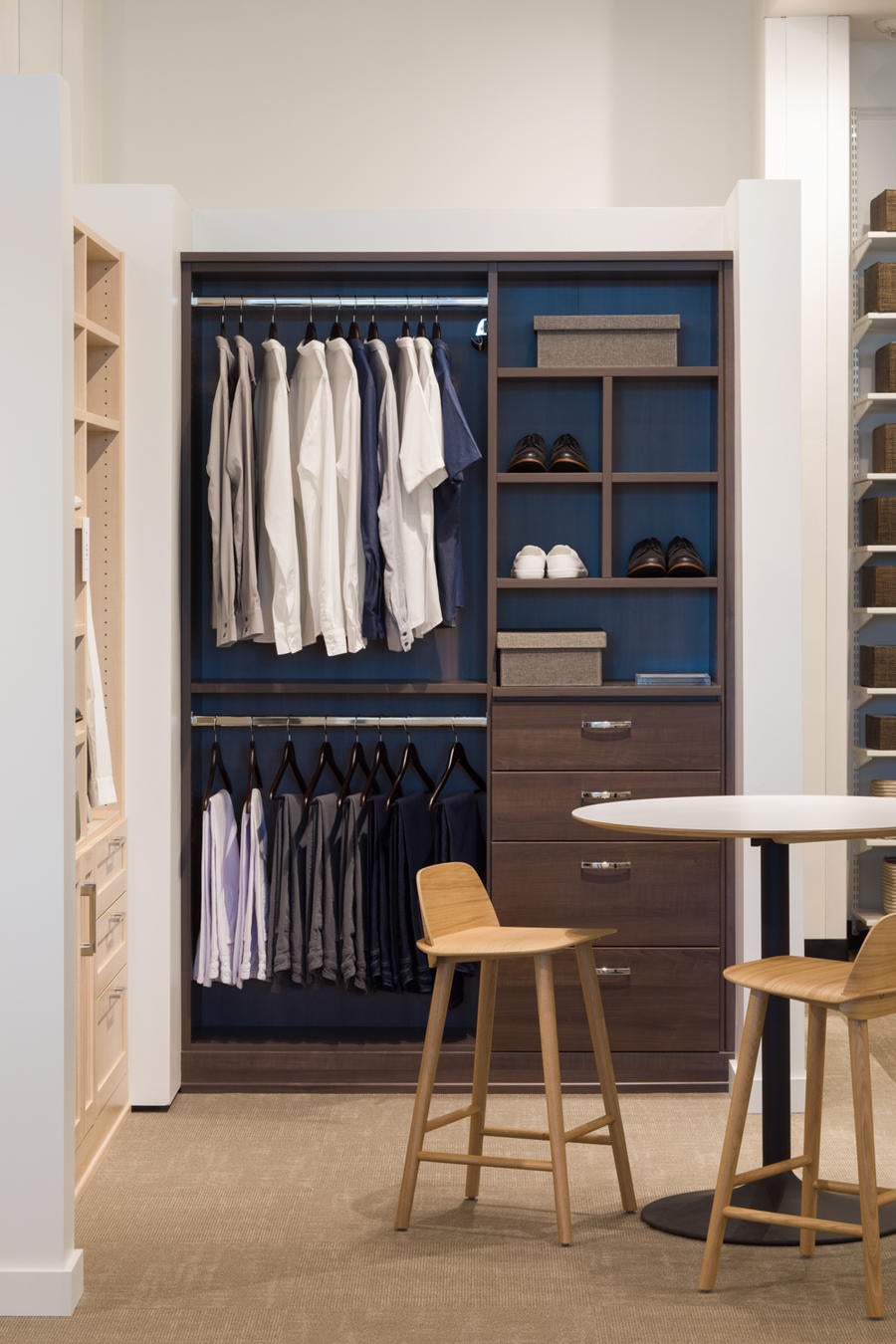 Courtesy of The Container Store
The new location is part of a play to grab a bigger slice of the custom closets market. "We estimate the market opportunity to be approximately $6 billion," CEO Melissa Reiff tells Business of Home. "This is clearly a sizable market, and one in which we currently have a relatively small share. Our opportunity to capitalize on this and take more market share is incredible."
To that end, the Los Angeles location is the first of many to come. Later this year will see the opening of a similar store in Dallas, as well as the expansion of The Container Store's existing location in Reston, Virginia. The brand has also timed the news to coincide with the debut of a new line, Avera, a modern, upscale design that, price-wise, sits just below their premium option, Laren.
By offering free consultation services to customers, The Container Store is primarily targeting a retail audience, but the brand is hoping to reach out to professional designers as well. "[The custom closet store] offers the trade community more resources than our typical retail stores, such as a design center that can be used to meet with clients," says Reiff. "In addition, you will see the store's involvement in future events with partners like ASID and trade publications."
The brand's pursuit of extensive customization options (Laren has eight finishes), a range of price options, and higher-end bells and whistles like LED lighting and touch drawers will also likely help it attract a designer clientele.
If The Container Store is successful in its efforts, it could come to define a lucrative category of the renovation world that sits somewhere in the space between "I can do this myself" and "I need a pro" in the mind of the average homeowner. Just as The Shade Store's aggressive expansion has helped it consolidate the market for custom shades, now The Container Store is hoping to do the same for closets.
"The custom closets market is fragmented, with the largest portion of the market currently belonging to home builders and contractors," says Reiff. "Our distinct advantage is that we have national presence throughout our retail stores in the largest growth markets in the U.S."
Another distinct advantage? With the rise of Marie Kondo, organization is in. "We love to talk about Marie Kondo!" says Reiff. "Along with many other retailers, we have seen the impact of her influence on the awareness of the storage and organization category."
Homepage photo: Courtesy of The Container Store