If not for a twist of fate, Mitchell Gold and Bob Williams might be known for oaky chardonnays and bright pinots—not furniture. The pair, currently celebrating the 30th anniversary of their namesake brand, originally thought their first business venture together would be a Virginia vineyard. Their backup plan? Christmas trees.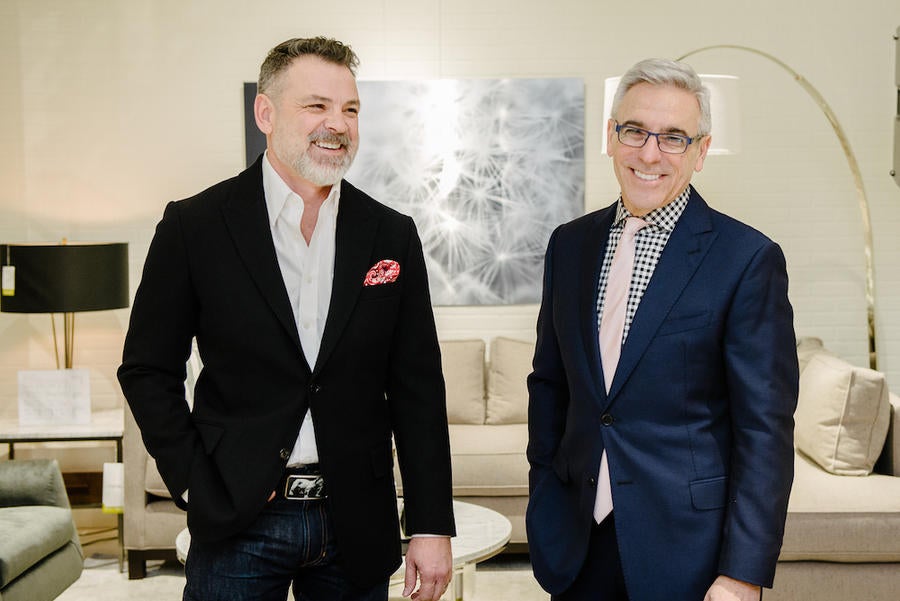 Courtesy of Mitchell Gold & Bob Williams
"I had in my mind if we had Christmas trees, this Jewish guy could take these trees to New York and I could merchandise and sell them better than anyone else," says Gold, with a laugh, on the latest episode of the Business of Home podcast, sponsored by Design Within Reach. He's probably right. Over the course of three decades, Gold's knack for sales and strategy has provided a perfect counterpoint to Williams's design and marketing acumen. Their company has grown in leaps and bounds, going from a small outfit to a 1,000-person operation with over a million square feet of manufacturing space.
Gold and Williams were romantic partners before they went into business together, meeting in New York in the 1980s by chance. They ditched the vineyard/Christmas tree lot concept after Gold was fired from a job working for a furniture maker—and decided instead to start making furniture themselves. Their collection was an immediate hit. Gold attributes their initial success to relationships he had built up in the industry, a solid collection and a clever pitch.
"Because of Bob's advertising abilities, when I went to JC Penney or Levitz, we had taken their advertising format and their catalog pages, and Bob had created what our product would look like in their catalog and advertising," he tells BOH podcast host Dennis Scully. "The buyers later said to me, 'When you came in and showed us the chairs, it wasn't like yes or no, it was like, How much are we going to buy?'"
The business grew and grew. Gold and Williams's romantic relationship eventually ended, but their creative partnership continued—no easy feat. Gold attributes that particular success to a shared sense of respect and trust. "In spite of what some people might think when they're around us and when we bicker with each other," he says. "We ultimately are kind to each other and cherish each other's dreams."
"There's a certain respect and a certain amount of love," adds Williams. "Every now and then you want to take a stick out and smack up against the side of the head, but it's all part of it. I won't let anyone else smack him."
Thirty years in, a lot has changed in the business. Gold and Williams' company now makes everything from furniture to drapes, and includes a hospitality arm, as well as an upcoming (though still hush-hush) venture into art. They're also on the hunt for a CEO to handle day-to-day business operations, freeing up time for Williams to design and Gold to hunt for new opportunities (you have to stick around for the anecdote he tells about cold-calling Starbucks CEO Howard Schultz).
Both believe that their namesake company is well-poised to last another 30 years, and aren't planning on surrendering to the oncoming hordes of e-tailers anytime soon. "I think there's gonna be a shakeout in the industry," says Gold. "The whole thing about online only and 'I'll buy it; if I don't like it, I'll return it.' It's going to make companies super unprofitable—delivery is a big expense. These companies that are disruptors are going to disrupt themselves."