On Wednesday evening, Mitchell Gold and Bob Williams received the coveted Innovator Award at NYC&G (New York Cottages & Gardens) magazine's Innovation in Design Awards (IDAs). The audience of designers, architects and other industry professionals gave the duo a standing ovation, and many guests were moved to tears by their acceptance speech. "I have to say, [that] night was one of the best in our 29 years of business," Williams tells Business of Home.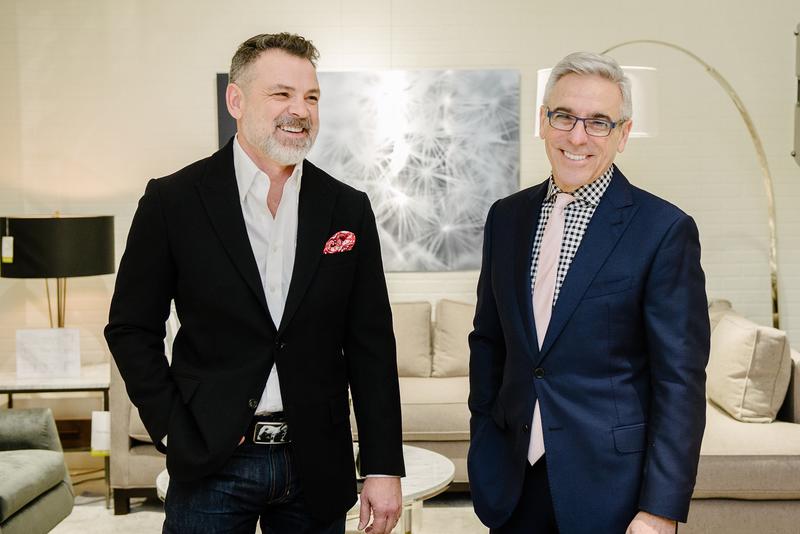 Courtesy of Mitchell Gold + Bob Williams
The NYC&G Innovation in Design Awards are an annual celebration of excellence that began in 2013. The inaugural Innovator Award was given to Holly Hunt, and last year's honoree was Donna Karan. When Mitchell Gold and Bob Williams began their furniture company in 1989, "Mitchell dragged me into it," says Williams. "We decided we wanted to run a business together and not do it the way that [other] furniture companies had been doing it." The two were romantically involved for over 10 years; now, they are both married to other people.
The pair, about to celebrate their company's 30th anniversary, said that if they could give their younger selves advice, it would be to get into the retail business earlier. Gold would also extol the virtues of understanding financing the business and Williams would recommend not overthinking and to go with their gut (though he accepts that he'll probably always overthink things to some extent).
Gold and Williams began with about $60,000 and a few great ideas, like using textiles with beautiful florals and jewel tones on fully upholstered dining chairs, and pairing them with tables constructed of metal and glass. The real success, says Gold, came "when the retailers we sold it to sold it and reordered quickly." They realized they had something when they showed a profit their first year, when it took most companies at least two or three years to accomplish the same.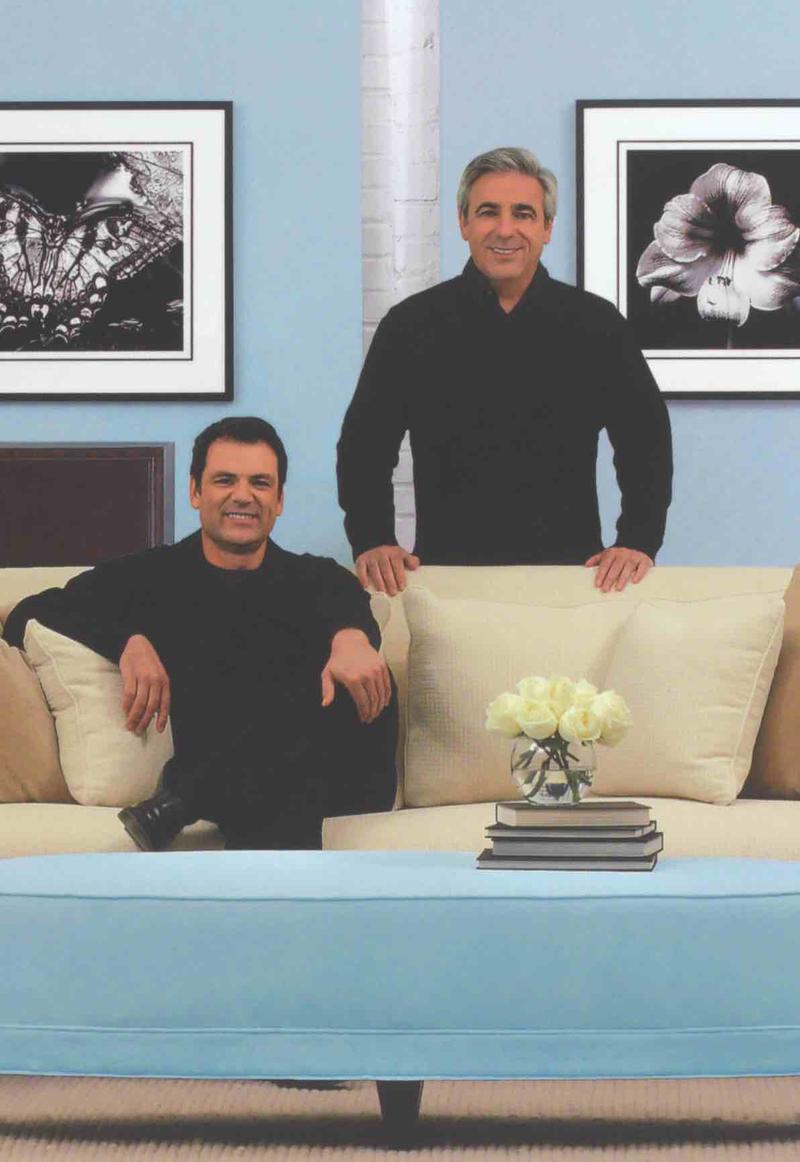 Courtesy of Mitchell Gold + Bob Williams
"We went out to dinner and didn't eat at Pizza Hut that week—we went to Denny's," says Gold. ("He's not kidding," Williams puts in. "Tuesday night was family night at Pizza Hut.")
Early on, the duo did private labeling for other companies and licensed retail stores for other brands, but quickly learned it was better to do everything themselves. "We wanted to have total control of our brand and businesses, so we opened our own stores," says Williams. "We do currently have a label at Bloomingdale's, but we have a lot of control over that and everything that has our name on it."
Now, Mitchell Gold + Bob Williams is worth hundreds of millions of dollars and has 1,000 employees and more than 30 stores across North America. Notably, and consistently, the company has made it a mission to improve the lives of the people who work for them and the community they call home in Taylorsville, North Carolina.
For the past 25 years, Gold and Williams have run a scholarship program for their employees' children, several of whom typically wind up working for the company. For children too young for school, there is daycare. "A lot of these kids have been in the daycare since they were 6 or 8 weeks old, so seeing them go from little babies to small people full of character, charm and charisma is amazing," says Gold. On Monday, they're throwing a Halloween party in their parking lot, and the whole town is invited. "Bob and I are dressing up as Superman and Wonder Woman," jokes Gold.
As the company expands, so does its social good. In September, Gold and Williams donated $100,000 to Exodus Homes, a halfway house in Hickory, North Carolina, for recovering addicts, alcoholics and people released from penitentiaries, reported Hickory Record.
And the benefits are not just social—they're economical too. Last spring, The Washington Post reported: "Around the region, as people talk of the manufacturing businesses gone to China and the jobs that are never coming back, the Mitchell Gold + Bob Williams company is touted as an unmitigated success: a local brand with 34 stores, including outposts in Washington's Logan Circle and Virginia's Tysons Corner. MGBW was for years Alexander County's biggest private-sector employer; today, with more than 660 employees in North Carolina, it's a close second."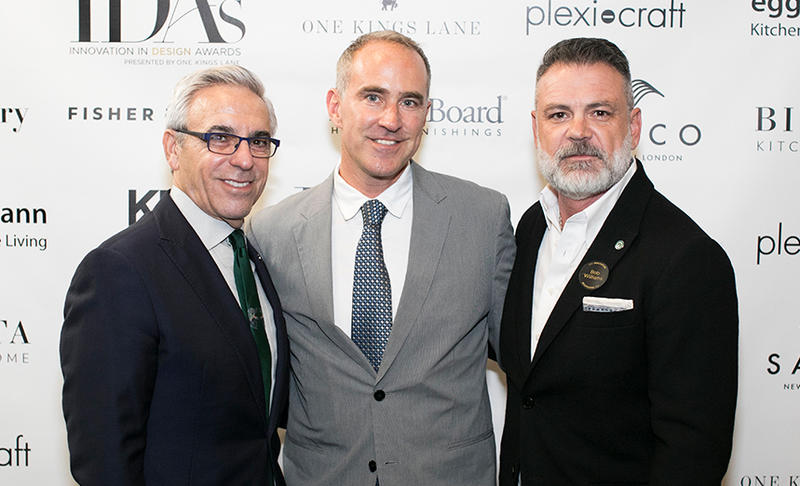 Landino Photo, courtesy of NYC&G
Gold, a longstanding advocate for the LGBTQ+ community, told The Post, "I want to educate people. ... What I want to educate them about is the harm they're causing." His words hit home—since the article was published, he has received countless letters, messages and comments from people in his community. Once, while visiting someone in the hospital, a custodian in his 50s stopped Gold and shared that the article had inspired him to come out to his family. Recently, a former employee reached out to ask for Gold's advice about his girlfriend's son, who had just come out. Gold, of course, stepped up immediately, sending a copy of a book he'd edited titled Youth in Crisis: What Everyone Should Know About Growing Up Gay.
"That's what I do on Sunday afternoon instead of playing golf," says Gold. "A little counseling service."
Williams laughs. "Referrals," he muses.
When introducing them at the Innovation Design Awards, Tipper Gore called the two patriots. Kendell Cronstrom, editor in chief of the NYC&G and HC&G (Hamptons Cottages & Gardens) editions of C&G Media Group, tells BOH, "They've created such a wonderful working environment for their employees. Keeping people happy is quite a feat."
During their acceptance, Gold and Mitchell took a selfie with the crowd and gave a shout-out to the late Mario Buatta, who took home the 2014 Innovator Award.
In his speech, Gold's voice quavered as he said of Williams, "I couldn't ask for a better partner in the business."