Considering the chaos of the past year and a half, it's no wonder homeowners are seeking a sense of calm. The signature minimalism of Scandinavian design dependably delivers such serenity, if often with a chill. But then there's Belgian architect Vincent Van Duysen, acclaimed for, among other projects, his contributions to Kim Kardashian's near-monastic Hidden Hills, California, estate. In Van Duysen's first collection of luxury performance fabrics and rugs for Perennials—a natural evolution after debuting his furniture line for the company's sister brand, Sutherland, in fall 2018—he presents streamlined patterns and pieces that are chicly austere yet surprisingly cozy.
"Interiors are architecture," he says of his cross-disciplinary approach to design. "Interiors and exteriors are closely interwoven. I've never thought of one as being severed from the other."
Fittingly, all items in the collection, which includes eight fabric qualities, three new colorways and six rug designs, are comfortably at home indoors or out. Woven from Perennials' trademark 100 percent solution-dyed acrylic yarn, the fade-, mildew- and UV-resistant materials deflect water, dirt, and wear and tear. And for next-level protection, the Van Duysen fabrications also benefit from Perennials' performance finish, which molecularly bonds with fibers to provide an extra dose of strength, enabling them to withstand multiple washings and all manner of weather.
The designer declines to play favorites among his creations, but Flanders, a performance fabric directly influenced by fine Belgian linens, must be close to Van Duysen's heart. "Perennials has other linens, but nothing quite like this," says Jordan Murphy, public relations manager for the company. "It's a great classic offered in gorgeous earthy tones." Available in 11 colorways, Flanders is already an instant hit. The impressionistic ikat stripe of Caravan, one of four patterns, brings a sprinkling of playfulness to the collection's sophisticated simplicity. Luxuriating in texture, Shearling emulates a big-looped wool bouclé, while Workhorse mimics the look of horsehair: "It's a little bit stiffer—amazing for dining room upholstery," Murphy says of the fabric. Completing the selection of materials are Heirloom, a burly basket weave; Dotty, evocative of a matelassé quilt; Rugged Stripe, crafted with chenille yarns and marked by a large-scale horizontal; and Canal Stripe, a multihued ticking perfect for drapery.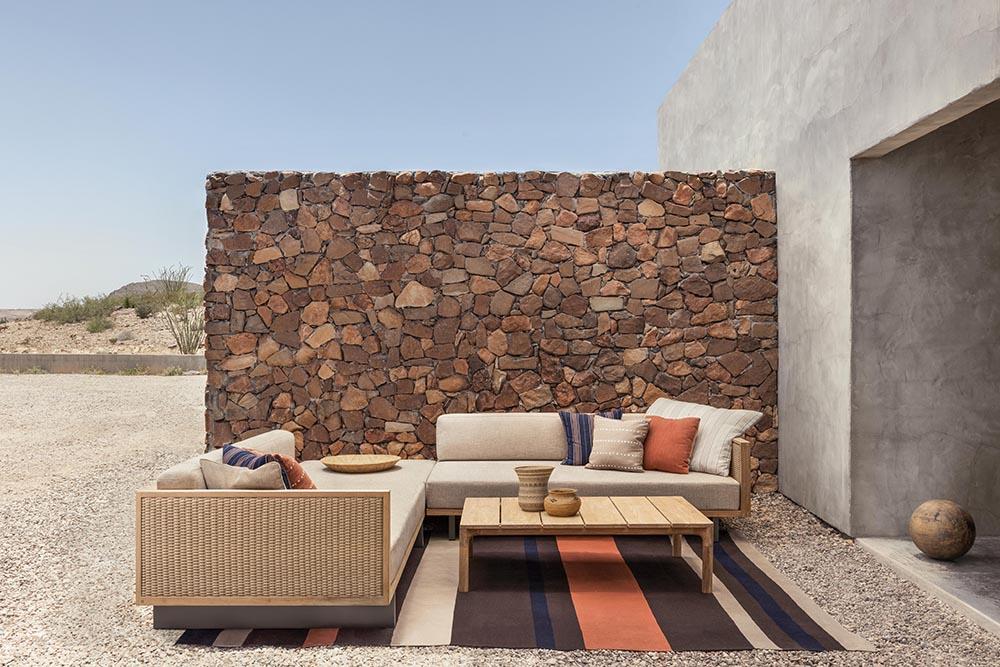 When it came to conceptualizing the collection, Van Duysen says: "For me, it was important to understand how people live in their homes." He started with his own, surveying his residence in Antwerp for inspiration. To introduce colors outside of Perennials' existing—and extensive—repertoire, he decided on three distinct shades: Rusty, a rich brick tone; Cadet, a discreet gray-blue; and Prussian, a deep, redolent navy.
In another collaborative first, three of the rug styles are constructed using Perennials Rope. With unparalleled texture and undeniable presence, the checkered Tartan design, handwoven with rope in both the warp and the weft, is the company's thickest flatweave to date. Similarly crafted, Tricot can act as an indispensable anchor in any room. Needlepoint, which features a horizontal weave, comes in three colorways, including the new Cadet. "They look very natural, almost sisal- or jute-like," says Murphy. And while these rope-based rugs can serve as layering pieces and are durable enough to cover high-traffic areas, "they're also super soft and have a really pleasing tactile feel underfoot," she adds.
Plush and chunky, Sabbia (shown at top) is flatwoven from three times the typical quantity of yarn; in contrast, Terra is the lightest-weight rug in the collection. Rounding out the line, so to speak, Linea (shown above) showcases a motif of staggered stripes. The Van Duysen designs are cast in an array of accommodating neutrals, but, like all Perennials rugs, their color, size and shape can be customized to meet the needs of any project.
"Every piece in the collection represents my way of living, and my constant search to bring the art of living to the next level," says Van Duysen. Enhanced by Perennials' performance yarns, the refined yet warm offerings are sure to be embraced by both designers and architects—and their most discerning clients.
This story is a paid promotion and was created in partnership with Perennials.
Homepage photo: Vincent Van Duysen's debut collection for Perennials | Courtesy of Perennials