Funny to think of it now, but there was a time not so long ago when performance fabrics (then known as "outdoor" fabrics) were used exclusively for things like storefront awnings, benches on yachts, and the retractable hoods of convertible cars. It was during precisely this time that Ann Sutherland was plying her trade as an interior designer in Oklahoma City. Then, in the early 1990s, she met her future husband, furniture magnate David Sutherland, and everything changed—both for Ann and, soon after, for the world of performance fabric.
After marrying, the Sutherlands decided to go into business together to create a line of fabrics, Perennials, that could match the ambition of the high-end outdoor furniture that David was developing with designer John Hutton. "The only fabric John felt was acceptable was black Sunbrella canvas," Ann Sutherland tells host Dennis Scully on the latest episode of the Business of Home podcast. "The black was very chic, but when you sat on it or felt the fabric, it was very stiff and thick, and it got crazing lines on it. It was a pretty display, but it certainly wasn't luxury."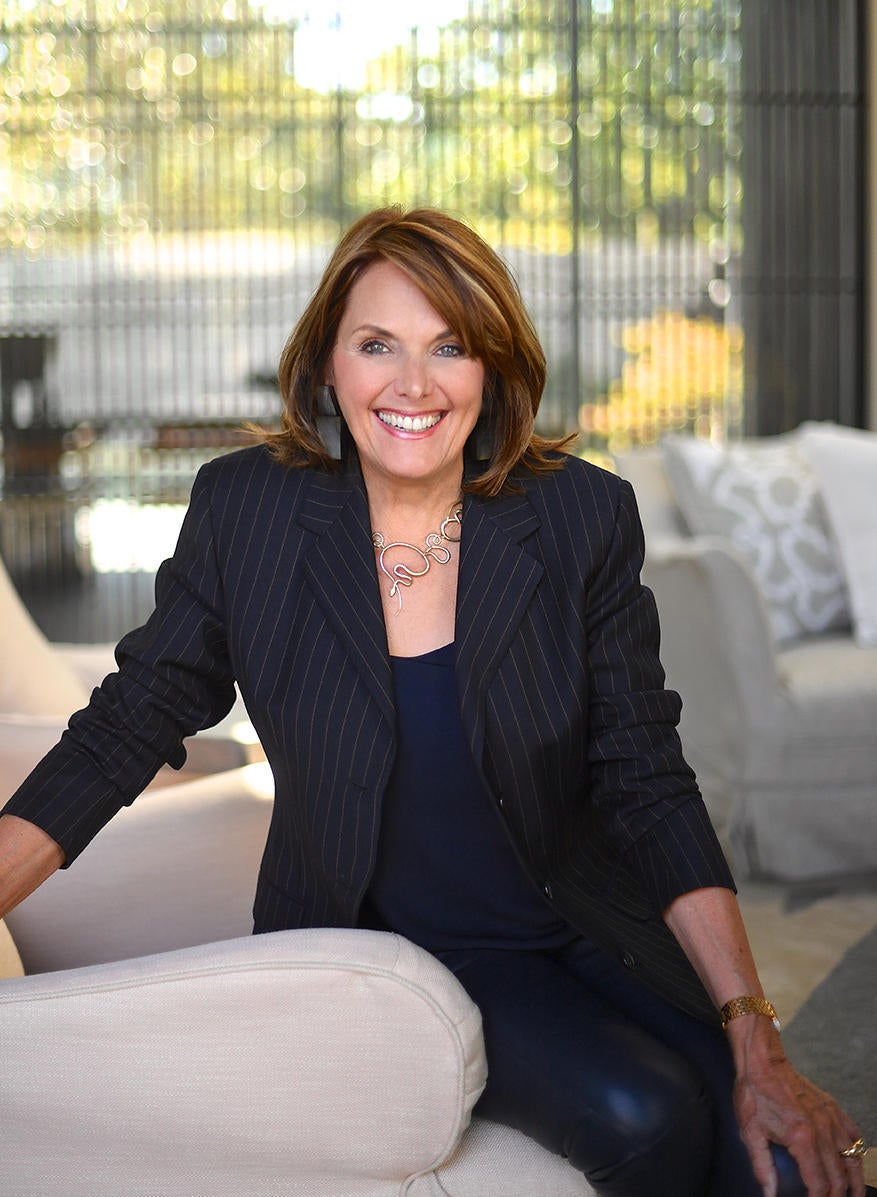 The solution (pun intended) was solution-dyed acrylics, a class of fabrics created through a process that involves adding pigment to fibers before extrusion (as opposed to simply dipping the extruded fibers into vats of color). Simply put: Solution-dyed acrylics are water resistant, they don't fade, and you can clean them with bleach. They're also extremely technically challenging, and until the Sutherlands began working with them, they weren't generally used for more design-minded applications.
SDAs, in fact, are so technically challenging that the first mill the Sutherlands contracted couldn't pull it off. They placed an order for 60,000 yards of fabric, and planned a big, nationwide debut through Donghia. When the fabric arrived, it looked great. Then, six weeks later, the calls began to arrive. The fabric hadn't been properly manufactured, and it was fading.
One lawsuit later, Ann Sutherland found a new vendor, and the line began to take hold. Then, a strange thing happened. "To our surprise, as we came out with new collections, we heard that designers weren't just using it outdoors, they were using it inside," she says. "That was a complete shock to us, because we weren't marketing it that way. But the designers were smarter than we were—they went, 'Well, if it's good for outdoor, it must be better for indoors!'"
The rise of Perennials coincided with a major shift in the market. More and more, designer fabrics were no longer being marketed purely on their luxurious qualities like texture, rarity and sheen, but on their ability to withstand a splash of red wine or an assault of muddy paws. Sutherland ties the shift to a changing perception of the nature of home.
"When I was a kid, people were still putting plastic on their lampshades and runners on their carpets so that they wouldn't ruin them," she says. "Everyone spent so much money trying to have something nice after they came out of the Depression, they didn't want to ruin anything, so they wouldn't live on it. Now we all live in our spaces, and we want them to be comfortable and casual." The company changed its marketing from "outdoor fabric" to "performance fabric," and soon the phrase was everywhere—so was Perennials.
It didn't hurt that the Sutherlands inked with RH in the aughts for the retail giant to sell its fabrics, an agreement that took their brand to a new level of consumer recognition. Originally, however, the deal gave the partners pause. "It was scary to go into that retail market," Ann Sutherland says. "We knew that designers might be upset about it and they would be mad at us as a brand to sell into both markets."
However, as it turned out, siloing a curated selection for RH's consumer customers while keeping open the vaults of Perennial's full selection to interior designers has been a workable balance. And as time has gone by, some of the boundaries between retail and the trade have begun to erode anyway. RH now has interior design services. And just last month, Perennials debuted a new website with e-commerce functionality inspired by the ease of large online retail players.
Continuing to take the company more aggressively online, growing internationally, and developing a line of performance rugs are all on Sutherland's to-do list (after getting through COVID, of course). Above all, she says, the goal is to make it easy for anyone—consumers and designers alike—to get to know, then buy, Perennials.
"It used to be a hidden industry that a lot of people did not know even existed, because designers did not want anybody to know about it," says Sutherland. "Now, branding is so important to the market. If you don't support your brand as many ways as possible, you're probably not going to go as far as you'd like to go."
Homepage photo courtesy of Perennials