A brand-new cohort of design collaborations are hitting the scene at High Point Market this season. Get the scoop on these pairings as they make their grand entrance. For more, check out our full Designer's Guide to Fall Market.
LOLOI X AMBER LEWIS
Teaming up with Loloi, Amber Lewis of the Los Angeles–based Amber Interiors Design Studio has launched seven rug lines, along with decorative pillows, throws and a wall art collection imbued with the designer's laid-back, West Coast aesthetic. For the new series, her focus is on accessibility—the neutral set includes a mix of high-end, hand-knotted pieces along with power-loomed designs fit for high-traffic areas. "Every design prioritizes quality and craftsmanship, bringing the signature aesthetic I love to a much broader audience," says Lewis. "It's versatile, meant to fit in any style of home, and will add a layer of warmth and comfort to your space."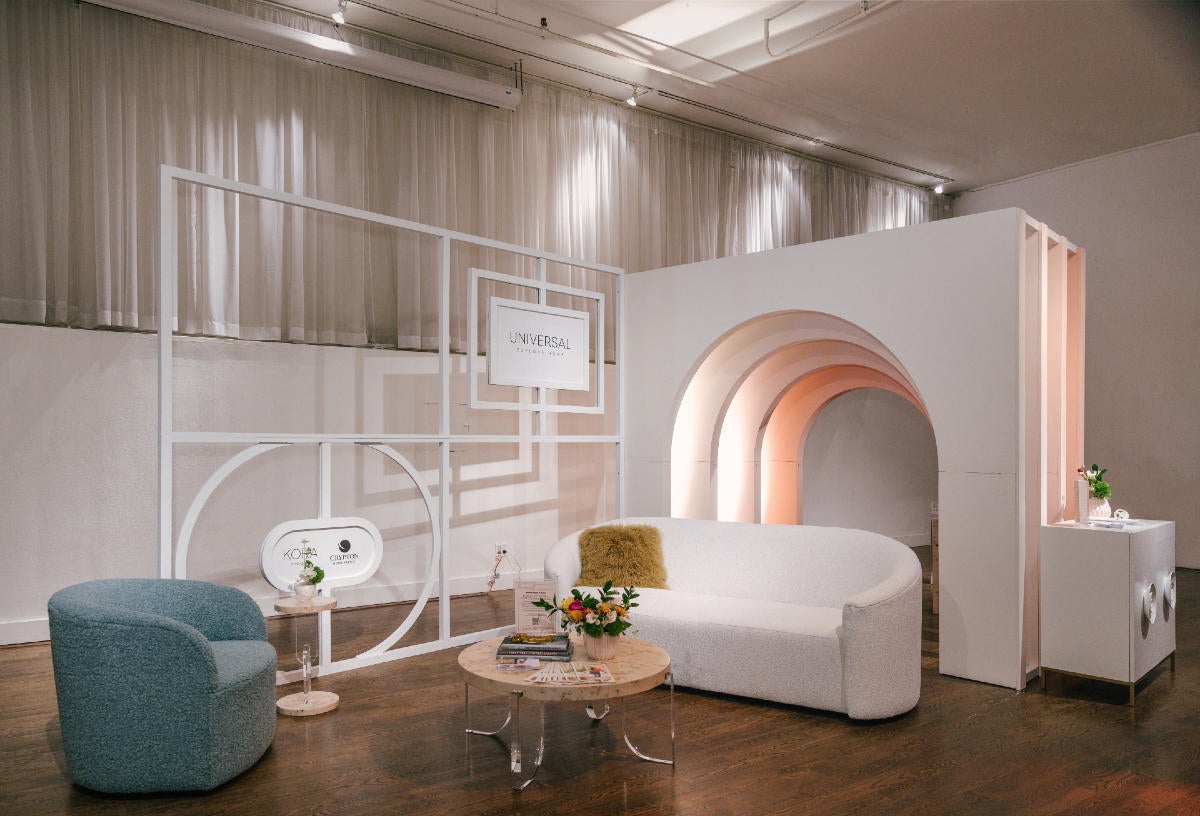 Universal Furniture x Miranda Kerr
After debuting seven pieces of the Tranquility collection at Business of Home's Future of Home conference in September, Universal Furniture and Miranda Kerr are introducing their full 42-piece home furnishings collaboration—an elegant assortment that takes more than a few cues from its name. Crafted in modern Parisian style, Kerr's designs exude a chic femininity, with pieces for the living room, dining room, bedroom and office that feature organic curves and waterfall edges in neutral shades of white, taupe and light gray. (Rose quartz accents and an alluring mushroom-hued burl wood also make a statement on several pieces.) In a nod to the supermodel's first collection—the casual, California-inspired Love. Joy. Bliss.—the new series shares the same white lacquer finish and soft gold hardware, this time re-imagined in an elevated, European-influenced setting. "I want people to feel nurtured, at ease and inspired," she says of the new line. "It is really about having that tranquility in your own life and almost feeling like you are having a vacation in your own home. You feel warm and chic and cozy all at the same time."
Courtesy of Hickory Chair
Hickory Chair x David Phoenix
In celebration of Hickory Chair's 110-year anniversary, interior designer David Phoenix has stepped in for a bold, beachy series aptly named The Positano Collection. The 25-piece assortment of upholstery and case goods is characterized by the relaxed, high-end style of the namesake Italian seaside village—as Phoenix says, "the pinnacle of laid-back glamour." In a reflection of that luxurious serenity, a palette of neutral fabrics and leathers are paired with dark satin and light-toned painted finishes for a modern interpretation of classic and midcentury styles.
Wildwood x Meg Braff
Palm Beach is an endless source of creativity for Meg Braff, who is opening a new showroom and design studio there later this year and designed her most recent collaboration as an homage to the sunny locale's historical design influences. Building on her 20-year relationship sourcing from the North Carolina–based Wildwood, the designer's debut collection of furniture, lighting and accessories marries function with a playful spin: Scalloped edges, leaflike fixtures and bamboo edges punctuate the assortment of lighting, tables, consoles and decor, which pay homage to vintage styles (shown at top). "We tried to take those inspirations and make them applicable to today's design, to really adapt them to things we're always looking for that we can't seem to find," says Braff.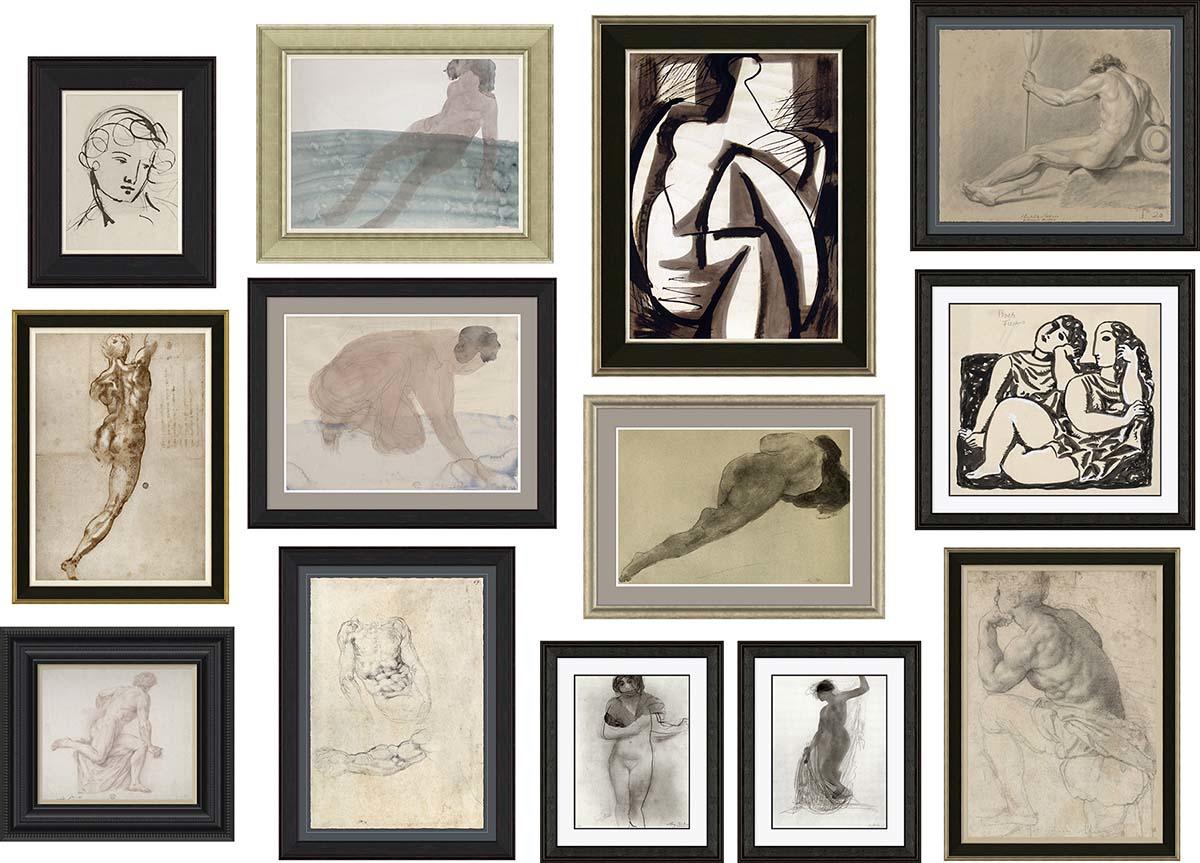 Courtesy of Soicher Marin
Soicher Marin x David Phoenix
The first collaboration between Soicher Marin and David Phoenix pulls from each party's strengths—the thirdgeneration art house's well-honed craftsmanship and the designer's keen eye for aesthetics and love of history and decorative arts. The Scholar Series includes seven collections of images featuring a broad swath of references to classic and contemporary work.

Accurate x Thom Filicia
For Thom Filicia's first hardware collection, the designer stepped out of the interiors realm for inspiration to produce three series of sophisticated knobs and levers. Fashion, art, the natural world and even automobiles (the Carrera collection was inspired by the back detail on the classic Porsche model) played a role in bringing the collaboration with Accurate together, which will be shown with the designer's furniture line at Vanguard. "Having worked in this industry for a very long time, I understand the many components that go into selecting hardware and the various scales, functions and finishes available," says Filicia. "I wanted to create a collection that provided solutions for designers and homeowners alike."
Ambella Home x Erinn V.
For Ambella Home, Erinn Valencich created a collection of living, dining, bedroom and upholstery pieces imbued with her signature sophisticated, relaxed vibe. Drawing upon influences from the interior and furniture designer's travels, the series takes style notes from both architectural and natural forms, with cerused and ebonized woods, wire-brushed oak, gilded and bronze finishes, and tactile details like hammered metal.
Studio M Lighting x Nina Magon
The guiding sentiment in Nina Magon's collection with Studio M Lighting is "luxury lighting as exquisite as jewels." The collaboration is the first in a new designer-focused program from Los Angeles–based, family-owned lighting company Maxim Lighting Group (the parent company of Studio M) and includes eight collections of designs available in a variety of finishes. "I wanted to base the lighting off of jewelry pieces, so it had to be something luxurious that felt like it could be earrings or a bracelet," says Magon. "It's modern luxury—it fits perfectly in many different spaces, whether that's transitional, modern or eclectic."
Loloi x Carrier and Company
For their debut collection with Loloi, husband-and-wife team Jesse Carrier and Mara Miller, principals of the New York design firm Carrier and Company, tapped their two most trusted design principles: science and the magic of transformation. Employing their well-formulated use of color and scale while pairing pattern and texture to striking effect, they've created three hand-knotted rug collections in 18 styles. Harrison features clean linear designs inspired by Swedish weavings; Bond includes overscaled patterns for bold, tonal pieces; and Milton's addition of jute makes for a dense, luxurious piece.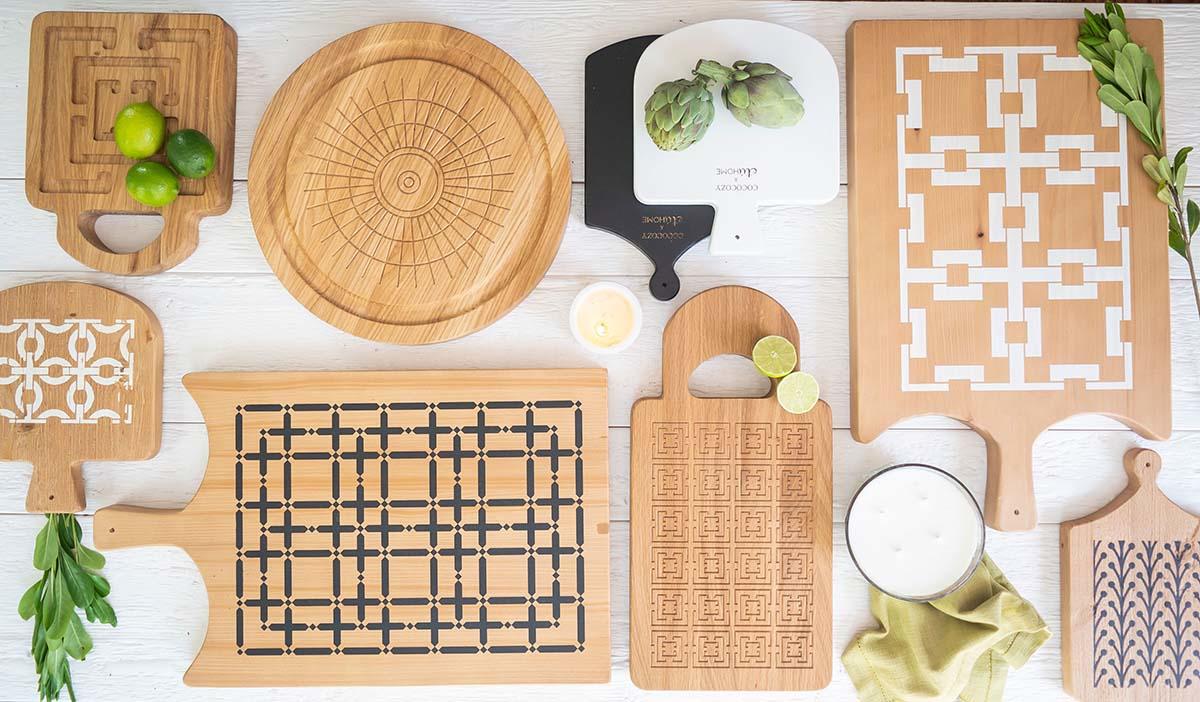 EtúHome x Colette Shelton
European-inspired lifestyle brand EtúHome and entrepreneur, design blogger and product designer Colette Shelton joined forces for an intentionally sourced collection. The result is a selection of charcuterie and serving boards, demijohns and other small kitchen accessories crafted by artisans from reclaimed wood and recycled glass and embellished with patterns inspired by Shelton's Caribbean heritage and family visits to France.
Currey & Company x Jamie Beckwith
Jamie Beckwith's collection with Currey & Company began with a dream: In the midst of lockdown, the designer became enthralled with the exotic locales she couldn't physically visit. The process began with sketches centered on materials and architecture found in destinations like Hawaii—an interest in raffia, for example, borrowed from memories of thatched roofs and hula skirts. "I'm drawn to coastal environments, and I tend to use materials that are authentic and rustic," says Beckwith. The resulting chandelier collections, St. Barts and Seychelles, display those coastal aspirations, crafted with hand-strung beads, wrought iron and raffia in deep blue and sugar-white hues.

Arteriors x Celerie Kemble
Celerie Kemble, who first partnered with Arteriors as a guest designer in 2016, is now rolling out a suite of "traditional-meetstropical" pieces, comprising eight small tables, lamps, lighting and decor items in a mix of polished ceramics and natural rattan materials. Featured motifs draw on the designer's childhood in Palm Beach in the 1970s: coral, scallops and tree fronds mixed with shapes used by Italian designer Gabriella Crespi and French rattan makers (whose pieces she has scoped out at local antique stores). "In most of my work, I'm trying to find ways to add levity and sweetness," says Kemble. "These pieces are all very functional, but they add a note of whimsy."
Sherrill Furniture x Mr. & Mrs. Howard
For Sherrill Furniture, husband-and-wife design duo Jim and Phoebe Howard will introduce case goods and upholstery pieces in a blend of colorways that tie the collection together. A clear standout is the Remy swivel chair, a seamless tight-back design punctuated by an exposed arm. "We always strive for something that's timeless and classic—that's always the hallmark of our work," says Phoebe Howard. Meanwhile, designers from different Howard stores have been tapped to decorate the showroom's vignettes, making the designers' debut styles look right at home.
Homepage photo: Fixtures from Meg Braff's vintage-inspired debut line of furniture, lighting and accessories | Courtesy of Wildwood