That's a wrap on the first day of the third annual Future of Home conference. Below, you can catch up on all the expert talks and industry case studies featuring luminaries from the home world and beyond. Join us tomorrow for Day 2!
Want to get in on the action? Register here for access to the Future of Home livestream.
---
AFTER-PARTY — SPONSORED BY EQ3
After the day's talks concluded, Canadian furniture brand EQ3 welcomed Future of Home attendees to its sprawling Manhattan showroom for food, bespoke cocktails and music. The three-story space features a wide range of the company's many products, including some pieces that have been in circulation since the brand's founding 20 years ago. Speaking to the crowd of designers and industry leaders, EQ3 president Mark Letain said that he felt the store, like the brand, could be summed up in four words: impressive, inclusive, pragmatic and human.
---
DESIGNER CASE STUDY: PUTTING THE CLIENT EXPERIENCE FIRST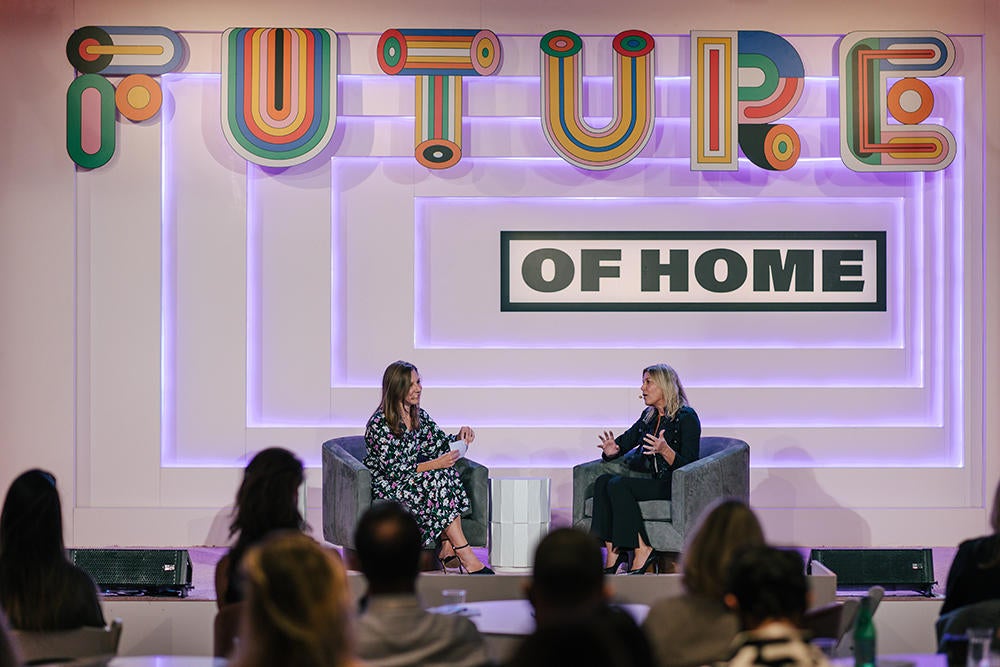 In conversation with BOH editor in chief Kaitlin Petersen, Cortney Bishop, founder of the full-service interiors firm Cortney Bishop Design, took the stage to explain why she puts the client experience first—and how she brought her business to that point. She got the ball rolling when she made her firm's first major hire, bringing on a business manager to shape up the logistical side of things. That new team member soon raised a pivotal question: "What makes your clients happy?"
The query prompted a process overhaul: Now, in the first 90 days of the design process, Bishop gives clients a "top-to-bottom, buttoned-up proposal" detailing an anticipated budget along with their first design presentation, including a number associated with each item. She has also introduced greater oversight over her shipping and installation processes by launching her own receiving company, a big investment that has since saved the firm money—and caught the attention of other designers in town.
Best quote: "You can't control everything, but if you can control what the client is seeing on the surface, it's a great experience for them," Bishop said. "What we are trying to create is that beginning-to-end experience where the client is really pleased."
Key takeaway: When you shape your business around presenting the best experience possible for your client, you'll end up feeling the benefits of a streamlined workflow and a more polished process on the firm side, too. —Caroline Bourque
---
A WINDOW OF OPPORTUNITY — SPONSORED BY HUNTER DOUGLAS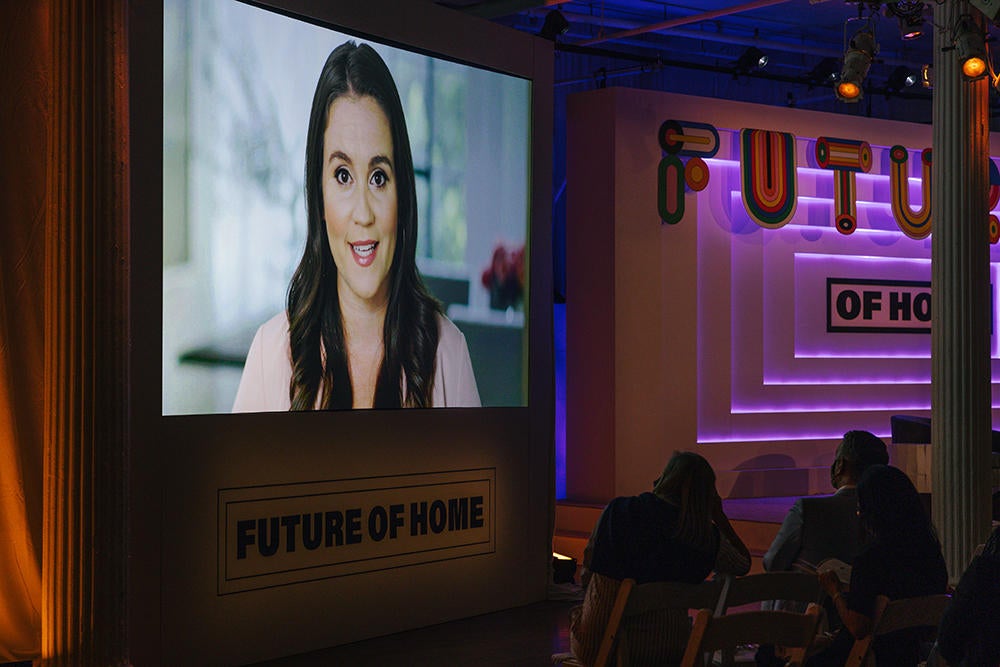 Houston-based interior designer Marie Flanigan shared a behind-the-scenes glimpse of her window-treatment selection process, courtesy of Hunter Douglas. Whether you go with motorized shades (which you can control with a touch of a button) or woven, light-filtering drapery, Flanigan said quality window treatments help streamline a space while adding softness and height to a room. "Light informs the way we experience our surroundings," she said. "One of the first things I consider when designing a home is the window coverings."
Key takeaway: Don't treat window coverings as an afterthought when designing a room. Along with filtering light and providing privacy control, the right drapes or shades can elevate the entire ambience of a space. —Caroline Biggs
---
DESIGNER CASE STUDY: REDEFINING YOUR ROLE AS YOUR FIRM GROWS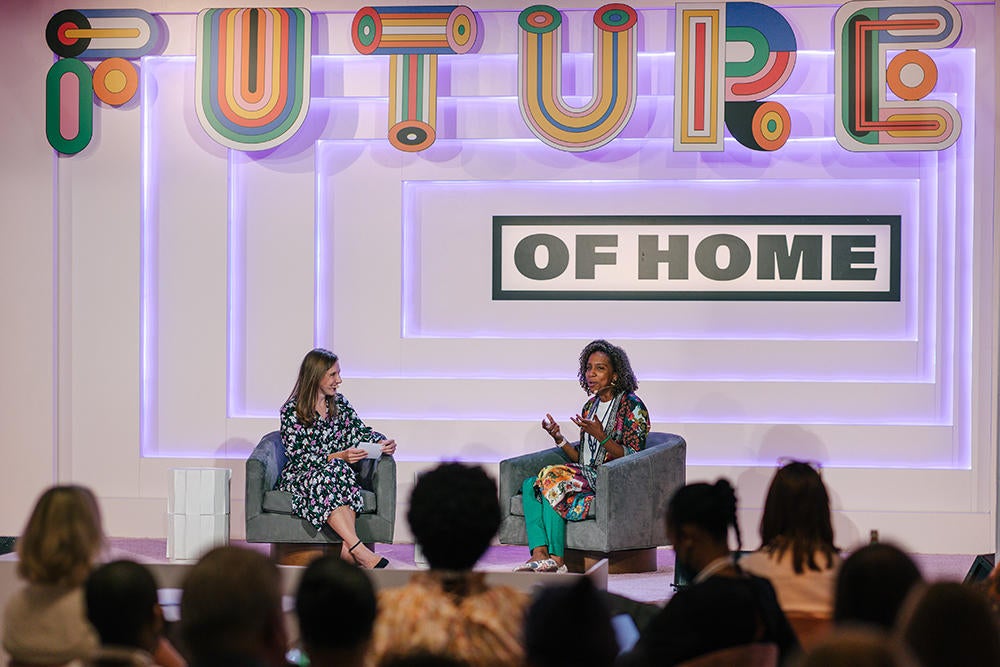 In a frank conversation with BOH editor in chief Kaitlin Petersen, designer Kelly Finley spoke about her plan to become the CEO and creative director of her San Francisco-based firm, Joy Street Design. To make the move a reality, Finley has hired both a chief financial officer and an operations manager, contract positions that have taken a good deal of the day-to-day business operations off of her plate. Additionally, her team of designers and the studio manager and a procurement manager have allowed her to step away from handling everyday details with clients. "I don't need to know how much a certain tile costs or what the lead time on a sofa is," she said. While the decision to take a step back from the minutiae of running a firm and focus more on broad-scale design visions isn't always easy, Finley is already seeing it pay off. She cited a recent family emergency that caused her to unexpectedly be out of pocket for a week. When she returned to the office, she was amazed at how well her staff had managed in her absence—every project was on track, and clients were updated and happy. "This was proof that I can give my staff more control," she said.
The designer also shared how she's prioritizing growth in other areas, like the nonprofit she operates with 10 percent of Joy Street Designs' annual profits. She will soon begin work on renovating a women's shelter in the Bay Area. "Seeing the results of efforts like that fuel me to make the firm more profitable so that I can do more with the nonprofit," said Finley.
Best quote: "You give people the rope and hope they can do what they're supposed to do," said Finley.
Key takeaway: Designers looking to have more creative freedom can shape the role they want to play by identifying the areas where they most need help, whether that's project management, bookkeeping or procurement. —Haley Chouinard
---
ACTIVATION: CB2 GALLERY
After our year of being safely tucked away at home, CB2's Gallery wants to fully engage our senses. Brimming with sumptuous marble mirrors, polished nickel table lamps and rich red travertine sculptures, the mini pop-up-style exhibit offers a glimpse of the brand's forthcoming 2022 spring collection, with select furnishings presented as works of art. "Each piece features a unique shape and elevated materials," says Samie Barr, senior vice president of marketing at CB2. "We want to be able to bring high-end items with a refined point of view to a wider audience."
---
HOW WELL DOES WORK-FROM-ANYWHERE WORK?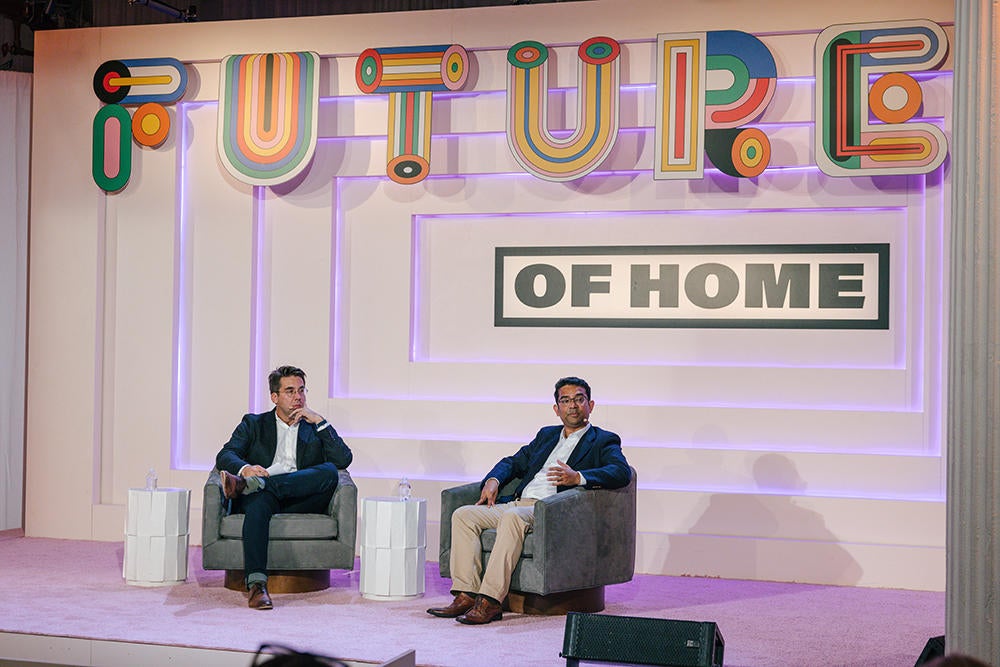 Prithwiraj (Raj) Choudhury, the Lumry Family Associate Professor at the Harvard Business School and author of the article "Our Work-From-Anywhere Future" (a finalist for the 2020 Harvard Business Review McKinsey Award), has advised organizations like Google, Walmart and Deloitte on the future of work. He joined BOH executive editor Fred Nicolaus to discuss his ideas for the workforce of tomorrow, and began by sharing the results of a 2015 study of U.S. Patent and Trademark Office employees, who were allowed to work from anywhere starting that year. The workforce spread across the country—older employees moved to Florida for a quasi-early retirement, while young parents moved to less costly areas to afford better child care. As a result of the new initiative, productivity increased by over 4 percent.
Choudhury sees the strategy as a win-win for businesses and their employees, and laid out three reasons why: With work-from-anywhere, you can also hire from anywhere, without being constrained to the local labor pool; overall costs go down as productivity increases; and it leads to a more equal workplace for women, who find it more difficult to relocate for a work opportunity. He explained that with the proper hybrid practices, like balancing remote work with "virtual water-cooler chats" and company retreats, teams can connect in a more meaningful way.
Best quote: "There are two kinds of companies: One is going to embrace work-from-anywhere, and the second is in denial—I feel those companies will lose their workforce. You have to make a choice, as a leader, what kind of company you want to lead," Choudhury said. "My prediction is, in five to 10 years, we won't call it remote work—it'll just be work."
Key takeaway: The pandemic accelerated the possibility of widespread work-from-anywhere, and if employers opt for the proper hybrid practices, they can boost productivity and their workforce's well-being at the same time. —Caroline Bourque
---
CHANGING SPENDING HABITS OF THE NEXT GENERATION — SPONSORED BY AFTERPAY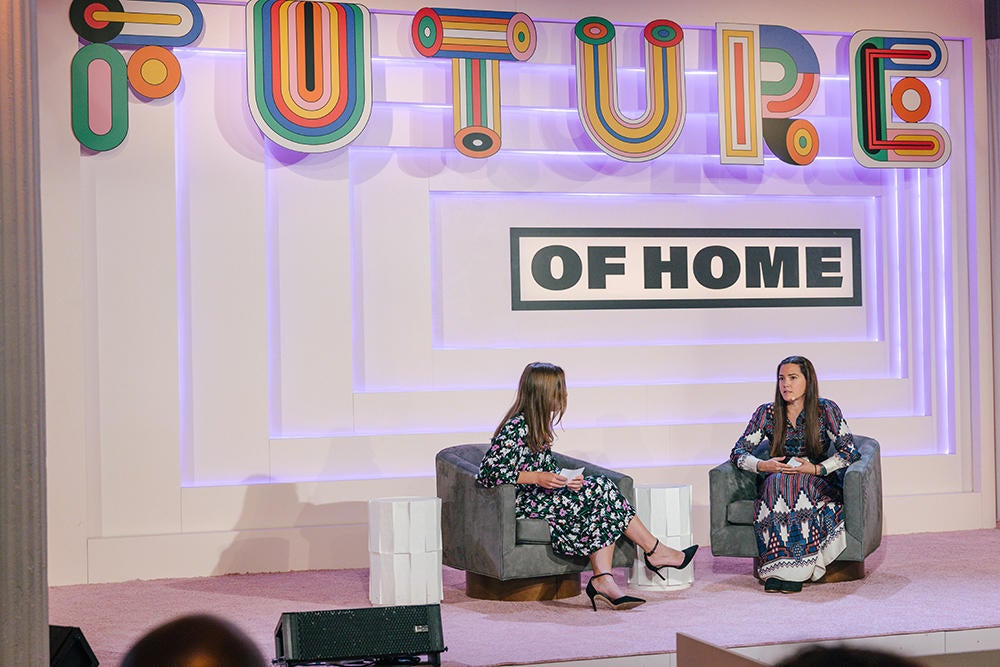 Did you know that one in three millennials doesn't have a credit card? Bree Blazak, vice president of enterprise sales at Afterpay, shared that surprising fact during a conversation with BOH's Kaitlin Petersen. Blazak said that because millennials grew up during the financial crisis, many of them are skeptical about credit cards. Enter Afterpay, the leading retail installment-payments innovator and one of the fastest-growing global fintech companies. More than 20 million consumers currently use its "buy now, pay later" service both in stores and online to split up larger purchases—and they are so sold on the platform that a good portion of them now use it as a directory to discover brands that work with the company. While Afterpay started with mainly fashion and beauty brands, Blazak said that according to consumer surveys, home and decor are the most requested categories.
Key takeaway: Consumers continue to flock to Afterpay because it's a simple alternative to charging large purchases. And there's both room and demand for more home brands to start using the payment platform. —Haley Chouinard
---
THE FUTURE OF MEDIA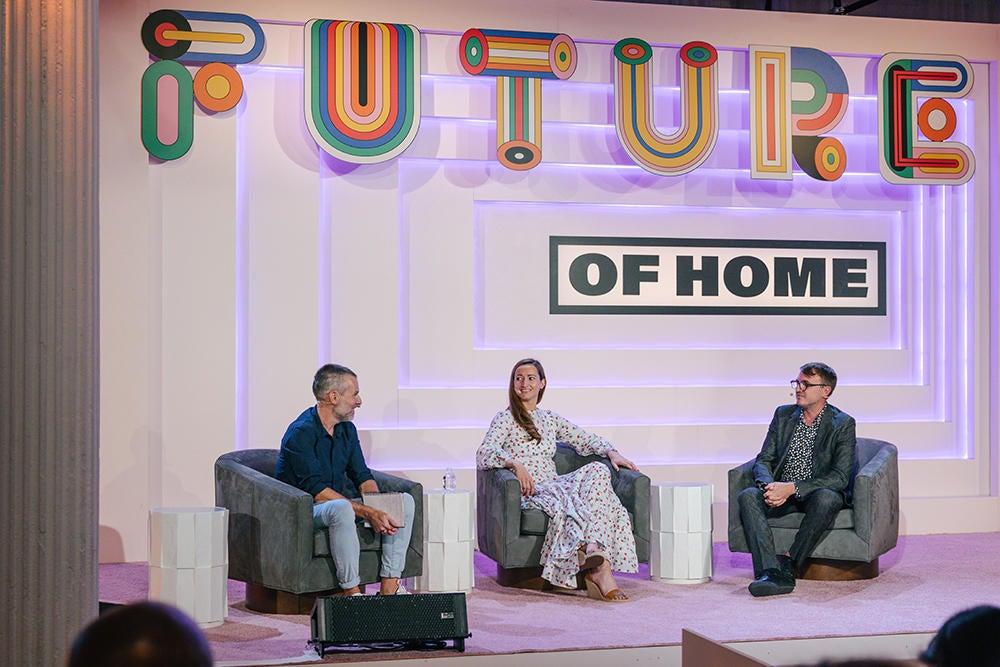 Brian Morrissey, author of the newsletter The Rebooting, sat down with Dwell CEO Zach Klein and Mélanie Berliet, general manager and senior vice president of the Home Group at Dotdash, to discuss what's ahead for the media industry, and one thing became increasingly clear: Service-driven content is here to stay. "Our goal is to give users the fastest answers to their questions," Berliet said. "It's a relationship based on trust." Klein noted that as homeownership continues to dwindle in the current economy, Dwell has made it a point to educate readers about housing policies and to cover a more diverse range of price points. "The decrease of homeownership affects our readers greatly," he said.
Another trend that Berliet predicts will continue to grow in upcoming months is the use of social media and digital content as a branding tool for designers. "TikTok represents the democratization of interior design," she said. "It suggests that interior design may have once been intimidating to some, but now people feel more comfortable approaching it and eager to learn more about it." Klein added that digital reach is much wider than print, no matter how much prestige the latter has. "Our print magazine reaches about 275,000 readers, and digital, about 30 million," he said. "The magazine is still profitable, but digital is our largest channel of revenue."
Best quote: "People used to consume shelter magazines as observers, but now they're approaching the same kind of content as participants," said Berliet.

Key takeaway: Whether it's instructing readers on how to get stains out of clothes or how to renovate their homes, service-driven content is the future. —Caroline Biggs
---
THE FUTURE OF REAL ESTATE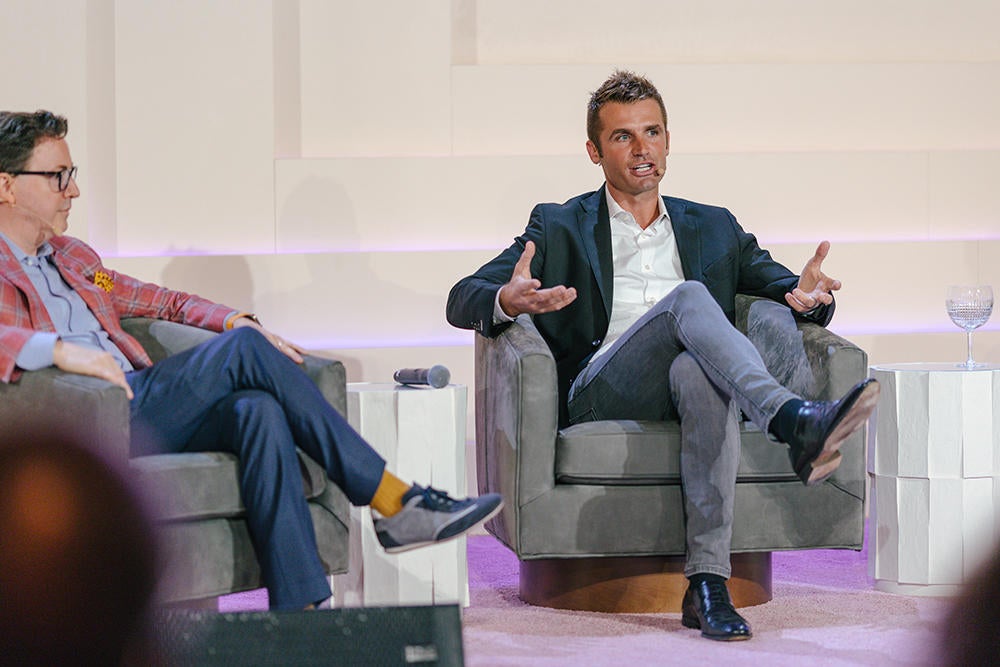 Austin Allison, the founder of Dotloop, joined BOH contributor Dennis Scully on the main stage to talk about his newest venture, Pacaso, a real estate platform he expects will revolutionize the concept of second homes. The company, which launched in October 2020 and is now valued at $1 billion, acquires luxury homes and sells up to eight shares in the properties. Shareholders stay for a set number of weeks per year, depending on the size of their stake.
Allison acknowledged that housing is a sensitive topic, as home affordability has never been more of an issue in America than it is now, but said that one of the goals for his platform is to make luxury real estate more accessible. On average, second homes are only used by the owner five to six weeks a year, he explained. His hope with Pacaso is that vacation homes can become attainable to the millions of families interested in second homeownership but perhaps couldn't afford to buy one outright in a desirable vacation market. "When you buy a second home, you're unlocking a chapter to another life," said Allison. "What if we could make that easy for people? We can apply the model of the sharing economy to a concept that's been around for a long time: co-ownership."
Best quote: "Any company making a difference faces resistance," Allison said in response to criticisms of the platform.
Key takeaway: By facilitating opportunities for families to divide ownership, Pacaso is opening up second homeownership to an additional category of buyer. The platform is expanding to more markets across the U.S. as well as European vacation destinations. —Haley Chouinard
---
THE FUTURE OF COLLABORATIONS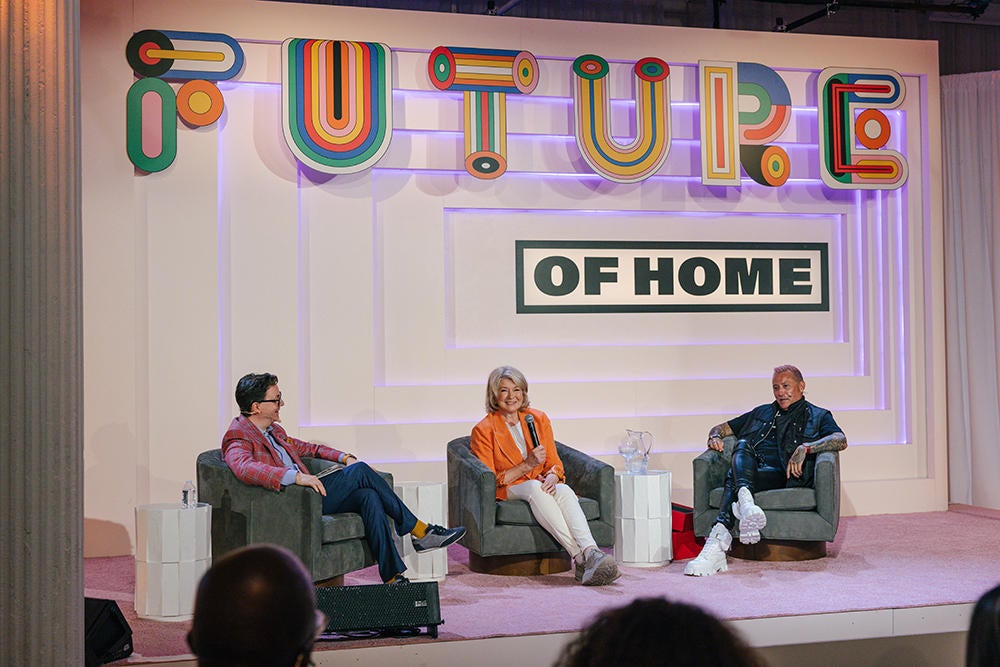 BOH's Dennis Scully led a conversation on the nature of design collaborations, with the help of two of the industry's most seasoned pros: home guru Martha Stewart, founder and CEO of Martha Stewart Omnimedia, and Jim Shreve, president and CEO of Baccarat North America. Shreve spoke on his experience using carefully chosen partnerships with other brands to "dust off" the more than 200-year-old crystal company. "I think collaborations are often overused—they can enhance true brands, but they must be organic and natural," he said. Baccarat has teamed up with streetwear brand Supreme, designer Virgil Abloh and Stewart herself, who had recently bought an antique Baccarat collection but found that it lacked vessels for some of her signature sips. "I really liked the glasses, but there was nothing for my Martha-ritas, my martinis, my wonderful bourbon sours," she said. "So Jim and I got together and something magical happened—and it happened rather quickly."
A self-proclaimed modernist, Stewart explained that she's constantly on the lookout for the newest technology and cultural touchstones. (Next stop, she said, is TikTok.) She's also a bold collaborator in her own right—through unexpected pairings with everyone from rappers Busta Rhymes and Snoop Dogg to companies specializing in CBD and hydroponics, she finds that playful partnerships can create buzz in a strategic way. "It is fun, but it's calculated fun—it makes money, and it gets people thinking," she said.
Best quote: "I call growing your audience expanding your demographic—for me, [collaborations] brought in a new group of people and more opportunities," said Stewart.
Key takeaway: Dare to collaborate, but do so carefully—the right partnership can enhance your own brand while garnering a major audience or consumer base that wouldn't have looked your way otherwise. —Caroline Bourque
---
THE FUTURE OF LIFE AT HOME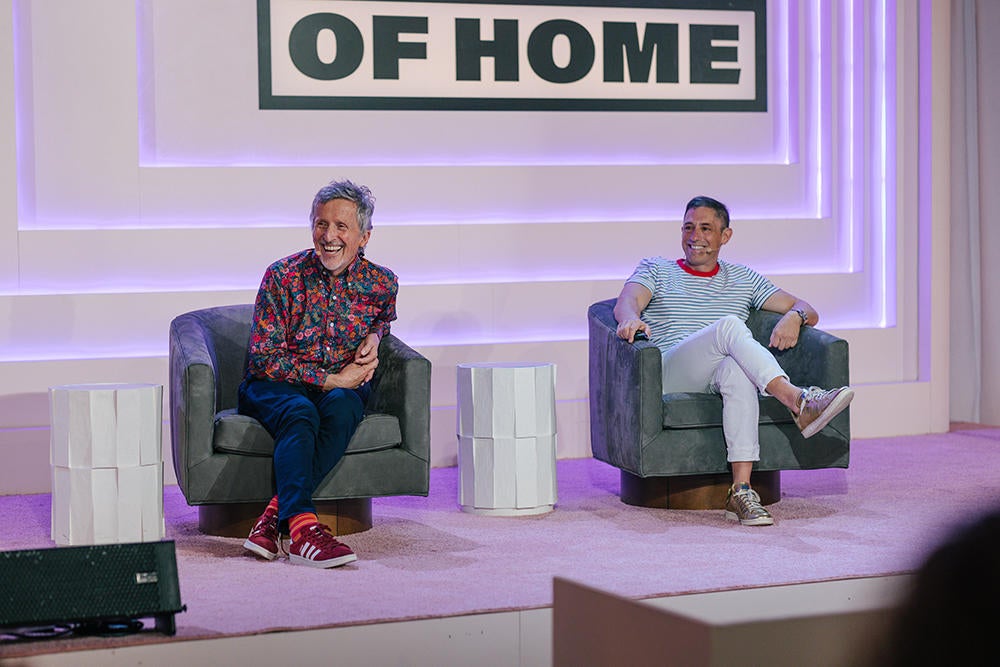 Design visionaries Simon Doonan and Jonathan Adler sat down to discuss, well, the future of life at home. "There are two ways that creative people think about the future," Doonan said. "Either pristine and utopian or messy and dystopian." Adler agreed, and explained that because people's lives are currently presented in a virtual space, they will project their environment as utopian on social media, when in reality, "the sink will be filled with dishes and [their living situation is] dystopian behind the scenes."
Adler went on to explain that in the digital age, "swagger" (i.e., a confident and idiosyncratic style) is the only true currency. "Now more than ever, design needs to look good for Instagram," he said. Which raised an excellent question from the audience about the current revival of maximalism, and more specifically, whether or not minimalism can survive in the future. "Maximalism is a reflection of the speed with which the world keeps changing," he answered. "You have to take it to 11 to stand out on social media."
Best quote: "Social media platforms are the most important thing for designers to prioritize, because they allow you to stand out," said Adler.
Key takeaway: In the digital age, where designers can promote themselves and gain popularity on social media, it's crucial to separate yourself from the competition and present yourself as aesthetically distinct (and swaggy) as possible. Simply put: In the future, more will be more. —Caroline Biggs
---
Activation: Green Haus — Presented by Crate & Barrel
Americans throw out more than 12 million tons of furniture and furnishings each year, 9 million of which end up in landfills. Crate & Barrel's Green Haus lounge imagines a new future for the industry. Featuring pieces designed with earth-friendly materials (the Nouveau sofa, for example, is covered 100 percent in chenille yarn made from recycled plastic water bottles) and set against the backdrop of a biophilic wall built in collaboration with The Sill, the tableau offers a glimpse into a more ecologically responsible interpretation of home design.
---
LEVELING UP — SPONSORED BY HIGH POINT MARKET AUTHORITY
BOH editor in chief Kaitlin Petersen sat down with designers Kati Curtis, Eneia White and Rajni Alex to discuss their top tips for getting the most out of High Point Market, the world's largest furniture market, which boasts over 2,000 exhibitors. All three designers make attending High Point twice a year a priority, saying it's an amazing place to seek inspiration, get ahead of trends and test out products before recommending them to clients. They shared practical tips, including maximizing your time by mapping out which showrooms you'll visit each day, shopping early, and making a point of finding a new vendor every Market.
Best quote: "There's so much inspiration in High Point," said Alex. "And so much of that comes from connecting with other designers, learning what they're drawn to [and] what trends they're seeing, and generally getting to see things through their eyes." —Haley Chouinard
---
THE CHALLENGE OF CHANGE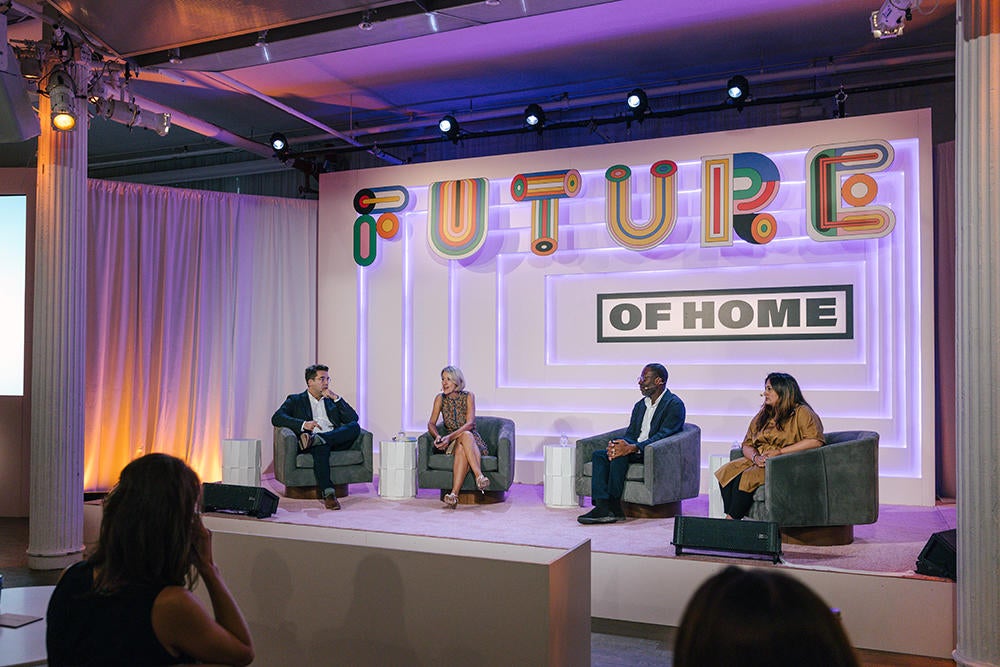 For a discussion on the state of diversity in the design industry, BOH executive editor Fred Nicolaus sat down with three industry players working toward measurable change: Caroline Baumann, co-leader of the Diversity in Design (DID) collective and former director of the Cooper Hewitt, Smithsonian Design Museum; DID co-leader and Work & Co partner Rupal Parekh; and Eddie Opara, partner at DID member organization Pentagram and senior critic at the Yale School of Art. The initiative launched this past June as a consortium of design-centric companies committed to improving the industry's dismal representation of minorities—as Opara pointed out during the panel, people of color comprise just 12 percent of the design workforce.
To boost those numbers, the group has crafted three focus areas: awareness and activation at the high school level; collegiate programs and education; and recruitment and retention during the professional stage of a designer's career. Through outreach events like a Teen Design Fair in Detroit early next year, DID plans to educate high schoolers and their families on the available routes to a design career, following up with additional resources like mentorship programs. Plus, they're planning an annual member review to ensure that everyone is on track with the organization's code of conduct and actionable steps.
Best quote: "It's about a long-term road map and long-term change," said Parekh. "It's going to take a lot of time, so we'll need to be here together to invest in it."

Key takeaway: It's easy to have discussions on improving representation in design without taking tangible measures. Through accountability, actionable steps and a learning network, the industry can work toward including more designers of color in leadership positions. —Caroline Bourque
---
INTERIOR DESIGN 2.0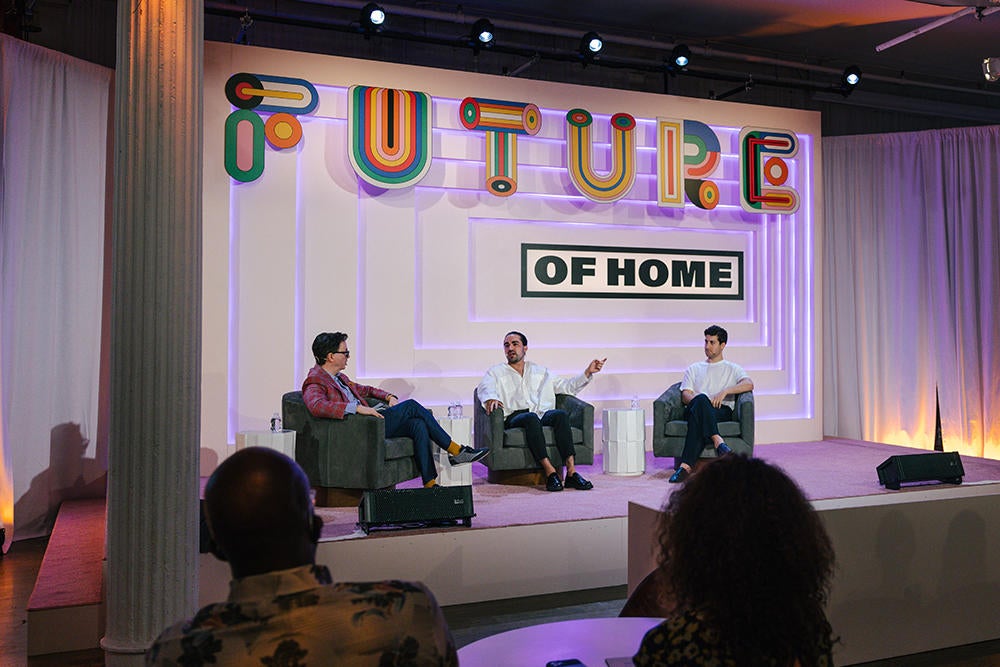 Dennis Scully, host of The Business of Home Podcast, moderated a lively conversation between entrepreneur Leo Seigal and Los Angeles–based designer Jake Arnold, founders of the online design platform The Expert. The concept for the company, which launched in February, originated when Seigal was helping Arnold with his Instagram account in 2020 and noticed that he was flooded with simple design requests from his followers. It seemed there were hundreds of people who wanted advice on a paint color or a room layout. Seigal asked Arnold to humor him and see what someone would pay for an hour of his time over Zoom. They asked for $1,000, and an enterprising homeowner in Switzerland gladly agreed. From there, the idea for The Expert took shape. The duo originally reached out to around 50 designers, all of whom were fielding similar requests from followers. Since February, the roster of A-list talent on the platform has bloomed to nearly 150 designers.
Seigal said it quickly became clear there was a need to integrate commissions on the pieces that designers recommended. They've since developed a trade services team, which can source trade brand pieces for The Expert clients. Additionally, they expect to roll out an e-commerce element on the site by early 2022. Seigal and Arnold feel that the appeal of The Expert will extend long beyond the pandemic and that design enthusiasts will continue to seek access to high-end talent on more flexible terms.
Best quote: "We're demystifying the entire design process. Interior design can feel very back-of-house to people—there isn't a lot of access," said Arnold. "I think with The Expert, we're trying to democratize it so that anyone in any part of the world has access to the picks of the top designers all the time."

Key takeaway: The Expert continues to grow and plans to find more ways to service designers on more flexible terms, providing them additional revenue streams and means to tap into different segments of their followings, while maintaining their high-end firms. —Haley Chouinard
---
HOW TO THRIVE IN THE PASSION ECONOMY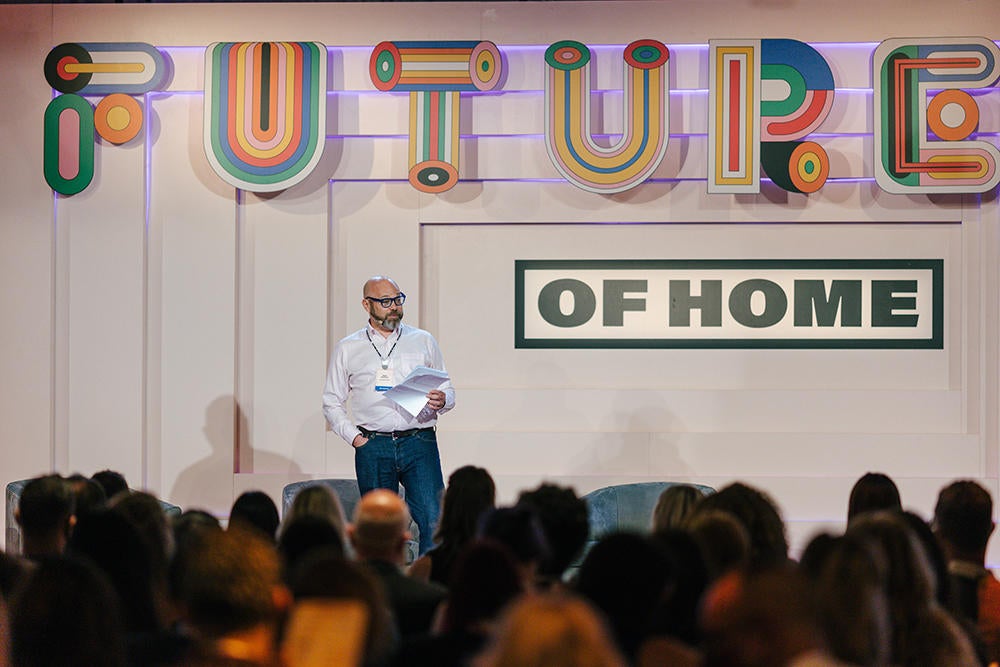 For the first session of the day, Adam Davidson, author of The Passion Economy: The New Rules for Thriving in the 21st Century, kicked things off with a keynote about the power of storytelling. This century has brought all sorts of technological advancements that make it easier to connect with potential clients; however, Davidson said designers aren't putting the same effort into promoting themselves as a "unique product" that they are putting into creating one-of-a-kind projects.
In order to be as successful as possible in a competitive market, Davidson believes it's essential to "tell a good story" as a brand. "Be passionate. Be unique to you," he said. "The more you thrill some people, the more you will alienate others, but it just means that eventually, you will be working with the clients you really click with." He explained that instead of trying to reach the largest audience possible, your goal should be to connect with people who speak to your distinct brand and style. "You're in the intimacy business," Davidson said. "You create moments with textures, colors and objects—tell a story so powerful that people know right away that you are the best fit for them."
Best quote: "You are the person taking all these eclectic aesthetic choices and creating special, unique spaces and experiences for clients. Do for yourself what you do for your clients every day."
Key takeaway: The only way to differentiate yourself in a competitive market is to stay true to yourself and promote your brand accordingly. Or as Davidson put it: "The narrower your story, the more impactful it will be." —Caroline Biggs
Homepage photo: Fred Nicolaus and Ray Choudhury | Photo by Kevin Lau