Over a single phone call, Jordan England learned one of his first lessons in business: Sometimes you have to fake it until you make it. In 2009, mere months after co-founding his direct-to-consumer furniture company, Industry West, England received a call from a Pittsburgh restaurateur inquiring about 120 barstools for his soon-to-open gourmet burger joint. England had three in stock—stored in his backyard shed no less—when the client said he would need the shipment in 12 weeks. "We'll make it happen," Jordan promised optimistically.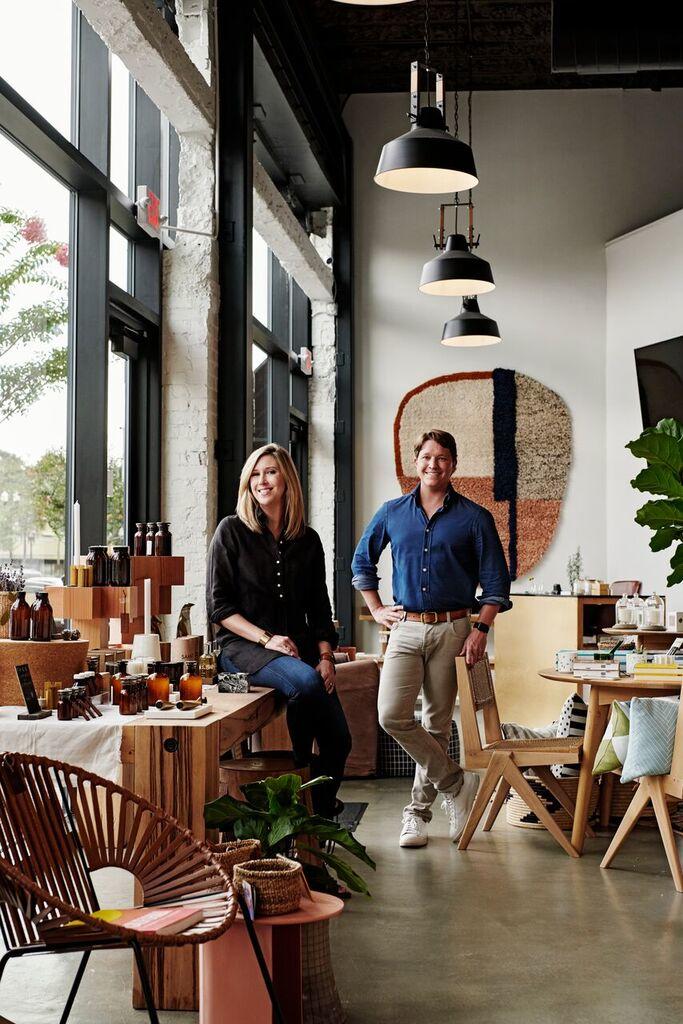 It was the first purchase order that suggested the entrepreneur's online furniture company, which he founded with wife Anne England in 2008, had the potential to scale. At the time, the couple was running a small online operation, photographing product in the backyard, printing shipping labels from home and storing boxes of inventory in their living room.
It is not the classic route for building a furniture company, but that is just the point: Industry West is an anomaly in the category. For starters, the husband-and-wife founders had zero experience within the industry prior to launching the e-commerce site known for its private collections, as well as exclusives from international artists. Jordan held stints selling real estate and working in economic development, and Anne, a theological studies major, was ordained and working within a church.
Yet another unfamiliar tune: Industry West has been profitable since day one. "We answer to our kids," jokes Anne in response to the idea of accepting venture capital and answering to investors. While the co-founders admit that private equity would've allowed the company to grow quicker, bootstrapping has allowed them to retain full ownership of the company.
"We're not shy to make big investments in both capital expenditures and people, but profitability is a big part of the DNA of the company," says Jordan.
One thing the company did have going for it at launch? An online retail space with few competitors. When Industry West launched its website in 2009, customer acquisition channels like Google Adwords were not the highly competitive, pay-to-play formats that they are today.
Slicing out its online market share early on has contributed to the company's continued annual growth of nearly 70 percent. Today, Industry West manufactures in 75 factories across 20 countries, with distribution centers in Los Angeles and Jacksonville, Florida.
"If you're a digitally native brand right now and you're totally reliant on the modern industrial advertising complex to grow your company, you're not going to be successful," says Jordan of today's inflated online acquisition costs. Instead, he is focused on creating new, analog channels for customers to discover and access his company.
First on the list is a Manhattan storefront, scheduled to open in October as the brand's first retail location outside of its Jacksonville headquarters. "As much as people talked about the death of brick-and-mortar, we're really excited about these physical locations," says Jordan.
In this week's Business of Home podcast episode, which is sponsored by Fuigo, the Englands reveal the challenges that came with being early adopters of e-commerce, what's in store for soon-to-launch Industry West showroom in SoHo, and how the company is working offline to acquire new customers.