We're calling out this Market's perfectly paired designer-manufacturer collabs standouts that prove that old-school hip-hop hook: "It takes two to make a thing go right. It takes two to make it outta sight." Hit it!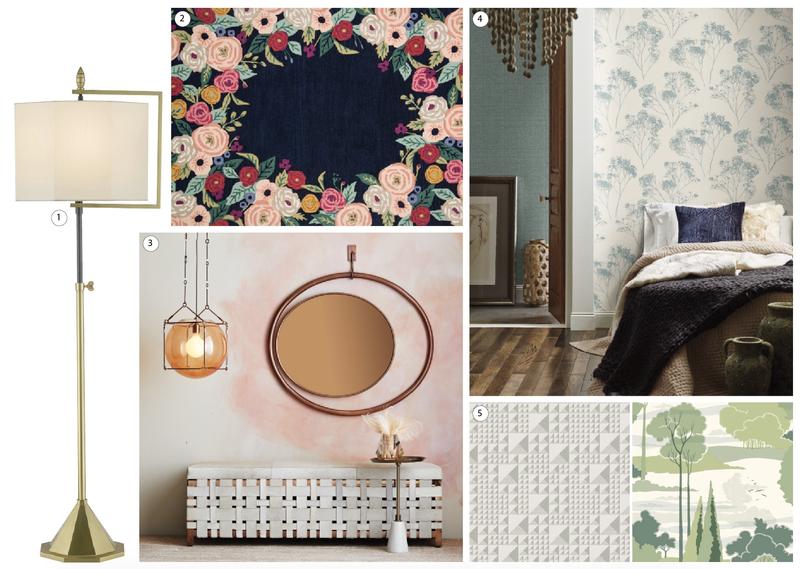 1. Barry Goralnick x Currey & Company 
The Harvard Graduate School of Design–educated architect and designer is focusing on the task (lighting) at hand. Of his own influences and inspirations for the collection, Goralnick says incorporating variety was key, citing his work "with a range of aesthetics, in a multitude of rooms, and in a variety of situations." But what does that look like in practice? There's the gleaming Hopper Swing-Arm Wall Sconce with a polished-nickel finish that shines when the light is turned on, or off; the oil bronze-finished adjustable Hopper Floor Lamp that, as the brand says, plays "a game of hide and seek," illuminating only when at its shortest height; and the Davy Pendant, comprised of five layers of optic crystal and using UV technology to create a Fresnel lens (that's the kind of lens developed for lighthouses). 
2. Rifle Paper Co. x Loloi Rugs
Rugs, pillows—and stationery? Rifle Paper Co. is launching its first-ever rug and pillow line weaving, illustrations by co-founder and chief creative officer Anna Bond—each one is inspired by Persian rugs, vintage patterns and verdant gardens. "When thinking about rugs and pillows, my goal was to create designs that brighten up the home by bringing in unique colors and patterns," explains Bond. "The pieces in the Rifle Paper Co. × Loloi collection are meant to be enjoyed for years to come, so it was important to me that the designs are not only beautiful but also well-crafted and made to last."
3. Windsor Smith x Arteriors
Playa Posh, designed exclusively for Arteriors, takes a stance on technology. The line, which spans lighting, seating, tabletop and accessories in tan, blue, rose, copper and gold hues, is meant to celebrate a life lived offline. "With technology threatening to eclipse our artistry, my work is moving into a more artisanal direction: more free-form, more modern and simplified—and always inspiring creative thinking and communication," says Smith. "This collection was designed for the bohemian in all of us. Like the desert landscape, the potential uses of the pieces are boundless: There are no limitations or restraints. Each piece is designed to stand alone or to blend together in beautiful wholeness."
4. Aviva Stanoff x York Wallcoverings 
A native Californian, artist-designer Stanoff spent her childhood summers at her grandfather's Buddhist temple in Japan. She draws on that familial influence this market, where she's launching a wallcoverings line with York. The collection spans 11 patterns, with 59 SKUs total across all colorways, as well as a full-wall mural available in two colorways. "I've loved watching my artwork come to life as wallpaper," says the designer. 
5. Florence Broadhurst x York Wallcoverings
"My life is dedicated to the interpretation of beauty," wrote the late designer Florence Broadhurst. The legend lives on via this collaboration with York Wallcoverings. The line features 12 main pattern designs and totals 61 SKUs across all colorways. "For our creative team, Florence Broadhurst and this special archive of her designs are like an invitation to play," says DeAnna Hain, director of marketing at the wallpaper brand. "We think about her bright red hair and her fearless pattern mixing and have to smile. She had a great big appetite for life."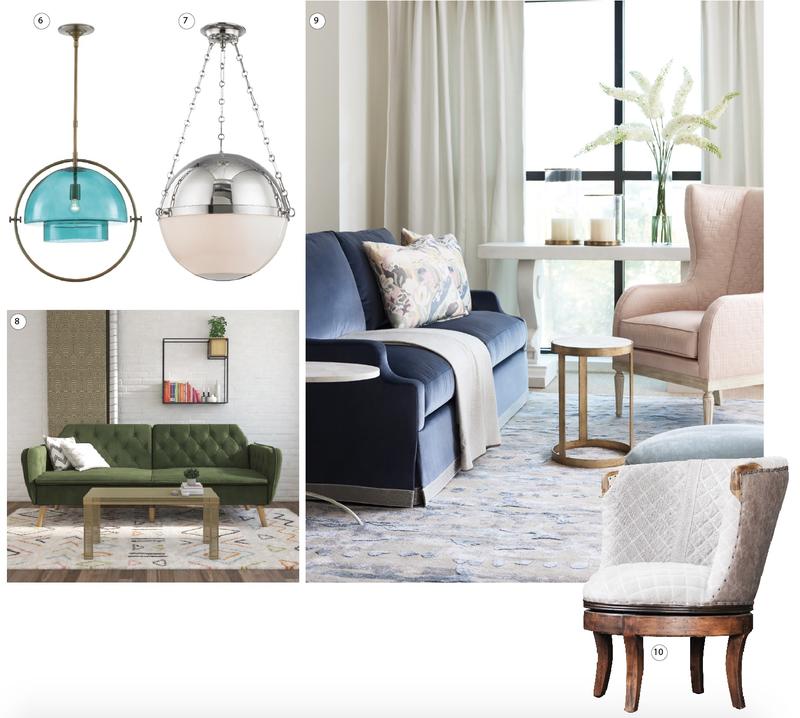 6. Denise McGaha x Currey & Company
Seven years after McGaha's first-ever trip to High Point Market, where the designer recalls receiving a warm welcome from the Currey & Company family, she returns with her first-ever lighting and decor collection for the brand. "Modern and chic with a bohemian flair," she says of the aesthetic, which is embodied in pieces like an aqua pendant and a gray, faux-shagreen table. The mirrors are showstoppers with their textured, polished brass finish, and the designer also dreamt up a large-scale functional ottoman, which solves a void she noticed in her own projects.
7. Mark D. Sikes x Hudson Valley Lighting 
Fittingly called The Classics, traditionalist Sikes's first line for Hudson Valley Lighting features 36 styles spanning chandeliers, pendants, sconces and more. Sikes is the "perfect partner" for the line, says David Littman, founder and CEO of Hudson Valley Lighting Group. "He takes traditional ideas of design and beauty and then adds the unexpected. A simple embellishment that changes [the] look and feel of an entire silhouette."
8. The Novogratz x Dorel Home
This attractive family of seven is getting bigger—yet again. Dorel Home and The Novogratz, the colorful design clan of Robert and Cortney Novogratz, are bringing to life over 125 new styles across the Dorel Home portfolio of brands, including Dorel Living, Ameriwood Home and DHP. On tap are sectionals, accent tables, upholstered chairs, ottomans, accent pieces, dining room tables, a new take on a recliner and more, each one infused with the famous fam's playful style sense. "The Novogratz have been working with Dorel for almost four years. It's our most successful collaboration, as we both listen to each other and have the same goal of bringing great design at affordable prices," said Robert Novogratz. (Also in the works: outdoor furniture and decor.)
9. Kim Scodro x Pearson
Fromental wallpaper and commissioned paintings by Atlanta artist Renee Bouchon will serve as the backdrop for the launch of Scodro's collection for Pearson. The new bench-made upholstery collection, replete with sofas, chairs, bar stools, ottomans and a skirted end table make up the brand's largest ever licensed collection. While the pieces are all made in Hickory, North Carolina, the fabrics were sourced internationally. 
10. Antiques Diva Toma Clark Haines x Aidan Gray
While not a designer per se, Toma Clark Haines has seen her share of good design. With her company, The Antiques Diva, Clark Haines organizes and operates buying trips for designers all over the world. Antiques may be her calling card, but her collection blends materials of past and present, like authentic hand-carved woods, Lucite and faux leather, to create a collection that seems to have "married French traditionalist and iconic urban modernist," says Randal Weeks, CEO of Aidan Gray. The line, for which Clark Haines and Weeks sourced inspiration via 18th-century antiques in France, Belgium and The Netherlands, includes chairs, stools, tables and more. 
11. Martyn Lawrence Bullard x Corbett Lighting 
Bullard, the Kardashian family's go-to designer, brings a star-studded aesthetic to Corbett Lighting, one of the brands in the Hudson Valley Lighting Group. (Corbett Lighting joins its other "family members," Hudson Valley Lighting, Troy Lighting and Mitzi by Hudson, in a showroom in the Market Square Building.) The designer debuts chandeliers, pendants, sconces and more, with a distinctly glam aesthetic. "We are thrilled to be working with Martyn. He is a design visionary who brings an original perspective and keen understanding of what it takes to create top-notch lighting that is also a work of art. His eye for glamour and grandeur made him the perfect partner for Corbett, a brand known for decadent and stunning designs," says Steven Nadell, president of Hudson Valley Lighting Group. 
12. Charlotte Moss x Century
The disco era is alive and thriving. Moss's latest designs feature seven upholstery frames and three tables in a tribute to the decadent decade. Shares Moss, "I am feeling the vibe of the early 1970s. Maybe there is a chord of nostalgia. I remember all the design magazines with bare floors, low tables, natural materials and the legs of sofas and chairs were upholstered, defying a particular style. I like that defiance; it's very bipartisan, so I figured we could use some of that." 
---
Word on the (Main) Street
Everyone knows how quickly the six months between Markets fly by. We've heard through the grapevine that a number of collabs are in the works for spring, so keep these on your radar. April will be here before you know it. 
Century's collaboration with Carrier and Company has been months in the making: The manufacturer announced last Market that it was working with the New York–based husband and wife duo and the original launch date was this Market. But it'll be worth the wait to next Market: The collection features 50 designs across bedroom, dining, and occasional furniture, as well as a selection of upholstery. Our sources also tell us that Alexa Hampton's line for Theodore Alexander will be launching then, with case goods, upholstery and accessories all on the docket. It's a collaboration that follows Hampton's longtime professional relationship with Hickory Chair, which ended earlier this year. Speaking of Hickory Chair, we've heard whispers that the brand will premiere designer Ray Booth's latest.
Photos courtesy of brands.