Ventura Future may very well be Milan Design Week's best-kept secret. Located in a number of venues—including Loft, a gallery space; FuturDome, the former meeting place of the Futurist movement; and a former pharmacy classroom—the show, produced by Ventura Projects, which oversees other installations and events in places like Dubai, Berlin, London and New York, is this week hosting 82 exhibitors focused on futurism.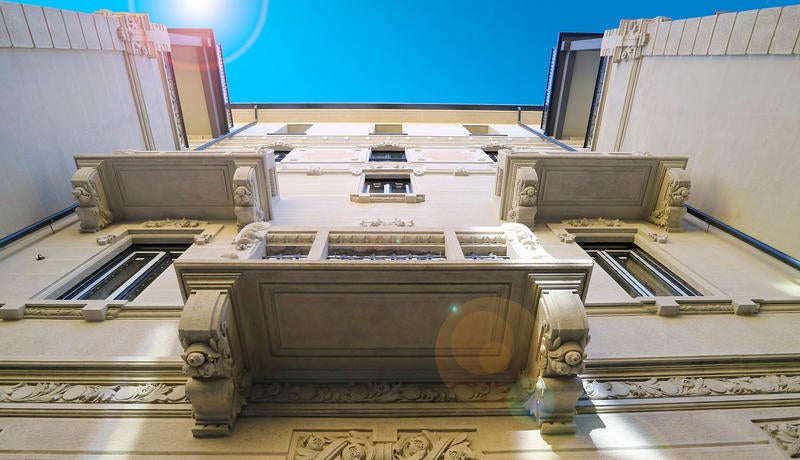 Ventura Future is one piece of evidence of the show's growth outside the confines of Salone del Mobile. Irene Kronenberg of B+K Architecture, tells EAL, "As a follower of the Milan Salon I have been concentrating on the city events for the last years as I think the real laboratories are best displayed beyond the premise of the Salon. Moving beyond tradition and conventions and getting to know the young generation of creatives is always inspiring and keeps my mind sharp and challenged."
Ventura Future's newly launched awards program, The FuturDome Prize, celebrates emerging creators and designers. Kronenberg and other judges—among them, Atto Belloli Ardessi (artistic director, FuturDome), Elena Braghieri (photographer), Paola Carimati (journalist), Marco Ferreri (designer), Constance Gennari (founder, The Socialite Family), Alon Baranowitz (architect, B+K Architecture), Luca Nichetto (designer), Angela Rui (design critic and curator), Paolo Ulian (designer)—will award winners across three categories: "Enduring Ambiances," "Stabilizing Communities," and "Emotional Synthesis," in addition to a Lifetime Achievement award, granted to an architect or designer known for inspiring the next generation.
What can designers expect from the winners, who will be announced later this week? "The FuturDome winner should first have a cultural and social awareness to be able to engage with the myriad intricate components of living in a state of flux. Future-thinking, boldness and a love for humankind are qualities which great designs are made off, so I look forward to enjoy the process and be[coming] enlightened," Kronenberg says. Fellow judge Ferreri concurs, noting that winners should also be known for "being innovative, and knowing the past well."