At Business of Home we're committed to following the effect of the coronavirus pandemic and its economic fallout on the design trade. We'll be collecting the most important stories here, in a—hopefully short-lived—regular feature. If your business is being affected or you have a tip, please drop us a line.
For a comprehensive list of industry cancellations and postponements, click here.
For small businesses looking for some helpful resources, click here.
For tips from PR pros about how to communicate during this time, click here.
SALONE DEL MOBILE CANCELS 2020 EDITION
In February, the organizers of Milan's design festival Salone del Mobile postponed the show's original spring dates to June 16. Yesterday, Italian financial newspaper Milano Finanza broke the news that the summer show would be canceled, and Salone would resume next year on April 13, 2021.
HOW MUCH WILL THE CORONAVIRUS COST YOUR BUSINESS?
Earlier this week, B2B e-commerce marketplace Faire unveiled a calculator that allows small business owners to see the economic impact that a slowdown could have. "Last week, we surveyed more than 20,000 retailers and makers to hear how they have been impacted and how they are responding to the crisis," Faire co-founder and CEO Max Rhodes told BOH. "The most common response when we asked what retailers expected their business to look like over the next three months was, 'I don't know.' That demonstrated to us a real need for meaningful tools and resources to help people better understand the financial health of their businesses."
The tool is twofold: First, users are prompted to input their finances before the virus disrupted business; then, they are asked to input those same details with the added measure of how the pandemic is currently affecting the business on a scale from "no loss in sales" to "shut down." The calculator also asks detailed financial questions like the amount of cash on hand at the beginning of the month and set monthly expenditures, including rent, insurance and utilities. "By entering any changes to your revenue and costs since the disruption occurred, the calculator will generate a financial status for your business," says Rhodes, who previously worked at financial startup Square. "It will provide your cash run rate as well as recommended actions you can take and resources you can deploy to help your business make it through this crisis."
The calculator is free and available to anyone, not just sellers on Faire. "Our mission is to provide the tools that will empower the local retailer, so the goal with this calculator is to support entrepreneurs and small businesses whether they are a current customer or not," says Rhodes, adding that thousands of calculations have already been made since the tool launched earlier this week. In a webinar that walked users through the application, he expressed hope that the government's stimulus bill would offer some relief to small businesses and that we could see an economic bounce-back similar to what China is experiencing now that it has begun reopening businesses. "We want to make sure that businesses are in good shape and ready to serve customers when we get through this," says Rhodes. "I'm really hopeful. They've figured it out in China and South Korea. I believe in this country and our ability to solve this." —Haley Chouinard
WE'RE ALL LIVE ON INSTAGRAM NOW
The design industry has caught wind of the power of Instagram Live—and what's not to love? In the words of The Vale London's Melinda Marquardt, "It's like people are right there in your living room." While social distancing is keeping us all physically apart, designers, publications and brands have been utilizing Instagram Live to connect intimately with more people than they could possibly see IRL in their pre-COVID-19 lives.
Design journalist Sophie Donelson began her conversation series "Big Books Small Talk" on March 21; Whitney Robinson of Elle Decor introduced "World Tour," a series of live interviews with industry personalities, this week; Food52 has been giving live cooking instructions, and its sister brand, Home52 has released a host of home organization videos. The live chats offer an immediate connection with design personalities across the pond, as well. London-based designer Ashley Hicks went live, charming viewers with a bit of British wit while promoting his new book; Cabana's Martina Mondadori Sartogo went live with Miguel Flores-Vianna to talk all things inspiration and travel.
Some may wish to use Instagram Live as a way to boost their brand in lieu of the spring markets, others are looking for a way to connect with the design community free of form: "Last week, I started to notice a different vibe on Instagram, including from a lot of A-list 'grammers—a really loose and sincere tone to things," explains Donelson. "Watching Amanda Hesser's at-home cooking tutorials [on Food52's feed], she didn't overthink her approach. She had her teen daughter film her cooking in sweats. It felt sincere because it was sincere." Designer Breegan Jane invited her kids on camera to do a show-and-tell, and Sara Gilbreath chatted with Young Huh about creative outlets for shelter-in-place, while the online design magazine Sight Unseen went live to rifle through some of the books that it looks to for inspiration. No matter how you spin it, Instagram Live is, well, live—and now designers' followers can tune in and catch a glimpse into the personalities (and living rooms) of the characters that color our corner of the world. —Marina Felix
THE ONE-DAY SHOWHOUSE
While the coronavirus has made rescheduling showhouses a guessing game for those who could push their dates, the Interior Design Society Charlotte Showhouse was not so lucky. The house, which opened its doors in the thick of early COVID-19 closures, was forced to promptly cancel tours and shut down just one day after its opening on March 14—a heartbreaking decision for everyone involved.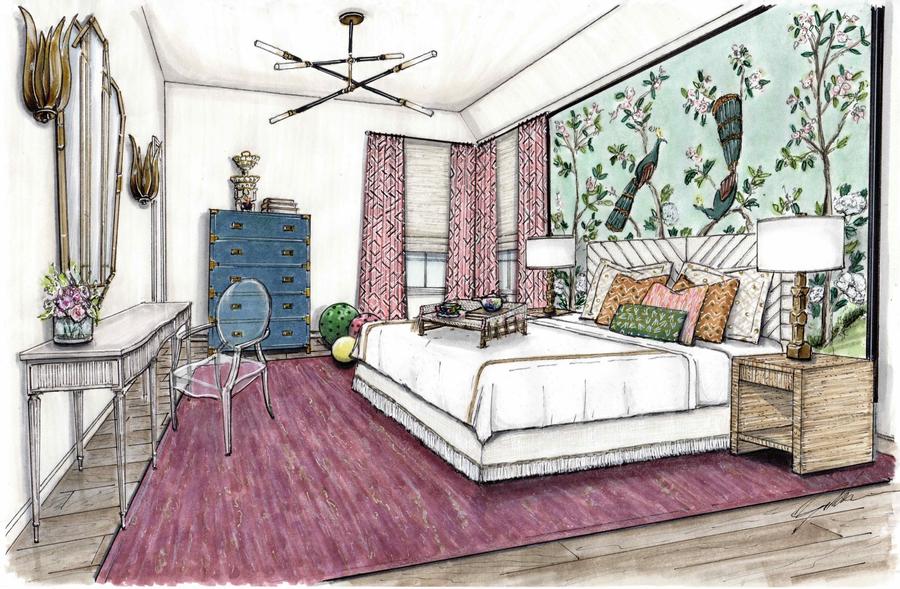 Courtesy of IDS Charlotte
"There were two parts to it," explains Audrey Clawson, president of IDS Charlotte and one the showhouse's co-chairs. "On one hand, the designers knew it was the right thing to do, but on the other, this project has been under development for three years, with over 100 volunteers, 260 vendors, 45 designers—we knew [canceling] would be a huge disappointment to all parties involved. All of the people who did this work full-time, going above and beyond the call of duty." The money raised from the showhouse would have supported a range of charities; to ensure that those causes still receive the funding they need, IDS Charlotte launched an online platform where donations can be made until April 6. For the designers, the cancellation is a bitter pill. But their creations will see the light of day—the rooms were photographed and will appear in the June issue of Home Design & Decor magazine, to be followed by a video tour narrated by the house's builders and designers. —Marina Felix
CAFTANS IN THE TIME OF COVID
The design industry is meeting the challenges posed by the pandemic head-on, with an abundance of charitable initiatives popping up over the past week. Companies like Woodard, Kravet, Eastern Accents and more are donating fabric and converting their facilities to produce washable masks for health care workers; Serta Simmons Bedding (the parent company of Serta, Beautyrest and Tuft & Needle) has committed to donating 10,000 mattresses to New York City hospitals and medical facilities; and the Ralph Lauren Corporate Foundation has committed $10 million to COVID-19 relief, as well as beginning the production of 250,000 masks and 25,000 isolation gowns.
Publicist Christina Juarez launched a charitable initiative as well—one designed to spark a little joy in the design community (while still maintaining a safe social distance). On Monday, Juarez took to Instagram to start the Caftan Challenge, inviting her peers to don their favorite flowy garment and post a selfie. For each photo tagged #caftansinthetimeofcorona, Juarez has pledged to donate a dollar to the Kips Bay Boys & Girls Club in New York. "I'm a fashion girl at heart and I love caftans and collect them from vintage shops and on my travels," says Juarez. "I was tired of looking at myself sitting around in yoga clothes and missed dressing up. We are all in the design business, where it's all about the beautiful things, but there is so little beauty during these crazy times. I wanted to give my design friends from around the globe a reason to get dressed, have a giggle, some glam and give back."
With two of Kips Bay's largest fundraisers having been affected by the pandemic (the President's Dinner was canceled and the annual showhouse postponed), Juarez felt the organization was the perfect recipient for the donations. When Bunny Williams posted her own Caftan Challenge photo, her husband, John Rosselli, pledged to match Juarez's donations dollar for dollar, a commitment that father-daughter design duo Amanda and Barry Lantz have also made. The challenge currently has more than 500 posts on Instagram, with Juarez hoping to reach 1,000 by Sunday, the last day of the event. "It's been super fun and we're still going full speed ahead!" —Haley Chouinard
LATEST NEWS
New York City halts all construction. Mayor Bill de Blasio announced on Friday that nonessential construction in the city would cease. "Anything that is not directly part of the essential work of fighting coronavirus and the essential work of keeping the city running and the state running—any construction that is not about the public good is going to end," the mayor said. Essential construction projects, those that impact health care and infrastructure, which do continue must implement social distancing practices, with violators subject to $10,000 fines.
Atlanta design centers shut down. In compliance with the executive order issued by the City of Atlanta on March 23, the IMC announced that it would temporarily close AmericasMart Atlanta, the Atlanta Convention Center at AmericasMart and the Atlanta Decorative Arts Center to help prevent further spread of the coronavirus.
Relief for tenants. The Federal Housing Finance Authority has announced that landlords may be allowed to fall behind in mortgage payments in exchange for not evicting tenants who fall behind on rent.
Dyson invents a ventilator. British inventor James Dyson (maybe you own one of his vacuums?) has designed a ventilator—it took him 10 days. His company's factories are currently producing 15,000 units to aid Britain's efforts to treat coronavirus patients.
Herman Miller ceases operations. Herman Miller has suspended its manufacturing operations in Michigan, until at least April 13. The company, which employs more than 8,000 worldwide, has announced a plan to pay workers during the shutdown.
IN MEMORIAM
Internationally admired architect and critic Michael Sorkin has died at age 71 due to health complications caused by the coronavirus. His absence has spurred a series of warm tributes from the architecture and design community. New York Times architecture critic Michael Kimmelman wrote in a tweet, "He was so many things. He was a supremely gifted, astute and acerbic writer. He wrote with moral force about big ideas and about the granular experience of life at the level of the street." Edwin Heathcote, the Financial Times's architecture correspondent, described Sorkin as a "fierce and brilliant critic, perhaps the best."
CALENDAR UPDATES
The International Textile Alliance announced earlier this week that it would reschedule its spring Showtime Market to coincide with the new dates for High Point Market. Now, from June 12 to 16, designers traveling to North Carolina can support both events.
The Spring Decorative Antiques & Textiles Fair announced the cancellation of its 2020 event in London's Battersea Park, for the first time in its 35-year history. The fair will return for its autumn edition in September.
Field + Supply made the decision to postpone its spring market—the event will now run from July 17 to 19 at Hutton Brickyards in Kingston, New York.
Homepage image: Shutterstock