Part of the joy of being a designer is the in-person experience of sourcing for a project: catching up with showroom staff, feeling the weave of a textile, seeing the way that light accentuates a particular piece of upholstery. But at least for the time being, the design process as we've known it is being put on pause. Some, like Melinda Marquardt, are cleverly working around that obstacle by utilizing the livestream feature on Instagram.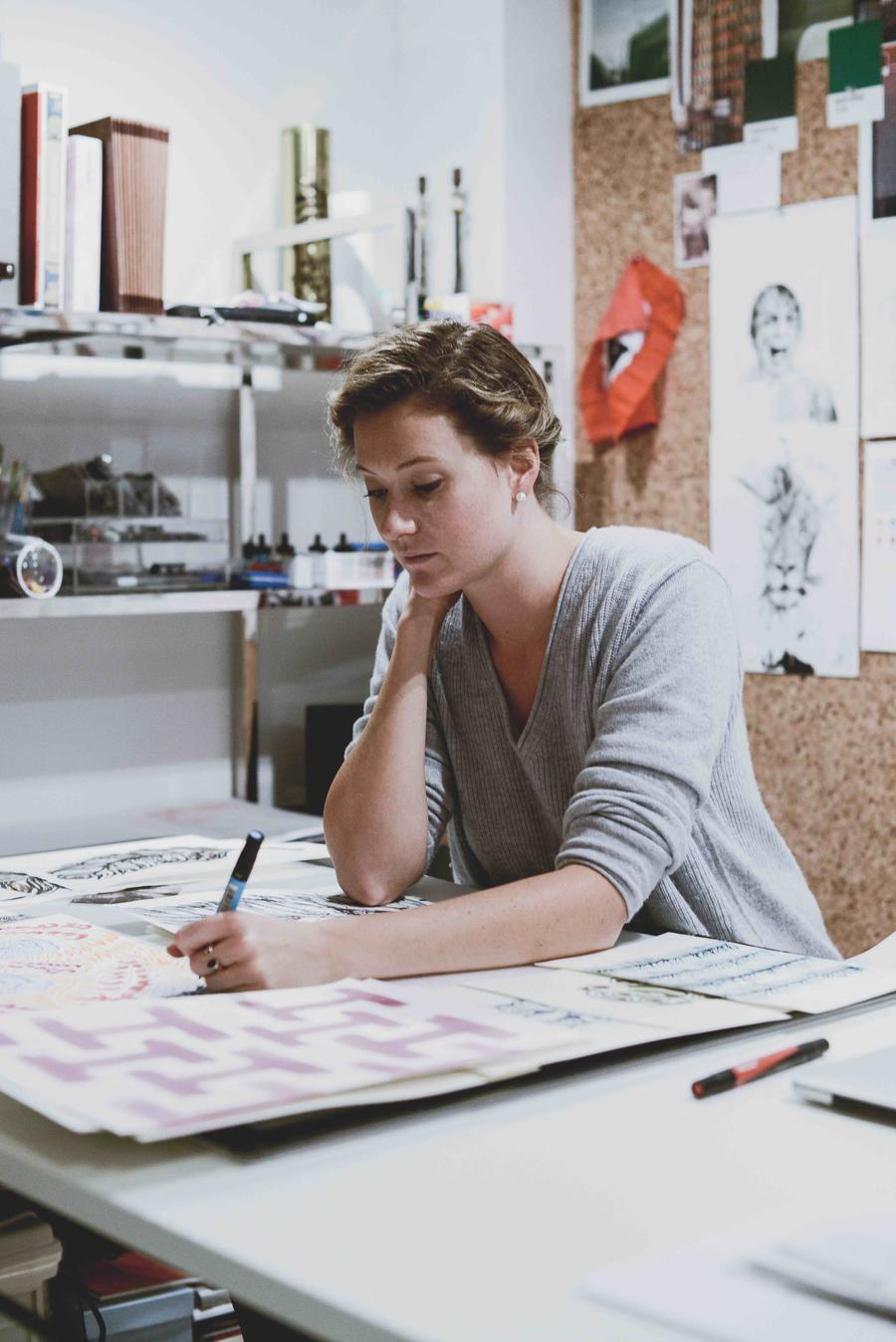 Courtesy of The Vale London
After seven years working in sales for an American textile company, the London native started a brand of her own in 2017—a luxury textiles and wallcoverings line called The Vale. Earlier today, Marquardt did a virtual presentation of the company's new Beaufort collection, which she was hoping to debut at the Pacific Design Center's Westweek this month in Los Angeles. When the cancellation was announced, Marquardt was disappointed, to say the least—she'd spent the last year and a half developing the designs, and was counting on face-to-face meetings in California to show what she had invested so much time in (not to mention secure the sales that would keep her company going). She noticed celebrities doing Instagram Live stories and thought, "Why can't I do that?" she tells BOH. "We're lucky as designers to have such a visual product, and [Instagram Live] is the perfect platform—it feels like you're in their living room, it's personal."
With a makeshift camera stand (fashioned out of a stack of books and some clips from her studio) and the coffee table in her living room, Marquardt shared her latest collection. She opened the presentation with an invitation to those viewing to feel free to direct-message her with any requests for samples—then she dove in. One by one, she went through the wallcoverings, textiles and trims of her latest collection, cheerily explaining the stories for some, showing the original sketches for others, and suggesting pairings across colorways and categories. Throughout the presentation, she received a stream of questions and reactions from various accounts; at the video's conclusion, her inbox was full of rave reviews.
Marquardt was inspired by the experience: "I feel way more connected than usual—I talked to more people today and yesterday than I ever would have on a normal day." In just 20 minutes, she was able to reach 70 viewers, a mix of sales reps, distributors and designers. She then posted the live video to her story, and was already seeing more engagement only an hour after the fact—questions about the collection came flooding in.
Marquardt is planning to return to Instagram Live in the coming weeks to give an inside look at her design process, with some question-and-answer sessions for good measure. Even though the pandemic pushed her into this new territory, the designer says this is a tool that she will keep in her kit for some time to come. "I think it's a wonderful way to bring people together, and I hope people continue to do this even after coronavirus."
Homepage image: The Dahling wallcovering in Haze, from the Beaufort collection | Courtesy of The Vale London