In our weekly digest, find all of the stories you might have missed. Read on for the announcements crossing the BOH news desk this week.

OPENINGS, AUCTIONS AND EVENTS
The 47th-annual Kips Bay Decorator Show House opens to the public this Thursday (36-38 East 74th Street, New York). Twenty-three renowned designers and architects transformed a home on the Upper East Side, and now we all get to see what will surely be the beautiful end results. Raise a glass! And purchase tickets here.
Abell Auction Company will hold an auction on May 19 in Los Angeles featuring antiques, furniture and art. Works by Swarovski, Pablo Picasso and Rolex are included. A preview is on May 15 through 18 from 9 a.m. to 4 p.m.
Object & Thing takes place in Bushwick, Brooklyn, this weekend, and R & Company, Hauser & Wirth, Friedman Benda and Hyundai are contributing. The art and design fair's online platform launched a few days ago, allowing users to preview all 200 works for sale.
TEFAF New York Spring will be held at the Park Avenue Armory in New York from May 3 to 7. Visitors will have access to curated and themed art and design, antiquities and jewelry from 92 exhibitors, 12 of which are new.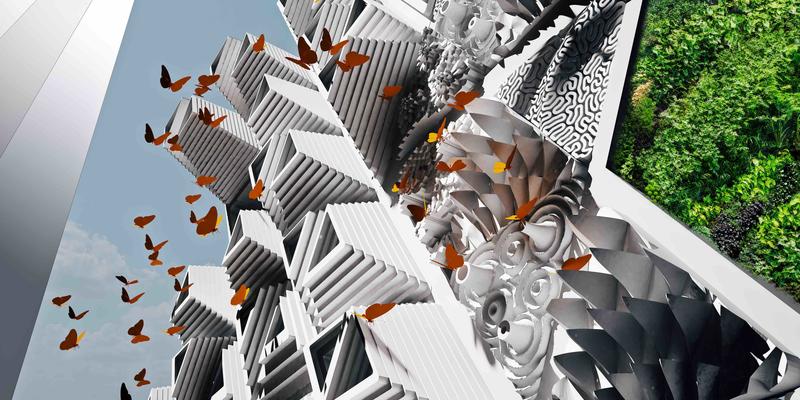 Courtesy of Terreform One
Architecture and urban design research group Terreform One will exhibit its Monarch Sanctuary project at the Cooper Hewitt's National Design Triennial, which opens May 9. The Sanctuary is a facade that also serves as a meadow for monarch butterflies. "As we strive to remake cities and overlay new socio-ecological principles and technologies, we must thoughtfully design the interactions between humans and nature," Mitch Joachim, project lead, said in a statement. "With this installation, our objective is to create an experience that not only reorients toward a more conscientious future, but also provides a possible solution for the future of a delicate species."
On Memorial Day weekend, Field + Supply will host its first spring market at Hutton Brickyards in Kingston, New York. The fair will have the same focus on handmade crafts as its autumnal counterpart, but the vendor selection skews more towards outdoor and garden, and the programming will have a summery vibe. "There may be lawn games as opposed to fire pits, hammocks as opposed to Adirondack chairs, and a garden party as opposed to a dinner party," says Ford. "We want to keep it focused on the beautiful location, which is so lush and green in the spring." More than 100 vendors, including Oak Hill, New York–based Hort and Pott, Philadelphia-based Gabrielle Silverlight and Connecticut-based DBO Home, will participate. Tickets and more info are available here.

LAUNCHES, COLLABORATIONS AND PARTNERSHIPS
West Elm will introduce the Atitlan Project, a limited collection that showcases indigenous craft and culture of Santa Catarina Palopó in Guatemala. Local artisans will partner with maker Diego Olivero and designers Mitzie Wong and Wendy Wurtzburger to create 15 swivel chairs and ottomans. All of the proceeds will be donated to Pintando el Cambio Association, a nonprofit that works with communities on art and local history. The collection becomes available here on May 6. The auction will be running online as well as at the event at A/D/O, which runs through May 8.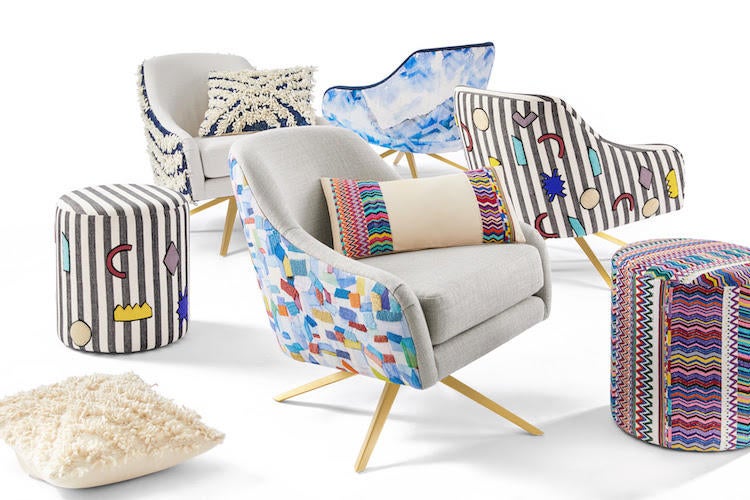 Lamps Plus named its 2019–2020 brand ambassadors. Chosen to represent a range of styles, the ambassadors include Grand Rapids, Michigan–based influencer Farah Merhi, Los Angeles–based designer Jennifer Farrell, Seattle-based stylist Joanna Hawley, Dallas-based author KariAnne Wood and Los Angeles–based designer Lori Dennis.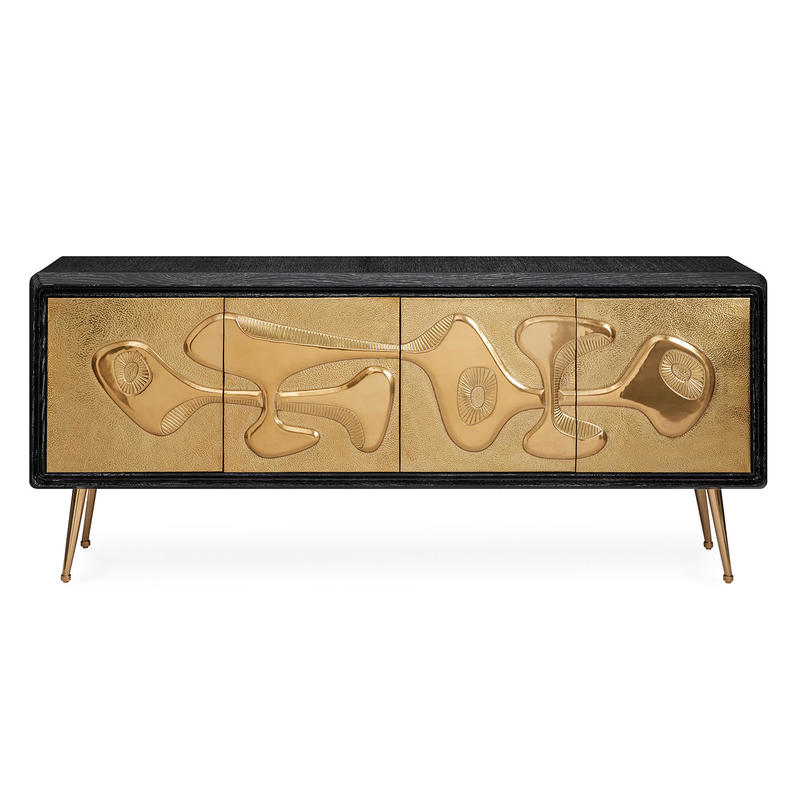 Courtesy of Jonathan Adler
Jonathan Adler had two pieces, the Reform Credenza and the Jacques Cocktail Table, featured in Taylor Swift's new music video, "Me!", which dropped late last week.
Marvin Windows and Doors has rebranded to be known simply as Marvin. It has a new logo and product collections to go with the launch. "As people's expectations of home change, we must also grow and evolve to bring beauty into the everyday while striving to simplify and enhance people's lives," CEO Paul Marvin said in a statement. "The changes we're sharing today are exciting, including a new brand identity, but they're a remodel. The foundation of our company, the people, [quality and design] all remain intact."
A collection of authenticated works by Pierre Jeanneret will be on view at Leclaireur, an art and design shop in Los Angeles, on May 2. Iconic pieces like the Committee armchair, the Low Folding fireside chair, the Kangaroo set of three and the Executive desk are included.
Ernesto Khoudari's New York–based bed-and-bath brand Kassatex launched its first linen tabletop collection. The napkins, placemats, tablecloths, cocktail napkins, and table runners range from $35 to $130.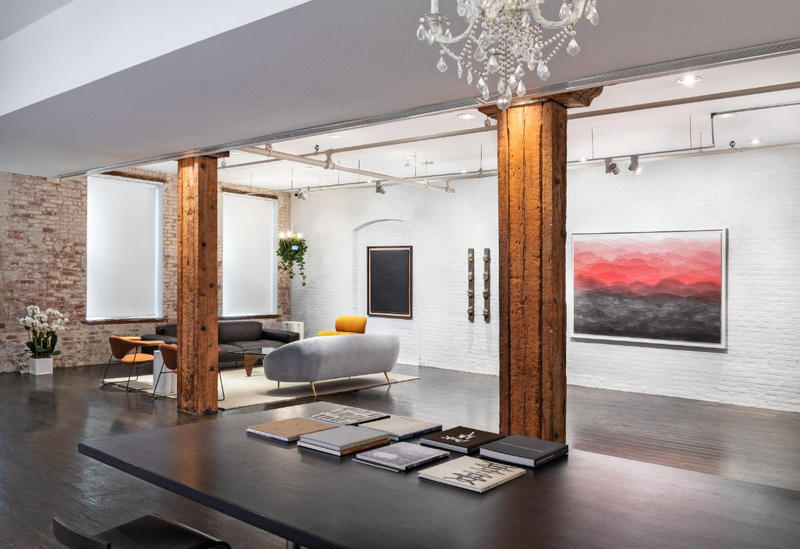 Courtesy of Gallery Hyundai
Korean gallery Gallery Hyundai opened its first New York location in TriBeCa, and will showcase works by Korean artist Kwak Duck-Jun in an exhibition coinciding with Frieze New York on May 1 through 5.
Daniella Ohad premiered the third season of her talk show, Spring Dialogues, on YouTube this week. In the first episode, she sits down with author William Middleton, architect Richard Southwick, and historian Gabrielle Esperdy, among other guests.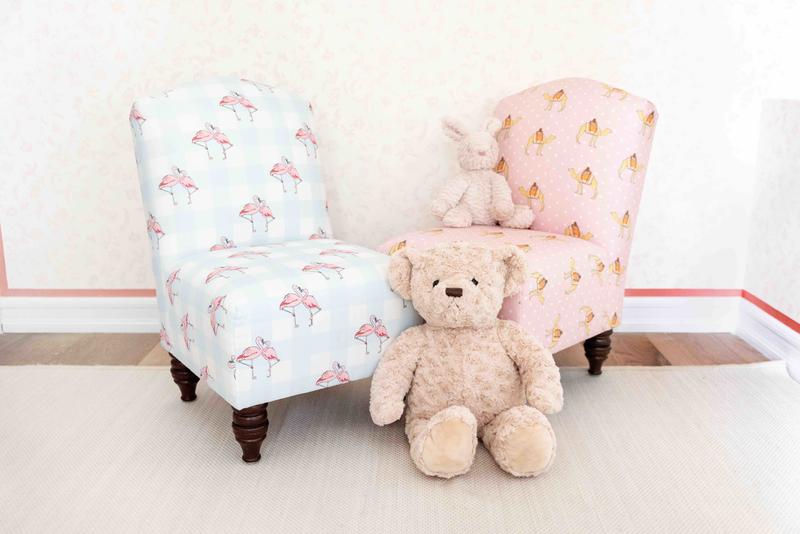 Courtesy of Cloth & Company
Cloth & Company will launch its inaugural collection with fine art photographer Gray Malin. The collection features 14 textiles in nine silhouettes, with prices ranging from $275 to $1,345. It will debut on One Kings Lane within a few months.

RECOMMENDED READING
"Local news in America is dying," reported Bloomberg. "Charity might save it." Though local media is not-so-obviously connected to our industry, its diminishing staffs and ever more homogenous coverage does hurt publicity for the arts and design in your community. "Such is life in nonprofit news—and perhaps a sign of things to come for American journalism in general—where the future is never guaranteed and the hustle for donors never stops," wrote Gerry Smith.
BOH's own Arianne Nardo has a provocative cri de coeur in the Robb Report about design's penchant for nostalgia: "If furniture continues to be a tribute to one golden era, our homes are destined to become mere Greatest Hits compilations," she wrote. "Meanwhile, emerging talents have to take to Instagram to search for independently minded patrons or start producing their own 'inspired by' works that vaguely resemble the originals that the market is already saturated with. My vote is for new ideas."