Yet another reason to look forward to winter being over: This year, interior designer Brad Ford will launch a spring edition of his popular outdoor Field + Supply maker's market in Kingston, New York. The event, to be held over Memorial Day weekend, will feature the same mix of high-end handmade goods, live music and good vibes as the fall edition—only with a slightly different mix of sellers.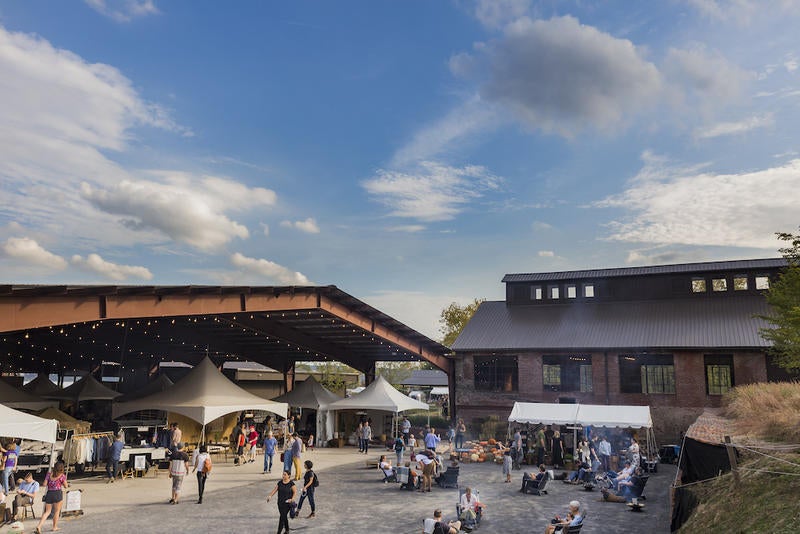 "So many of our existing vendors were asking for a second show, and we can't get everyone in there for the fall because of space limitations," Ford tells Business of Home. "So we thought we'd add another market at a different time of year and shift the focus a little. There will be more outdoor makers, and a bigger focus on garden."
Inspired by arts and crafts fairs from his childhood in Arkansas, Ford started Field + Supply in 2013 as a venue to celebrate handmade craftsmanship in the Hudson Valley. Six years later, the event has grown in leaps and bounds, now encompassing roughly 180 vendors. It has become a fixture for Hudson Valley design acolytes and, increasingly, a crowd of city dwellers who make a weekend out of the fair. Vendors, too, are seeing an increasing ROI.
"We got a lot of feedback, people saying, 'You know, if we could do two of these shows a year, we wouldn't have to do any other shows,'" says Ford. Though the event boasts big-ticket sales and corporate partners like Benjamin Moore and Design Within Reach, Ford attributes a welcoming mix to the continued success of Field + Supply. "It's a somewhat affluent audience that comes, and I do want it to feel elevated, but not exclusive. It's important that everyone who comes feels like they can walk away with something special, whether it's a jar of homemade jam for $10 or a table that goes for $20,000."

There may be lawn games as opposed to fire pits,
hammocks as opposed to Adirondack chairs, and a garden party as opposed to a dinner party.
–Brad Ford
Another part of the market's success may simply be that it's a good time. In an age when retailers are obsessed with experience centers and brand immersion, Field + Supply fits right in, without breaking a sweat. In the fall, the three-day event features concerts, food, kids' entertainment, fire pits, parties and photo ops galore (not to mention the occasional celebrity cameo: Last year Michelle Williams and Jason Segel made an appearance).
Ford is planning for a similar feel for Field + Supply: Spring MRKT, with a few twists: "There may be lawn games as opposed to fire pits, hammocks as opposed to Adirondack chairs, and a garden party as opposed to a dinner party. We want to keep it focused on the beautiful location, which is so lush and green in the spring."
For Ford, the fair is a passion project, but one that aligns neatly with his other ventures: a thriving interior design practice and the Manhattan showroom Fair. "All the dots are connected as far as Field + Supply and Fair, even interior projects," says Ford. "I source a number of things that are shown at Field + Supply for my other two businesses." Still, one gets the sense that he does it mainly because he loves it. "I've always been drawn to handcrafted; it goes back to seeing my father in his woodworking shop. Craft will always be exciting for me."
Of course, there are challenges—primarily, whittling down the list of applicants into a good mix. For the Spring MRKT, Ford is hoping for roughly 60 percent of the same vendors as the Columbus Day fair, with 40 percent new exhibitors. Confirmed new additions to the market include textiles and apparel by Karu, children's swimwear by Ollie + Squish, and ceramics and accessories by Studiology—with many more to come in the weeks ahead.
Until then, mark your calendars, buy your train tickets, and start shopping for your rural chic look.