With just about everything else in the world going digital, why not B2B wholesale gift and home markets? If only it were that simple.
Physical events—a mix of trade shows, seasonal markets and buying days—have been the backbone of the retail gift and home furnishings business for more than a century. Whether at a seasonal or annual event, or at a facility open year-round, the act of buyer and seller coming together to do business has been the way the wholesale buying process has worked; despite considerable consolidation in the field, with the wholesale show business increasingly concentrated in a few locations, the process has been largely immune to the online onslaught that has overwhelmed so many other parts of the business world.
Now, some are out to change that.
At least two digitally native platforms—Faire and ModMart—are trying to shift the buying paradigm, offering an internet alternative to physical home and gift marketplaces. Unlike shows or markets, where suppliers set up showrooms or booths and retailers come to place orders, virtual marketplaces transfer the entire process online.
The digital marketplaces stress the potential savings in time and money: no need for either party to travel, and wholesalers don't need to ship product, rent show space or set up a booth. The online platforms also suggest that their algorithm-driven purchasing process offers better chances for smart buying decisions—and ultimately better sales and profits.
Mind you, this is not the first time we've heard all of this. At the height of the first dot-com boom in the late 1990s, a handful of startups—and some of the market center operators themselves—jumped on the concept of digital marketplaces (the former as new business, the latter largely as a defensive move). But while the technology might not have been quite up to speed, what really tripped up the concept was the lack of acceptance around the idea of buying things online. In the B2C world, Amazon was just starting to do some serious business, but for the most part, neither brands nor consumers felt all that comfortable with the idea of online shopping.
Nearly two decades later, the climate has, of course, radically changed. It's only natural that a new player sought to blaze a trail in the wholesale home and gift space. The logical one to do so was Etsy, the e-commerce site for all things handmade and vintage, which was founded in 2005. But after several years trying to launch its own B2B program without success, the site finally shuttered the initiative last year.
At a basic level, people still want to do business with people.
DOROTHY BELSHAW, PRESIDENT, GIFT, INTERNATIONAL MARKET CENTERS
The first to seize the moment successfully has been Faire ("wholesale without the hassle," reads the company's tagline), which was founded in 2016 by several former Square employees as Indigo Faire. Unlike Etsy, which attempted to market handmade goods to major retailers, Faire is working with independent retailers, many of whom operate only one store.
Faire is also using digital technology and special terms to entice retailers. "Faire is on a mission to revolutionize the way retailers shop for their stores," the company says on its website. "We take all the pain out of buying for store owners. Retailers can come to Faire to find unique and exciting products from thousands of makers all in one place. … We have also created the first wholesale marketplace to offer free returns. Our goal is to make every item in your store a best-seller."
It is a sales pitch that seems to be resonating. The company has raised funding that values Faire at over $500 million. More importantly, it says that more than 15,000 retailers have already signed up to shop for handmade crafts from its 2,000-odd vendors, all in search of the one-of-a-kind offerings that will set their shops apart from larger retailers or Amazon. So far, so good: In interviews, the company has said that it is on track to do $100 million in sales this year.
Faire will soon have company in the online wholesale space. Later this year, ModMart is scheduled to go live, offering a similar digital marketplace experience but focusing on larger, more mainstream vendors and working with the existing sales structure of market centers and independent sales agencies.
The company is clearly positioning itself as an alternative to Faire: "Unlike others in the field, ModMart truly understands the buying and selling process and the needs of the vendor and retail communities, because it comes directly out of the business," the company said in its press announcement in September. "For vendors, ModMart creates a new B2B sales channel designed to complement their more conventional selling methods, including sales representatives and agencies, as well as market center and trade show showrooms and exhibitions. For retailers ModMart offers a curated selection of product, the most advanced search technology and a consolidated buying platform ... becoming a one-stop shop for the independent gift and home retailer."
Of course, existing wholesale centers aren't exactly sitting on the sidelines as their businesses are jeopardized. But the biggest players also emphasize that nothing can replace the up close and personal process of seeing products firsthand—or the benefits of rubbing shoulders with colleagues and competitors in the marketplace.
"At a basic level, people still want to do business with people," says Dorothy Belshaw, president of Gift for International Market Centers, the industry's largest trade show operator, with markets in Atlanta, Las Vegas, and High Point, North Carolina. "To be wholly successful in creating a robust assortment that resonates with customers, buyers need to interact physically with product and with sellers and creators of that product. No doubt, digital provides a transactional channel that affords convenience in both the D2C and B2B channels, but to fully assess new product introductions, experience and understand merchandising strategies, and find new vendors and lines, nothing is more efficient, effective or compelling than a physical market. Successful retailers have incredible merchandising talent that far surpasses any algorithm."
Belshaw says IMC has conducted extensive research on a digital concept over the past 18 months. "We believe that digital channels are going to continue to proliferate in our industry, but the value of the channel is less about the technology and more about adoption, engagement and credibility," she tells Business of Home. "Pure-play digital is an isolated experience that can create friction and complexity. Physical markets have been bringing buyers and sellers together for a long time and are uniquely positioned to leverage and extend those platforms and channels digitally."
The Dallas Market Center has a robust wholesale market of its own, with 30,000 attendees expected at its upcoming Total Home & Gift Market in January; it also operates as a year-round design center. "We welcome thousands of designers every month, and we see they want to touch and feel, to examine and test products in order to make decisions," Cindy Morris, president and CEO of the Dallas Market Center, tells BOH. "They want to survey trends, see new collections across multiple brands, and build relationships with suppliers and staff."
Though Morris firmly believes in the value of the in-person buying process, she also stresses that there's still a role for digital platforms in the market. "Online tools can be helpful, but there's a clear reason why digitally native brands such as Casper, Warby Parker and even Amazon have expanded to physical locations: Shoppers crave the in-person experience—and perhaps most importantly, research shows that in-person showroom orders are 2.5 times larger than orders placed online," she says. "We continue to strengthen our digital tools and to strategize about ways the in-person experience can be complemented by an enhanced digital [one]."
If this B2B battle reminds you of the ongoing war between in-store and online retailers in the B2C world, it's no coincidence—nor is the outcome likely to be all that dissimilar. Nobody believes that physical stores will go away, and the same can be said for the physical side of the wholesale gift and home business. The best and the brightest of today's market centers and trade shows will remain a viable way for retailers to buy merchandise, but digital marketplaces will likely pick up parts of the business.
The winners are bound to be the companies already embedded in the industry. For vendors and retailers alike, having more choices in how they do business has to be looked at as, well, a gift.
____________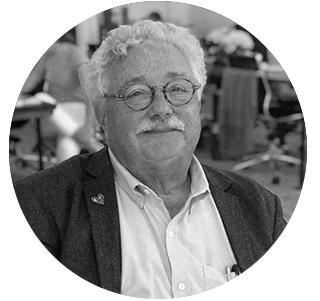 Warren Shoulberg is the former editor in chief for several leading B2B publications. He has been a guest lecturer at the Columbia University Graduate School of Business; received honors from the International Furnishings and Design Association and the Fashion Institute of Technology; and been cited by The Wall Street Journal, The New York Times, The Washington Post, CNN and other media as a leading industry expert. He was also a guest on the BOH podcast, and his Retail Watch columns offer deep industry insights on major markets and product categories.
Homepage photo: Courtesy of NY Now