It's Tuesday, the best day of the week—at least, for the BOH news desk. In our weekly digest, find a roundup of need-to-know (and nice-to-know) news.
BUSINESS NEWS
International Market Centers invested $33.5 million in its High Point Market properties; this will cover a $14.4 million renovation of the International Home Furnishings Center's Commerce entrance, among other local renovations that are a part of IMC's three-year investment strategy. "Re-investment is essential to drive continual growth, relevance and the value proposition of attending Market," IMC CEO Bob Maricich said in a statement. "Our recently announced initiatives in Las Vegas, Atlanta and now High Point underscore IMC's mission to create exceptional markets of enduring value for the furnishings, home decor, gift and apparel industries."
Newport Beach, California–based leather furniture brand One For Victory has acquired Elite Leather Company, also based in California. The move reunites Elite Leather with the third generation of its founding family, which had overseen operations until a separate acquisition in 2017.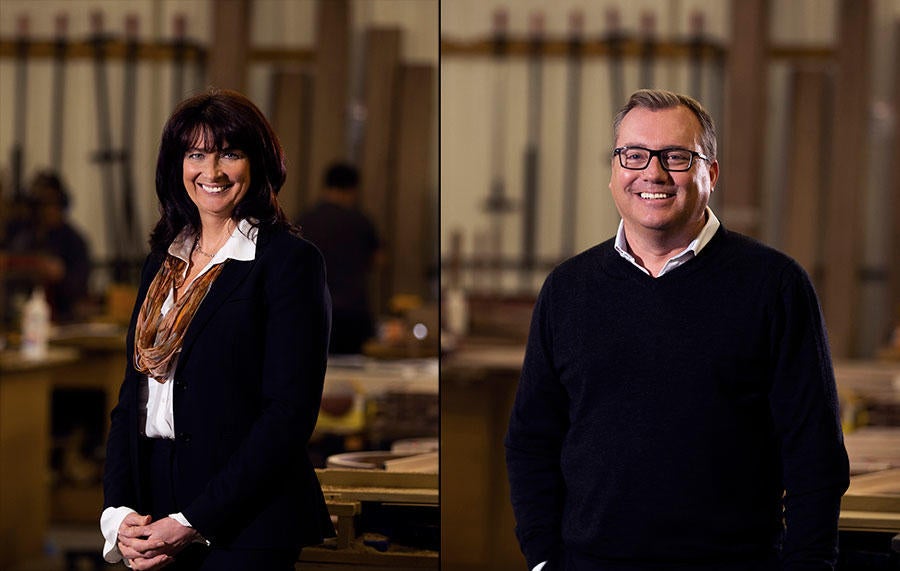 Courtesy of Clive Christian
U.K.-based cabinetry brand Clive Christian Furniture Co. underwent a 100 percent management buyout that was agreed upon by shareholders, including the brand's current majority owners, Souter Investments. Managing director Guy Newton, head of finance and operations Pamela Tennant, and former Shaws of Darwen owner David Dare led the MBO; Newton will continue on in his role, Tennant will become finance director and company secretary, and Dare will be company chairman.
LAUNCHES, COLLABORATIONS AND PARTNERSHIPS
Minneapolis-based furniture company Room & Board has launched a new commercial branch called Room & Board Business Interiors, featuring a collection of contract-grade hospitality and workplace products. "This is a natural step for the brand," president and COO Bruce Champeau said in a statement. "We are taking a progressive approach to perfecting products and services for an unmatched customer experience—bringing to the contract market what our customers have always valued."
Sotheby's Home is hosting a sale of pieces from designer Amanda Nisbet's personal collection, which will include pieces from Niermann Weeks, paintings, and pieces from Nisbet's own collection through The Urban Electric Company.
On October 17, Behr released an updated design of its paint can for Behr Marquee, available at Home Depot. The materials used to create the can are recyclable.
Starting in 2020, Brooklyn-based reclaimed-material furniture brand Uhuru will expand its partnership with office furniture juggernaut Steelcase, which will carry Uhuru's full product portfolio, helping the brand to further its reach to workplace design.
Tortuga Living, the online design hub founded by entrepreneur Andrea Hill, has collaborated with designer Shawn Maximo on a stacking bench inspired by 19th-century expedition furniture. The appropriately named Stacked is modular—it can be converted into shelving or a room divider. "Andrea's analytical approach to design and production was an ideal framework for collaboration," says Maximo. "The challenge gave me an opportunity to explore the beauty of cost-effective materials, which in combination, convey a sense of luxury through simple form and many functions."
RECOMMENDED READING
The New York Times has covered the return of the golden age of design, with new buildings that have art deco and neo-Georgian flourishes. "After watching cutting-edge contemporary residential buildings by starchitects like Zaha Hadid, Jean Nouvel and Frank Gehry sprout across the city for years, many developers and designers are now looking in the rearview mirror for inspiration," writes Tim McKeough. "Rather than trying to develop buildings with contorted forms or monastic minimalism, they are aiming to evoke the romantic glow of New York's past with new buildings that recall art deco, neo-Georgian and neo-Gothic style."
CUE THE APPLAUSE
Voting is now open for Interior Design's Best of Year awards; you can help choose this year's recipients here.