At the 51st-annual edition of the venerable contract design show at the Mart in Chicago earlier this month, attendees gossiped not only about the bustling new Knoll showroom a mile down the road in the city's trendy Fulton Market, but also about the soon-to-be-confirmed rumors that another longtime Mart tenant, Herman Miller, would depart the building, as well. This year's show also marked Vitra's last appearance in the Mart; the company has indicated that it will not re-sign its lease.
The collective star power of the brands leaving the Mart is significant (Knoll had been a tenant for 50 years), but what do the defections really mean for the show—and for the commercial design industry at large? It depends on who you ask.
"Several leading commercial interiors brands are establishing new outposts in the building just in time for NeoCon this year," Byron Morton, the Mart's vice president of leasing, said in a statement. In fact, Knoll's footprint was quickly filled, all of the Mart's permanent showroom spaces on the third, tenth and eleventh floors were full, and the temporary showroom spaces were in high demand. "Their strategic investment is a testament to the strength and value of the Mart as a premier business location and NeoCon as an invaluable resource and hub for the commercial interiors industry," said Morton.
And while satellite programming has existed for years, more brands are starting to recognize the advantages of getting their clients off-site. Perhaps more important than a debate about the health of the show, then, is the question of how NeoCon—a trademarked event that belongs to the Mart—and its stakeholders will respond to the growing design scene happening outside its walls.
Why some brands are leaving
For Knoll, leaving the Mart after five decades was a much-belabored decision—albeit one that's very much a part of the brand's DNA. The company has a history of moving into up-and-coming neighborhoods: New York's SoHo, downtown Miami, downtown Los Angeles—and now Chicago's burgeoning Fulton Market, a landmarked industrial neighborhood whose brick warehouses have rapidly filled with regional headquarters for the likes of McDonald's and Google, as well as trendy restaurants and bars.
"We made a conscious decision to find a space that would allow us to reflect the way people are working today," David Bright, senior vice president of communications at Knoll, tells Business of Home. "Fulton Market is at the epicenter of a new way of working in the Chicago community that we're very much aligned with." He points to the conceptual Louis Vuitton installation that popped up down the block as another example of pioneering retailing happening nearby: "This neighborhood offers a multi-platform approach to fashion, design and commerce."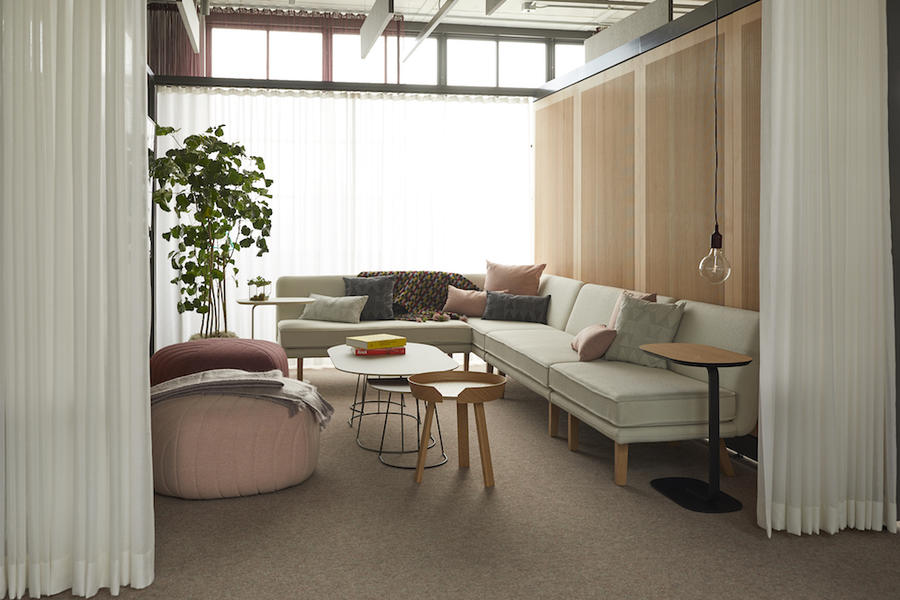 The move also allowed Knoll to create a new kind of showroom—which would have been difficult at the Mart. "The point, I think, is that the space feels like anything but a showroom," says Bright of the Gensler-designed space. "We're really responding strategically to the way the workplace is changing—and the way people are specifying our products."
But moving out of the Mart complicated the brand's plans for NeoCon. For starters, NeoCon is a trademark of the Merchandise Mart, so while Knoll wanted to take advantage of the attention the show generates, none of their promotions could reference the show. (Instead, they took to the street, advertising on bus shelters across the city.) It's a problem soon-to-be neighbor Herman Miller will encounter next year, as well. After whispers throughout the show, the company officially confirmed its departure on the final day of NeoCon—another end to a significant run in the building.
"We are always evaluating locations in both current and emerging markets and on the lookout for vibrant areas where our customers live, work, and socialize," Tim Straker, Herman Miller's senior vice president of marketing and customer experience, told Business of Home. "After 80 years in the Merchandise Mart, we'll be moving into a new home in Chicago's West Loop. We're excited to create a space where our entire family of brands can come together under one roof and where contract and retail customers will experience endless design inspiration and ideas." (As plans for the Fulton Market location come together, the brand's showroom in the Mart remains open through the end of 2019.)
Vitra, for its part, is leaving the Mart without a new home in mind. At a dinner for retailers and architects on the show's first night, CEO Nora Fehlbaum's announcement that Vitra would not be renewing its lease at the Mart was met with an enthusiastic round of applause. (Fehlbaum made it clear that the company is still working on a plan for what's to come in Chicago, and went so far as to solicit the assembled audience for ideas.)WHY OTHERS ARE STAYING PUT
Despite the big-name departures, many exhibitors had recently renewed their leases, and countless more debuted renovated showroom spaces. "We're disappointed by [Herman] Miller's decision to leave the Mart, but demand for NeoCon showroom space is high and we look forward to accommodating expansions from existing showrooms and welcoming exciting new brands," Morton told BOH. "NeoCon is bigger than any single manufacturer."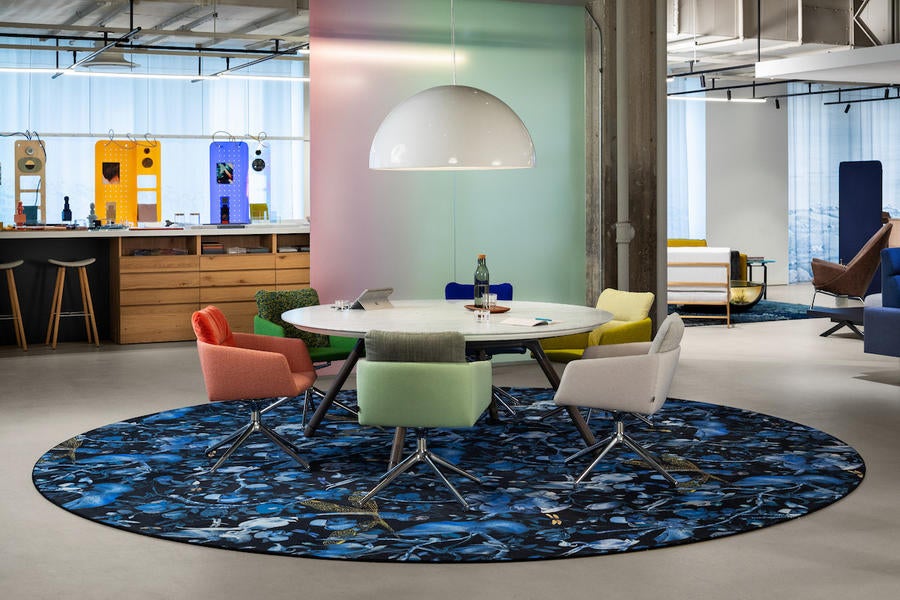 Allsteel, which debuted a revamped showroom designed by Charlie Green Studio and won several awards for its product launches, had one of its busiest-ever shows. The company recently signed a long-term contract with the Mart—and if this year's show was any indication of where things are headed, the team has no regrets. "There has always been an energy about NeoCon. You feel the buzz as you are walking from your hotel over to the Merchandise Mart, and you share that common energy with people whether you pass them by in the hallway or in the stairwell," Diane Collevechio, the company's vice president of marketing, told BOH.
Steelcase CEO Jim Keane echoed that sentiment. "We renewed our lease in the Merchandise Mart last year and made some exciting changes," he said. "We're happy to be in the space again this year and are exceptionally proud of our award-winning showrooms, which celebrate our family of brands and partners."
After 20 years in the same showroom, Shaw Contract recently moved into a new space—with exceptional results. (A notable perk? The new space has windows.) "For us, NeoCon is a great opportunity to use a compressed time frame to accelerate new products, new ideas, to amplify conversations we're trying to have as a brand," John Stephens, vice president of marketing, told BOH. "It gives us a great change to reach and connect with a broad audience in a compressed way."
And the rest of the year? "More than the others, our space at the Mart operates as a showroom," says Designtex president Susan Lyons. "Twenty years ago, people used to come in and shop. Now, because of the pressures on architects and designers to maximize billable time, they don't ever get out—we have to go to our clients every day. But the marketplace in Chicago still seems to like shopping in a showroom and we do get day-to-day walk-in traffic [the rest of the year]."
Quietly, many brands have been doing off-site activations for years.
Lyons says that the return on investment for the space is something the team reevaluates every year—but for now, they plan on staying put. "NeoCon is still our primary show where we engage with our market," she explains. "We introduce new product all year long, but this is the show where there's a critical mass of people that come, and it's a great way for reps to see a large number of their clients."
Still, she's keeping tabs on the companies that have chosen to exit the building. "As more big people move out, you do wonder what happens to smaller companies, or smaller industries like materials and textiles," says Lyons. "We benefit immensely from people coming to the bigger showrooms."
BEYOND THE MART
But for all of the concern about brands leaving the Mart, one thing is very clear: Quietly, many brands have been doing off-site activations for years.
"Taking it outside of the Mart is something I've always pushed for," says Stephens. For the past four years, Shaw has hosted off-site dinners, panel discussions—and, notably, a cocktail party for 2,000 guests. "Activating Chicago is interesting, especially with Knoll and Herman Miller, who I assume are still going to have a major presence during NeoCon outside the Mart. There's a lot of uncertainty [around that shift], but there's also a lot of potential for the show to be a more expansive, more interesting experience than it has been within the constraints of the building."
I imagine NeoCon as a weeklong event. Pop-ups sprinkled across the city would encourage visitors to see more parts of Chicago
John Hamilton, director of design, Coalesse
This year, Steelcase shuttled many of its top clients to see its collaborations with Mitchell Gold + Bob Williams in the brand's Lincoln Park store, and with West Elm in an expansive pop-up space. "Our goal is to showcase the many choices designers have when working with Steelcase and our dealer network," says Keane. "Some of those great spaces and experiences can be seen inside the Mart, but some are not."
For Mitchell Gold, the experience was an enlightening one. He and his senior vice president of the company's contract business hosted a breakfast and two lunches—one at noon, the other at 1:30 p.m.—at one of the dining tables in the center of the store; later in the afternoon, they entertained over wine and cheese. The setting, with 10,000 square feet rather than 150 square feet and people rushing past, offered a more expansive view of the company's collaboration with Steelcase. The setting also fostered more meaningful conversations: "We ended up having people [stay] for an hour or more," says Gold—a far cry from sometimes-frantic showroom visits. "Going in, I thought, What am I going to do, just stand in the store all day? But I got to really engage with people and talk about how we can solve their problems." Next year, he hopes to extend his visit.WHAT DOES THE FUTURE HOLD?
What comes next? There are several avenues NeoCon could pursue, from doubling-down on building-only programming to embracing off-site activations. For many stakeholders, there's tremendous appeal to transform the show into a larger, city-wide event—not unlike Salone del Mobile, which has come to tacitly support and endorse the myriad Fuorisalone events throughout the city of Milan. "The U.S. needs a design event to bring together the incredible community of creative energy found in North America," Coalesse director of design John Hamilton told Business of Home. He argues that Chicago seems uniquely positioned to host a sprawling event that rivals the Milanese show: it's accessible from both coasts, easy to navigate around the city, a lively dining and nightlife scene, and has a baked-in history of architecture and design. NeoCon itself has a proven track record, as well, drawing more than 55,000 attendees to this year's show.
"I imagine a future where NeoCon is a week-long event that includes more cultural aspects of design and the problems that designers are working to solve, where there is a diversity of brands and industries sharing their points of view, and where there is greater opportunity for younger designers to express what they see in our combined futures," suggests Hamilton. "Pop-ups sprinkled across the city would encourage visitors to see more parts of Chicago; summer festivals could be woven into the calendar to get even greater cross-pollination between the residents and visitors. The event could remain focused on the commercial furniture industry, but by being more inclusive it would support putting design front and center in the minds of everyone."
It's a vision that resonates with other industry leaders: "I would like to see NeoCon become more focused on the visitor's experience in the city by creating more opportunities to celebrate all facets of design," says Collevechio. "It really comes down to creating more design-rich experiences, embracing design holistically across the city and creating engagements for visitors to appreciate the architecture and design that the city offers."
But the show will have to do the work, says Stephens, who has sat on NeoCon's planning committee in the past. "There's still a sense that people go to NeoCon to catch up with people, to work on projects, but I'm not sure many people say that they go to NeoCon for inspiration," he says. "That has to change, and there's an opportunity for us, the people who are investing in NeoCon, to determine what we want that to be. Yes, Chicago is different than Milan, but I think there's a way to activate the city's art scene, the other design disciplines, to make it a place where people want to go to be inspired."