For years, digital and catalog brands like One Kings Lane and Serena & Lily have used Hamptons pop-up shops as a way to try out physical retail, capitalizing on the locale's seasonal popularity with key clientele as a way to build brand awareness. Now, Room & Board has opened its own pop-up in East Hampton that'll stay open until September, proving that the concept is open to all brands looking to experiment, even those with an established brick-and-mortar presence.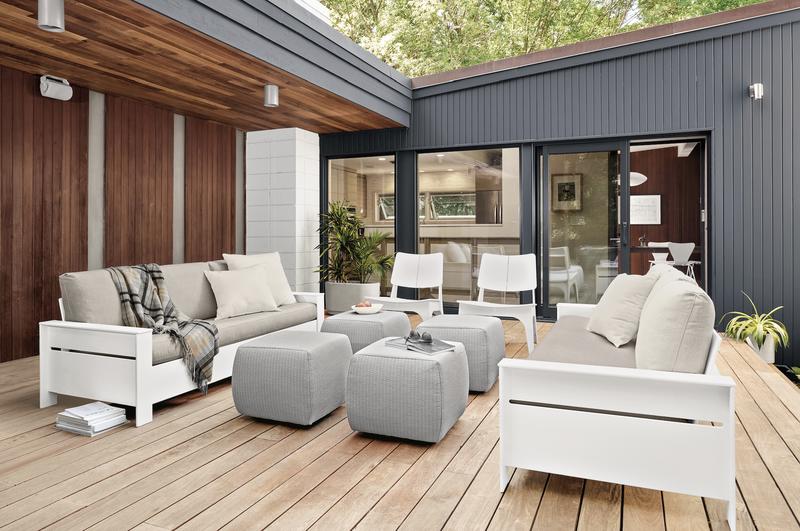 "This idea has been on our minds for a while as a unique way for us to connect to a specific geography where we know there is an opportunity to serve customers," Lee Testa, Room & Board regional retail market manager, tells Business of Home. "We are going into this as an experiment to see how we can attract new customers to our brand and re-engage existing customers by being front and center in the Village of East Hampton."
The Hamptons is an ideal market for pop-ups because when it comes to many brands' target clientele, many also need to furnish their beach houses. "We want to make it easy for them," says Testa. "It makes sense to be where are customers are and to provide solutions to them in those second home markets." When One Kings Lane opened its pop-up in summer 2017, it extended its lease indefinitely and stuck around. And before that, Serena & Lily tested the brick-and-mortar Atlantic waters and has had years of success. Ultimately, the Hamptons is full of the perfect clientele, and many of them are seasonal—making a temporary, seasonal pop-up a good bite-size investment when testing a new market.
Room & Board already has 17 stores across the nation, so it's far from its inaugural experience in the brick-and-mortar space. Nor is this the brand's first time in New York—it has had a permanent space in Manhattan for years.
When it comes to exactly why the brand opened the pop-up, it's due to the great return potential. "The stars aligned to provide us with the opportunity," Testa says. "As it turns out, we were able to find the right space and were able to organize and pull the pop-up together fairly quickly. We were lucky to have a couple of store-planning models we were working on already for some smaller footprints, and this space was about the size of one of them, so we had a nice head start in the planning process." The brand has replaced its warehouse and opened three stores and a delivery center all in the past two years.
Ultimately, Testa explains, "The pop-up provides us with a testing lab to experiment and distill much of what we're doing in other parts of our business into a singular experience."
The Room & Board pop-up is located at 51 Newtown Lane, East Hampton, New York. It is open Thursdays through Saturdays from 11 a.m. to 7 p.m., and Sundays from 11 a.m. to 6 p.m., from now until the end of September.