Chip and Joanna Gaines have reinvented the biscuit and White House officials are now wearing face masks. These are strange times, but despite it all, the industry pushes on. Read on for headlines, launches and events, recommended reading and more.
BUSINESS NEWS
Lenox Corporation has announced the permanent closure of its Kinston, North Carolina, factory. In mid-March, 159 employees were asked to leave due to the pandemic, but by April 19, the downturn caused by the virus forced the facility to close entirely. "It has been a very difficult decision to close the factory. It is closing a chapter in Lenox's long and illustrious history as an American manufacturer of fine dinnerware products," said CEO Mads Ryder in a statement. The 218,000-square-foot factory, built in 1989, was the only fine bone china factory in the United States.
As reported by The Wall Street Journal, Lenox's Kinston factory closure is only one of many tremors being felt in the industry. Petoskey, Michigan–based cutting board company Michigan Maple Block Co. and East Windsor, Connecticut–based Blue Bell Mattress Company have both permanently closed as a result of the current economic situation. In early March, Warren, Michigan–based furniture chain Art Van Furniture LLC filed for bankruptcy, and weeks later, Manchester, Connecticut–based chain Bob's Discount Furniture canceled orders and halted warehouse operations after closing its stores during the crisis.
Pinterest and Shopify have joined forces. A new app allows the one-million-plus Shopify merchants to upload catalogs to Pinterest, turning their products into shoppable Pins. The Pinterest app on Shopify offers a slew of shopping features, including automatic daily product updates, an ad buying interface and a 'shop' tab on the merchant's Pinterest profile that connects to their store.
The German government has made the decision to allow B2B trade shows to resume as early as June. The reopening will occur under the authority of regional state governments, assuming strict implementation of health and safety measures. Early signs indicate that the shows will be well attended: Heimtextil 2021, the international textile fair (scheduled for January 12 to 15), is already 95 percent booked, reports Home Textiles Today.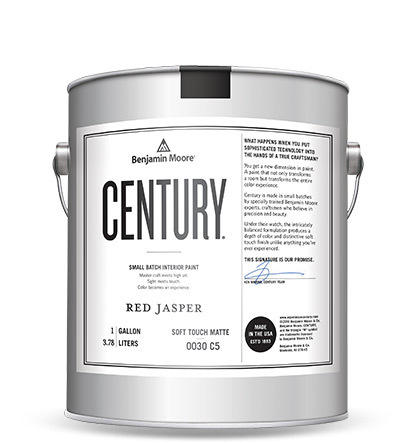 Courtesy of Benjamin Moore
Benjamin Moore is discontinuing Century, its small batch line of pre-mixed interior matte paint that launched in 2017, aimed at the high end of the market. According to a spokesperson, following market research, the company has decided to focus its attention on the Aura product line instead. Century will be completely phased out by December 2020.
Following an affirmative ruling from the National Labor Relations Board, the editorial employees at Hearst Magazines are now able to vote to form a union with the Writers Guild of America, East, reports MediaPost. Next steps involve setting a date for employees to cast their votes or organize a mail-in vote for the decision.
Department store retailers are still reeling: Lord & Taylor will reportedly hold liquidation sales upon reopening, and according to a May 5 press release, Nordstrom will permanently close 16 of its brick-and-mortar locations. After much talk of Neiman Marcus's impending Chapter 11 filing, the bankruptcy declaration finally came to pass on May 7. JCPenney is still on bankruptcy watch.
LAUNCHES, COLLABORATIONS AND PARTNERSHIPS
RoomMates Decor, a division of the Pennsylvania-based wallpaper company York Wallcoverings, has launched a new website that features a room visualizer app. The web-based technology is compatible with both mobile and desktop browsers, designed to assist customers looking to visualize peel-and-stick wallpaper in their space.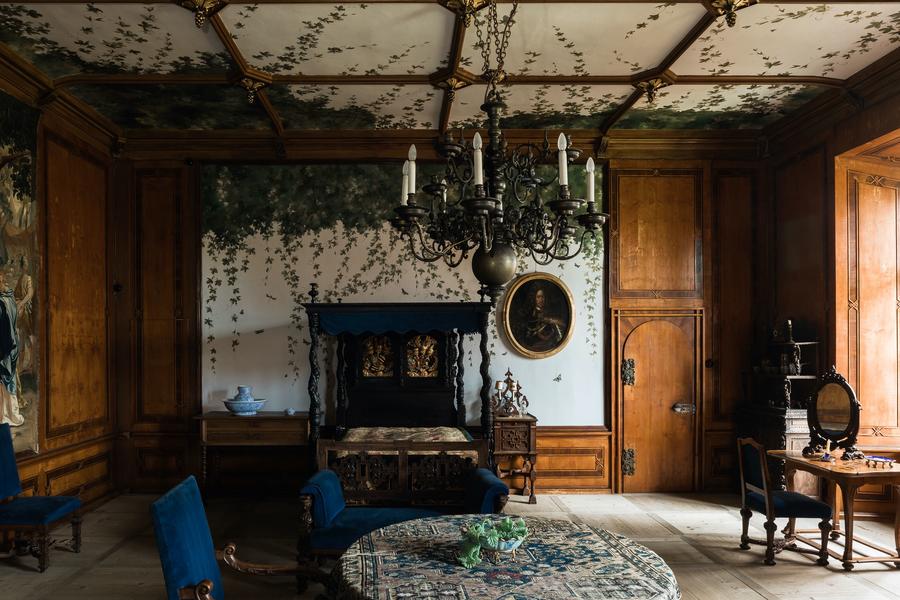 Courtesy of Calico Wallpaper
File under "unconventional places to debut a wallpaper line." A collab between Brooklyn-based makers Calico Wallpaper and New York-based architecture firm Charlap Hyman & Herrero has premiered at—wait for it—Schloss Hollenegg, a castle in Austria. "Overgrow" was inspired by the cascading greenery that teems along the covered walkways, staircases, and towers around the castle.
Luxury fashion label Marie France Van Damme has launched a new platform for artisanal products and decorative objects for the home called Curated by MF. The site seeks to support small businesses, independent designers and craftspeople.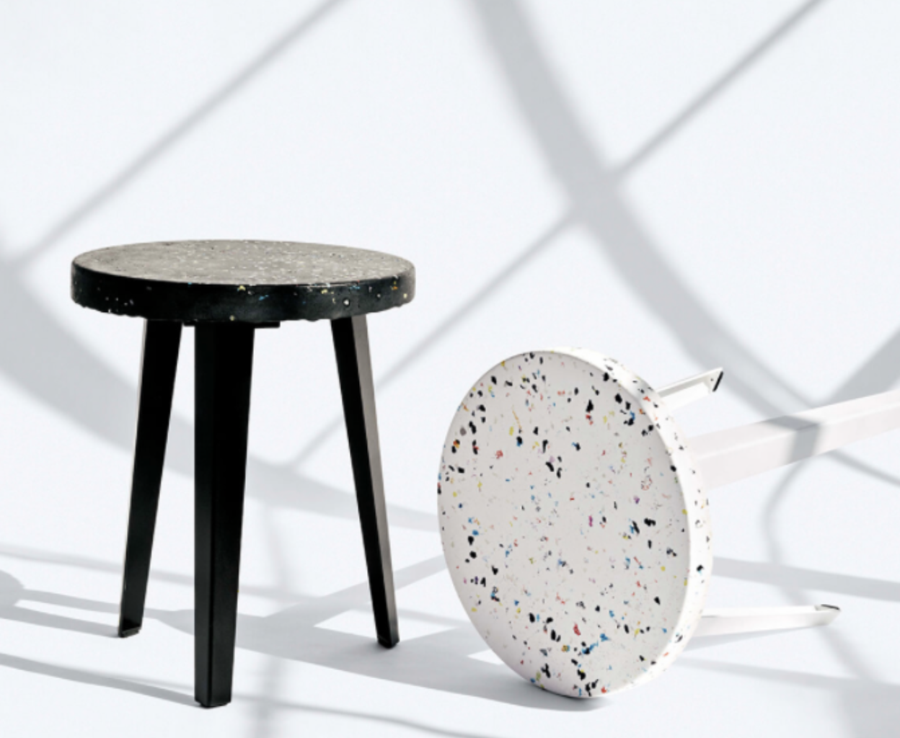 Detroit-based furniture maker Floyd has launched a limited-edition collaboration with Thing Thing, a fellow Detroit studio that uses design to repurpose postindustrial plastic. The partnership is reimagining Floyd's signature side table in two colorways, both accented by multicolored plastic confetti.
Calendar UPDATES
The first-ever Milieu Designer Showhouse in Houston has announced an adjusted schedule for the event. From June 6 to 7 and June 13 to 14, the showhouse will be open to small groups of guests to ensure safe social-distancing. Ticket sales will benefit Dallas nonprofit Clayton Dabney for Kids with Cancer.
The 2020 edition of the AD Design Show has been postponed once again. The show's producer and its partners are currently reviewing options for new dates late this fall.
Gift for Life, the gift, stationery and home decor industries' sole national charitable organization, is teaming with DIFFA and NY NOW in support of the 2020 AIDS Walk New York. Originally scheduled for May 17, the 2020 edition will take place "Live at Home" on June 7 due to COVID-19. The virtual event will be presented as a live webcast, featuring celebrity guests, surprise performances and a DJ-led dance party. Proceeds will benefit GMHC, a leading provider of HIV/AIDS prevention, care and advocacy.
Last week, the Design Leadership Network hosted Melissa Biggs Bradley, founder of luxury travel company Indagare, to discuss the future of travel. The highlights aren't all gloom and doom: Airfares are likely to increase, but hotel prices are likely to decrease—and even though planning travel may be premature now, it may start to feel more realistic to make arrangements in the next 30 to 60 days.
SHOWROOM REPRESENTATION
Los Angeles–based fine furnishings firm Jean de Merry is now representing Brooklyn, New York–based luxury hardware brand De La Vega Designs in all four of its showroom locations.
RECOMMENDED READING
The evolution of lighter-weight furniture can be owed to … books? Well, something like that. This week, Financial Times architecture critic Edwin Heathcote explains how to fashion a stylish reading sanctuary during the lockdown, and along the way, he touches upon the ways that books have profoundly shaped interiors.
For many designers, travel is a vibrant source of inspiration—and though restrictions may be in place, our minds and memories need not be. In the latest from travel club Prior's editorial team, five artists and designers talk about the color that for them most powerfully evokes a single place.
When Kinfolk magazine made its debut in 2011, it immediately found its footing in a world of easygoing Scandinavian aesthetes. For all the publication's dreaminess, though, its co-founder, Katie Searle, has seen a fraught few years, as described in an intimate profile by Leslie Jamison for Elle: "At 31, Katie has survived the loss of a child, the end of a marriage, and the death of a great love, but her presence holds vitality rather than weariness."
CUE THE APPLAUSE
Otis College of Art and Design has awarded contemporary American painter and sculptor Enrique Martínez Celaya with an honorary degree for the 2019–2020 academic year.
Ivi Diamantopoulou and Jaffer Kolb of New York–based design studio New Affiliates were awarded The Architectural League of New York's 2020 League Prize. Each year, The Architectural League announces six firms as winners of the award, which spotlights young, innovative North American architects and designers.
The national nonprofit visual arts organization Artadia has announced the recipients of the fifth-annual New York Artadia Awards: Alexandra Bell and Joiri Minaya. Each will receive $10,000 in unrestricted funds, as well as access to the ongoing benefits of the Artadia Awards program.
The 2020 A' Design Award & Competition winners have officially been announced, among them Dabi Robert; Francesco Cappuccio; Ziqiang He; Nedim Mutevelic; the team of Kejun Li, Zhang Jiahua and Nitesh Narappa Reddy; Cao Yang studio, and Marcello Colli. For the full list of winners, click here.
CALL FOR ENTRIES
The registration for next year's edition of the A' Design Award & Competition is already open. The award recognizes excellence in design, and winners receive prestige, publicity and international awareness. For more information, click here.
The International Furnishings and Design Association has announced professional grants for 2020—between June 1 and 30, applications will be accepted for five grants from the IFDA Educational Foundation. For more information, click here.
Three home furnishings brands have come together to sponsor a virtual design challenge. Using upholstery from Taylorsville, North Carolina–based Taylor King, case goods and occasional furniture from Woodbridge, New Jersey–based Woodbridge Furniture, and lighting from Paoli, Pennsylvania–based KingsHaven, participants are challenged to design a Paris-inspired luxury living room. Entries should be submitted by May 31.
IN MEMORIAM
Entrepreneur and Broadway producer Roger Horchow passed away at 91 years old on May 2 at his home in Dallas. Horchow is best remembered for founding Horchow Mail Order Inc., with catalogs offering luxury clothing, jewelry and decor—once even a $750 ladder designed for climbing atop an elephant. In 1988, Horchow sold his firm to Neiman Marcus Group Inc. for about $125 million, writes The Wall Street Journal.
Homepage image: The "Overgrow" wallpaper from Calico Wallpaper's collaboration with L.A.-based architecture firm Charlap Hyman & Herrero | Courtesy of Calico Wallpaper