Montvale, New Jersey–based paint company Benjamin Moore and New York–based decorative arts nonprofit Alpha Workshops are launching a capsule wallpaper collection. The two have worked together since Alpha Workshops launched its wallpaper category in 2001, but this is their first official collection together. For this collaboration, color specialists at Benjamin Moore partnered with the nonprofit's artisans, many of whom have disabilities and other vulnerabilities.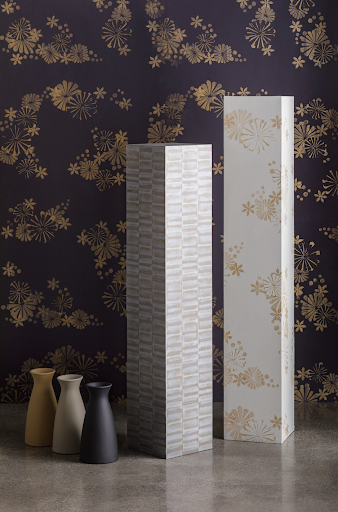 Courtesy of Alpha Workshops
"Recently Benjamin Moore came out with this wonderful new paint called Century," Erik Savage, Alpha Workshops wallpaper studio manager, tells Business of Home. "We're a really process-oriented studio, meaning we like to try new stuff and try different things to make new products. … When folding paper with paint on it, there are certain things that happen that have to be corrected—it can crack (that's the nature of latex). Century resolved that."
Five patterns, each in three different colorways, became available this morning: Kimono has florals on matte; Newport is a geometric grid; Topography has a marbleized, glossy effect; and Spencer and Horizon were brushed onto textured paper. The wallpaper is $125 a yard; 90 percent goes to Alpha Workshops.
"This handmade, carefully curated collection is made for designers who work with extraordinary materials and want to provide their clients bespoke offerings," Ellen O'Neill, Benjamin Moore director of strategic design intelligence, tells Business of Home. "The capsule collection [has] a mix of primaries and neutrals with a layer of metallic glamour that can be easily mixed and matched."
Nearly every roll takes a full day's work, and all are custom-created. "I love when I leave the studio with paint on my arms," says Savage.
About eight months ago, Savage began designing with a team of artisans trained and hired by Alpha Workshops, including Kevin McCarthy, Shelton Holt, Charles Bryant and Robin Dann. "As a studio, we are definitely interested in reaching a broader market, but I think because our paper is done completely by hand and made to order—the only machine we use is our rotary iron to iron the paper—each roll is a handcrafted piece of art. It's for somebody who wants to have art made for them who have a sense of social responsibility."
The Alpha Workshops school teaches people with disabilities and other vulnerabilities, including those with autism or HIV/AIDS how to use artisanal techniques to make a living, or simply "to find the therapeutic enjoyment of creativity," as Savage puts it. The Alpha Workshops studio, in turn, often hires those who have attended its school.
"I am a student who came through that school [four years ago]. Those students are the people who will staff our studio," says Savage, who credits his mentor, set designer Barry Axtell, as a source of his success. "When he was my teacher, he decided I was to take over."
The artists' expressions come across in the collection, "You can see the quality in each piece as signs of each artists' hands find a way into the work," says O'Neill. "You see it in the sumptuous tactility of dripped paint or the still-visible imprint of the crafter's sponge."