It's May, and every day has a little more sunlight than the one that came before it. As we look forward to the month ahead, these continue to be disruptive times—this week, the J.Crew empire declared bankruptcy (stock up on your chinos!). Despite it all, the industry pushes on. Read on for headlines, launches and events, recommended reading and more.
BUSINESS NEWS
Airbnb is slashing its global workforce by 25 percent. As reported by TechCrunch, the home stay company plans to lay off 1,900 employees in response to revenue declines. In a note from CEO Brian Chesky, the cuts are "mapped to a more focused business," and will hopefully mitigate Airbnb's projected 2020 revenue that measures at less than half of 2019's.
On April 21, Zaha Hadid Architects contacted local London authorities to report that a group of hackers using the name "Light" had stolen sensitive company data, threatening to leak the information onto the dark web should their ransom not be paid. The firm has said that the information is backed up, listing files that include financial documents, employee information and contracts, life insurance details, and email inbox dumps. According to The National, ZHA has not only refused to pay the undisclosed sum, but also refuses to engage with the hackers.
On May 31, the Brooklyn, New York–based A/D/O by MINI—a creative workspace, restaurant and design store—will conclude operations. After four years in business, the car brand has chosen not to renew its investment in the project given the current economic climate. "A/D/O was launched by MINI to empower the design community to explore creative solutions to improve urban life, and it has always been a communal effort," said A/D/O by MINI managing director Nate Pinsley in a press release.
Toilet paper rationing came to us all. But in Japan, the toilets themselves were in short supply, as homebuilders panic-purchased before the height of the home buying season in March (ahead of Japan's new financial and school year). At the time, Toto, the Japanese toilet and bath manufacturer, grappled with a hefty backlog on its smart-tech luxury models, writes the Financial Times. Fortunately, the toilet-shopping frenzy was short-lived—Toto has already reported a decline in demand.
After several weeks with closed doors due to government-mandated shutdowns, the Dallas Market Center has reopened. According to a statement, the campus has taken measures to ensure the health and safety of its employees and customers, including daily cleaning, hand sanitizer stations, mandatory face masks, and social distancing protocols.
Architecture news website ArchDaily was purchased by Zurich-based products database Architonic for an estimated $10.8 million, reports Dezeen. The two sites will continue to operate as separate platforms.
In April, news rolled in that the Japanese tech giant SoftBank Group Corp. decided to step away from a $3 billion buyout of WeWork shares. As reported by The Wall Street Journal, WeWork co-founder Adam Neumann has filed a civil complaint in Delaware against SoftBank, citing that the company's decision to terminate the deal came from its own unstable financial position.
INDUSTRY UPDATES
High Point at Home, the free web platform created by High Point Market Authority and designer sourcing platform Steelyard, has been extended through May 30 due to high demand and traffic. The digital platform provides designers with High Point exhibitors' new introductions and seasonal bestsellers; new content, products and video interviews will appear throughout the month.
Given the postponement of New York's Kips Bay Decorator Show House, the organizers have launched a raffle to benefit the Kips Bay Boys & Girls Club, a nonprofit that supports disadvantaged children. Prizes were donated by seven industry brands, with items ranging from a CuratedKravet hair-on-hide framed mirror to luxury LED lighting systems from Lutron. Until May 15, tickets can be purchased by visiting the Kips Bay website.
The biannual wholesale design trade show NY NOW has postponed its 2020 Summer Market, originally scheduled for August 8 to 12. The event will team up with local biannual independent home and gift show Shoppe Object to reschedule the New York Market Week to October 2020. NY Now's fall edition will showcase at the Javits Center on October 18 to 20, while Shoppe Object will stage at Pier 36 October 20 to 22.
LAUNCHES, COLLABORATIONS AND PARTNERSHIPS

Clever has relaunched this week with a new focus: e-commerce. The site, originally launched in 2017, is Architectural Digest's online vertical targeted at a younger demographic (18-to-34-year-olds). The revamp features two main additions, an online shopping channel and a regular release of digital "covers" to be shared on social media.
Courtesy of The Shade Store
The Shade Store announces the launch of its new partnership with Lutron. This new alliance brings with it the option to incorporate automation in the custom window treatments, with innovations like wireless shade control and scheduling capabilities to allow for automatic adjustments throughout the day.
As a part of Kravet Furniture's new ICreate program, Kravet Inc. is partnering with Addison Weeks, the Charlotte, North Carolina–based luxury hardware company, to offer custom finishes on its program, set to launch this summer.
Online media company Design Milk has partnered with influencer marketing agency and platform Embello to boost brand storytelling in the home and design industry.
RECOMMENDED READING
"The economy is shrinking, businesses are closing, and jobs are disappearing due to the coronavirus pandemic. But in the housing market, prices keep chugging higher," writes Nicole Friedman in The Wall Street Journal. During the last recession, housing prices plummeted, but that's not what the real estate market is showing right now. Home sales fell 8.5 percent in March, but the supply is shrinking too. The reporter explores why.
Fin de siècle France teemed with artistic energy. In Nancy, a city tucked in the country's northeast region, the art nouveau movement took hold—this week, Edwin Heathcote, architecture critic for the Financial Times, takes a behind-the-scenes look at the restoration of the Villa Majorelle. Completed in 1902, the building was designed by modernist pioneer Henri Sauvage—in recent years, it's served as a highway department office. Now, post-renovation, ebony banisters and candy-hued stained-glass windows are a testament to this fairy-tale era of design.
The coronavirus has put no small amount of pressure on retail's need to adapt—for those curious about contactless transactions and touchless payment, Business Insider has rounded up innovations across the finance and tech industries, including everything from "buy now, pay later" schema to why companies like Square will come out on top post-pandemic.
As employers navigate reopening their businesses, open floor plans outfitted with communal lounge areas are being reconsidered. Instead, plexiglass barriers and sanitation stations are likely to take their places. New York Times reporter Matt Ritchel predicts what post-pandemic makeovers may look like, forecasting "hand sanitizers built into desks that are positioned at 90-degree angles or that are enclosed by translucent plastic partitions; air filters that push air down and not up; outdoor gathering space to allow collaboration without viral transmission; and windows that actually open, for freer air flow."
CUE THE APPLAUSE
The 2020 edition of the AATCC (American Association of Textile Chemists and Colorists) Future Leaders Award recognizes promising young professionals in the fields of textiles, apparel and material sciences. This year, the recipients were Ashley Handley, Heather Johnson, Katelyn Lee, Bryan Ormond, Tyler Pickett and Morgan Schanski.
The international tile and stone exhibition and conference Coverings released its post-show attendance numbers and digital resources from Coverings Connected, which ran from April 20 to 23. The digital experience was the first of its kind, providing nearly 4,000 industry professionals with four days of educational webinars and networking opportunities.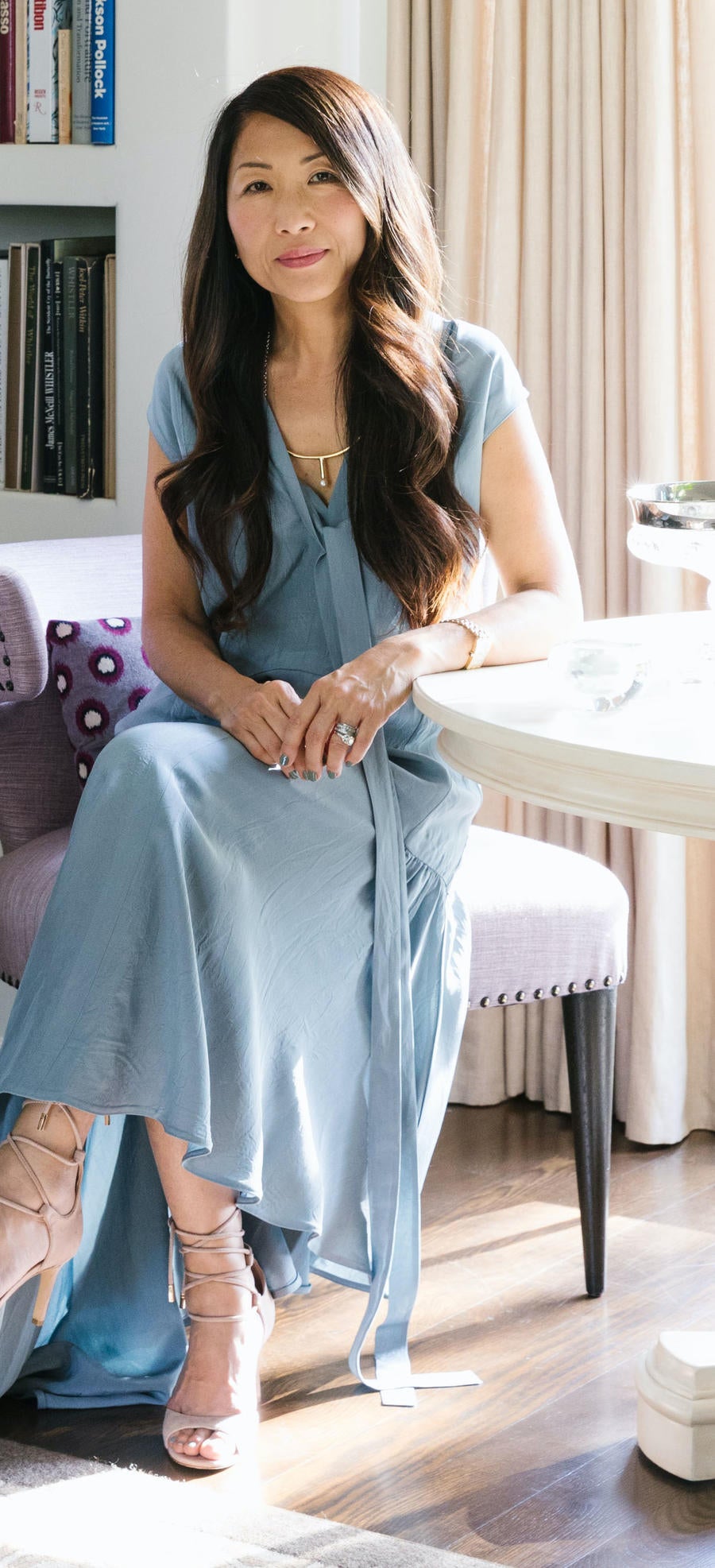 Courtesy of Studio William Hefner
IN MEMORIAM
After a 15-month battle with cancer, interior designer Kazuko Hoshino passed away in April. For over 20 years, she designed interiors and custom furniture, and most recently served as the head of interiors at Studio William Hefner in Los Angeles. Her passion for design and her kind-heartedness will be missed.
Homepage image: Automated shades from the alliance of Lutron and The Shade Store | Courtesy of The Shade Store