The race to develop a digital marketplace for suppliers and retailers in the gift and home trade is heating up. At least two more companies are entering the field of virtual online buying and selling platforms, while those already in the game are stepping up their efforts. In a time when in-person commerce is at a standstill, the stakes couldn't be higher.
At the recent January trade shows, two well-established industry players—International Market Centers, which owns the Atlanta and Las Vegas market facilities, as well as much of High Point's real estate; and Brandwise, a longtime digital processing service—both announced that they were entering the virtual ordering space. They join several others, including Faire and ModMart, in trying to establish an industry-standard platform where retailers order products online from a wide variety of suppliers—sometimes as a stand-in for the transactions that typically take place at home and gift markets, and in other cases as a complement to those in-person events.
Faire, which started out as Indigo Faire in 2016 with a roster of smaller, crafty and handmade suppliers, has expanded in recent years to include more established vendors who can service larger orders. Last fall, the startup secured additional private equity funding that valued the company at $1 billion. At that time, it was reporting $1 million a day in sales and selling more than 7,000 brands to 50,000 stores, representing substantial gains over the past two years. In March, the company rolled out two new tools to help boost sales: email campaigns for makers, similar to Mailchimp; and integration with point-of-sale app Square.
ModMart, which went live last fall, has seized on the chance to offer a comparable service—albeit one that folds market centers and a partnership with a network of sales reps in the process. The channel has positioned itself as a way to augment the traditional wholesale buying process rather than supplant it. Company founder and CEO Bill Quinn, a gift industry veteran, tells Business of Home that retail orders jumped at the beginning of the year, and he says he sees the upside of having new competition in the market. "It confirms the validity of the B2B wholesale space," he says.
The big new competitor is IMC, which announced its IMC_di division in Atlanta in January, saying it would invest as much as $100 million in creating its digital marketplace. To get started, it purchased Pharos, an integrated sales software system, and RepZio, which was already offering a digital marketplace to portions of the home market. Rebranded ShopZio, the B2B marketplace was pushed live—and following IMC's announcement last week that it would waive membership fees for the remainder of 2020 for new and existing customers, participation surged. The platform currently hosts 35,000 buyers and more than 100 vendors in the gift, home and apparel categories.
The other newcomer to the home space is Brandwise, one of the first digital suppliers to the gift industry, going back more than two decades. "This is going to be an exciting year as we have begun our rollout of Brandwise 2.0," says Todd Litzman, CEO and president. "Our cloud-based hybrid e-commerce platform will empower our 4,500 sales reps, 3,700 suppliers and 290,000 retailers with the tools they need to compete in an ever-changing industry." The company announced in March that it had fast-tracked online tools to help suppliers keep sales representatives abreast of vendors' on-hand inventory amid supply chain disruptions caused by the coronavirus.
Litzman emphasized what will differentiate its platform from others in the space. "Brandwise leverages the most critical asset, sales reps, the indisputable human value that no amount of AI can replicate," he says. "This hybrid approach allows product discovery provided by universal wholesale websites. Retailers and designers can purchase product across thousands of suppliers in the environment they prefer, and sales reps and suppliers are provided with full transparency into these transactions."
Most of the companies offering digital marketplaces incorporate physical market centers as part of the equation, but the Dallas Market Center offers a word of caution. "All market centers, manufacturers, sales organizations and service providers want to create enhanced value for their customers," says Cindy Morris, CEO and president of DMC. "But candidly, I think the industry-created solutions offered thus far need to be carefully evaluated on key issues: Are the platforms really integrated, do they serve the long-term needs of the marketplace, or have competitive pressures and the rush to launch compromised the best overall solution?"
For retailers, suppliers and reps, there are still issues to be resolved, she said. "The bottom line is that serious questions remain around functionality, data privacy and affordability. We are advising our customer to proceed cautiously."
Another wild card in this process may come from the company that has conquered the B2C space and is making strides toward doing the same in B2B: Amazon. The online giant's Amazon Business division is projected to top $31 billion in revenue and $52 billion in gross merchandise volume by 2023, according to a new report from RBC Capital Markets. While much of that is in industrial and commercial products, not merchandise to be resold through retail outlets, the mechanism is the same and the company's capabilities in online sales are well known. RBC analyst and managing director Mark Mahaney says the wholesale trade needs to be aware of Amazon's goals in the B2B space. "Amazon has the technology platform, logistics prowess, selection, and a large network of buyers and sellers that we believe will enable the company to grow its business segment faster than the overall retail segment for the foreseeable future."
When digital wholesale marketplaces first appeared two decades ago, they failed miserably. Launched in conjunction with individual market centers and by independent third-party service companies, they were victims of bad tech that didn't really work as designed—and more importantly, of an industry not quite ready for the digital world.
This time around, expect the outcome to be much different.
____________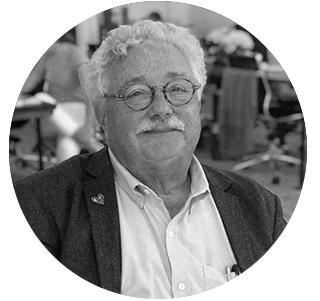 Warren Shoulberg is the former editor in chief for several leading B2B publications. He has been a guest lecturer at the Columbia University Graduate School of Business; received honors from the International Furnishings and Design Association and the Fashion Institute of Technology; and been cited by The Wall Street Journal, The New York Times, The Washington Post, CNN and other media as a leading industry expert. He was also a guest on the BOH podcast, and his Retail Watch columns offer deep industry insights on major markets and product categories.
Homepage photo: Shutterstock