At Business of Home, we're committed to following the effect of the coronavirus pandemic and its economic fallout on the design trade. We'll be collecting the most important stories here, in a—hopefully short-lived—regular feature. If your business is being affected or you have a tip, please drop us a line.
NORTH CAROLINA FURNITURE MAKERS COPE WITH SHUTDOWN
Industries across the globe have sputtered to a halt over the past month, and the furniture industry is no exception. Under a statewide shelter-in-place order, North Carolina's normally booming furniture manufacturers have closed their doors, unless they've shifted operations to address the nation's urgent demand for protective equipment for medical workers, as Lee Industries and EJ Victor have done.
For most manufacturers, the new normal means sending employees home, manning the phone lines remotely to keep customers apprised of where their orders are in the queue. (And, they hope, to take new orders.) In a letter to customers on March 31, Andrew Crone, the CEO of Chaddock said that the company would continue to operate essential functions such as customer service and accepting new orders via a small, remote team. "Like so many of you, I'm already looking ahead to safer, more certain times," he wrote. "We're already making plans to ramp up production to recover lost weeks on orders. I know once this order is lifted and this crisis is calmed, that our resilient company and industry will emerge as strong as ever." —Haley Chouinard
PAYING THE RENT WITH INSTAGRAM STORIES
Like most small business owners right now, Roxy Te was worried about how to keep things afloat at Society Social, her furniture line—which just opened a flagship store in Charlotte, North Carolina, in November. "We invested a ton of money in the build-out of our store and staffing it," says Te. "We closed our doors two weeks before the state of North Carolina ordered nonessential business owners to shut down, so, even if we can reopen at the end of April, we're looking at [being closed] six weeks."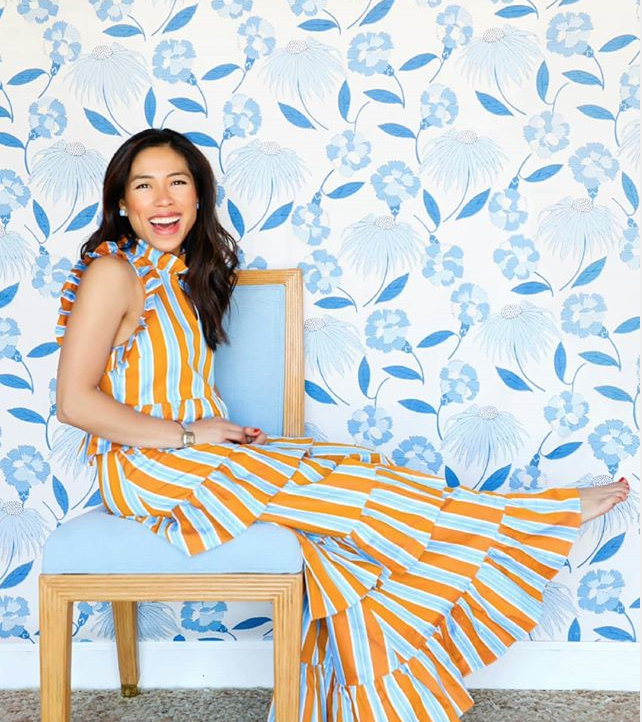 Courtesy of Society Social
In addition to closing the shop until the government deems it safe to reopen, Te had to cancel a planned New York pop-up, the launch of the company's spring collection, and the brand's annual sample sale—a customer favorite. "In figuring out how to pivot and make up for the lost revenue, we realized that we could adapt our sample sale," says Te. "We decided we could still host it digitally."
While Society Social started as, and still operates, a healthy e-commerce business, much of what's sold in the sample sale are items not typically sold online: floor models, gifts and accessories that are in-store only. Instead of loading thousands of SKUs onto the website, a task that would've taken a considerable amount of time, Te and her team decided to host the sale via Instagram Stories.
It was a rousing success—the store sold 60 percent of its furniture stock in the 24 hours that the Stories were up. The revenue from the sale was also more than enough to cover the store's April overhead, and the company gained 2,000 followers on the store's account to boot.
Taylor Walters, who handles the Charlotte store's operations and new business development for Society Social, spent several days in advance of the sale photographing items in the store. When the sale went live last weekend, it comprised 250 slides on the Society Social Charlotte account and worked by having customers send the account a direct message with their email address. They would then be sent an invoice for the item, which they had 20 minutes to complete with payment details or the item would be released to another customer. "From a back-end standpoint, it really wasn't as complicated as it sounds," says Walters. "My main takeaway was that people wanted to support us and they were excited about the opportunity. I think that building that relationship with our customers and then letting them feel like they're connected in a very personal way is on-brand for us, so it was fun to be able to execute this in that way."
Te is considering ways to replicate the sale's success should the lockdown continue beyond the end of the month, but for the moment, she's just satisfied that they pulled off the last sale with such success. "We were just grasping at anything that we could to see if we could take care of our overhead for a month or so," says Te. "We were so grateful and touched by the way people showed up." —Haley Chouinard
LATEST NEWS
Elle Decor has postponed its June issue, which has historically featured the brand's top-talent compendium, the A-List. "In light of these moments and based on feedback from our industry friends, we have decided to add an extra month to the closing and printing schedule to produce our most important issue of the year—The A-List Special Issue," associate publisher Bill Pittel told BOH in a statement. "This will give both our clients and editors the extra time needed to further adjust and adapt to the new challenges we face."
Dezeen has announced the Virtual Design Festival, which the publication is calling "the first online design festival." Come April 15, a rolling program of online talks, lectures, product launches and more will serve as an alternative to the IRL design fairs and festivals that have been postponed or canceled. Attendance is free, and requires no registration.
The International Market Centers announced that it would offer free subscriptions for the rest of 2020 to ShopZio, its B2B digital platform for resource discovery and e-commerce. IMC hopes that the marketplace will alleviate some of the disruption caused by COVID-19 closures.
In the shipping industry, many companies are moving to suspend LTL (less than truckload) service in an effort to protect their employees, though those that carry goods deemed essential continue with truckload services, reports Furniture Today.
Amazon workers in Staten Island walked out of a fulfillment center, demanding that the facility close for a deep cleaning, saying that the company has failed to adequately notify workers or address possible coronavirus cases, reports The Verge. Allegedly, workers across 19 of the company's U.S. warehouses have tested positive for COVID-19.
Brad Ford's maker market Field + Supply plans to launch a new initiative called A Maker Moment, to share the stories of innovative makers and drive online sales.
CALENDAR UPDATES
Dallas Market Center announced today that it would cancel June Lightovation amid continuing coronavirus concerns, though other June programming remains scheduled as the situation develops. The lighting show was scheduled to run from June 24 to 27.
The New York Design Center has launched a weekly Instagram Live series titled @NYDC Cocktails and Conversations, where a designer will host a virtual cocktail party to showcase their industry knowledge (and mixology skills). It airs Fridays at 4:30 p.m EST. First up? Designer and former Queer Eye star Thom Filicia.
Homepage image: Society Social's new storefront in Charlotte | Courtesy of Society Social