It's Tuesday, the best day of the week—at least, for the BOH news desk. In our weekly digest, find a roundup of need-to-know (and nice-to-know) news.
BUSINESS NEWS
Architectural surfacing company Cosentino Group has released its 2019 global kitchen study following a year of research at the Silestone Institute, the company's kitchen-focused research platform. The study comprised a survey of kitchens across the globe as well as interviews with 23 experts in design, food, technology and sustainability. "Global Kitchen: The Kitchen, the Heart of the Home," features insights from sociologist Nita Mathur, architect María González, interior designer Megan Pflug, chefs José Andrés and Albert Adrià, and others.
Top takeaways include that the kitchen is becoming more gender-neutral (though 64 percent of women still cook regularly); kitchens are being designed with wellness in mind (62 percent of those surveyed have improved their diets since social media has helped make information more accessible); and social media and smart home devices have shaped how people use kitchens today (half of the survey takers use social media as design inspiration, as well as for recipe, diet and restaurant ideas).
To highlight its commitment to ethical manufacturing, Summit, New Jersey–based bedding company Boll & Branch has released its first impact report. In the last five years, the brand estimates that it has saved 593 million gallons of water in organic cotton production and offset 8.4 metric tons of carbon emissions through boating its goods from port to port. Its goals for the coming year include doubling its finished goods production in the U.S., doubling its premium contributions to factory workers, and insuring that 99 percent of its organic cotton is Fair Trade certified.
A South Florida furniture brand has accused Crate & Barrel of copying its designs and then costing it customers, reported local news affiliate WSVN. Thomas Fuchs Creative, which Thomas Fuchs has run with his husband, Michou Mahtani, for a decade, designed the melamine plates three years ago and sold them through Barneys New York and Le Bon Marché in Paris. This past Memorial Day, sales decreased by a third—at the same time that Crate & Barrel released its summer 2019 catalog, featuring melamine plates on the cover. There may be little legally that the couple can do, as they don't have protection on the plates; a set of four from Fuchs cost $75, while at Crate & Barrel they cost $2.97 each.
Following online criticism for a lack of diversity, biannual design event One Room Challenge is aiming to pivot and include a more diverse group of designers. "I never perceived the comments as criticism," ORC founder Linda Weinstein tells BOH. "People love the ORC and want it to grow and succeed, otherwise they wouldn't have reached out. The ORC is not a competition, it's a community where everyone is welcome. There's only one reply: I agree, let's work together!" ORC recently held a private meeting with Medina Grillo, Shavonda Gardner and Malene Barnett, female designers who've used their platforms to effect change in the industry, to get feedback on how the organization can make changes. Taking the feedback seemingly to heart, the brand's participants for its October 2 event represent more diversity within the industry.
LAUNCHES, COLLABORATIONS AND PARTNERSHIPS
This morning, ANGI Homeservices, parent company to HomeAdvisor, Handy and Angie's List, announced a partnership with Nextdoor, a social media platform designed to help users get to know the people in their neighborhoods. As part of the integration, Nextdoor members can book a home service professional when they search for recommendations. "The most common way consumers discover pros is by asking a neighbor, and these recommendations are increasingly happening online," Brandon Ridenour, CEO of ANGI Homeservices, said in a statement. "This partnership gives homeowners on Nextdoor instant access to service providers from HomeAdvisor and Handy, enabling them to get the job done quickly and easily."
In other news, HomeAdvisor and Realogy have teamed up to create RealVitalize, a home improvement resource platform for sellers. Any homeowner who lists with Realogy can make improvements and repairs from a brand in the HomeAdvisor network. Realogy pays upfront repair costs, which sellers then repay following the close of their sale. No minimum listing price or participation fees apply. The program is available in Columbus, Ohio; Denver; and Orlando and Tampa, Florida. It will go nationwide later in the year.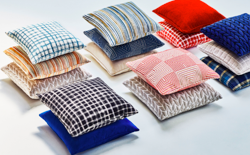 Carnegie Fabrics is expanding its upholstery line with a new resimercial-focused collection, Viewpoint. The launch of the collection also marks the expansion of Carnegie's Elements category of performance upholstery. "In a time where people want to bring the serene comfort of home to the workplace, people are looking for something that feels familiar. They want to surround themselves with fabrics that evoke a feeling of warmth and comfort," says the brand's upholstery studio director, Chase Taylor. "We've created something traditional in feeling, but with a modern perspective and look."
Bed Bath & Beyond has opened One Kings Lane Open House, its second private-label furniture brand. The new brand is Bed Bath's way of bringing the OKL brand into its online presence, with products that retail for $99.99 to $1,199.99.
Mattress brand Casper, which can mail your mattress to you in a box, has partnered with edibles company Plus on a collection of CBD and melatonin gummies designed to enhance sleep, reported Morning Brew. The move makes sense for a brand that has opened multiple showrooms that also operate as napping zones. A pack of 14 gummies will retail for $35.
Textile brand Fabric & Steel is now exclusively available through Jean de Merry showrooms in Chicago, New York, Los Angeles and Dallas. As part of the rollout, the brand released its latest collection, Texture, featuring linen-blend textiles inspired by founder and textile designer Michele Dopp's travels to the mountains in Andalusia, Spain.
Brand ambassadorship is a marketing trend that has real staying power: Silestone by Cosentino, a quartz surfacing brand, announced a new two-year extension of its campaign with Cindy Crawford, who has worked with the brand since 2017.
Nashville-based architect and furniture maker David Wildman has launched his latest furniture brand, duVisst. The first collection includes cabinets, mirrors, accessories, side tables and shelving.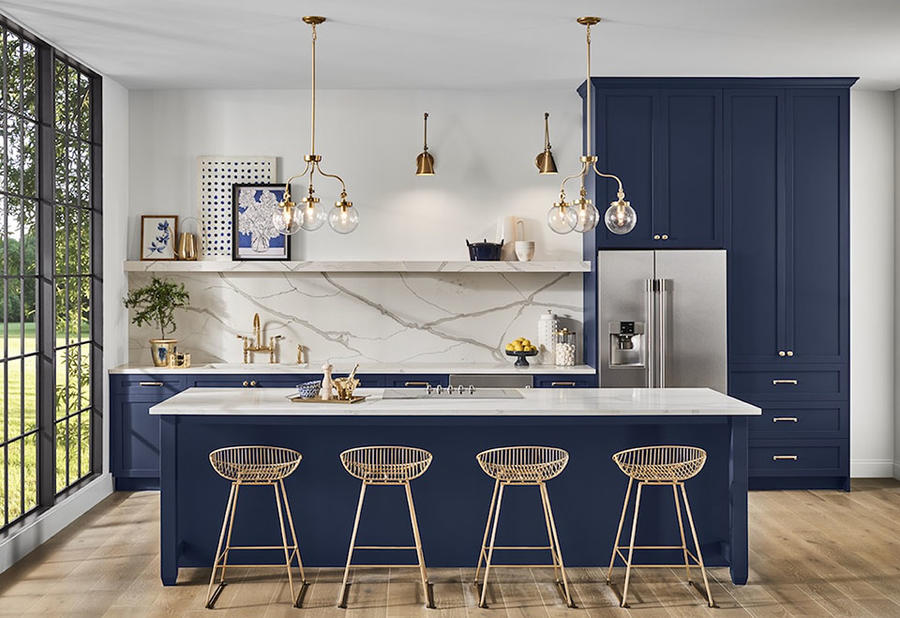 Let the color of the year announcements begin! Sherwin-Williams named Naval SW 6244 as its 2020 Color of the Year, citing the hue's tranquility, but also its denim-like versatility. "We're predicting that the next decade in color is going to be bold," the company's director of color marketing, Sue Wadden, told House Beautiful. "In the next 10 years, we'll continue to move away from omnipresent neutrals and design will feel more personal again."
Forty One Madison has debuted a redesigned website that features a user-friendly directory, a new design-minded blog titled Tableaux, and simpler registration to the New York Tabletop Show.
OPENINGS, AUCTIONS AND EVENTS
The Brooklyn Heights Designer Showhouse will be open from September 27 to November 3. Fifteen local designers, including Mikel Welch, Dana Waldron and Judi Schwarz, have transformed the wood-frame house; Ellie Cullman is honorary design chair, and Ellen Hamilton and Erika Belsey Worth are showhouse co-chairs. Tickets are available here; proceeds benefit the Brooklyn Heights Association, which supports the neighborhood's historic preservation.

The inaugural Christopher Kennedy Show House opens in Turlock, California, on October 5. Fifteen local designers, including Natasha Minasian, Max Humphrey and Kelli Ellis, are participating. Based on the designer's Christopher Kennedy Compound for Modernism Week in Palm Springs, the showhouse benefits local hospice Covenant Care at Home, grief support group Jessica's House, and the Turlock Salvation Army. Tickets can be purchased here.
Homepage photo: Courtesy of One Kings Lane