Showroom openings usually draw a good crowd in L.A., but last week's debut of the Cosentino City Los Angeles Center was conspicuously packed. Not to diminish the fact that this is the fourth location of its kind in the US, or that the band was pretty good, but many guests were there to bask in the glow of the company's brand ambassador, Cindy Crawford.
On days when a supermodel isn't present, the new showroom offers a look at how a 21st-century design brand is cutting its own path in the market everyone wants to be in. The $1.7 million, 4,208-square-foot showroom unfolds with a modern kitchen, chic outdoor lounge, and various places to sit and recharge your phone. Large slabs of Dekton and Silestone, two of Cosentino's patented surfacing technologies, are poised along the walls awaiting attention, and the wood-paneled selection room, with its rows of multicolored samples in myriad finishes, feels like a trip to Sephora.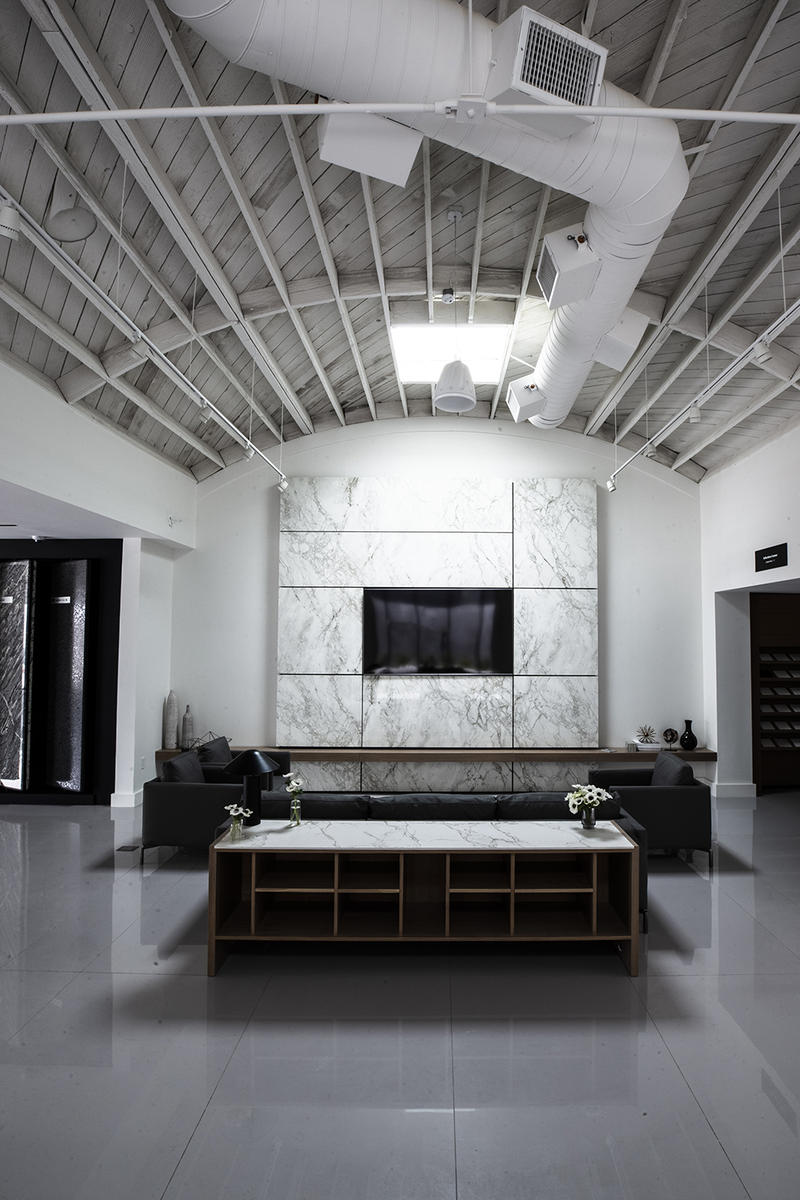 Courtesy of Cosentino City Los Angeles Center
The Spanish surfaces company has been gaining momentum in the US for the past few years, opening expansive centers in key markets like Miami, San Francisco and New York, though marketing director Massimo Ballucchi shares that the relationship with Crawford has really helped raise their profile. (Celeb scoop: Business of Home is the first to learn the company has just renewed its partnership with her for the next three years.)
The experience center is not a new concept, and often it can meet an expensive, unhappy fate. Cosentino seems to have hit upon a smart hybrid with this location—giving the design community what they need without leaving out the high-end consumer. "It's a space where designers and architects can come with their clients and have the Cosentino experience," explains Ballucchi. "They can see the products at their best, but also get the expertise of a showroom manager, who is a designer, that helps them throughout the process and explain the differences in a quartz versus Dekton."
That might not sound too different from most showrooms—education, a soft sell—but Cosentino has the advantage of being in a product category that hasn't always been seen as sexy, affording them a distinct opportunity to impress.
"The main scope is to get you—the designer, architect, consumer—inside our showroom because once you're there, you really see the beauty of our product but also its application," says Ballucchi. "You see products in a ventilated façade, you see how our bathrooms are completely covered in Dekton from floor to wall in different colors. We want to be a surface company that is seen as more than the countertop of the kitchen."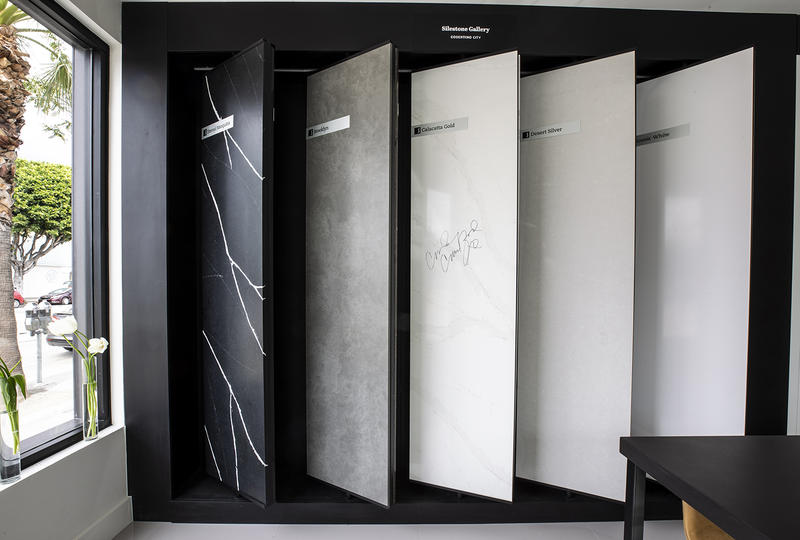 Courtesy of Cosentino City Los Angeles Center
While the chance to touch and feel often converts the uninitiated, the process usually starts online, says Eduardo Cosentino, CEO of Cosentino North America, during a tour of the new showroom. Standing in the selection room, he demonstrates the company's expanding digital platform (with more yet-to-be-announced innovations promised soon). Taking a 6-by-6 sample of Silestone, he scans it and a computer relays not only a variety of data points, but a series of architectural views and applications. From there, the system allows clients to design their own kitchens, bathrooms, even choose the color of the cabinetry and walls.
Both executives want design pros to think of the new showroom as more than a place to shop and go. "The space was created in the same way architects want to work: with meeting areas, the right light, a place to have a coffee," says Ballucchi. "We can also entertain customers with food and drinks and cooking shows and do social responsibility events—it's definitely more of a lifestyle than other stores where you get the product and leave."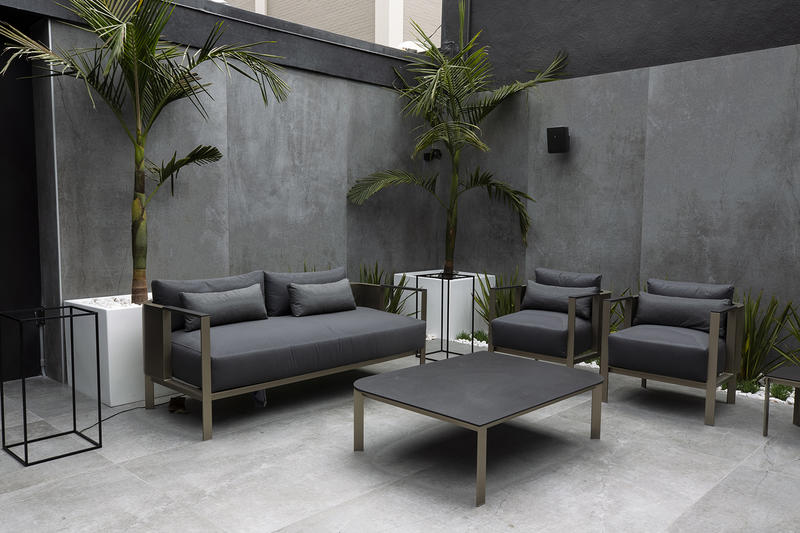 Courtesy of Cosentino City Los Angeles Center
That approach, blending product info with a latte, is well-suited for LA. Thanks to the city's endless sprawl, if a client makes the trek out to visit a source, they expect it to be worth it. For the high-net-worth consumer, that translates into a certain kind of courtship. The company's experience in Miami revealed that "certain clients need to be followed up with in the right way," says Ballucchi, who makes the link back to the LA market "to do business with this caliber of clientele—it could be the developer, it could be the consumer—it's about creating the right shopping experience."
Whether that means an uptick in designer dogs or nonpareil customer service, the company is ready to find out. Situated in West Hollywood, the new LA Center is already in a desirable setting along a busy part of Beverly Boulevard, next to neighbors like RH. The brand expects consumers to wander in, and they are welcome. But don't expect the usual trials that come from a client venturing out solo—i.e., aesthetic rebellion, price showdowns—Cosentino does not sell direct to consumers. So, designers can encourage their clients to look, touch, admire, and even stay for that second glass of Champagne.