Designer Michele Dopp of Fabric & Steel is entering the e-commerce game. Among the launching products—which are grouped into "Custom" and "Collected" categories—are 40-by-40-inch oversize floor pillows rendered in a wool/linen stonewashed blend; ceramics made by her brother, artist Michael Dopp; and prints by Brooklyn-based photographer Vladislav Borimsky.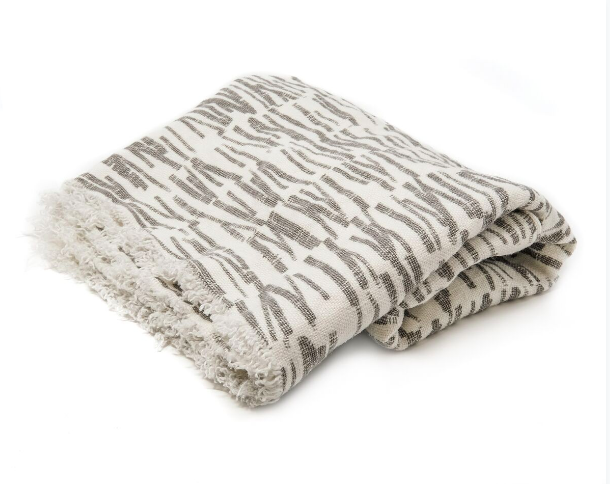 The business will evolve to eventually include Dopp's finds sourced from the Brooklyn Flea market, items picked up during her travels, linen blankets and pillows in select prints, and linen bags in the stonewashed collection.
"I became interested in creating objects—floor pillows, linen blankets, tote bags—out of my fabric instead of just selling it by the yard, and I think that the best place to showcase these new items is through an online platform," explains Dopp. "This is a fantastic start to a conversation about living with my fabric, even if you are not reupholstering a sofa or having draperies made for your living room. For the other items, I really wanted to share pieces that inspire me and are well curated with the F&S collection."
The shop's offerings, she says, hew to a particular aesthetic: "The pieces still have that urban feel, while balancing feminine/masculine, organic/structural. They complement each other and work well with the existing F&S collection."
The other items were chosen carefully; Dopp says photographer Borimsky's "amazing black-and-whites ... fit in perfectly," while her brother, who works in painting, ceramics, and as a co-founder of the artist-run gallery/art project Arturo Bandini and art fair ARTBandini, has his stoneware pieces on offer in the new shop.
"We will grow online as we add F&S custom pieces as well as travel finds (when I visit Morocco and Spain later this year) and flea market/vintage items as I go through life. I love sharing what inspires me, and this shop is a lovely way to do it."