For the past four decades, Bed Bath & Beyond has been much more than a place to buy towels and can openers; it's also been a focal point for two generations starting off their households, a meetup point every bit as relevant for friends and couples as Starbucks or Barnes & Noble, and the centerpiece of the home furnishings industry. The company received the ultimate cultural touchstone when it turned up on The Simpsons in 2015, parodied as Blood Bath & Beyond.
More recently, the big-box store has fallen on hard times—a victim of tired stores, slow-to-change management and a failure to communicate with a new generation of shoppers. And while it is not in immediate danger of going the way of ruined retailers like Toys R Us or Radio Shack, its retail irrelevancy is nothing short of a crisis.
With its current position in the marketplace, the company is about to undergo what could be a radical reinvention—one that, if successful, will transform it into something very different than before. But that's a very big "if."
Bed Bath's management—as of spring, led by interim CEO Mary Winston and a nearly completely new board of directors—has so far sent out signals that business-as-usual is no longer the operating plan. Over the next year, we will see more evidence of how the company will try to right itself—but whatever the plan, it won't be easy.
Here's what to expect:
1. A new CEO and new top management. Several weeks ago, the company said it is close to naming a permanent CEO. There have been no leaks on who, and no indication if it could be Winston herself, but there's a lot riding on this decision. The company has never brought in an outsider to run things—and if it does, it will face a major challenge to change a firmly entrenched company culture. Already we've seen the head of operations and the head of stores shown the door; expect a lot more changes throughout upper management.
2. Fewer stores. Not only will the current 1,100 or so Bed Bath & Beyond stores be pruned, but the number of sister banners will also likely be reduced. Look for Cost Plus World Market and Face Values to be among the first to be spun off—and don't be surprised if others follow, potentially including One Kings Lane and Christmas Tree Shops. All are major distractions to the core business, and require major infusions of capital to get to a competitive level—money that will be needed to fix BB&B. The other triple-B in the house—Buy Buy Baby—is likely safe, as it represents a good business, particularly following the passing of Babies R Us last year. Right now, the entire corporation has about 1,500 stores; don't be surprised if that number drops by at least a third in the next 12 to 18 months.
3. Very different merchandising. The retailer's cluttered aisles and shelves were once a trademark, but more recently an eyesore, and will be cleaned up and cleared out. Bed Bath & Beyond says it expects to cut $1 billion worth of inventory over the next year or two. What remains will focus on private-label house brands, comprising products sourced directly from factories in Asia that bypass longstanding U.S.-based suppliers. Shoppers will still find some national brands—KitchenAid stand mixers and Calphalon cookware—but reports indicate that at least two-thirds of the merchandise mix will be private label. Think Target and you probably won't be too far off.
4. Fewer coupons. The foundation of the company's promotional marketing, 20-percent-off coupons were a great tool that turned into an addiction for shoppers and the company alike. Plans are in the works to cut back on couponing while keeping it in some form so as not to alienate longtime customers, but it will be a tricky balance to achieve.
5. More transparency. This is a buzzword these days—and a subjective one at that—but Bed Bath & Beyond was infamous for playing its business cards close to the vest and that's in the process of changing. We saw it at the company's annual meeting this summer, where management talked about mistakes and shared potential solutions. (Their predecessors would never touch either.) Much will depend on the style of the new CEO, but the days of "We never talk about that" are over.
Synthesizing all this will require huge adjustments for shoppers, but also for the trade. Fewer, less cluttered stores will require less merchandise; buying direct will mean vendors have fewer opportunities to sell to the store; and there will be new owners for some of the spinoffs who may or may not have their own strategies for success.
Bottom line: When you walk into a Bed Bath & Beyond in 2021—much less do business or compete with them—expect the experience to be … wait for it … far beyond what you saw from the brand in the past.
____________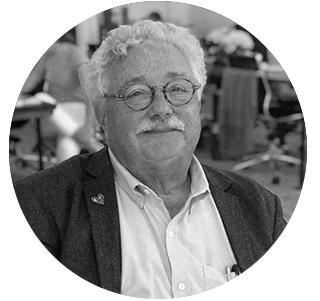 Warren Shoulberg is the former editor in chief for several leading B2B publications. He has been a guest lecturer at the Columbia University Graduate School of Business; received honors from the International Furnishings and Design Association and the Fashion Institute of Technology; and been cited by The Wall Street Journal, The New York Times, The Washington Post, CNN and other media as a leading industry expert. He was also a guest on the BOH podcast, and his Retail Watch columns offer deep industry insights on major markets and product categories.
Homepage photo: Shutterstock.com