Small-batch everything is having a moment. It's happening in food, fashion—and home furnishings. Artisans in four places where craft is flourishing today share what it means to commit to making things the old-fashioned way. 
There is an undeniable romance to objects with an origin story. From the curve of a hand-hewn wooden chair and the gravitas of a wheel-thrown bowl to the allure of a one-of-a-kind marbled wallcovering, the magic of artisan-made items is in how they effortlessly elevate the everyday. And while mass-produced product seems to dominate the conversation these days, makers of all stripes are experiencing a renaissance of sorts within pockets of the country where artisan innovation is quietly thriving.
"People who appreciate craftsmanship are interested in collecting future heirlooms, not just picking something out of a catalog," says interior designer Brad Ford. He should know. He is the founder of two initiatives dedicated to contemporary makers: Field + Supply, an annual high-end craft fair in the Hudson Valley, and FAIR, a New York Design Center showroom that represents makers across the country, like California furniture designer Chuck Moffit and the furniture and lighting design studio Workstead, based in Brooklyn and Charleston, South Carolina. 
"Clients from coast to coast are beginning to appreciate not just the talent, but also the narrative and nuance of these designers and the materials they use," says Ford. But the burgeoning demand for all things handmade doesn't make producing laborious, time-intensive pieces of furniture and textiles an easy feat—or a simple way to earn a living. Success is predicated on balancing various, often conflicting, factors like an inspiring environment, ample materials, a place to showcase work, and support from a like-minded community. As the real estate mantra goes, "location, location, location" can make all the difference. We asked artisans working in four hotbeds of American craftsmanship about their life's work and the realities, good and bad, of their creative communities.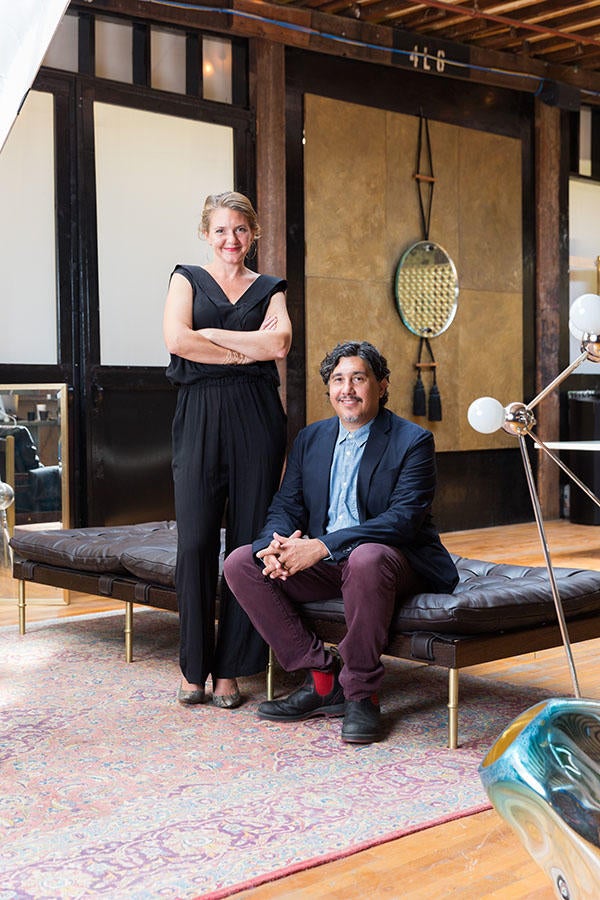 BROOKLYN

Home of the Creative Compound Manhattan's sky-high real estate costs long ago priced out most fledgling startups and designers, sending makers scurrying to the far corners of Brooklyn for ample, affordable space. A few of those locales, notably Red Hook and the Brooklyn Navy Yard, have become safe havens for vibrant communities of artisans. Mark de la Vega and his wife and business partner, Maggie de la Vega, discovered Beard Street in Red Hook in 2009 while looking for a place to live with their newborn—as well as for a way to shorten his commute to his Williamsburg workshop. On a pier along the four-block stretch overlooking New York Harbor, a late-19th-century warehouse complex with a Wild West feel to it housed a commingling of squatters and craftspeople. "When we first got here, a lot of people were living in these spaces and not paying rent—the building wasn't even half full," he recalls. At the time, he had recently lost his job designing custom furniture for Studio Sofield in the midst of the Great Recession. In Red Hook, the couple found a place to not only make a home, but to start their own business. They launched DLV Designs in 2010 as a custom furniture shop; in 2012, they debuted a collection at ICFF.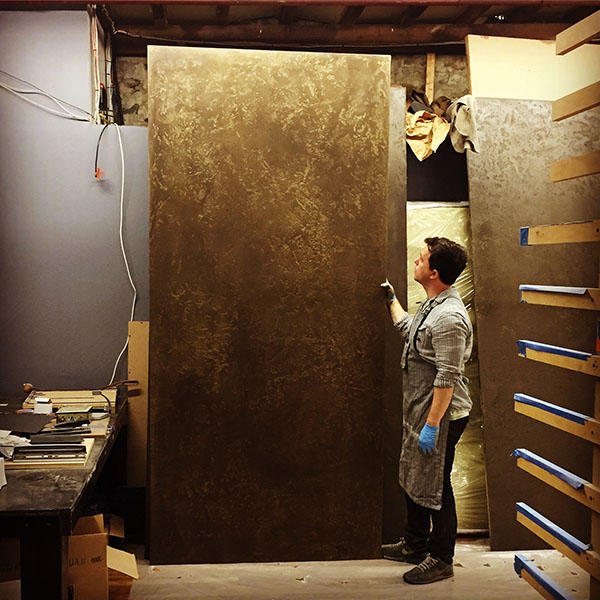 Gradually, a group of designers came to claim Red Hook's derelict but beautifully built industrial spaces. Moreover, they became part of a community of artisans with similar ambitions: finding a place to start a business with enough square footage and for a decent price. Neighbors on the pier these days include experimental art studio Ladies & Gentlemen, bespoke mural company Calico Wallpaper, and furniture makers like Jerry Nance, Volk Furniture and Token. "Everyone grew together," says Mark de la Vega. "The coolest part has been how we help one another, whether with references or borrowing tools. There is a real camaraderie." And the cluster of so many innovative contemporary designers under one roof has not gone unnoticed. 1stdibs recently sponsored an event that ferried high-profile interior designers over in water taxis for a tour of the Beard Street warehouse. "There's no subway here," he explains. "We're at the end of the world."
In another postindustrial pocket of Brooklyn, a more formally organized collective of artisans has taken root in the Brooklyn Navy Yard. Tucked between the neighborhoods of Vinegar Hill, Fort Greene and Williamsburg, the spot was the primary home of the city's shipbuilding industry from the American Revolution to World War II. After languishing for decades, the industrial infrastructure is now home to a vast and diverse hub of manufacturers. ("We used to launch ships. Now we launch businesses," reads a sign at the entrance to the industrial park, a 4-million-square-foot space that is home to more than 330 small businesses and managed by the Brooklyn Navy Yard Development Corporation.) Brit Kleinman of design studio AVO began renting a workshop there in 2016 to produce large-scale, hand-dyed and hand-painted cowhides and leathers. "The main challenge for me as an artist has always been space," she says. "I choose to make a large product, so I need more square footage than, say, a ceramicist or a jewelry maker." 
In addition to the space, there are practical benefits to working in the Navy Yard, she says. "There's a rich history, with some of the oldest buildings in New York, a couple of active dry docks, and almost no people. It's a safe space without a lot of crowds, where I can drive my car in and unload it—really basic stuff that is hard to do in Manhattan."
Carving out a space in which to connect one's work with clients is one of the struggles these makers face. Some artisans choose to exhibit within other showrooms. Though she now has ample work space, "it is not a place for clients to come," says Kleinman, who is represented by several showrooms across the country, including Studio Four, a New York showroom for artisan-made wallcoverings, textiles and rugs. "My space is more of a maker space than a showroom, so it can be a bit insular," she admits.
Other artisans, like the de la Vegas, hope their clients will travel out of their way to see them. Instead of opening a separate showroom, they capitalized on their ample workspace. "We started with 500 square feet in an abandoned space—we were practically working in the dark—but today we have 9,000 square feet," says Mark de la Vega. "When people tour our space, they're amazed to see that we do it all in-house." They've also carved out a generous display for clients—a particular necessity, considering the floor-space demands of big pieces, such as beds. "We've created a real experience for clients who are willing to make the trip," says Maggie de la Vega. 
Brooklyn–based furniture firm Uhuru has experimented with both worlds, having tried their hand at entertaining clients in a manufacturing facility in Red Hook (where they have had a foothold since 2004) and in a prime showroom location in TriBeCa. "We never really felt at home in Manhattan," says Jason Horvath, one of the company's founders. Horvath and co-founder Bill Hilgendorf decided to shutter their Manhattan showroom in 2017 after two and a half years in favor of expanding their presence under one roof in Red Hook. "Bringing the team back together into a creative compound with shop, office and showroom all in one place felt like a necessary move as we look to take the brand international," he says. Uhuru now has a space that would be unheard-of elsewhere in the city: 8,000 square feet of offices, photo studios, a prototype shop, and soon another 2,000 square feet for a street-facing showroom. The all-in-one approach appeals to Horvath. "Our soul is truly in Brooklyn," he says. "We wanted our clients to experience what we are about from top to bottom when they visit."
PROVIDENCE
Steeped in Rich History
The Rhode Island School of Design is known for turning out some of the most promising contemporary designers. While its graduates are shaping the aesthetic dialogue in cities across the globe, a growing number are choosing instead to return to the city of their alma mater—or even settle in Providence immediately after graduation. "I think there is something attractive, especially coming out of art school, about trying your hand in New York to see if you can make it big right out of the gate," says RISD grad Asher Rodriguez-Dunn. "There are also plenty of people like me who say, 'You know, I don't have to be in the city to have access to those clients.'" Rodriguez-Dunn stayed in Providence, starting a community woodshop after graduation, which led him to develop his own work. He launched the furniture and lighting firm Studio DUNN at ICFF in 2010.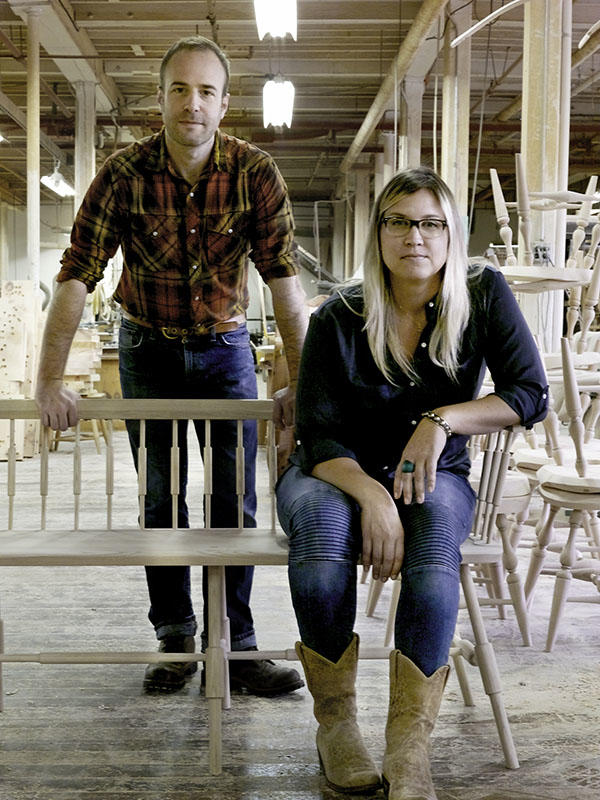 O&G Studio's Jonathan Glatt and Sara Ossana share a similar tale. The pair, who met as grad students at RISD, produce handmade furniture, including an extensive line of Windsor chairs, out of a Providence workshop. "We are starting to see other people who went to the standard hotbeds of design and are now coming back," says Glatt. "It's all about the resources that are here," adds Ossana. "It's really difficult to find a comparable concentration of skill sets, capabilities and craft in one place, and you can go from idea to product here for a fraction of the time and overhead costs."
Rodriguez-Dunn agrees. "Once I got plugged into the manufacturing in the area, I couldn't see myself leaving," he says. "This is the birthplace of the American Industrial Revolution, so there's a huge manufacturing history that goes way back—in textiles, in equipment manufacturing, in silversmithing and jewelry. A lot of shops that have survived are still family-owned and have been here since the 1800s. Some of them have grown large, some of them have stayed very small, but there are a lot of manufacturers that have more than 100 years of expertise in their field." The recession changed the business landscape dramatically—in many ways to the benefit of small firms like Rodriguez-Dunn's. "The housing crisis changed the playing field. A lot of the big manufacturers started working with artisans and smaller accounts again, which really opened up the possibility of producing locally. About 90 percent of my manufacturing is within 10 minutes of the studio."
The city's rich visual vernacular makes it an inspiring environment for creatives. "Providence has the mark of the maker on it," says Ossana—and the colonial architecture and proximity to the ocean don't hurt, either. Another plus? "We realized how much we could do creatively here and still have work-life balance," says Glatt. But for all of its perks, Providence is not always an easy place for newcomers. "It's very analog here—it's as much, if not more, about relationships as it is about money," he says. "It's not the kind of place where you can show up with a wad of cash and expect to just get it done." It's also not collaborative in the way that larger urban design destinations seem to be. "We're all businesses," he explains. "We support one another and share information, but among other designers here it can be competitive." Another inevitable concession is not being at the center of the design universe. The lack of proximity to design consumers and the media can make getting noticed much more difficult—so much so that O&G Studio recently hired a New York–based PR firm. "Being removed from design hubs like New York and L.A. means we have to work hard to stay plugged in," Ossana says. "We are not down the hall, and being down the hall does add a lot of value."
Getting distribution just right has been a key part of Studio DUNN's growth too. In addition to selling out of the workshop, Rodriguez-Dunn has cultivated a small network of exclusive retailers in major cities, which renders his studio's location almost irrelevant. "We tend to sell higher-priced items, so clients want to see and interact with them before making a purchase," he says. "Our biggest clients are in New York and San Francisco, but our studio is not in either of those cities. Instead of opening a space there ourselves, we put a huge value on the individuals who represent our work." 
LOS ANGELES
Picking Up the Slack
"L.A. is rich with resources—rich with space, rich with makers and craftspeople," says Glenn Lawson of his company, Lawson-Fenning, which creates California-made, midcentury furniture. Lawson and his co-founder, Grant Fenning, have been producing furniture in Los Angeles longer than most showrooms in the area, and have been staunch supporters of local designers since the brand's inception. "We really connected with the landscape and lifestyle, as well as the specific legacy of craft and furniture that existed here," he says. "I don't know where else we could find third-generation upholsterers who specialize specifically in compound curves, or leather upholstery, or frame construction."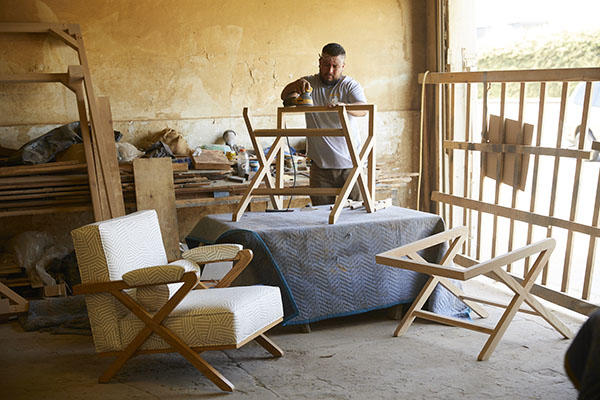 When Lawson and Fenning founded the company in 1998, New York was still the nexus point for ambitious young designers. That has changed. "L.A. has really picked up the slack," says Lawson. "Young designers are not tethered to the constrictions of prohibitive real estate prices and people are continually seeking out new places to show work. They'll find warehouses no one knows about in some unknown area—and then three more artists move in down the street, and all of a sudden it's a new community." 
That's true of Sean Dougall and Andrew Paulson, who founded their multidisciplinary design studio Dougall Paulson in 2013. Their workshop—a former light bulb factory—is located in Watts, a neighborhood halfway between downtown L.A. and Long Beach. ("The lore is that the person here made light bulbs for Dodger Stadium," says Dougall.) In a sprawling city, geography counts for a lot: "It's a little off the beaten path, but very central, geographically," says Paulson. They echo Lawson's assessment of the craft community in Los Angeles. "There are pockets where a lot of makers are concentrated, but overall, we're spread out all over the place," says Dougall. "And we have space on our hands," adds Paulson. "We can be more experimental than people who are on top of each other."
Riley Rea and Alex Segal, another local maker duo, founded the furniture firm Croft House in 2010. Their team does all metalwork, woodworking, finishing and upholstery in-house, at a recently upgraded 20,000-square-foot space in downtown L.A. They consider themselves part of a growing boutique manufacturing scene. "It's definitely bigger than people realize—everyone is surprised that it happens in Los Angeles at all," says Rea. "People are pleased to know it's made here. It's not necessarily the thing they were searching for, but it's definitely the cherry on top." In addition to a workshop, they also have a retail space on North La Brea Avenue in the Fairfax District. (Timing is everything, says Segal: "We started with a rent that was really low at the end of 2010—at that time, people were eager to get spaces rented.") The maker community, they say, is more concerned with the collaboration between manufacturers and artisans than among the artisans themselves. "A lot of our local vendors helped us figure it out in the early stages—a local lumber guy even gave us material on consignment when we were just starting out," says Rea. 
In spite of the independent nature of L.A. craft, Lawson says the community is a very welcoming, helpful place. "The designers here are not so competitive and ego-driven. Everyone is willing to help each other out or collaborate and cross-pollinate," he says. "It's funny—there's not a lot of collaboration with other makers," agrees Dougall. "It's more about working with craftspeople who don't care about being known as long as they get to focus on their craft—they mostly just want to make the work," he says. But even in a major city like L.A., getting noticed can be difficult. "I think we knew early on that it would be challenging to get our work out in the world," says Paulson. Compared with New York, Dougall adds, "L.A. has fewer opportunities to display work, so a lot of people use online platforms to get the word out." 
The tide turned for the pair when they met Sean Yashar of the Culture Creative. The L.A.–based brand strategist and talent manager was keenly aware of the city's lack of a stratified design gallery or showroom culture, unlike those of Paris, London and New York. "A maker in New York can potentially be given a huge platform, and there's precedent for the gallery to underwrite a large project," he says. "In L.A., by and large, that's not happening. What I saw, year after year representing various makers, was that not every single idea is scalable. Great ideas end up on the cutting room floor simply because they aren't commercially viable in a conventional way." Yashar founded AUX, an offshoot of Culture Creative that gives local artisans a new type of platform—and when it launched in 2015, Dougall Paulson was the first exhibitor. "He was our advocate, directing our work into the market," says Paulson of Yashar. "It allowed us to concentrate more on the work." 
HUDSON VALLEY
Best of Two Worlds
"There's a tremendous amount of buzz in the area," says Brad Ford of the Hudson Valley. His interest in the region has dovetailed with its growing popularity. "There's tremendous value in real estate to spread out—and nature is so inspiring," he says. "When you think of how much more you can have, only two hours or less outside of the city, a lot of designers find they can have the best of both worlds without the stress of the overhead."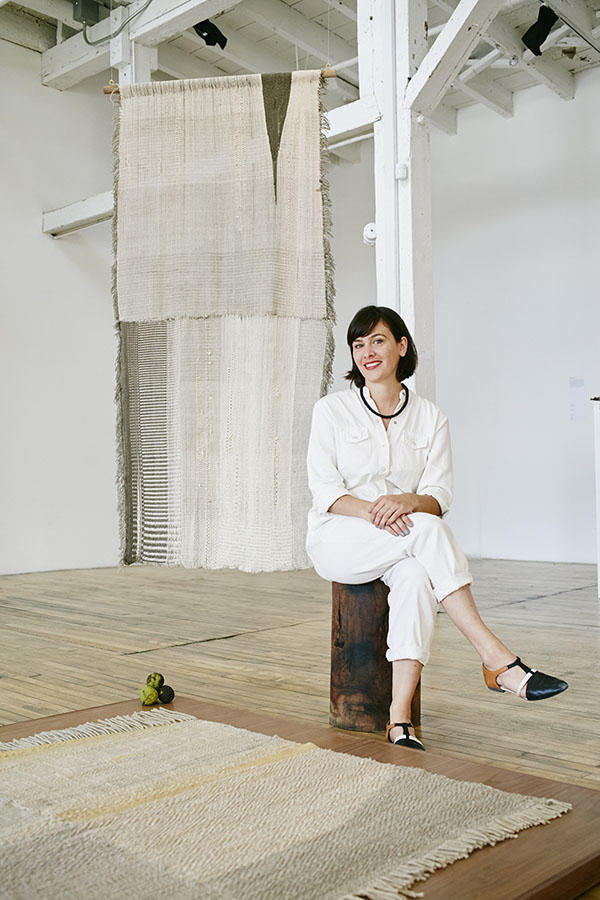 Furniture craftsman Asher Israelow, who relocated to the town of Hudson from Brooklyn two years ago with his wife, textile designer Jamie Israelow of Hart, confirms Ford's hypothesis. "Moving up here and being a woodworker, people just offer you wood," he says. "And instead of being at the whim of whatever the lumberyard offers, there are mills here that are much more exacting, and that can produce the materials I am looking for in a way that offers me much more control over the process." He's also glad to be outside of what he sees as the creative vacuum of New York. "It's funny, the trends in materials that you start to notice when you go to ICFF," he explains. "For example, one year it's all a certain kind of stone—maybe because there was a good deal from a stone supplier and word got around." In the Hudson Valley, he finds it much easier to have an independent, creative voice. 
Jamie Israelow has embraced the material largesse of the region as well. "I make dyes from the walnut tree in our backyard and marigolds I grew in the garden. I can source wool directly from local farmers—I really am able to work with materials directly connected to the area," she says. Israelow gets to know her suppliers at local events, like the New York State Sheep and Wool Festival, an annual fair for fiber artists and knitters of all stripes that draws the farmers who raise specialty animals like Angora rabbits and alpacas. And while she says that the cultural and community opportunities in New York City are difficult to match anywhere else, connecting with makers in the Hudson Valley came more naturally than expected. "There are fewer people here, but it is easier to connect with other artisans because of it," she says.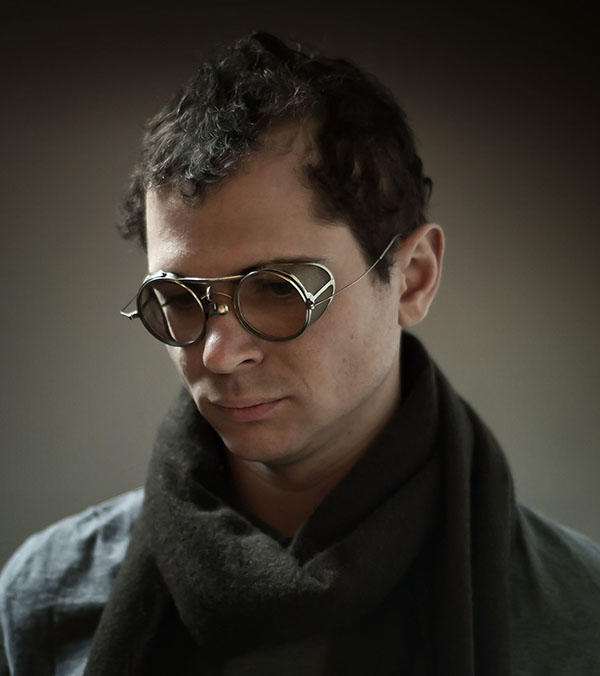 There are minor disadvantages to the off-the-grid independence of working upstate, but the couple doesn't see much difference in convenience between the Hudson Valley and Brooklyn for clients. "It was very rare for a client to trek out to the Navy Yard when I was there," says Asher Israelow. Still, the Navy Yard's many specialities is something he misses. "Whenever I had a question about how to build something, someone there had the right answer or someone in the building could do it." His wife says she misses Manhattan's Garment District and points to the increased accountability that comes with living in a small community. "You can't be a jerk here," she says. 
Ford argues that thriving communities of artisans, including the Hudson Valley's, fit into a larger cultural trend of investing in carefully considered, handmade pieces built to stand the test of time. "The artistry, the skill, the patience, the technique, and the amount of time it takes to make something by hand—that's what causes people to want to hold on to that object long-term," he says. "If there's a timelessness to design paired with impeccable quality, there's potential for that piece to be passed from one generation to the next. If not, it's a five-year space filler that will end up in a dump."