For designers, finding easy ways of collaborating with clients and vendors is more crucial for a project's success than ever before. With the Benjamin Moore Color Portfolio app and ColorReader device, designers can take the guesswork out of color matching and speed up the paint selection process with a lightweight tool that scans the brand's 3,500-plus hues, as well as thousands from other popular paint brands, to find ideal shade options.
"The past few months have proved that technology is increasingly important in the color selection process," says Andrea Magno, director of color and marketing development for Benjamin Moore. "New technology gives designers options to provide their customers with solutions to common paint questions, in addition to virtual and digital methods of selecting color."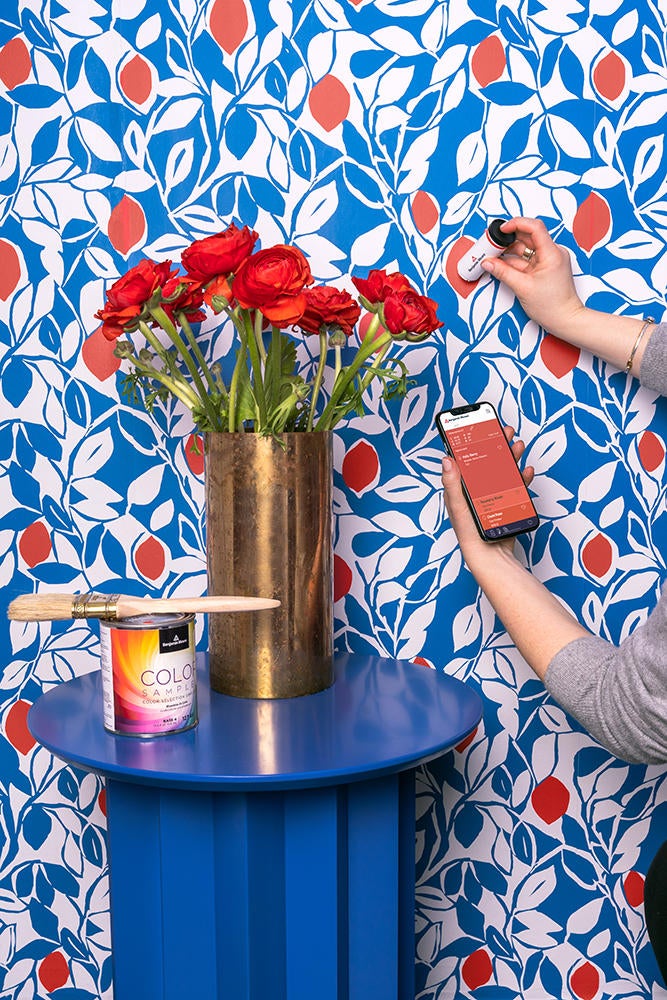 The ColorReader allows designers to color-match anything that speaks to them, whether it's a favorite sweater, a shade of lipstick or, in New York–based designer Neal Beckstedt's case, a rock. "I'm drawn to earthy hues that exist in nature," he says. "I was at a site visit recently and saw this red rock and found it so beautiful. It can be difficult to understand the full essence of a color just based on the small square on a fan deck. This device expands where you can draw inspiration from and has revolutionized the color selection process for me."
On another recent site visit, Beckstedt realized that he had forgotten his ColorReader, when the contractor pulled out his own. "He happened to have one as well and I was able to color-match a pair of jeans that were the perfect shade of blue for the front door," he says. Once an object is scanned, color matches appear on a connected app—or right on the device itself with a ColorReader Pro, which can store up to 10,000 hues.
For Austin, Texas–based designer Sara Malek Barney of Bandd Design, the tool has opened up a world of possibilities, not just for her, but for her clients. "They all think it's the coolest thing ever," she says, adding that a few have expressed interest in investing in a ColorReader of their own. "It's made color selection faster and easier, and it gives clients a visual aid [in a process that can be] hard to articulate."
Barney typically asks clients to show her objects in their favorite hues, at which point she uses the ColorReader to match them. "It's been really helpful in selling clients on ideas," she says. "It makes it easier to quickly identify certain looks that we're going for." The device has also made it simpler to present a more curated selection of hues. "With white paints, for example, I can show my client a couple of shades [that I know are on target] instead of getting bogged down with dozens of options," she says.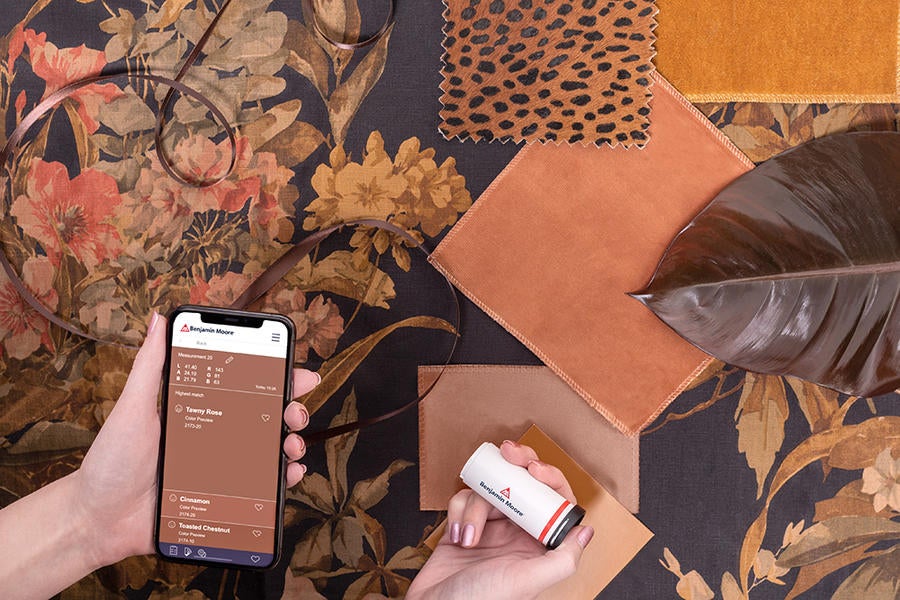 The tool also resonates with her smallest clients. "It's been so fun to use with kids when we're deciding on color palettes for their rooms," she says. Whether a child points out a cherished stuffed animal or well-loved blanket, Barney can use the ColorReader to discover matching paints. Across all ages and projects, the device enhances communication and saves time.
When paired via Bluetooth with Benjamin Moore's Color Portfolio app, designers and clients are able to use photo and video visualization tools to virtually apply any of the brand's hues in a particular space. "Visualization technology continues to improve and evolve," says Magno. "This adds another tool to the color selection toolbox that will help clients understand how a given color will look in a space before picking up a roller."
This story is a paid promotion and was created in partnership with Datacolor.
Homepage photo: Courtesy of Datacolor