If you're looking for a marker of how closely intertwined real estate and interior design have become over the last two decades, watch the 1988 movie Big. There's a scene in which Tom Hanks—playing a 12-year-old boy who has been zapped into a man's body—checks out an empty shell of a SoHo loft for rent. (Spoiler alert: He snaps it up, and fills it with toys.) If the movie were made today, much would be different. For one, it'd be Ryan Reynolds instead of Hanks. For another, he'd be eyeing a professionally staged apartment, filled with tasteful furniture, stylish art and gleaming fixtures. The white box era of high-end real estate is over.
Real estate and interior design have always worked in tandem: Developers and agents rely on design talent to zhuzh up a listing or craft an enticing model unit; in return, they often act as a source of referrals. But in recent years, as the cultural appetite for interior design has increased, the relationship has gone from a friendly handshake to a warm embrace.  
That's especially true in New York. In the past, a new high-end building in Manhattan might have rolled out a marketing campaign that merely touted the idea of good design, in a generic, Edison bulb–y kind of way. Now, specific designers are chosen to match the tone of the neighborhood, or the character of a prospective buyer. Some model apartments look like they could slip fairly comfortably into the pages of Elle Decor.
Partly, it's an audience thing. "The buyers here are extremely savvy," says Nikki Hartle, design director at Manhattan-based development giant Extell. "Design and new buildings and real estate have become such a big part of New York life within the past 10 to 15 years. You want to differentiate yourself." One way to do that? Model units by a buzzy designer.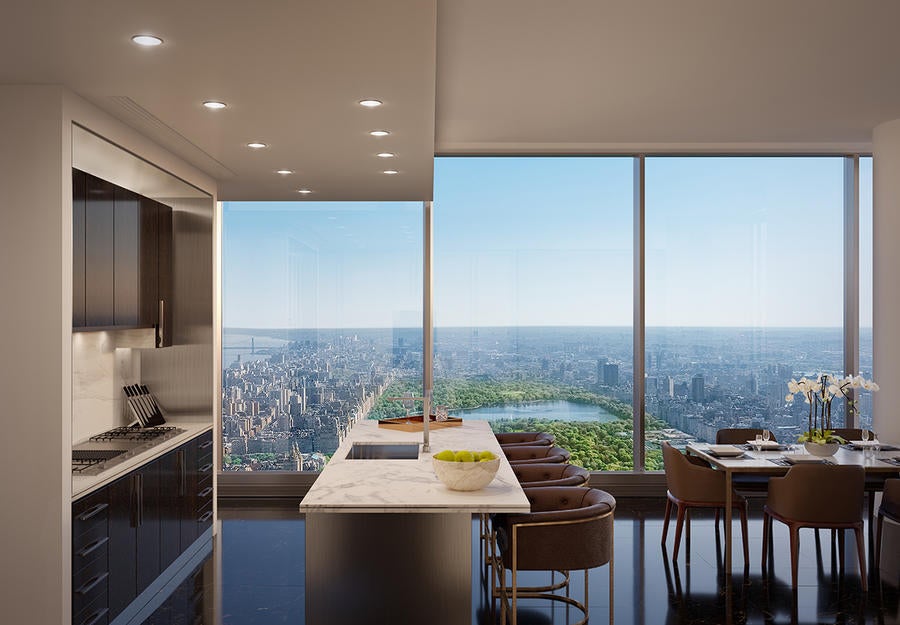 In an industry that has become noticeably designer-friendly, Extell stands out. For its One Manhattan Square tower, it hired local designer Anna Karlin to create not one, but 11 model units, each centered around a potential buyer profile ("The Empty Nesters," "The Urban Gardener," and so on). For the company's super-luxe Central Park Tower, Houston-based designer Lauren Rottet was tapped to craft the residential interiors—sleek creations that feature a small quarry's worth of book-matched marble slabs.  
It's a misconception that when a residential designer works with a King Kong–scale developer creativity goes out the window in favor of efficiency and profit, Hartle says: "We care a lot about the designers we hire, we choose them for a reason. It's important that their vision doesn't get watered down in the details … We want something fresh, something new." (In case you're wondering how to get on the radar of a company like Extell, in some ways it's not too different than connecting with an average client—Hartle's team found one of its recent collaborators through Instagram.)
Extell doesn't collect specific stats about how much its design dollars influence sales, but anecdotal evidence suggests that the rest of the market has embraced a similar approach. New York–based designers Neal Beckstedt, Alexandra Champalimaud, Thierry Despont, Russell Groves, Ryan Korban and David Mann have all been hired by real estate companies to craft high-end model units in recent years—and each week seems to bring news of another designer-developer collaboration.
Underpinning this renaissance is a soft market for high-end residential real estate. A recent study by StreetEasy found that more than 25 percent of the condos built in New York since 2013 remain unsold and that construction continues to far outpace sales. It's a buyer's market, and developers are looking for ways to make their listings sing.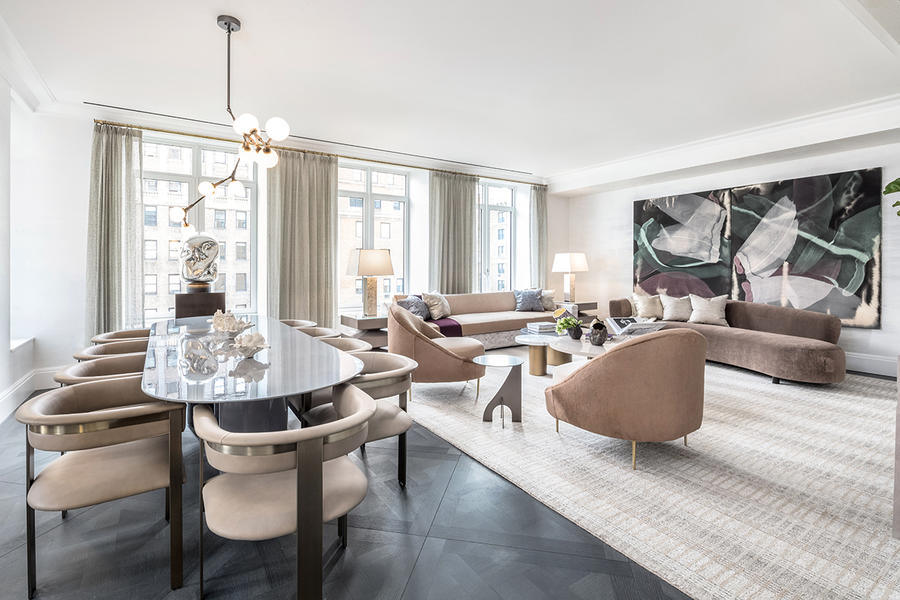 "Buyers have a lot to choose from; they're thinking, 'I can get a better deal four blocks away,'" says Amy Plitt, editor of Curbed NY. "It's such a crowded market that I think developers are doing whatever they can to stand out, whether that's hiring an AD100 designer or Lenny Kravitz." (The Grammy-winning rocker designed residences at the DHA-developed 75 Kenmare building in Nolita.) In other words: In New York, a tough market for developers means opportunity for designers—and a rock star here and there.
That's all well and good for designers who live in The Big Apple, but what about everywhere else? Interestingly, taken in total, the country is experiencing the exact opposite of New York's glut of high-end vacancies: There's a strong demand for housing and not enough inventory. But whether you happen to work in a buyer's market or a seller's market, quality design is increasingly becoming an expectation in the real estate market—not a perk.
For that, you can thank Bravo and HGTV. Jessica Lautz, vice president of demographics and behavioral insights for the National Association of Realtors, says that agents in the field have encountered potential buyers mentioning design TV shows so frequently that her group now studies the programming's effect. NAR's 2019 report on home staging found that 20 percent of buyers were disappointed by how a home looked in person compared with what they had seen on design shows; 38 percent of real estate agents said that elevated consumer expectations had affected their business.
It's a phenomenon borne out by the experiences of designers all over the country. Renée Gaddis has been working with luxury developers in South Florida for the better part of a decade, designing the models and spec homes meant to entice the second-home buyers that populate the region. She says that the importance of stylish design has skyrocketed in that time: "You might get a client who says they really love Phillip Jeffries grasscloth, which never used to happen. I have clients who love Artemest, and I'm like, 'How have you even heard of Artemest?'"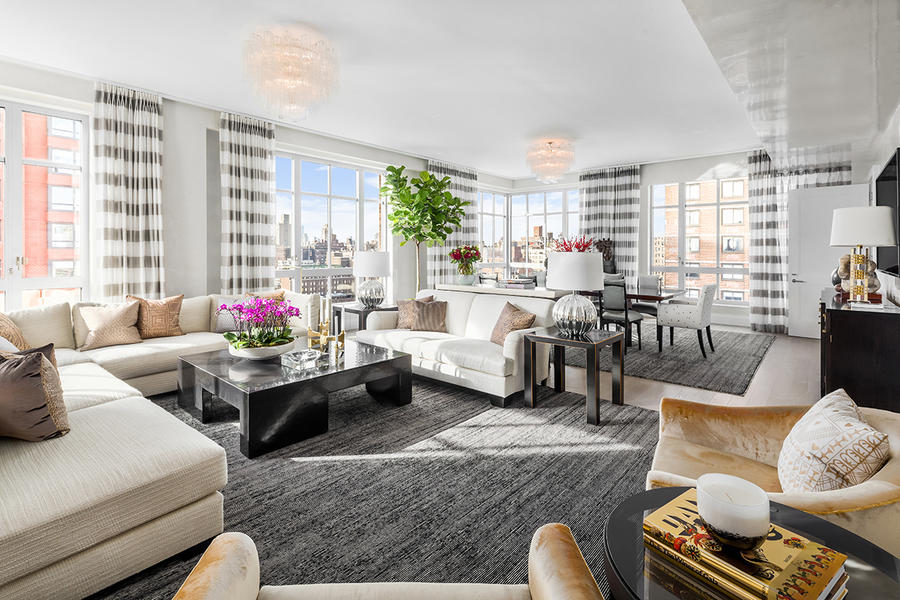 Brett Phillips, owner of Fort Worth, Texas–based firm High Street Homes, points to the flattening power of social media. "With everything so national now, as far as following people on Instagram, people can find things from anywhere," he says. "The accessibility has created a better understanding of design. We're building a speculative home right now—you have to put furniture in it, because I know that will get a better price."
Gaddis concurs, pointing out the pressure to execute star-powered design regardless of the locale. "You're in this competition of all of these things that are going on in New York and Miami," she says. "People who never used to see that, they see it all now. They know what other lobbies look like."
Homepage photo: An apartment at Extell's Central Park Tower, designed by Rottet Studio | Courtesy of Extell