There are few interior designers as accomplished as Kerry Joyce. The Los Angeles–based multihyphenate boasts a roster of prestigious clients, successful textile collections, a rug line through Mansour Modern, cover-worthy projects, and a slew of awards from press and design centers alike. Oh, and he has an Emmy. Now Joyce can add a new feather to his cap: furniture manufacturer.
Last week, Joyce announced that he was canceling his outside licenses for furniture and lighting (including a partnership with imperiled manufacturer Dessin Fournir, though Joyce made the decision before the company filed for Chapter 11). Instead, he's bringing the entire 130-piece collection under one roof: his own. Once the lines are consolidated (under the name Kerry Joyce Atelier), the designer plans on expanding the collection and opening his own L.A. showroom.
Joyce spoke with Business of Home about how the move is a perfect fit for his personality, the challenges of creating a furniture collection from scratch, and why more designers may soon begin to follow his lead.

How long has this move been in the works?
I have been thinking about it for a long time. At first, I resisted pursuing the idea. About 10 years ago, I started my fabric company—and to my delight, it has become a great success and been embraced by the design community. During that process, I discovered I love the business and marketing side of the industry (to my surprise), so I decided to cease licensing my furniture collection and move the manufacturing of my collection in-house. I am rather type A, and this gives me control to add new product, and to market and nurture my collection as I see fit. Once I decide to do something, I am driven to make it the best.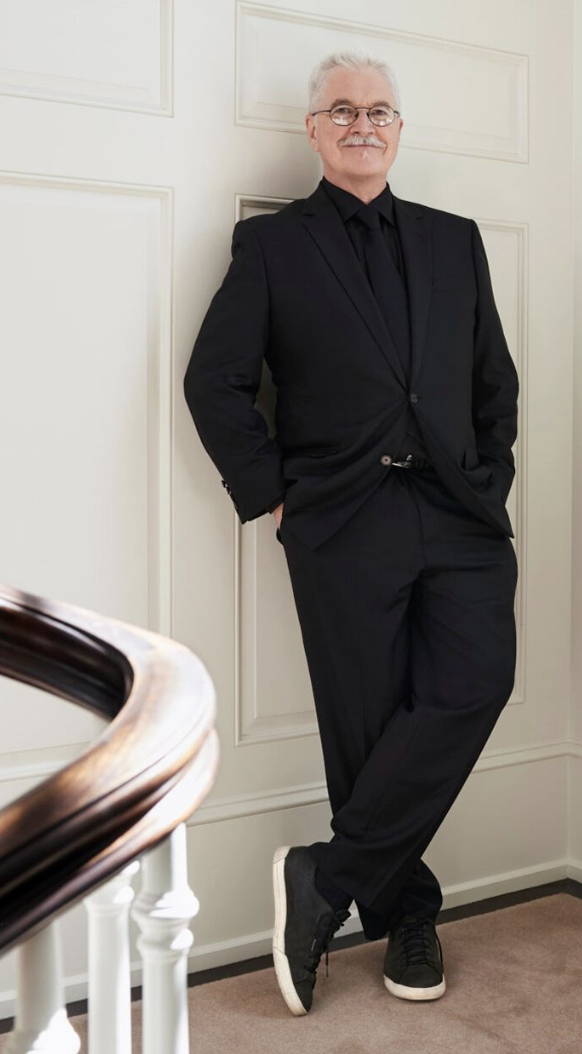 Tell me a bit about the logistical side.
My collection is currently about 130 pieces of furniture and lighting. My furniture is available to order now, and my revitalized lighting collection will premiere in the next year. The majority of the manufacturing will happen in the Los Angeles area, where we are blessed with an abundance of talented and gifted craftspeople.
Does being a designer give you special insight into what works for the trade?
We will be revising our price lists in order to easily quote most custom products within 24 hours. I want to be as responsive as possible to our clients, the designers. And because I am a designer myself, I feel that I have an intuitive and shared understanding of what my peers need and how they need it.
Will you be expanding your collections going forward?
Although my current collection is not small, it is my intention to grow the collection by adding 20 or 30 new pieces over the next year, and to continue in that mode for the next few years. We will be opening a Los Angeles showroom in the next year and are currently developing a force of nationwide sales representatives that can give our clients the personal attention they deserve.

Is this something you see other designers doing going forward?
I do see other interior designers starting collections. Online sites such as Incollect, Dering Hall and 1stdibs are making this much easier. But it's important to note that it is still very hard to create a successful furniture collection from scratch. If [the collection is] too small, it is often just a nuisance. It has to be of a scale where it can make enough income to have a dedicated staff to service the clients and supervise the construction of the furniture to make sure the quality is the best. [This side of the business] is not for everybody.
Is this move part of something bigger that's happening in the industry, or more of a personal choice?
Online [offerings] have radically changed the design world. There is so much good "ready to wear" furniture, and it is having an impact on the interior designer and [trade] showrooms. I'm not sure exactly where that [business model] is going, but I do have a concern that it has dramatically affected the purchasing of the middle-market design client. "Disruptive" is the word of the day—or maybe of the century. I am preparing my company to be facile so that as times change, we are able to adapt. And exciting times they are.
Homepage photo: Courtesy of Kerry Joyce