Michael Phillips is president of Jamestown, the development behemoth that owns Industry City in Brooklyn, One Times Square in Manhattan, the Ponce City Market in Atlanta and all 500,000 square feet of the Boston Design Center. Though the BDC makes up a small fraction of his company's holdings, Phillips has a personal affinity for the design industry (he got his start manufacturing tabletop, and his partner is a designer) and has a number of ideas about where it's headed. In fact, many of them have shaped an extensive renovation project at the BDC that has reimagined the waterfront property into a destination that combines trade-only showrooms with retail shops, corporate offices, restaurants and cafes.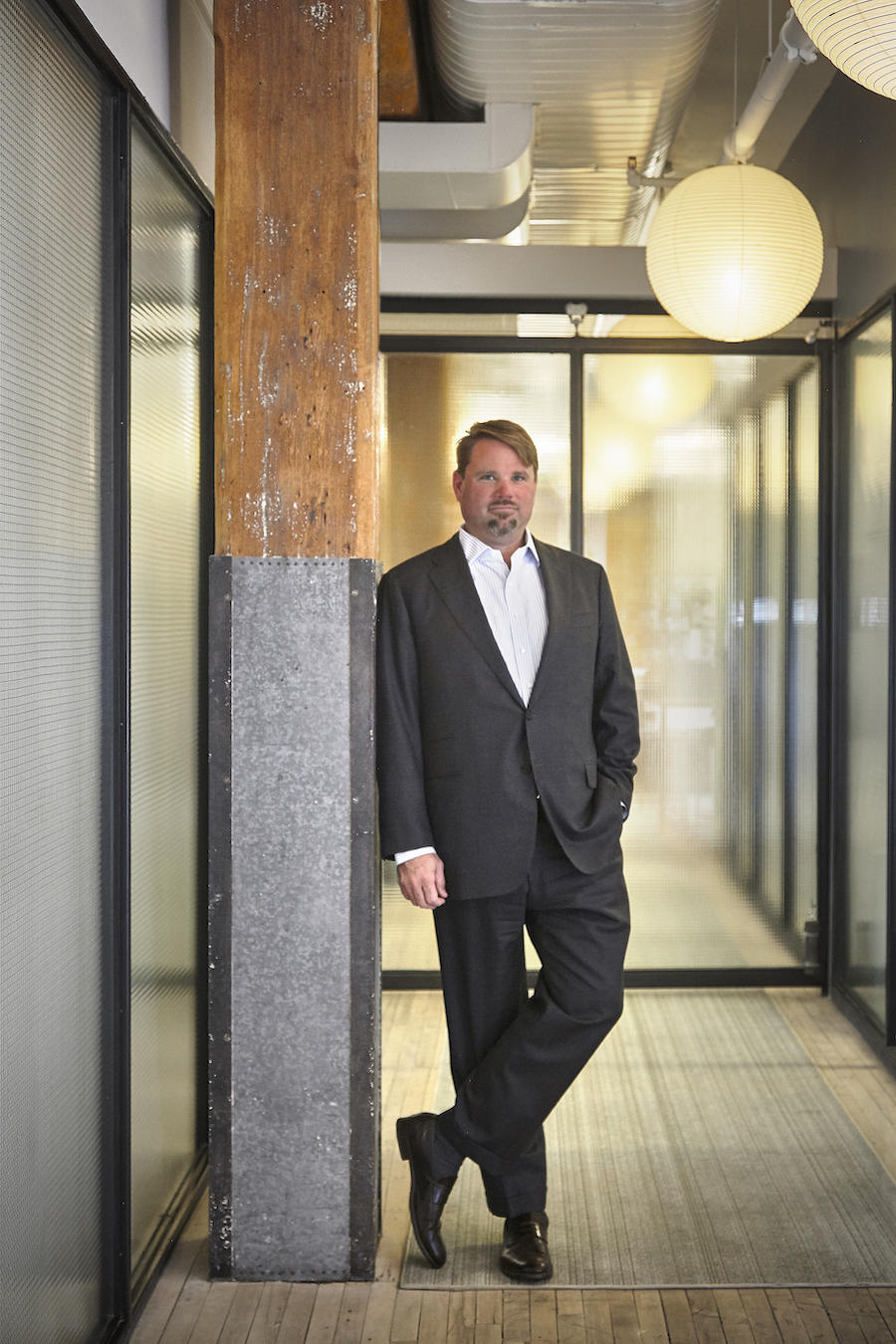 Put broadly, Phillips's thesis: The design industry needs to accept change, get dynamic and embrace the modern consumer. "If you can get an Uber car on your phone in four minutes, why can't you get an accurate quote on fabric in less than five weeks? That makes no sense," he tells host Dennis Scully on the latest episode of the Business of Home podcast (sponsored by Chairish and Google). "I honestly can't accept the answer that 'this is a bespoke custom product.' That's something I think the industry's hiding behind and not actually addressing."
In a wide-ranging conversation, Phillips discusses his thoughts on the future of design centers and where the industry at large is headed. Listen to the episode and check out a few takeaways below. If you like what you're hearing, subscribe to the podcast (free of charge!) and every week a new show will be delivered to your smartphone or tablet.
Take back the narrative
Phillips was chatting with some executives, and made an offhand comment: "Who would want to live in a fully RH home?" As it turned out, a couple of them wanted just that. It's an example, Phillips says, of how the design industry needs to get better at telling its own stories, or others will do it for them. "We can turn our nose up at that, but the reality is that Gary Friedman and his team … are all doing a very good job at telling those stories. I think that our industry started that and we shouldn't give it away."
Accept that High-low is real
The pool of affluent consumers who dress head-to-toe in designer apparel and insist on the absolute finest for every pillow in every guest bedroom is dwindling, says Phillips. "High-low is real," he says. "Why isn't the design industry paying attention to that? At least 10 percent of the product in most notable designer projects comes from mail-order catalogs … whether it's throw pillows, area rugs [or] the lampshade. If we think everything is coming directly from the design centers, we're really sadly mistaken. The showrooms in the industry need to be part of that." Phillips points to Stark and Kravet as examples of trade brands that are attempting to fill out their selection with more affordable offerings so that designers won't have to step outside the trade to finish off their projects.
Embrace experimentation
One of Phillips's biggest overarching messages is that the design industry needs to embrace disruption and start experimenting. Collaborations with brands and celebrities outside the industry? He's for it. Shorter-term leases in the BDC so that smaller brands can have pop-ups? Let's give it a shot. Nighttime hours for showrooms? Worth a try. "If people are clinging to something without understanding what the next thing is, that doesn't create a very fertile climate for innovation," says Phillips. "You have to be willing to jump in the water."