Ready or not, the holiday season is upon us. At Business of Home, we have our sights set on the season's merriest and brightest pop-ups for your perusing pleasure.
atlanta
David Christensen, courtesy of Atlanta Homes & Lifestyles magazine
Home for the Holidays Showhouse
Join Atlanta Homes & Lifestyles for its Home for the Holidays Designer Showhouse, tucked away in the feathered greenery of northern Atlanta. This year, in the showcase's 11th iteration, the O'Donnell Group and Harrison Design partnered to expand a modest 1950s home into a five-bedroom replete with new features (including a cantilevered master bath suite, for choice views of the surrounding forest). Over 20 designers came together to create the house, leaving holiday flourishes for guests to enjoy through December 8 (4825 Woodvale Dr. NW). Tickets are available here.
Christmas at Callanwolde
For over 40 years, Atlanta's Callanwolde Fine Arts Center has hosted its Designer Show House & Holiday Market, a series of themed events at a historic 27,000-square-foot mansion. Each year, the house is transformed by the city's top interior and floral designers into a seasonal showcase with a packed calendar of events (including plenty of holiday high tea). Visitors can savor the exquisite interiors and good company from November 29 to December 7 (980 Briarcliff Rd. NE). Tickets are available here.
connecticut
100 Main's Holiday Jewelry & Leather Event
Come December 14, the artisan cooperative of acclaimed interior designer Bunny Williams, 100 Main, will be opening its doors in Falls Village for its Holiday Jewelry & Leather event. The day will feature a meet-and-greet with jewelry designer Adelaide Harris and leather craftsman Eric Leitz, as well as a vast selection of expertly-curated home goods and fashions from over 40 tristate artisans and craftsmen (100 Main St., Falls Village).
NEW YORK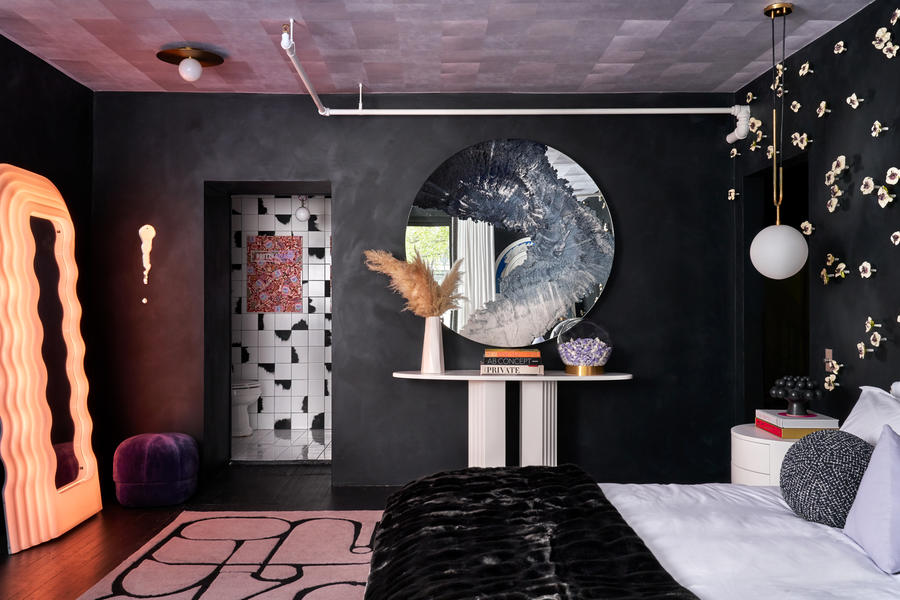 Seth Caplan, courtesy of Holiday House
Holiday House NYC
For the last decade, Holiday House NYC has challenged leading designers to envision a space based on their favorite holiday. The proceeds benefit breast cancer research, a cause dear to the heart of founding designer (and 22-year survivor) Iris Dankner. Holiday House is open to the public November 14 to December 15, featuring the work of designers Ally Coulter, Bjorn Bjornsson, Vanessa DeLeon, Bennett Leifer and Hilary Matt (125 E. 65th St.). Tickets are available here.
Sid & Ann Mashburn NYC Holiday Pop-Up Shop
This year, House Beautiful and Elizabeth Pash Interiors & Antiques are joining forces to host a Mashburn holiday pop-up, open to anyone strolling by (though if you're keen on a private appointment, they're offering that option as well). Not only will they be selling their greatest hits, but there will also be product exclusive to this event. Should you find yourself on the Upper East Side between December 5 and 22, there will be no shortage of cheer at this shop (769 Madison Ave.).
Industry West x Favor
From December 3 to 23, Industry West will be hosting a pop-up for accessories brand Favor, which will be debuting several pieces in the New York showroom. Ranging from tabletop to countless giftable sundries, the line was hand-selected by Industry West co-founder Anne England to enhance her usual selection of global goods (14 Crosby St.).
IC Holiday Market by WantedDesign
In the first three weekends of December, Industry City will showcase a selection of local, national and international labels curated by WantedDesign. Pop in for an impressive selection of design gifts, featuring luxury home design-build construction firm THIS, ceramics studio the Pursuits of Happiness and the socially conscious e-commerce shop J.M. Generals (51 35th St., Second Floor, Brooklyn).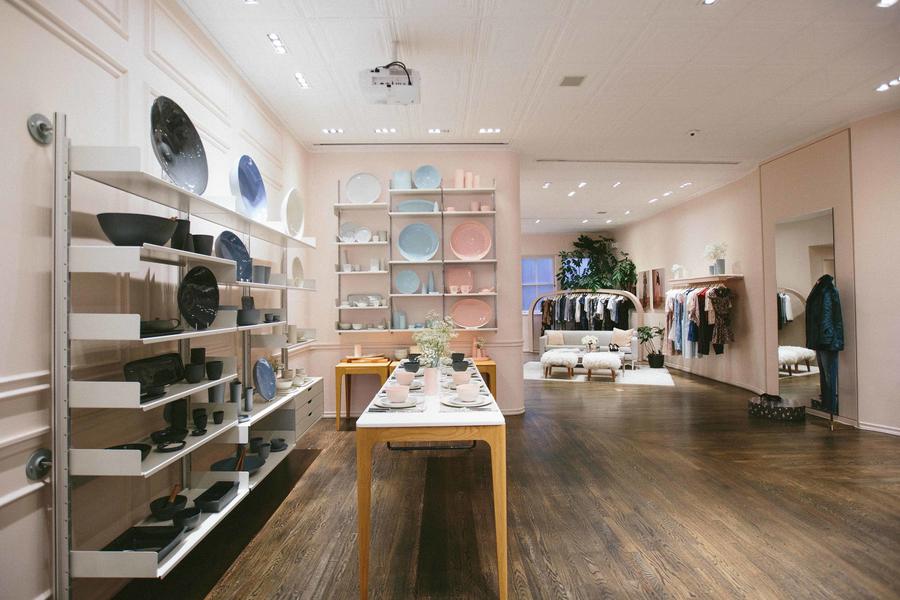 Courtesy of Mud Australia
Skagerak x La Garçonne
Beginning on December 6, La Garçonne in Tribeca will be hosting a pop-up of design company Skagerak. This collaboration will mark the Danish brand's first shop-in-shop partnership with a U.S. retailer. Both in-store and online, Skagerak will be selling unmistakably Scandinavian home items until January 5 (465 Greenwich St.).
Aerin's Shop for the Holidays
Aerin Lauder's luxury lifestyle brand welcomes you to its showroom for treats and cocktails on December 5 and 6 to ring in the holiday season. Along with its own line of home decor and fashion, Aerin will open its doors to a host of other luxury brands, all of which will have highlights of their collections available for purchase (595 Madison Ave., 5th Floor).
Rebecca Taylor x Mud Australia
This year, New York–based fashion and lifestyle brand Rebecca Taylor welcomes porcelain tableware company Mud Australia to Gansevoort Street. The Sydney-based company moved its U.S. store to Brooklyn two years ago, but returns to Manhattan for the holiday season. From now until December 26, shoppers will find the six most popular colors from the brand's collection mingling with the boutique's dresses and sweaters (34 Gansevoort St.).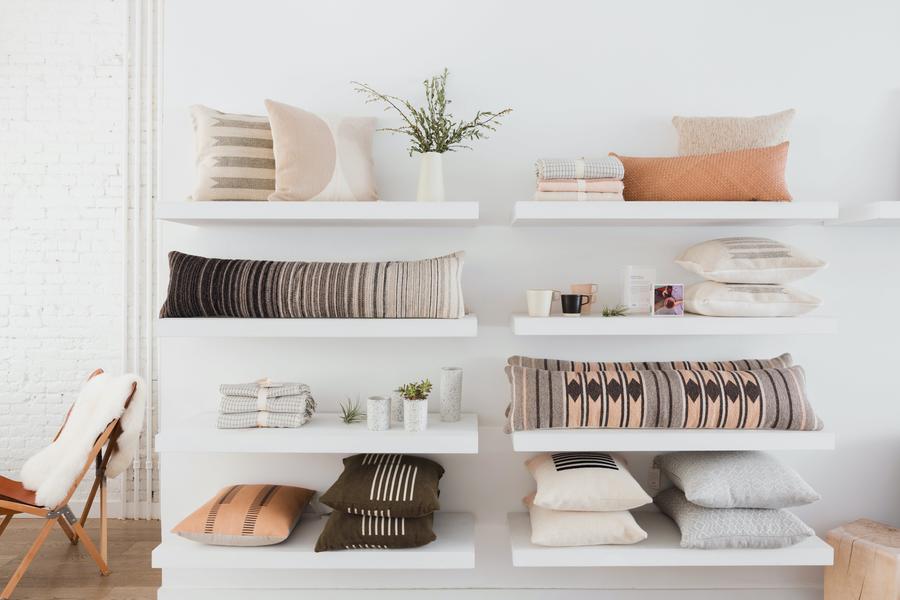 Courtesy of the Citizenry Bunkhouse
The Citizenry Bunkhouse
The Citizenry Bunkhouse pop-up, which first opened doors last December, is extending its stay in the West Village for another festive season. Beyond a covetable collection of home goods, the brand is offering complimentary embroidery on blankets, bedding and towels every Saturday through December 21. Should you decide to stop by on December 7 or 8, you can warm up with coffee, hot chocolate or a hot toddy (379 Bleecker St.).
Good Friends With Away
Away—the brand that re-imagined travel outfitting—will be popping up in Williamsburg in a Sasha Bikoff–designed space that will have more than just your head in the clouds. The pop-up was designed to evoke the quietude of being up in the air (above the chaos of the holidays), and will be selling the latest of Away's lineup until January 5 (111A North 3rd St., Brooklyn).
Ultimate Ceramics Holiday Pop-Up
For five days this December, three local ceramicists are teaming up to host a pop-up on the Lower East Side. From December 5 through 9, the chef-approved ceramicist Jono Pandolfi, Brooklyn-based small-batch ceramics studio Franca, and Drippy Pots maker Brian Giniewski will sell their respective wares—planters, mugs and dinnerware sets—in the name of gifting. (198 Allen St.).
Five Two by Food52 Holiday Pop-Up at the Oculus
Food52's in-house shop of kitchen tools and home goods have popped up at the Oculus at One World Trade Center this winter. Beneath the soaring white-ribbed ceiling, marketgoers will be able to see the innovative gadgets of the Five Two brand—wooden spoons, silicone straws, the Ultimate apron and more—from now until January 5. (185 Greenwich St.).
San Francisco
Make Good Market 2019
A process-oriented market, Make Good boasts a long list of artisan vendors who will demonstrate their craft live: Watch a leather-rug weaving demo at the AVO stall or see a live vessel-throwing demo by Heath Clay Studio. The market, open December 14 and 15, will include a number of other handcrafted, California-made goods that locals and travelers alike will appreciate (2900 18th St.).
Homepage image: Elsa Soyers's Dining Room | Alan Barry Photography, courtesy of Holiday House