The call came out of the blue. "I was just sitting on my couch minding my own business when I got a call from Versace," says interior designer Sasha Bikoff. The team at the iconic Italian fashion house had seen photos of her Memphis Milano–meets–French rococo staircase at the 2018 Kips Bay Decorator Show House. Bikoff, a lifelong Versace fan, also happened to be wearing a dress from the brand's Tribute line for the occasion.
"They said, 'We want to collaborate with you on a home collection to be featured at Salone del Mobile,'" recalls Bikoff, who is based in New York. "Three days later, I was on a plane to Milan." That was in January, and for the next month, Bikoff lived and breathed Versace. "It was a dream come true," she says.

Bikoff grew up surrounded by Versace. Her mom and grandparents always wore the label, and her family's Miami apartment was decked out in the brand's home collection. For this collaboration, she drew her inspiration from the Versace colors and patterns that she grew up with. "My idea was really to connect '80s and '90s Versace fashion with the home collection," she says.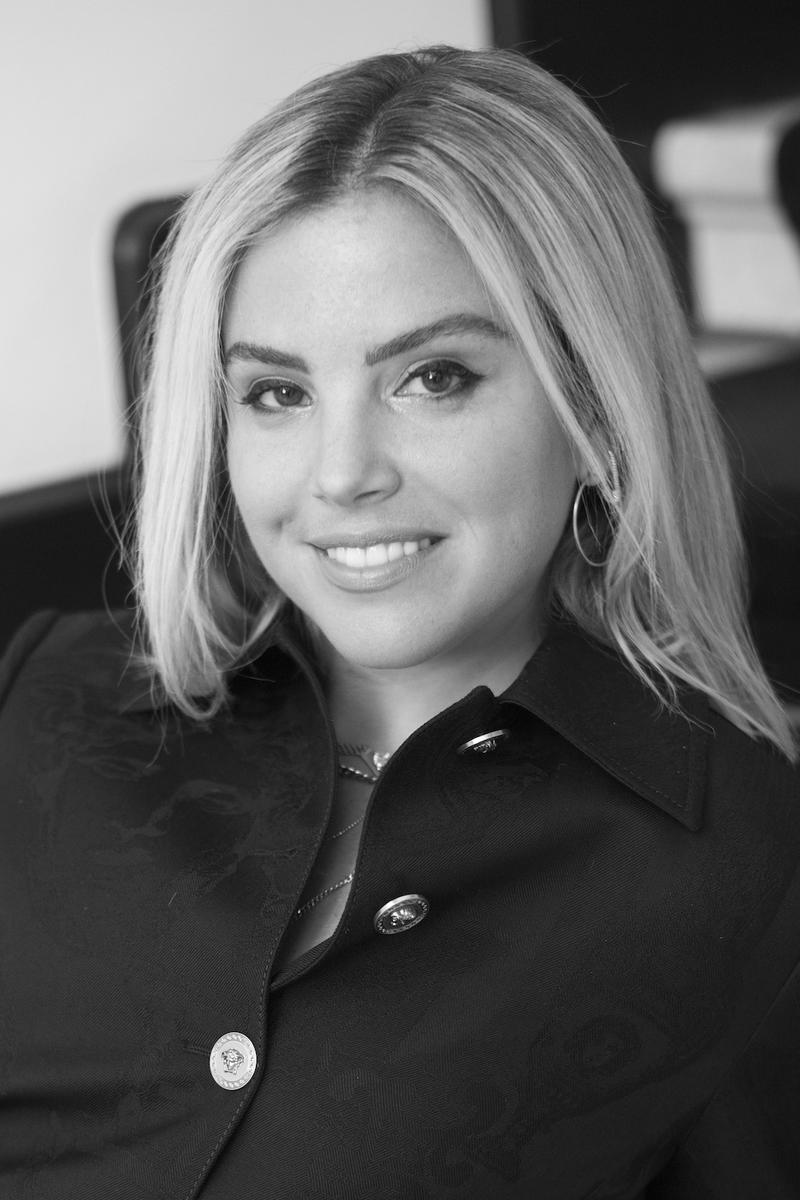 The result, to be unveiled April 10, is a fantastical installation rendered in Bikoff's signature vivacious style that will take over the Versace Palazzo on Via Gesù. The project will showcase the new Versace Home line, which consists of five capsule home collections: Pop Medusa, Medusa, Rhapsody, Logomania, and Jungle (Versace's first outdoor home line, named for a print in the spring 2000 collection made famous by Jennifer Lopez at that year's Grammy Awards). All products will be realized by Versace. It's a rare opportunity for the public to peek inside the palazzo, and the first time the brand has opened its Via Gesù headquarters during Salone.
Bikoff also reimagined several pieces from past collections in new finishes inspired by Gianni Versace's 1980s and '90s prints—think metallic leather, colored mirror glass, pastel mohair, and lacquer. "I wanted to create one-of-a-kind art pieces that can be mixed in with antiques or other styles," says Bikoff. "These are very special statement pieces, like a Versace dress. You know you're wearing a statement dress when you're wearing Versace. The whole room is looking at you, you're the life of the party, you're having the best time—that's what I wanted my furniture to accomplish."
The pieces, which make up a full bedroom (complete with a metallic leather bed that "looks like a Versace mini skirt"), living room, and dining room, will be displayed in a Technicolor fantasy world of neon islands and a floating pink cloud in the palazzo's courtyard. Three rotating neon yellow star-shaped platforms will hold the new Pop Medusa chairs, rendered in polyethylene in vibrant colors featuring a sculptural Medusa relief on the back.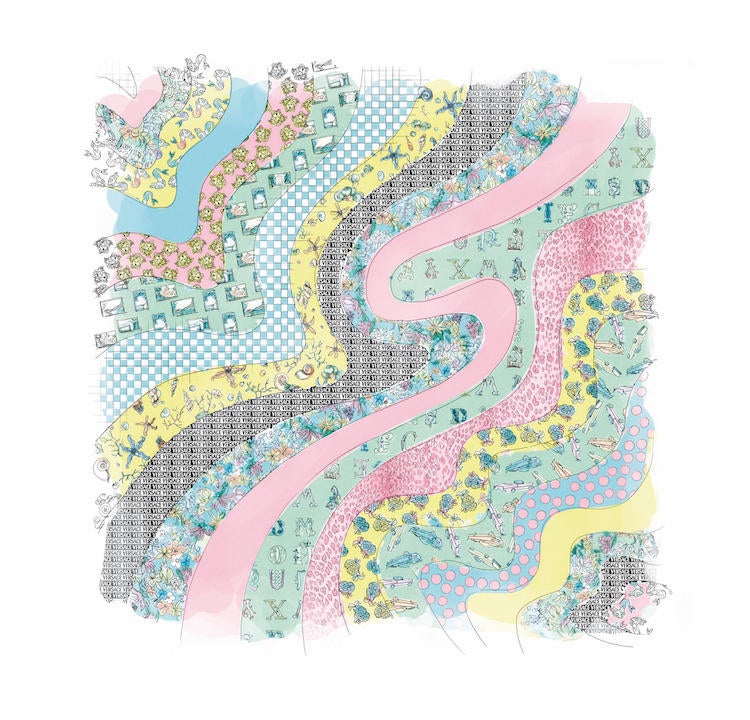 But the show-stealer is sure to be Bikoff's carpet, a swirling mix of poppy pinks and yellows and bright blues and greens, with patterns inspired by the Versace archives and the 1994 ad campaign shot by photographer Bruce Avedon, where supermodels (Cindy Crawford, Claudia Schiffer, Christy Turlington and co.) donned metallic mini skirts and pastel mohair sweaters.
"I hope the carpet becomes a textile, and we get to see it on clothing," says Bikoff. For now, it will cover the courtyard and the steps leading upstairs, where she designed eight room sets, mixing and matching the five collections to make the showrooms "feel like home apartments."
As if that weren't enough to do in one month, Bikoff also redesigned Versace's Home Collection boutique on Via Borgospesso and window displays for the brand's Milanese boutiques (get ready for a lot of pink). "I'm an overachiever," says Bikoff. "The collaboration started as just a special collection for Salone, and I said I wanted to do it all. I wanted everything to be connected through a similar experience."
We're calling it now: Versace will be the must-Instagram show in Milan. And that's exactly what Bikoff wants: "I hope people come into the space and see something that they never could have imagined in their own dreams."
The show will run through April 14. A limited number of tickets will be distributed to the first subscribers who sign up online here.