With everything streaming these days, it's hard to believe there ever was such a thing as Blockbuster. But for those that hold nostalgia dear, Airbnb is renting out the last surviving location for $4 a night (late fees not included). These are certainly strange times. Despite it all, the industry pushes on. Read on for headlines, launches and events, recommended reading, and more.
STATE OF THE INDUSTRY
On Friday, the U.S. Commerce Department announced that retail sales rose 1.2 percent in July, bringing consumer spending to a seasonally adjusted, pre-pandemic high for the year. According to The Wall Street Journal, sales were 1.7 percent higher compared to February, with spending concentrated in electronics and appliances, health products, and restaurant meals. Aggregate household income has actually seen an overall increase, bolstered by stimulus funds—and while many homeowners paid bills or saved that money, WSJ reports that consumers have also started spending that money on big-ticket items and projects like refurbishing their homes.
The news is good in the home sector as well. The National Kitchen & Bath Association released the latest findings from its quarterly Kitchen & Bath Market Index, which showed a nearly 10 percent increase in sales over Q1. While sales are still down more than 30 percent from the same period last year, industry outlook has improved by 9.3 percent over last quarter; across industry segments, designers, building and construction companies, and manufacturers alike expressed that while the COVID-19 shutdown brought about significant challenges, they are seeing a rebound in progress on projects and overall demand for services.
What do today's clients want? Houzz recently announced that interior designers saw a 19 percent increase in U.S. project leads for home remodeling and design on its platform during the month of June, as compared to the same period last year. Custom inquiries across the board jumped, with demand for custom furniture up 185 percent, custom built-ins and bookcases up 128 percent and 126 percent, respectively, and general increases in custom shelving and walk-in closets as well.
Digital sourcing platform Steelyard surveyed interior design professionals to learn how they were adapting their businesses to the challenges of 2020, asking them to rank the importance of a wide range of support tools. The findings showed that finish, color and fabric samples ranked as the most essential tools they needed from manufacturers—a must for 70 percent of those surveyed. The least important tool on the list? Virtual appointments with sales reps. Another clue to how design businesses are adapting: 54 percent of respondents said they plan to do more of their own product research and sourcing online even after restrictions are lifted.
BUSINESS NEWS
In April, Françoise Brougher, the chief operating officer of Pinterest and its top female executive, abruptly left the company with little explanation. Last week, she filed a lawsuit in San Francisco Superior Court that accuses the company of firing her after she filed gender-based discrimination complaints. The New York Times reports that the lawsuit cites instances where Brougher was left out of important meetings, was given gendered feedback, was paid less than her male peers when she joined the company—and ultimately was let go for speaking up about it. According to a company spokesperson, Pinterest is now conducting an independent review of its culture, policies and practices.
Following outcry caused by the launch of its Lord Ganesha towel, which depicted the Hindu deity and was deemed insensitive and disrespectful by leaders of the religious community, Wayfair issued an apology and promptly removed the item from its website. Rajan Zed, president of the Universal Society of Hinduism, noted that the towel is far from Wayfair's first offense against the Hindu community, citing cutting boards, floor pillows and bath mats that have also depicted Lord Ganesha.
LAUNCHES, COLLABORATIONS & PARTNERSHIPS
Hooker Furniture and its sister companies, Sam Moore and Bradington-Young, have developed a series of videos presented by its business and merchandising teams as part of a greater virtual showroom initiative. Ten new collections that would have debuted at High Point Market this spring will be made available in up-close videos, and the company's 90,000-square-foot High Point showroom can now be explored via a 360-degree virtual tour.
In collaboration with fashion designer Jason Wu, luxury faucet company Brizo has launched a line of kitchen faucets that features two matte-white designs, both with extendable faucet heads.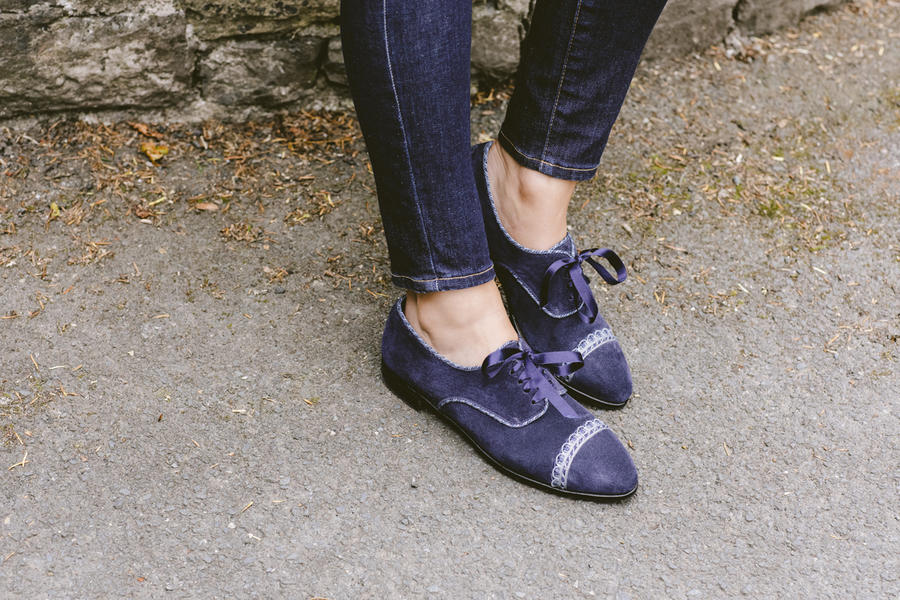 Courtesy of Samuel & Sons
Samuel & Sons has announced that some of its trims will be featured in a capsule collection of shoes from D2C designer footwear brand Sarah Flint. Beginning in September, the four-style collection, inspired by the interiors of England's Newby Hall estate, will be available through the shoe brand's website.
French crystal house Saint-Louis has released a new lighting and home accessories collection with Dutch designer Kiki van Eijk, inspired by van Eijk's first visit to the Saint-Louis warehouse—including the shape of a crystal lamp designed to release a light similar to that emitted by a molten crystal.
Dendwell, a new social commerce platform for furniture and home decor, has launched the Make Space Pledge, an activist initiative that calls for home decor and design brands and media outlets to pledge 13 percent of their annual creative, collaborations and content to featuring a Black creator. "Diversity and representation have been conversations in fashion and beauty for decades, whereas home has been allowed to escape this pressure to diversify and continues to be configured for the affluent, white woman," said founder Tenlie Mourning in a release.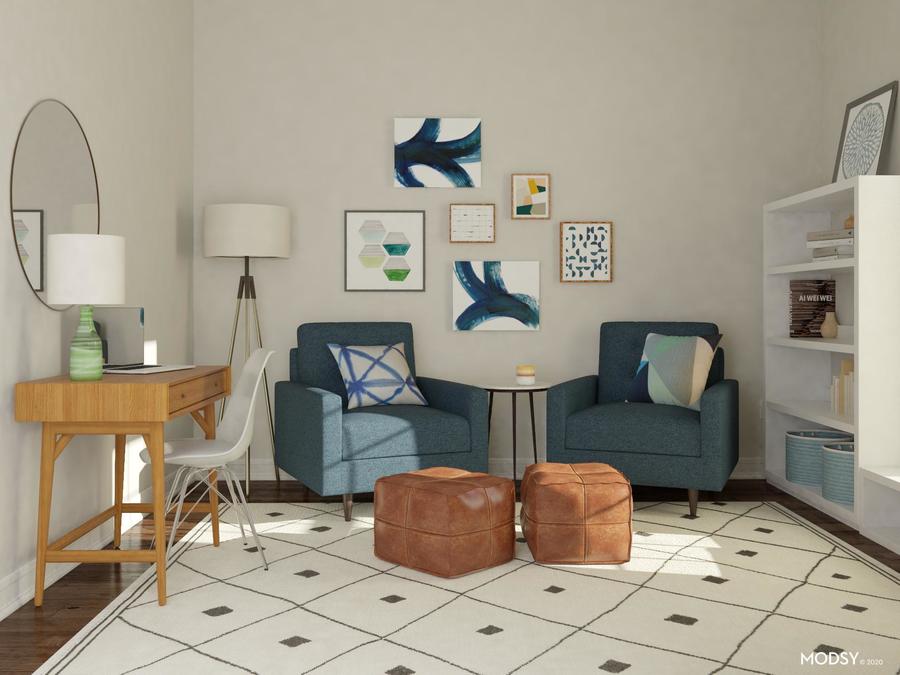 E-design platform Modsy has launched its first-ever iOS app. The new offering comes with a proprietary tool that allows users to create a 3D model of their space by taking a short video with their smartphones. The resulting image captures the small details of a room, including outlets, moldings and windowpanes—and according to Modsy, eliminates the need for a tape measure by re-creating the space with accurate dimensions.
CALENDAR UPDATES
The American Craft Council has shifted this year's San Francisco Bay Area Craft Week to a virtual format. From September 7 to 13, the event, free and open to the public, will both educate and inspire attendees through a showcase of more than 130 artisans from the world of jewelry, furniture, home decor and more.
For the first time in 15 years, Reverie, leader in adjustable bed bases, will not attend this summer's Las Vegas Market, as a safety precaution for its team and partners. (It joins Currey & Company in announcing that it will be sitting out the summer's markets.) In addition to its pre-existing digital offerings, Reverie is planning an intimate event early in 2021 that will feature interactive product demos, knowledge from its science of sleep expertise, and more.
The Cohen Design Centers announced that they will cancel their fall markets, including the D&D Building Fall Market in New York, which was scheduled to run October 7 to 8.
Salon Art + Design has announced that it will not take place this November. In lieu of a live, in-person fair, the event organizers are producing a print magazine—Salon, the Intersection of Art + Design—which will be sent to more than 30,000 of the collectors, designers and architects.
SHOWROOM REPRESENTATION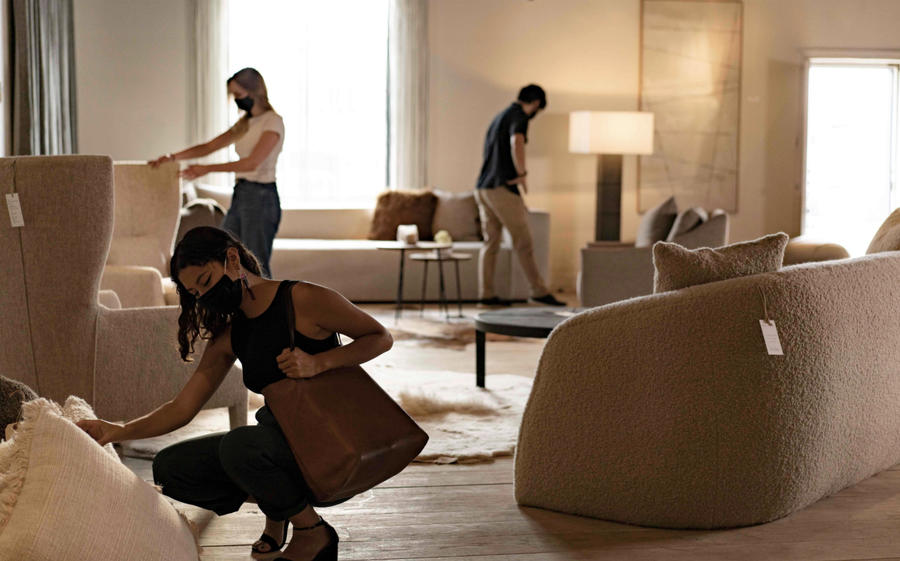 Ron Royals | Courtesy of High Point x Design
High Point x Design has announced its first event, which will see the initiative's 13 partner brands open their showrooms for the week of Premarket, an event that has historically provided a select group of furniture retailers with a preview of the season's product debuts a month before the official Market. From September 14 to 18, 10 a.m. to 6 p.m., the brands will provide previews for October introductions for a first-chance opportunity to shop and buy; the event is also the kickoff for all of these brands to be open by appointment year-round. The 13 HPxD brands are Oly Studio, Verellen, Schwung Home, Mr. Brown London, South + English, Red Egg, Cohab Space (and its brands), and Mill Collective (and its 30 makers), Branch Home, Splashworks, 214 Modern Vintage, The Royals Project, and Randall Tysinger Antiques.
Meanwhile, Furniture Today reports that Asheboro, North Carolina–based manufacturer and importer Klaussner Home Furnishings is following the "growing trend" of adopting a year-round showroom model in High Point. President and CEO Terry McNew informed the company's dealers of its plan, which will include extended dates to coincide with this fall's High Point Premarket.
RECOMMENDED READING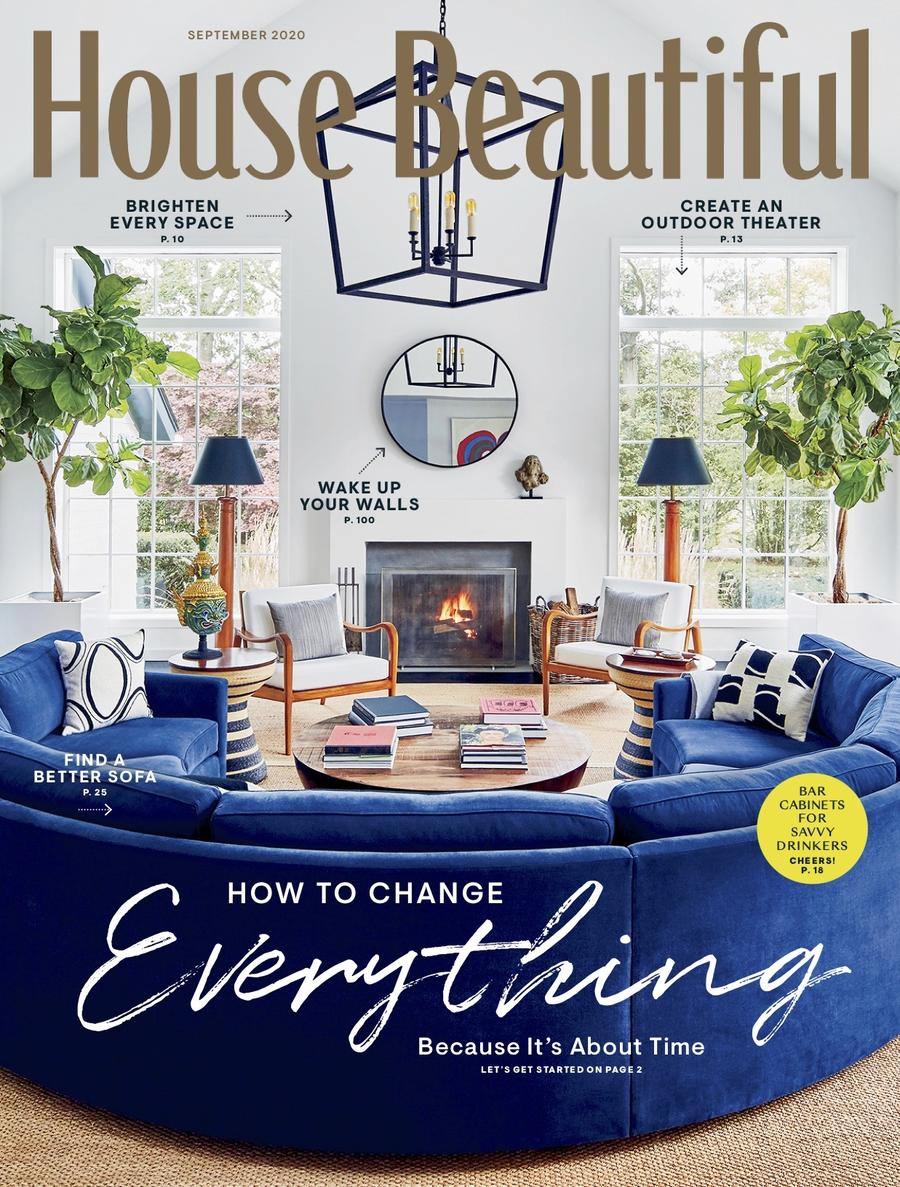 Courtesy of House Beautiful
In our latest column in House Beautiful, Business of Home editor in chief Kaitlin Petersen explains the game of finding the right designer-client fit. Taking shape as a fun candy-colored board game, this how-to guide poses questions for project-curious clients to consider as they pursue hiring a professional interior designer, from relationship chemistry to basic tenets of trust. (The in-print version might just be an essential addition to your new-client toolkit—a lighthearted way to discourage bad behavior!)
A few weeks ago, model Gigi Hadid revealed her multicolored, farfalle-fitted Manhattan apartment, a decorating job that saw its unveiling on her Instagram account. Now, The New Yorker explores how this maximalist microcosm is but a ripple in a greater wave of a North American design era that includes high-profile homeowners like Drake, Kim Kardashian-West and Kendall Jenner. The homes belonging to these celebrities "promise something even more extra, the fulfillment not of a decorator's vision but of a personal identity," writes Kyle Chayka. The article bounds between two foils, one of carefully calibrated layers of self-expression ("doing the most," so to speak), and the other of a bare-bones approach, advocated by the Marie Kondos of the world, exemplified by the over-the-top austerity of the Kardashian-West residence in the February issue of Architectural Digest.
As the urban flight phenomenon continues to drain major American cities of renters, what could be so bad about spreading out? "A lot, it turns out," writes Annalee Newitz for The New York Times. "The 20th century offers object lessons in why fleeing cities for suburban and exurban settings can backfire—even if it seems like a good idea at first." Newitz takes a look at an early suburb by Frank Lloyd Wright, outlining its objectives before exposing its failures.
CUE THE APPLAUSE
Fantini USA has announced the winners of its People's Choice Awards: Unique Design. The competition saw architects, designers, friends and family from all over the globe voting for their favorite projects by way of the kitchen and bath company's Instagram. First place was awarded to Anne-Marie Barton, founder of Park City, Utah–based firm AMB Design; the second place award went to Emil García, a design associate at Chicago-based Centaur Interiors.
CALL FOR ENTRIES
Sustainable rug brand Organic Weave has launched "Draw a Rug," an art competition open to children around the world ages 2 to 18. The contest's winning entry will be translated into an organic wool rug, available for purchase on Organic Weave's website, and profits from the sales of the rug will benefit The Edible Schoolyard Project, a nonprofit organization that seeks to improve the health of children by designing hands-on educational experiences around growing, cooking and eating. Entries will be accepted until September 15. To submit a design, click here.
Homepage image: A vase from the Matrice collection by Kiki van Eijk for Saint-Louis | Courtesy of Saint-Louis