After six years at the helm, Interior Define founder Rob Royer has moved into a new role as chairman of the board. Last month, the company announced that it had tapped Antonio Nieves as its new CEO to shepherd the company as it scales rapidly. Nieves was most recently CEO of ModCloth, an online retailer focused on vintage-inspired women's clothing; before that, he held roles as COO and CFO at e-commerce men's apparel brand Bonobos, where he was part of the leadership team during the brand's sale to Walmart. "My experience has been coming into a lot of brands that are in this type of growth phase and understanding where magic is and how to actually accelerate that," he tells Business of Home.
And there's plenty to build on: Since it was founded in 2014, Interior Define has grown to a 65-employee operation with six brick-and-mortar outposts and has raised more than $27 million in venture capital funding. For the past three years, the company has tripled its year-over-year business. Capitalizing on the brand's current growth, Nieves will develop new product categories, expand product assortment and focus on physical retail.
"It's a nice balance, having the opportunity to lift my head up and think more strategically," Royer tells BOH as he adjusts to a more big-picture role. "Since launching five years ago, we're now asking, 'What other opportunities do we have to serve our customers who are already engaged with the brand?' Antonio brings a totally fresh perspective in that area."
BOH caught up with Royer and Nieves to discuss their plans for the Chicago-based company's growth, how to brand-build around a strong value proposition, and knowing when the time is right to make a big move.

When did you know that it was time to make the switch, and what did that look like?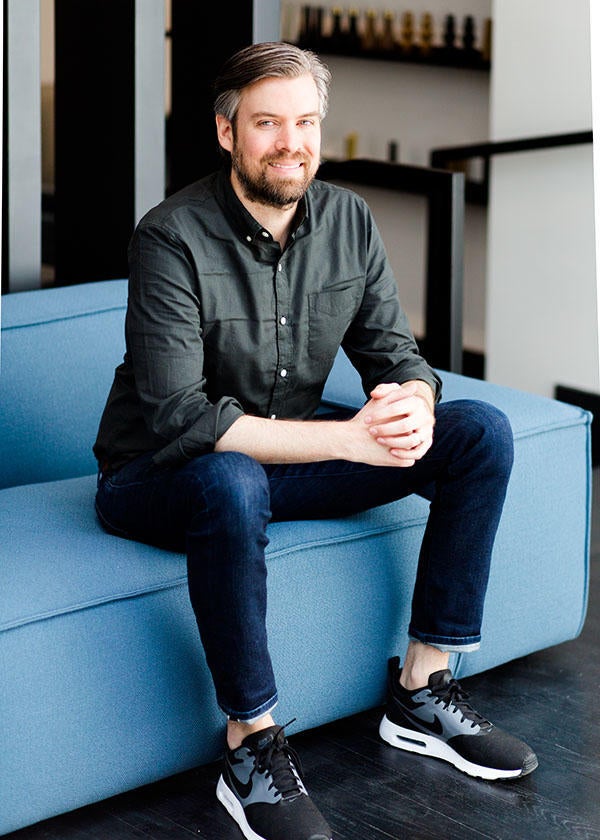 Courtesy of Interior Define
Royer: As a founder, I think there is a moment when you've got to decide where you want to go. So it came from thinking about the evolution of the business and where I wanted to focus. We're super excited about the growth we've had over the past few years; I think it was a milestone moment where it made sense to bring on somebody who could help us take it to the next level, and I felt like Antonio would be a good partner to help us do that.
What are the strengths that Antonio brings to your team?
Royer: I think it's a full view of the landscape—everything from talent, identifying where we have strengths versus where we have opportunities to bring new people in, to thinking about the long-term strategy. Antonio comes from a strong financial background—he's been a CFO at Bonobos, and most recently he was the CEO of ModCloth. So he knows the key moves to make to scale the business at a moment when we've grown quickly and have to figure out the right pieces to put in place to get us to our next evolution.
We've always been focused on delivering a really differentiated experience in shopping for a sofa. When we launched, there was a big gap in the middle of the market in terms of a brand that was purpose-built to serve the middle market with an upscale sofa shop and a comfortable shopping experience. But as we continue to grow, the question is, "What can we build around this hero product experience?" That means thinking about everything from category extensions to where we leverage technology strengths that we already have—how do we take some of those to the next level and layer on new technology capabilities over time? These are things that Antonio's faced at both Bonobos and ModCloth, so he's well-positioned to do all of those things.
And for you, Antonio—what appealed to you about this role at Interior Define?
Nieves: First and foremost, I have a deep love and passion for the consumer experience: how a consumer makes their way through the purchase journey and why they choose one brand versus another. What was interesting to me was when you think about how consumers have done that historically, it's always been through the accessories they put in their home, whether it's throw pillows or blankets or artwork. But it's never been in the core pieces, because for most people, the ability to have a truly custom piece of furniture was price-prohibitive. One of the value propositions that Rob has created is an ability to bring customization of product to a more approachable price point. When I think about the brand itself, and the opportunity to allow consumers to define who they are through their furniture pieces, I see an unmet market need—one that I'm excited about helping this company to realize.
You've worked at fashion brands for the past seven years. What are some of the parallels that have translated?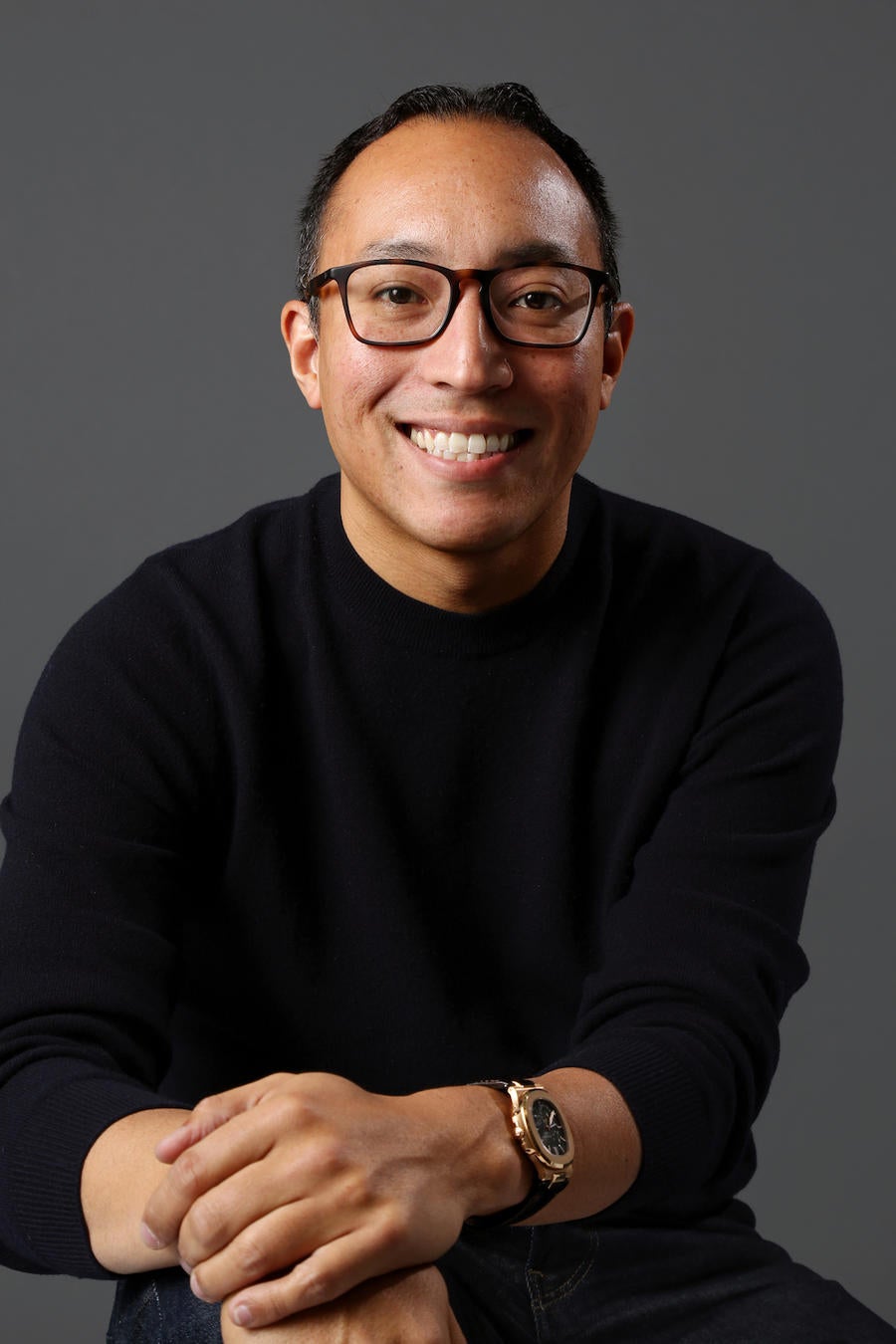 Courtesy of Interior Define
Nieves: It always starts with a product. You've got to have compelling merchandise that's aesthetically appealing, but both industries allow for all different types of design aesthetics and points of view.
One of the things I was also excited about when I was researching this business is its upcoming collaboration with Jason Wu; for me, it was that perfect marriage that makes so much sense. You've got somebody who brings such a unique perspective from a design standpoint—and what that did was allow us to launch a line that was adjacent to our more traditional modernist aesthetic, and to infuse this midcentury modern component that had more credibility because a designer was pouring their own self into it. When you talk about really great brands, it's not just that they've been able to create a great logo or some kind of basic fit or form, it's that they've been able to infuse the influence of their designer into the product in a way that resonates with consumers, and I think that's what we have an opportunity to do here.
Do you see the possibility for continued collaborations with big names?
Nieves: Absolutely. But it's one of those things where it's not about doing a collaboration for the sake of doing it. It needs to feel authentic. Everybody uses that word, but it's true.
What is the recipe for creating that sense of authenticity?
Nieves: I think it starts with asking, "Does the person or company we're going to partner with truly understand the value proposition of what we offer?" There's a great quote from Jason Wu about being able to design something that people could actually make their own. He said, "The home is something that is so personal, it's never a one-size-fits-all. I love the idea that I can create something, yet the customer can expand on it and create their own version of what we started." They can start with his template, and through the Interior Define model they can actually make it into their own piece of furniture while using his framework. I think that understanding of our business and that connectivity to the value proposition is what makes it authentic.
That also makes it attainable. I was looking at Jason's couture collections yesterday, and he's got dresses that cost more than the sofa, right? The quality is high, the standard is high. The team that's been working on designing and developing this product for nearly a year with Jason—all the effort that goes into it, the intricacy of the design—we want to make this as accessible as possible, because we want to allow people to have access to something that typically wouldn't have been an attainable given how people would typically price this type of product.
How is the value proposition different at Interior Define versus ModCloth or Bonobos?
Nieves: I think where a lot of brands struggle is they say, "OK, for me to make this a viable business, I need to sell this product at X price with X margin." But it's not about coming in with some idealistic view of what the business should be. If you run a business that way, it's never going to work, because what you're not doing is touching and penetrating that emotional connection that the consumer's having, especially in a category like this where you're designing product that the customer is going to live on. Instead, what you really want to do is understand that price-to-value calculation the consumer does in their head, where they say, "Yes, I'm willing to select this product at this price point with the equivalent value and the design that I feel like resonates with me." If you do that well, that can transfer from any category to any category. It's about understanding the desires, needs and values that the customer puts into decision making. Then you build something around that.
You've had a lot of experience creating a network of retail stores at online-first brands. Can you tell me a little bit about the role of physical spaces versus digital shopping?
Nieves: What we found at both Bonobos and at ModCloth is that while everybody talks about this massive shift to online sales, almost 80 percent of commerce still happens offline. There are still a lot of brands that people learn about and experience offline—and there's a sense of credibility that these businesses build by having physical retail, because people look at that as assurance of a real business.
When I joined Bonobos, it had roughly 20 stores. I ended up overseeing the brand's retail experience and real estate strategy; by the time I left, we were north of 50 stores, and now they're at something like 70 stores. So what I think about online and offline retail is that they're not mutually exclusive—and even more so in a category like furniture. To get a consumer to take a risk and buy something online without experiencing the product in person is easy when you're selling a $98 dress shirt because the price point is relatively low and the process of returning it is so easy. There aren't as many barriers.
If you're buying a custom piece of furniture, you're paying on average $2,500 to $3,000 for that sectional sofa, you're going to wait eight to nine weeks—and after that, the returns process is not as seamless. And specifically in this category, you want to know what the product feels like. You want to understand and see the fabric. You want to be able to sit on it and say, "OK, do I want a squishy couch? Do I want something that's a bit more firm? Do I want a deeper seat, do I want a shorter seat? How do I think having a chaise on the right or left?" Being able to come in to see, touch and feel is transformative at this price point. We believe wholeheartedly that offline retail is a key component of this business strategy and one we're going to pursue over the next 24 months.
I know it's early days, but tell me about some of your other plans.
Nieves: One thing we're going to work on is building around our hero products—meaning the sofa, which accounts for 85 percent of our sales. Over the next six to 12 months, we're going to be launching products that supplement that: coffee tables, end tables, rugs. We're going to continue to refine and improve upon the merchandise, and add more components around the living room so that people can complete that look.
We're not the low-end price point, so our customers aren't the ones buying their first sofa. For a lot of these folks, this is that first adult sofa. It's like, "I'm finally established. I can afford a nice piece of furniture." Those are customers that want to be able to have their whole room be tied together. We offer an amazing sofa , and we're going to supplement that across the rest of the room to give a complete aesthetic.
Does that change things on the manufacturing side?
Nieves: I can't fully comment on that because we just don't have that set yet. We've locked in on our strategy, so now it's the fun task of finding the right partners to actually execute that vision. For me, it all centers around how we create a compelling and seamless experience for the consumer. On the back end, we'll have to figure out how to connect the different components of our supply chain. But overall, we feel fairly good about our ability to build around the current supply chain.
So far, has coming from outside the furniture industry felt like an advantage?
Nieves: Absolutely, because I get to ask all the dumb questions and be OK asking those dumb questions. I would say the biggest difference is understanding the consumer mindset and how they go through the journey. For instance, if a consumer's shopping for apparel, the typical cycle is either, "I'm starting a new job and I need to refresh my work apparel," or, "I have a wedding to go to or a date to go on and I'm looking to buy a dress for that." But those cycles have a really short lead time. Unless somebody's looking for a wedding dress, they're not searching for months on end—and at ModCloth, that was less than 2 percent of our business.
Here, the purchase consideration cycle is much longer, somewhere between two to nine months for a consumer. So it's understanding what are the different triggers, the rationale, and the decision points. And so what I've been spending my time on is customer care calls to understand what the pain points are there. Tomorrow, I'll be in our Boston Guideshop to interact with consumers and talk with the sales team to understand how people go through that journey of selecting a piece and ultimately deciding on what to buy.
In this category, you have a long relationship with the customer while they're thinking about the purchase, but also a long relationship once they've made the purchase. How does that influence your thoughts on marketing?
Nieves: Yeah, you want to build a true trust with the consumer. For something like this, so much of it is also going to be word of mouth. Because when you're buying a sofa, you want to not just go based off of the marketing of the brand, because anybody can make beautiful creative—it's about how you cultivate a following within the consumer set. One of the things that's great is if you look at our product reviews, they're really strong. If you look at our NPS scores, they're high for the industry and you get excited about the fact that the customers do love our products. And how do you build upon that to differentiate yourself?
Part of that journey becomes about introducing these other products around the living room. How do we get existing customers to now fill out the rest of their space with these items? It has to be based off the fact that we've cultivated a true relationship with them, so they're going to trust us and buy the other pieces in their room.
You're coming in and taking over to grow a company from its founder. What are the challenges—and opportunities—there?
Nieves: First, you've got to have a tremendous amount of respect for what this person has built. And for me, I can tell you, I'm not a founder. I don't have that mindset and that ability to create something from nothing, but I think what Rob has built here has been amazing. I think if you have that understanding—knowing what your limitations are—it helps you to come in and not try to reverse everything that the person has done, but try to understand the magic that sits within this brand and then strategize how to optimize and build on that.
My experience has been coming into a lot of brands that are in this type of growth phase and understanding where magic is and how to actually accelerate that. On the fringes, it's seeing where to button up some of the operational things that startups aren't necessarily going to be experts at.
And what does that transition look like for you, Rob? How will you work together?
Royer: I'm going to take more of a bird's-eye view. I'm not day-to-day in the office like I've been for the last six years, but I'm still spending a lot of time on the business. I'm working with Antonio on the broader strategy for the business, but he's really in the office with the team and helping think through operationally the things we put in place to move to the next level. It's still a pretty new transition and I'm not an expert at it yet, but right now it's about explaining what got us here, what the vision was, and what, from my perspective, we've excelled at as a team. And then identifying where can we bring a new perspective in and think about where there are untapped opportunities.
What are you most excited for in the company's future?
Royer: One is our Guideshop strategy, which has been working really nicely. It's really helped us expand in key markets, in terms of awareness and customer interaction and conversion over time. So there is more of that in our future. Also, building upon the strengths of our hero products and experience in sofas and seeing what is the next natural adjacency to what we've created. Thus far we've gone from sofa being from our viewpoint, the centerpiece of the home, to the bedroom with customizable beds and then the dining room is customizable dining. That's the tie that holds them all together—from our perspective, the most important pieces of furniture in those rooms and our unique approach to customization at our price point.
Many of our customers have either already shopped and had a good experience with us, or they're doing it for the first time and say, "I'm shopping for a new home. So there's obviously other things I could shop for too." We're very focused and strategic about what categories we launch because we're not everything home, like the traditional retailer.
Nieves: And I think just my experience having run 60-plus stores, store fleets and multi-hundred-million-dollar businesses, is the type of discipline that you can put around it: How do you still foster what's magical about a business? How do you continue to invest in the culture of the brand? At the end of the day, if you don't get the energy of the people and the employees to go with you on this journey as they're transitioning from the founder to the new CEO, that's the biggest recipe for failure.
Homepage photo: Jason Wu's collaboration with Interior Define, courtesy of Interior Define