Home is on the move. Kibbo, a high-end mobile home leaser, is renting luxury cargo vans to members, promising Wi-Fi, bathrooms, and a shared kitchen in micro-communities across the U.S. Indeed, these are strange times. Despite it all, the industry pushes on. Read on for headlines, launches and events, recommended reading, and more.
BUSINESS NEWS
According to a Federal Bank analysis, Black-owned businesses have suffered disproportionately to their white-owned counterparts during the pandemic, reports CNBC. Only 20 percent of rescue loans from the Paycheck Protection Program went to areas with the highest concentration of Black-owned businesses, which both highlights racial disparities in bank relationships that existed prior to COVID-19 and raises structural questions about the access to credit in communities of color. The analysts say the next round of funding should focus on correcting racial disparities in the distribution of PPP loans.
Despite recent positive trends in the stock market, for many, the pain of the coronavirus shutdown persists. One hundred business leaders from companies like Starbucks, Microsoft, The Walt Disney Co. and Salesforce wrote a letter to lawmakers with the warning: "By Labor Day, we foresee a wave of permanent closures if the right steps are not taken soon. Tens of millions of Americans have already lost their jobs in this pandemic. Allowing small businesses to fail will turn temporary job losses into permanent ones." Ultimately, Inc. reports, these executives want to see more government support directed to small businesses beyond the Paycheck Protection Program.
Airbnb plans to file IPO paperwork with the Securities and Exchange Commission later this month, reports The Wall Street Journal, a move that could result in a listing before the end of this year. Morgan Stanley will lead the offering, and sources say Goldman Sachs Group will play a key role in the filing. With a recent valuation of $18 billion (down from $31 billion earlier this year), going public would mark a surprising rebound for Airbnb. In a CNBC interview in June, CEO Brian Chesky recently lamented the upheaval the company had faced as a result of COVID-19 ("We spent 12 years building Airbnb's business and lost almost all of it in a matter of four to six weeks"), and then said: "But the market is resilient.... Travel as we knew it is over—it doesn't mean travel is over, just the travel we knew is over, and it's never coming back."
Department store retailers are on a slippery slope—and Amazon might have the final word. The Wall Street Journal reported this week that Simon Property Group, America's largest mall owner, is exploring the idea of turning ailing anchor department stores into Amazon fulfillment centers. At present, the talks target real estate held by Sears Holdings Corp. and J.C. Penney Co., both of which have filed for Chapter 11 bankruptcy. "The talks reflect the intersection of two trends that predate the pandemic but have been accelerated by it: the decline of malls and the boom in e-commerce," write WSJ reporters Esther Fung and Sebastian Herrera.
Furniture rental startup Feather has secured a $30 million credit line from Credit Suisse. According to Crunchbase, the company will use it to expand into new markets outside of New York, San Francisco, Los Angeles, and Orange County, California. The news comes six months after Feather raised $30 million in series B funding in a round led by Cobalt Capital. On the heels of its $30 million vote of confidence from Credit Suisse, the company has announced a new partnership with Floyd, the Detroit-based furniture company. Feather's rental furniture selection will now include a selection of Floyd pieces.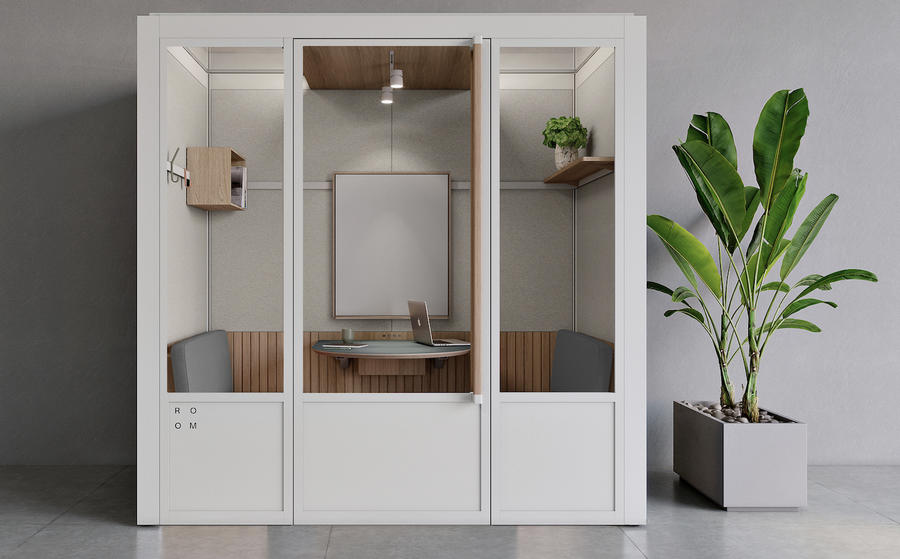 Office design startup Room has announced a $12.5 million round of series A funding led by Slow Ventures. The capital will fuel the company's upcoming product portfolio expansion, with emphasis on developing modular architectural solutions for the office.
Home retailer Ethan Allen's 2020 fiscal fourth-quarter sales are down 50.2 percent compared to the same period last year, resulting in $12.1 million in quarterly losses. The sales decline impacted the company's retail and wholesale branches, caused by the temporary closures of its design centers and manufacturing plants, reports Furniture Today. Despite the losses, 56 percent of the company's furloughed staff have returned to work.
LAUNCHES, COLLABORATIONS & PARTNERSHIPS
In collaboration with Australian technology company Palette, Pantone has digitized its color library of fashion, home and interiors hues. The 2,500-plus colors will now be available through a mobile app with color-match technology enabled by Pico, Pantone's proprietary hardware.
A few weeks ago, BOH Retail Watch columnist Warren Shoulberg noted that back-to-school season will look different for many big-box retailers who rely on the season uptick in dorm furnishings. Bed Bath & Beyond is pivoting to adapt to the new reality with the launch of College From Home, a new shopping experience in partnership with sister brand Decorist. Beginning August 11, a selection of dorm essentials will be grouped together to help students create functional learning spaces at home. Whether students are living on campus or in an apartment, or studying from home, lap desks, organizational tools, and decor help transform bedrooms into a college-inspired space.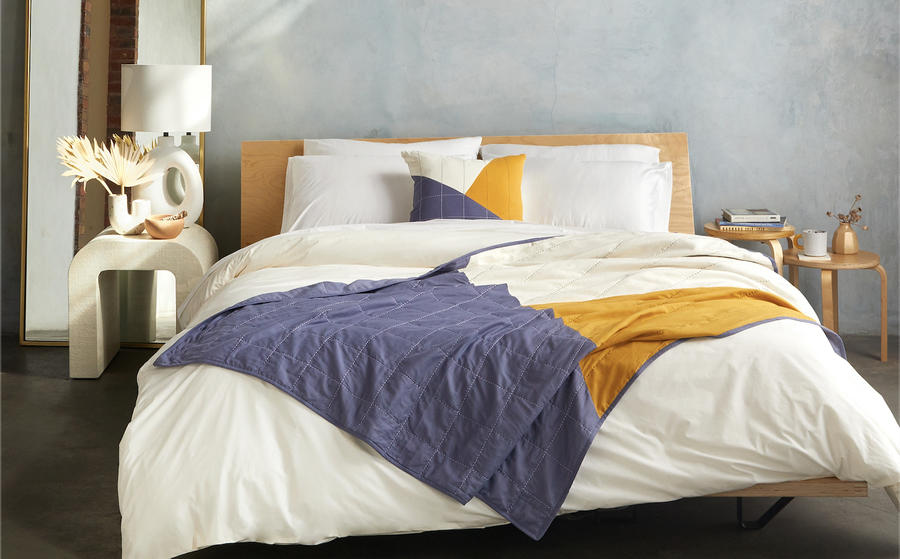 Brooklinen has launched a limited-edition line of decorative throws and pillows with nonprofit Anchal Project, which partners with women artisans in India to create textiles while offering empowered employment.
Williams-Sonoma Home has launched a capsule collection with Scalamandré, reports HFN, transforming the trade brand's prints and patterns into a line of printed pillows and bedding.
New York–based designer Jonathan Hansen has launched Ciels Bleus, a new porcelain collection with French table design brand Marie Daâge. Made in Limoges, France, the hand-painted dinnerware set was inspired by the ceilings of European Renaissance buildings.
As New York prepares to reignite its restaurant industry, global design firm Rockwell Group has tapped surfacing company Cosentino to assist with DineOutNYC, an initiative with NYC Hospitality Alliance that aims to create adaptable modular outdoor dining systems for local eateries to expand alfresco seating options and facilitate social distancing.
CALENDAR UPDATES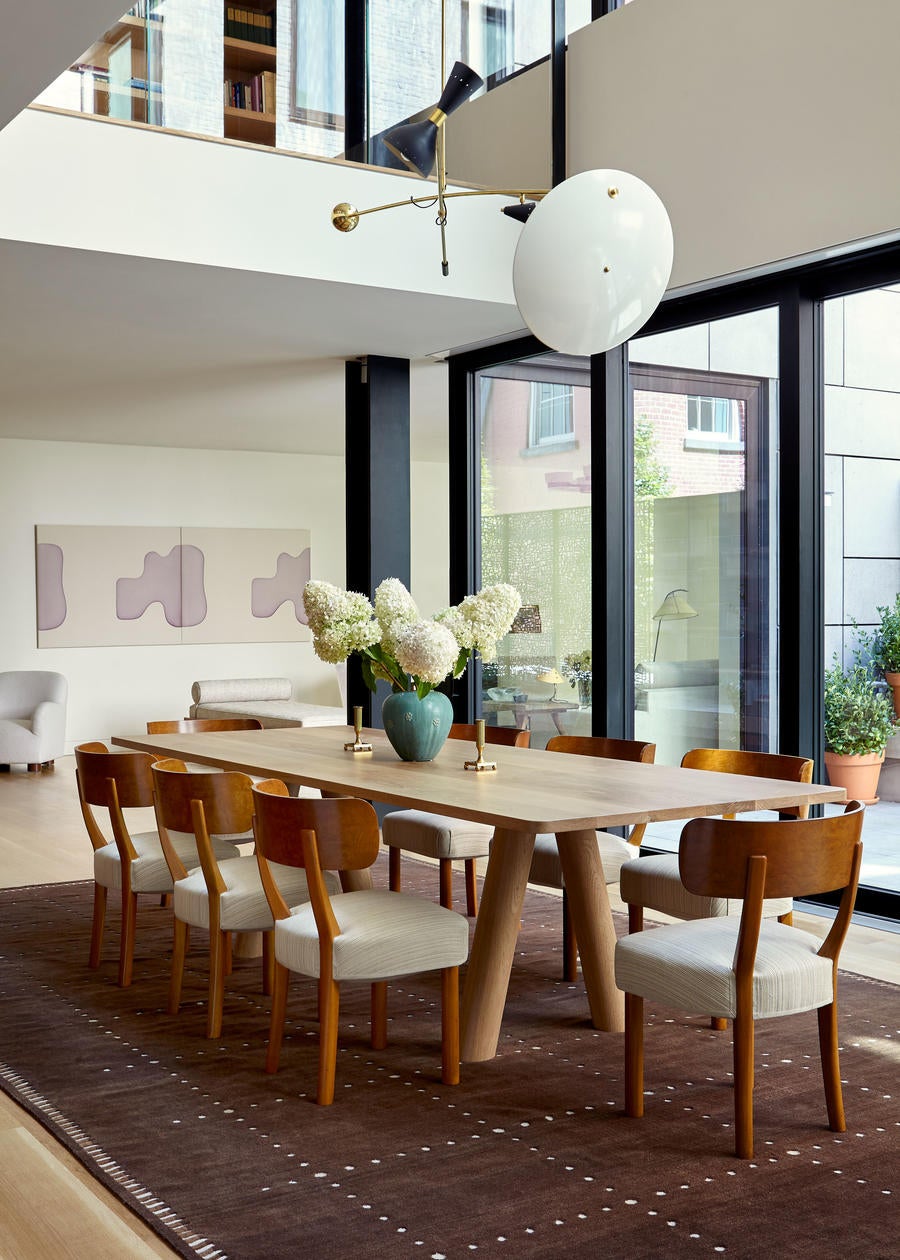 Joshua McHugh | Courtesy of Holiday House Hamptons
In response to COVID-19, Holiday House Hamptons has announced that its inaugural showhouse will move to an entirely-virtual format. In partnership with Hamptons Magazine, the work of over 15 designers will be showcased in print and online—the proceeds from the virtual showhouse will benefit the Breast Cancer Research Foundation.
Coverings, the premier tile and stone trade exhibition, is taking place in a digital format this year, dubbed Coverings Connected. Three events will take place beginning on August 26, including educational webinars, CEUs, on-demand content, and an online showcase of international tile and stone exhibitors. Coverings 2021 will take place April 13 to 16 in Orlando, Florida.
The 43rd edition of the San Francisco Decorator Showcase has announced that it will not host in-person tours this year. Instead, starting on August 29, virtual programming will include filmed tours, a virtual press preview, an interactive 3-D self-guided tour, and links to designer interviews. Tickets for the virtual tour are $25, and proceeds will benefit the San Francisco University High School Financial Aid Program. For more information, click here.
Following the cancellation of its spring edition, the producers of Boston Design Week have launched a virtual series of events for the fall season—Wednesdays through Saturdays from September 20 to October 18. The festivities will also include live programming in compliance with city and state requirements.
The Decorative Antiques & Textiles Fair announced that the autumn edition will take place in Battersea Park, London, from October 22 to 25. Tickets will have scheduled times to moderate the flow of visitors, and a filmed walkthrough of the fair will be made available for virtual attendees. The organizers are also launching a personal shopping service for the trade, handling the shipping and export of items for U.K. customers unable to attend in person.
RECOMMENDED READING
"Watching multimillionaire 19-year-olds playing games was not what I expected to do with my career," John Aldrich, Herman Miller vice president of advanced engineering, tells The New York Times. In order to develop a chair that prevents early back and hip pain, as well as carpal tunnel syndrome, the company's ergonomic design specialists observed a group of professional video gamers. The resulting chair, which Herman Miller teamed up with Logitech to produce, costs $1,495 and looks a lot like a race car seat.
In the U.S., an absence of government action on face masks has prompted companies to step up and fill the void—Walmart and Starbucks, for instance, have put protocols into place that require mask wearing, plastic shields at checkout counters, and hand sanitizer, all of which have prompted threats (and in some cases, violence) against the employees working on the front lines. In an article challenging the government to step up, Inc. editor Mark Coatney writes, "While it's admirable that businesses are trying to do the right thing here, why should it be on the shoulders of already-stretched small businesses to enact basic public health measures?"
Over the past 15 years, the industry has gone from releasing two collections a year to four—and in some cases, even more (sound familiar?)—to keep up with insatiable consumer appetites and demanding department store buyers, and to stake their claim in the market. Yet amid COVID shutdowns in April, the fashion industry saw a 79 percent drop in U.S. clothing sales. "We've done everything to such excess that there is no consumer for all of it," designer Marc Jacobs told Vogue. "Everyone is exhausted by it. The designers are exhausted by it. The journalists are exhausted from following it." In a fascinating New York Times Magazine article by Irina Aleksander, take a look at how the loose threads began to unravel.
CUE THE APPLAUSE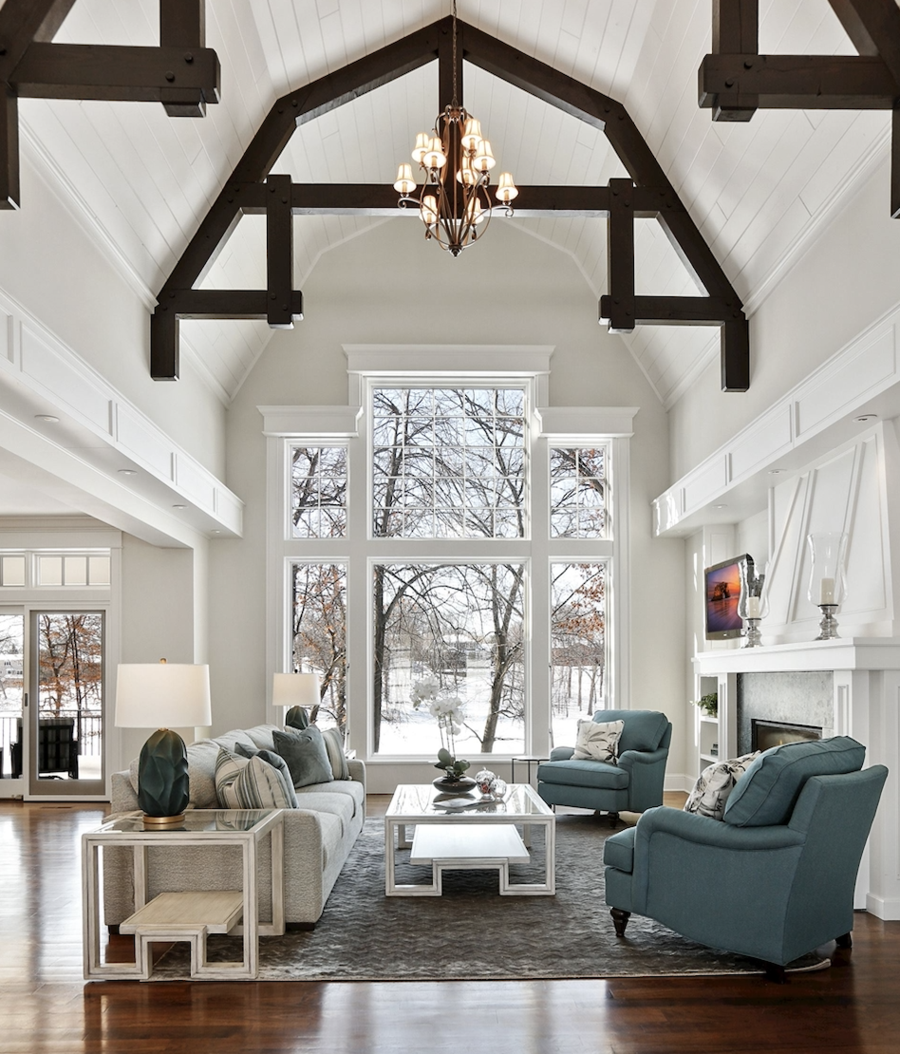 Custom upholstery specialist Sam Moore has announced the three winners of its interior design contest, "80 Great Room Designs Featuring Same Moore": Alpharetta, Georgia–based Modern English Designs; Colleen Thompson and Jenny Stanek of Plymouth, Minnesota–based Chazin Interiors; and Sarah Schwarz of The Design Source in Sugar Land, Texas.
Six finalists for the 2020 Lexus Design Award have been named out of a pool of 2,042 entries, a record for the contest: American design studio Sutherlin Santo; U.K.-based duo Théophile Peju and Salvatore Cicero; U.S.-based Yaokun Wu; Russian designer Irina Samoilova; Kenyan design firm BellTower; and Pakistan-based designer Aqsa Ajmal. One winner will be announced on September 1, chosen by the judging panel of Paola Antonelli, senior curator of architecture and design at the Museum of Modern Art in New York City; Jeanne Gang, founding principal of Studio Gang; American designer, engineer and artist John Maeda; and Toyota design chief Simon Humphries.
CALL FOR ENTRIES
The American Home Furnishings Hall of Fame has launched The COVID-19 Project, to collect and archive documentation of the home and furnishings industries' response to the pandemic. Companies are invited to send media materials, photographs, and/or examples of company-produced personal protective equipment to the American Home Furnishings Hall of Fame in High Point, North Carolina. To submit electronic documentation, click here.
International trade fair Ambiente is accepting applications from young designers for its Talents program ahead of next year's February fair. For candidates, the program presents an opportunity to market a debut line of products, free of charge, to leading industry names. To learn more or apply, click here.
Homepage image: A winning project from the '80 Great Room Designs Featuring Sam Moore' contest, by Sarah Schwarz of The Design Source in Sugar Land, Texas | Courtesy of Sam Moore