In the world of decorative arts this week, a gilded vampire-killing kit will be auctioned in the U.K., and thanks to a Budapest design studio, your next home office could be a cabinlike pod in the woods. These are strange times, but despite it all, the industry pushes on. Stay in the know with our weekly news digest, including business headlines, launches and events, recommended reading, and more.
BUSINESS NEWS
Serta Simmons Bedding is developing the first antiviral mattress in the U.S. The company, the largest producer of mattresses in the country, has partnered with Swiss textile innovation company HeiQ, which has created a technology that imbues textiles with antimicrobial qualities. Originally designed for use in medical equipment, the material has been tested as 99.99 percent effective against COVID-19. Serta Simmons is currently pursuing U.S. government certifications from the FDA and the EPA, and pending approval, the technology will be incorporated into roughly 75 percent of its portfolio. Unsurprisingly, as mattress hygiene is paramount in the hospitality industry, several top hotel companies have committed to carrying the mattresses once approved.
Houzz has released its third-quarter 2020 renovation barometer, which tracks recent activity among businesses in U.S. construction, architecture and design sectors. With sights set on the upcoming quarter, the report gauges COVID-19's impact on the home renovation sector from Q2, concluding that 72 percent experienced project delays, 66 percent had fewer new business inquiries, and 61 percent faced project cancellations—which, despite seeming like bad news, is a significant improvement from previous reports. Houzz senior economist Marine Sargsyan said in a statement: "Confidence has returned to the home renovation and design industry, with many more businesses showing a positive outlook for 2020 than just a few months ago."
International Market Centers announced last week that its August markets in Atlanta and Las Vegas will run as scheduled, but in a modified capacity: The events will be staged as showroom-only buying opportunities, without a trade show component. Participating tenants and buyers are encouraged to set appointments to allow for social distancing and traffic management, and IMC will augment the physical shows with virtual programming and offerings on its ShopZio B2B e-commerce platform. Atlanta Market (gift and home) will run August 13 to 18 at AmericasMart, and Las Vegas Market will run August 30 to September 3 at World Market Center Las Vegas.
The American Institute of Architects released a statement on July 15 expressing its support of the proposed Democracy in Design Act, legislation that would override President Donald Trump's anticipated executive order "Making Federal Buildings Beautiful Again," which would mandate that all federal architecture be designed in the neoclassical style. The executive order targets buildings constructed in the Brutalist, Deconstructivist, or modernist styles, writes The Architect's Newspaper, and would force the General Services Administration to rewrite the Guiding Principles for Federal Architecture, which since 1962 has said that buildings should be designed befitting the period in which they're constructed.
The hospitality industry has taken a massive hit since the onset of travel restrictions and state lockdown orders, but the Brooklyn-based Wythe Hotel is staying nimble nonetheless—in a new initiative, the boutique hotel has transformed guest suites into private office spaces, writes Fast Company. At a daily rate of $200, each office provides floor-to-ceiling windows, a private terrace, and room service capabilities (four-legged friends are welcome too). The Wythe contacted Industrious, a short-term office space provider, to facilitate the transition which for now will act as an experiment through the end of August.
LAUNCHES, COLLABORATIONS & PARTNERSHIPS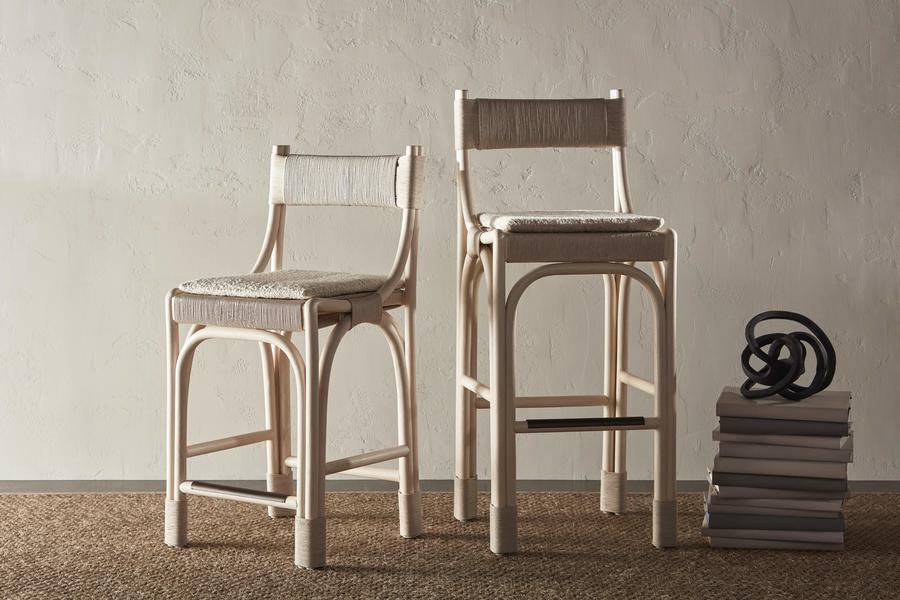 Courtesy of McGuire Furniture
Last week, McGuire Furniture launched a debut collection with interior designer Kara Mann—a 24-piece line that features case goods, seating, accent pieces and a bed. Inspired by a 1970s West Coast sensibility, materials like leather, oak, travertine and bronze speak a common language of earthy sophistication.
Hunter Douglas has launched a new technology solution for its line of smart shades, designed specifically for new-construction homes and large renovations. The innovation has the capacity to accommodate larger windows and banks of windows, all controllable within the Hunter Douglas app or smart home system.
CALENDAR UPDATES
1stdibs has announced the 10th edition of Market Art + Design—the Hamptons' longest-running contemporary art and design fair—will take place online. This August, passionate art and design aficionados will be able to find an exclusive showcase of over 200 artworks and objets from an international array of creatives on the 1stdibs marketplace. The fair will run from August 2 to September 7.
The 2020 edition of the WestEdge Design Fair has been canceled due to COVID-19. The contemporary design event, scheduled for October 22 to 25 at Santa Monica's Barker Hangar, will run virtual programming, with plans to return to its physical format in October 2021.
TEFAF New York 2020 has been canceled. This year's show, originally postponed from spring to fall, will instead take shape in the form of a digital initiative, the details of which will be announced in the weeks to come.
RECOMMENDED READING/LOOKING
The Harvard Business Review asks a simple question: Does your company have a long-term plan for remote work? As many U.S. businesses approach 20 weeks of working from home (gulp), the experience has proven that the system requires specific technologies, resources and regulations, write consulting strategists Mark W. Johnson and Josh Suskewicz. Among other strategies, they suggest placing your company's goals at the center of the discussion and working outwards to determine what will lead to the best execution of an extended remote work setup.
The mass exodus to the suburbs has been a widely observed phenomenon over the past few months, and as more prospective buyers come to the decision to purchase homes away from major cities, competition is growing fierce and rental prices relentless. "Sellers are realizing the sudden new demand—it's like catching lightning in a bottle," New Canaan, Connecticut–based broker Jaime Sneddon tells The New York Times, which outlines five ways the virus has disrupted the suburban housing market.
New York Times architecture critic Michael Kimmelman is exploring how the Americans With Disabilities Act has influenced modern design, from the ubiquity of entryway ramps to the braille signage that many take for granted. Since its ratification 30 years ago, the ADA has made strides in the way all people interact with American buildings: "But there's still a long way to go," Kimmelman writes.
For those in search of an escape, craving travel, and missing exploration, WindowSwap has swooped in with a salve, and it's downright wonderful. Through a network of cameras and microphones, the website allows users to click through and gaze out windows from around the globe. "It's like the German word sonder—the realization that each random passerby is living a life as vivid and complex as your own," the site's founders, Sonali Ranjit and Vaishnav Balasubramaniam, told Curbed.
CUE THE APPLAUSE
Last week, the U.S. Green Building Council announced the recipients of the annual LEED Homes Awards, recognizing LEED-certified residential projects and builders that are positively impacting communities through sustainable design. Of the 20-plus winners named, Project of the Year was awarded to Park Mozaik A Block, a multifamily building in Ankara, Turkey, that is designed to support middle-income families and promote sustainability, comfort and health.
Mountain Living magazine has named eight winners of its inaugural Women in Architecture Awards. The awards honor eight women designers in the Rocky Mountain West region who have made significant contributions to the field of residential design: principal designer Sarah Broughton of Rowland+Broughton Architecture; Anne Mooney of Sparano + Mooney Architecture; Ashley Sullivan of JLF Architects; Clare Walton of Walton Architecture + Engineering; Erica Delak of Charles Cunniffe Architects; Lori Ryker of StudioRyker; Sally Brainerd of RKD Architects; and Sara Tiedeken O'Brien of Vertical Arts Architecture.
Furniture manufacturer Sam Moore has announced the winner of its "Search for Vintage Sam Moore" social media contest: a photo of a 1947 classic wingback chair and matching ottoman. The contest was launched to commemorate the company's 80th anniversary, and fielded entries through the unique hashtag #80MooreYears.
CALL FOR ENTRIES
The Créateurs Design Awards has announced that it will soon begin accepting submissions for its 2021 contest. Starting September 27, product designers, photographers, journalists and architecture and design firms are welcome to submit their work across seven design categories for a peer-to-peer review.
Homepage image: A chair and accent table by Kara Mann for McGuire Furniture | Courtesy of McGuire Furniture