When the team at Houzz decided to launch Houzz Pro, they could never have foreseen how the coronavirus would rock the world—and the resulting importance for designers, now working from their homes, of being able to manage an entire project and client life cycle on a single digital platform. Now that the coronavirus has made remote workers out of the entire design industry, it has amplified the value of a tool that allows designers to do everything from follow up on leads to review product and process billing.
"We didn't build Houzz Pro with a crisis like this in mind," says Liza Hausman, the vice president of industry marketing at Houzz. "But it's become evident to us through feedback from the professional community that having these kinds of tools can facilitate the work-from-home setup that people need right now."
The new platform, which debuted earlier this month, marries popular marketing features from Houzz with the business management tools of Ivy by Houzz. (While Ivy users can still access the platform as a stand-alone product, the company says that designers who migrate to Houzz Pro will get access to the new platform's marketing features and additional business management tools.) "We wanted to give our design community one place where they can manage and grow their business, instead of having to sign into multiple platforms," explains Hausman. "This streamlines the process for designers and makes everything seamless."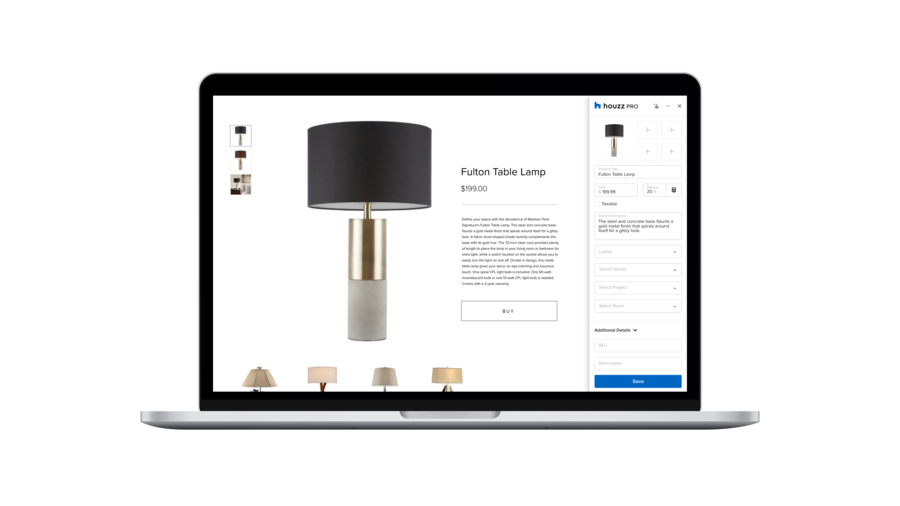 The product clipper tool is just one example of a designer-favorite feature on Ivy that has been integrated into Houzz Pro, allowing designers to save specs and imagery from a brand's website in a personalized product library—eliminating the need for manual copying, pasting and downloading product information. "Before using the product clipper, my computer was loaded with saved images of products," says Orange County, California–based interior designer and Houzz Pro user Nate Fischer. "They just clogged up my files and storage and wound up becoming a hassle. The clipper tool changed all of that."
Houzz Pro has also expanded upon the suite of marketing tools the site has long offered, including web design and video services. New website templates offer a modern option (and can eliminate the need to host a site elsewhere); the Houzz team can also create a custom highlight video to showcase a designer's portfolio, team, or even reviews. (The video can then be featured on the firm's Houzz profile for prospective clients to view.)
In addition to unifying well-loved features and enhancing others, Houzz Pro now offers integrated lead management, which helps designers track communication with prospective clients and allows them to email, chat and share files with clients directly through the platform. Designers can also sync the scheduling tool on Houzz Pro with their calendars, making it easy to find a meeting time that works for both client and designer. "Having consolidated leads and lead tracking has been great," says Fischer. "I always think that tracking new project leads will not be that difficult—but [in practice], once I have a few in the pipeline that I have not met in person, it can be a challenge to recall who I have replied to and who has replied back. Keeping that all in one location makes sure that no one will slip through the cracks."
The goal of the new software, as Hausman sees it, is to make running a business easier for designers. "Most of the designers who turn to Houzz are entrepreneurs running small businesses, and they have to wear a lot of hats," she says. "They really need tools that are going to enable them to run their businesses profitably, even when they don't necessarily have an extra set of hands to help them, and we're able to act as an extension of their team. We're confident that Houzz Pro can be a central workplace for their businesses."
This story is a paid promotion and was created in partnership with Houzz.
Homepage photo: A bedroom by Nate Fischer | Courtesy of Nate Fischer Interiors