Welcome, all, to the Big Apple, as we're sure you've traveled far and wide for NYCxDesign, one of the most highly anticipated design events of the year (at least, in the tri-state area). We've rounded up our top picks from this year's big players; read on for guidance on what to do at ICFF, WantedDesign and more.
Editors' Pick: "Deeper Than Text"
1stdibs Gallery, Terminal Stores, 269 11th Avenue, Lobby 4, Floor 7; May 11–31
The Female Design Council worked with 1stdibs on "Deeper Than Text," an exhibit showcasing pieces by 19 female makers, including Myra von Busekist, Kiki van Eijk, Konekt, Liz Collins and Cathrine Raben Davidsen. "We're so proud to display this bold exhibition in the 1stdibs Gallery and deepen our partnership with the Female Design Council, an incredibly important organization within the art and design community," 1stdibs chief commercial officer Cristina Miller tells Business of Home.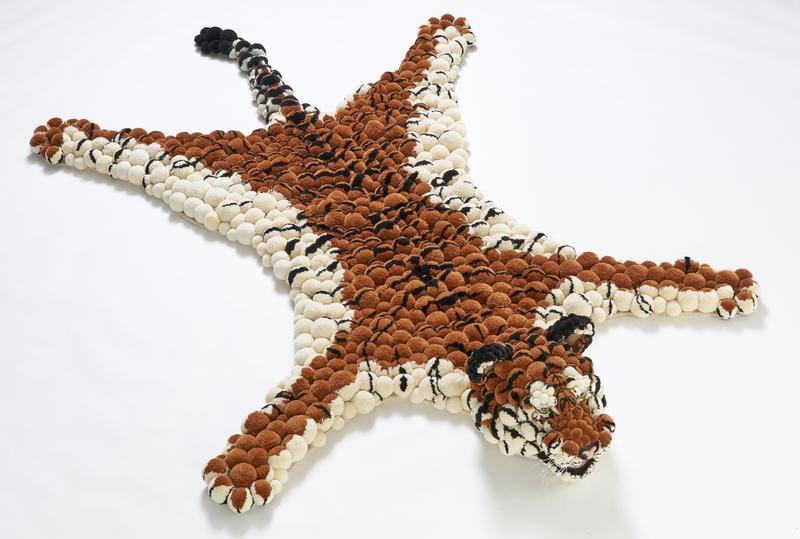 For some participants, like Berlin–based designer von Busekist, it was a delight just to work with Lora Appleton, who founded the Female Design Council in 2017. "With her, there are no boundaries between art and design," Busekist tells BOH. "New Yorkers have the extravagance and self-confidence to surround themselves with extraordinary pieces."
"Deeper Than Text" aims to redefine the visual message of women in the industry. "We live in a society where many personal factors, notably gender, affect how we move through our professional landscape," Appleton tells BOH. "This exhibition [presents works that] challenges viewers to look beyond the mundane and focus on the objects, the investigation and the dedication to the creative process."
Among those thought-provoking works are a collection of ceramic vessels and a tapestry by Malene Barnett, a product designer and the founder of the Black Artists + Designers Guild. The tapestry is of Makeda, originally a watercolor painting, and it is woven in wool and pure silk. The vessels, Womb and Lava, explore traditional surface design techniques found on mud homes in Ghana, Mauritania and Burkina Faso.
The pieces will be available to buy in the Gallery and online. For more information click here.

ICFF NYC
Jacob K. Javits Convention Center, 655 West 34th Street, New York; May 19–22
This year's keynote speakers include conversations with two powerhouse designers: Italian architect and designer Piero Lissoni will share his experiences in furniture and interior design on May 20 (1:30–2:30 p.m.); while product and interior designer Marcel Wanders will chat with Interior Design editor in chief Cindy Allen about his design philosophy and passion on May 21 (1:30–2:30).

WantedDesign Brooklyn
Industry City, 274 36th Street, Brooklyn; May 16–20
The inaugural IC Design Festival by WantedDesign will take place in Industry City, an industrial section of Sunset Park, Brooklyn, with nearly 100 artists and designers from the neighborhood showcasing their work.
This year's festivities also spotlight young talent, featuring a host of student exhibitions and competition winners from design schools around the world. Be sure to catch Haliburton School of Art + Design's meditations on material culture, curated by integrated design professor Barr Gilmore; the School of the Art Institute of Chicago's Whatnot 2019 collection, which focuses on obsolete objects like the monteith bowl or the public pay phone; and the American Hardwood Information Center's collaboration with Pratt Institute's industrial design department on a course titled "Special Project: Red Oak Reimagined," where students explored how to use red oak in furniture and other daily-use objects. Competition winners will be on view in Industry City.

WantedDesign Manhattan
Terminal Stores, 269 11th Avenue, New York; May 18–21
We say Bau, you say haus! Ready? Bau! Haus! Now repeat 100 times, for every year since the design school was founded. Looking for another way to honor the centennial? On May 18 from 2 p.m. to 3 p.m., design and technology writer Michael Hsu will moderate "Bauhaus Becomes Us: Why Art, Technology and Industry Must (Still) Unite," a panel hosted by Be Original Americas with Bauhaus experts Carlo Gasparini, design manager of Alessi; Susan Lyons, president of Designtex; and Ben Watson, chief creative officer of Herman Miller.

Brooklyn Designs
Brooklyn Navy Yard, Building 77, 141 Flushing Avenue, Brooklyn; May 10–12
Tour one of the largest rooftop soil farms in the world with rooftop farm firm Brooklyn Grange, and discuss how to produce and maintain your own. And, in a separate special feature, check out artist Jonathan Lopes's replica of renowned Brooklyn building One Hanson Place, comprising more than 20,000 Lego pieces.

Design District Nights
Galleries and shops throw open their doors for design aficionados during these one-night-only events. Sip, shop and mingle your way through each neighborhood to discover new resources and rediscover old favorites.
TriBeCa
May 16, 7–10 p.m.
Important participants include Colony, David Weeks Studio and Stillfried Wien. Download a neighborhood map of participating showrooms here.
NoMad
Arlo NoMad, 11 E 31st Street, New York; May 17, 6–9 p.m.
Botanical-themed cocktails and a live art performance can be enjoyed alongside the art and design showcased in the Arlo hotel. Explore a map of participating showrooms here.
SoHo
May 18, 6–9 p.m.
Participating showrooms include newcomers ateliernovo, One Kings Lane, The Webster, and Atelier Alaine Ellouz. Faithful return showrooms include Interior Define, Studio Anise and Tom Dixon. Review a full list of participating showrooms here.