Robert Rufino, the style director at House Beautiful, has spent a large part of his career reviewing design portfolios. It's Rufino who sifts through the hundreds of project submissions the magazine receives and decides which to present to the editorial director, Joanna Saltz, for consideration. Before his current position, Rufino spent the last decade in similar roles at other top-tier design magazines like Elle Decor and Architectural Digest. When it comes to reviewing interior design projects, he's seen it all—the good, the bad and everything in between.
Recently, while talking to Saltz, Rufino floated the idea of online portfolio review sessions, during which he would offer frank critiques of not only the photography and styling, but also a designer's work. "We've been trying to think of more ways that we could reach out to designers," he says. "House Beautiful is one of the oldest design magazines, and we're proud of our history and want to continue to celebrate the interior designers who've shaped the industry—but we want to find new talent as well." Saltz liked the idea, and in early July, the magazine put out an open call on Instagram inviting designers to set up free 30-minute appointments with Rufino. Every Friday for the foreseeable future, the style director is dedicating his afternoons to the sessions, which are booked directly through emailing.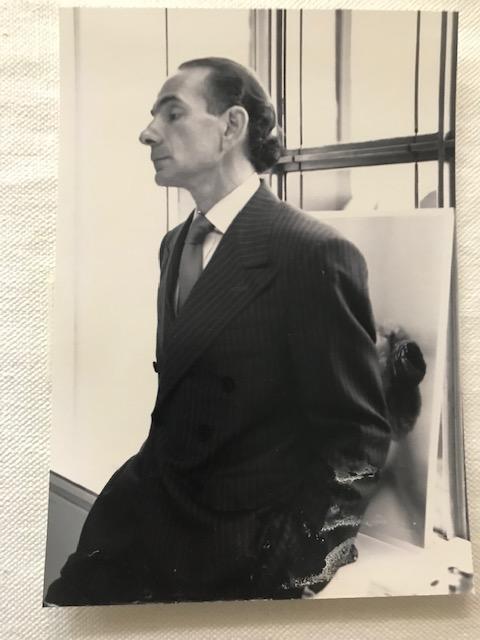 Courtesy of Robert Rufino
With two weeks and over a dozen review sessions under his belt, Rufino spoke with BOH about the experience so far and why he sees this initiative as a way of giving back.
How are these portfolio reviews different from having a designer submit a project to you for publication?
This is a one-on-one call. I'm being very honest with these designers. I tell them all: "I'm not setting out to hurt feelings, but they're doing this to get my real thoughts, and that's what I'm going to give." It's much more personal than just submitting images. And I do think that sometimes people are scared to submit their work to magazines. There's a perceived barrier to entry. So, this was a way of saying, "We're here and want to meet you and see what you do." It's an invitation.
Have you mostly been meeting with early-career designers, or is there a mix?
It's been a mix. There are some designers who only have one or two projects under their belts and others who have been working for years but never been published. There was one designer who'd had her firm for a long time and I was blown away by her work. I said, "You've never submitted any of this before? You've been working how long? Why haven't I heard of you?!" It was beautiful and she'd never been published anywhere. But there are a lot of younger designers as well. I've given them feedback like: Those bedside lamps are too tall or questioning a color choice. A lot have never had someone critically look at their work this way and they're very appreciative.
What do you look for when you're choosing projects for the magazine?
Something that dazzles me and tells a story. Someone can submit beautiful work with the most expensive furnishings and world-class photography, but if it doesn't say something or have a point of view, it's not right for us.
What's some common feedback you've been giving so far?
I think everyone needs to hire a stylist. I know it's an additional expense, but stylists are able to add another layer to interiors photography that really make a space feel lived-in. I'm not saying I want chickens running across a back lawn, but we're not interested in projects that look like a showroom. It needs to have pizzazz. And doing the styling yourself isn't easy.
Are there specific examples you're thinking of?
One designer showed me a bedroom that she'd done and styled on her own. She'd put all this nonsense on the bedside tables, and at the foot of the bed there was a tray with Champagne and three different pieces of cake. It didn't make any sense—there was no theme. And the quality of photography is so important, especially right now; as House Beautiful isn't able to shoot at the moment, we're only buying existing photos.
Another designer had used a young photographer and the pictures just weren't telling a story. The work was very good, but the angles and everything wouldn't have worked in a magazine layout. So, I've actually gotten in touch with that photographer and was able to offer guidance about what shots we would need and how to make it more editorial. He's going to reshoot the project. And now, in addition to knowing another designer, that's a relationship with a photographer we've built as well.

How do you see House Beautiful benefiting from these sessions?
We're always going to leave room in our pages for seasoned designers, but we also want to find the new voices. There have already been a few projects that I've seen during these sessions that may work for the magazine. And if one of the designers I meet with doesn't have something right for us at the moment, my hope is that, now that we've built that relationship, they would send future work to us first, before another publication.
How does it feel to have taken on this new role, where you're essentially a mentor?
I think it's very important. It's about giving everyone a chance and finding previously unseen talent. How boring would it be to just publish the same handful of people over and over again? The industry is at a moment where it's evolving, and this is a means of discovery for us. I'm fortunate to have had a long career in design and in the fashion industry before that. I hope my experience can help guide people. At the end of the day, this is a feel-good [activity] for me. It's coming from my heart and become really important to me to be able to give back.
Homepage photo: A room by designer Leanne Ford, styled by Robert Rufino | Courtesy of House Beautiful