Bringing interior design online has been a bumpy road, to say the least. It's a transition that has thrown many for a loop—and for antiques dealers, the process has been particularly challenging. Most of the early e-commerce tools weren't set up to sell one-of-a-kind pieces, leading many dealers to shun the concept of selling online altogether. With the more recent mainstream success of several sites that cater to those selling antiques and artisanal works, more dealers have opted online. But those who do often find that they need to use multiple platforms to reach a wide enough audience to make the endeavor worth their time. Stacey Tiveron, a tech entrepreneur with a background in design, took note of the gap and created Ronati, a platform she believes can bring antiques dealers firmly into the internet age.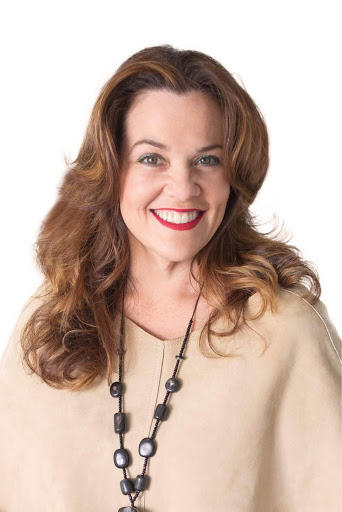 Tiveron, the founder of Trade Only Design Library (now called Steelyard), noticed the problem during High Point Market in 2017 while walking through the Antique & Design Center with a designer. "I was watching him taking pictures of pieces and texting them to clients," Tiveron tells Business of Home. "And I was like, 'Is this still how you shop for antiques?'"
Intrigued by the seemingly archaic process, Tiveron, who had recently sold TODL after 19 years at its helm, spent the next three days at the Antique & Design Center. She met with dealers, listening to their stories and talking about their business models. "They told me about how many dealers had ultimately had to close their doors because they weren't able to harness technology," she says. "There was a lot of frustration there. I know this is corny, but I consider antique dealers to be custodians of a part of our cultural history. And they've been left behind. So I just started digging in and thinking about what could be done."
The experience led her to create Ronati, an e-commerce manager specifically designed for dealers of one-of-a-kind objects. Tiveron compares it to platforms like Hootsuite or Buffer, where users can post across social media platforms from a single webpage. Ronati, which is currently in beta testing, allows dealers to list products, update stock and otherwise manage their digital listings across multiple selling sites.
The platform eliminates a problem that many dealers face with single-quantity items: If you have a piece in your showroom that sells and you don't update your digital listing quickly enough, it could sell online as well, creating the awkward necessity of telling a customer that a product is no longer available. Not only does such a situation reflect poorly on the dealer, but it makes whatever marketplace they're using look bad too.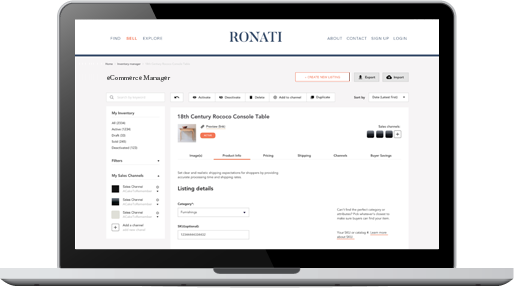 "While there are a plethora of systems to manage inventory across multiple marketplaces, we estimate that 70 percent of the features and functionality are not applicable for a seller that has multiple single-quantity items," says Tiveron. "As a result, the vast majority of dealers we've been talking to are manually listing each item, field by field, on multiple marketplaces by hand and then tracking their inventory and marketplace listings on spreadsheets and notepads."
Dealers are using Tiveron's service gratis while it's in beta, but when the site officially launches (there is currently no set date), membership fees will range from $100 to $250 per month. The price will depend on the marketplaces the dealers are using, as certain sites will have the ability to automatically update listings from the site, while others will require the Ronati team to manually input changes. If a platform requires manual work, the fee rises.
Tiveron says the feedback from the approximately 60 dealers currently using the site has been very positive and the waitlist filled up so quickly they had to stop accepting applicants. Ronati has also gotten the seal of approval from LAPADA, the largest association of art and antiques dealers in the United Kingdom. "They're very interested in having their dealers move forward into the tech age," says Tiveron. "So if there's a tool that's working from the perspective of trying to help these dealers, that's what they're looking for."
Ronati won't get an official launch date until dealers can use the site with 100 percent success, according to Tiveron. "I'm a different kind of tech CEO," she says. "I won't launch something if it's not ready. This is the most important part, making sure we're getting it right."