It's Wednesday, the second-best day of the week—at least, for the BOH news desk. In our weekly digest, find a roundup of need-to-know (and nice-to-know) news.
LAUNCHES, COLLABORATIONS AND PARTNERSHIPS
American design retailer Death by Modernism produced a midcentury set of emojis, which means you can now send mini digital versions of designs by Hans J. Wegner, Charles and Ray Eames, and Eero Saarinen, reported Dezeen. "We made these emojis because we felt like Apple's iMessage furniture could use a little refresh," Death by Modernism founder Raj Haldar told the design magazine. "But we also did it because, if you can't convey to your friend in a single image that it's your wish to go home and sit in an Eames Lounge Chair, then what is all this technology even for?"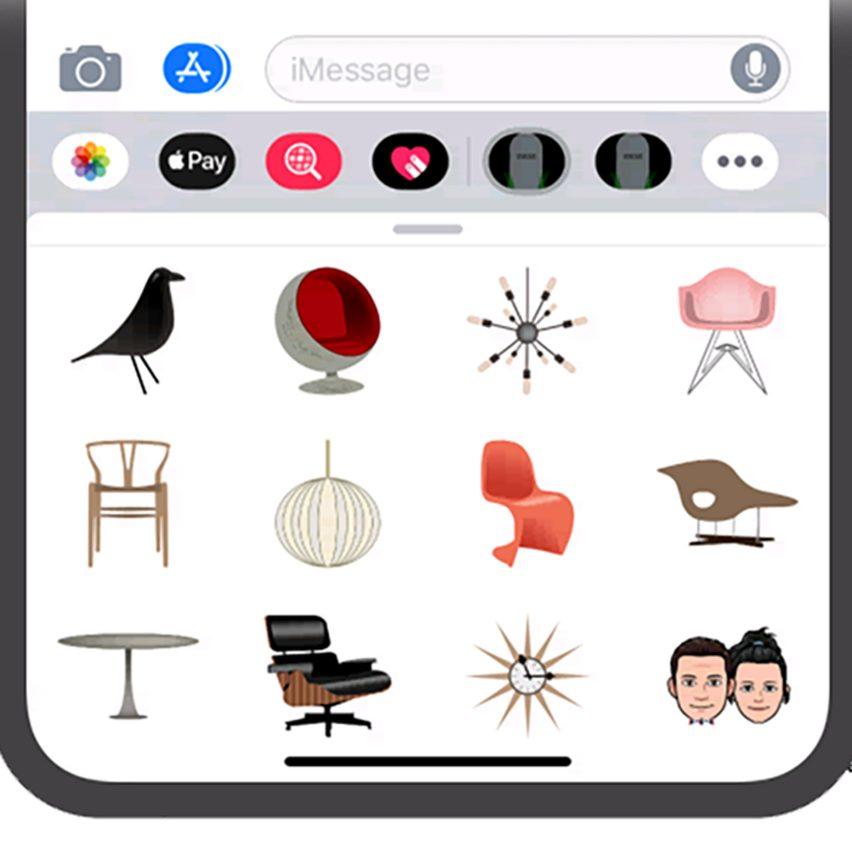 New Orleans–based artist Alexis Walter will release her first line of fabric this October, a collection of Belgian linen inspired by her garden and paintings.
New York–based decor retailer St. Frank has two new partnerships. Local photographer and filmmaker Robert Malmberg collaborated on St. Frank's first collection of photography, a series based in Mexico City; and Atlanta-based artist Sally King Benedict worked with the brand on a collection of trays that has almost sold out.
Irwin Feld, the designer and owner of CF Modern, will debut a capsule collection of wallcoverings at the New York Design Center during What's New, What's Next. The collection, called Irwin Feld Studio, is inspired by patterns found in the menswear of the Film Noir era.
The Inside has launched its newest furniture assortment, the Menswear Collection. "I think that people are starting to look for an alternative to the generic mid-century styles that they've seen for the past decade," Christiane Lemieux, the company's co-founder and CEO says. The Inside partnered with a collective of notable male tastemakers—from prolific entrepreneurs Michael Dubin of Dollar Shave Club and Jonathan Neman of Sweetgreen to eclectic fashion designer Peter Som—to share their personal interior design inspirations. "We're really hoping to show the customer how decorators think about adding the layers to the masculine-inspired aesthetic to make an interior not only visually stunning, but also a personal manifestation of their style."
Chairish has launched a new trade program. Members will have cash-back rewards, priority customer service, and tools that simplify sharing information internally and with clients. Other benefits include up to 30 percent off net pricing; 48-hour holds; live, 24/7 customer service; and auto-enrollment in Chairish, DECASO and Dering Hall.
It's nearly time to pack your bags for High Point Market—and one local design history archive is ready to help hype you up. The Bienenstock Furniture Library has launched an awareness campaign regarding its design community resources, including a first-edition book of Thomas Chippendale's designs from the 1700s, fabric samples from the 19th century, and a book on architecture from 1543. Top industry professionals such as Libby Langdon, Thom Filicia and Suzanne Kasler made videos expressing what the library means to them and their work; new segments will premiere each weekday from now until September 27. The library plans to devote funds raised from the campaign toward preserving its 350 rare books.
New York–based linen brand Matouk has debuted custom monogramming services on its website; there are 16 styles and a variety of color options to choose from, depending on the collection. Prices begin at $16 for one to three letters.
OPENINGS, AUCTIONS AND EVENTS
The London Design Fair is just around the corner, and it has selected biomaterials—or materials made of by-products from the agricultural industry—as its material of the year. Four works by designers using biomaterials will be on display at the fair's Second Yield showcase. Last year, the focus was on reused plastic; here's hoping the focus on sustainability will be reused next year.
Courtesy of the London Design Fair
The 33rd-annual Historic Ellicott City Decorator Show House will open to the public on September 21 in Ellicott, Maryland. Local designers and artists, including Rhonald Angelo, Wiley Purkey and Sheryl McLean, helped transform the French provincial home. Tickets can be bought here; proceeds go toward the city's historic district.
The New York School of Interior Design presents its sixth season of Dialogues on Design, a moderated conversation hosted by Business of Home podcast host Dennis Scully. Beginning October 24, four new conversations with designers and influencers will take place; participating speakers include locally based Bunny Williams, Elizabeth Lawrence and Juan Montoya; L.A.-based David Netto; and Dallas-based Michelle Nussbaumer. Tickets can be purchased here.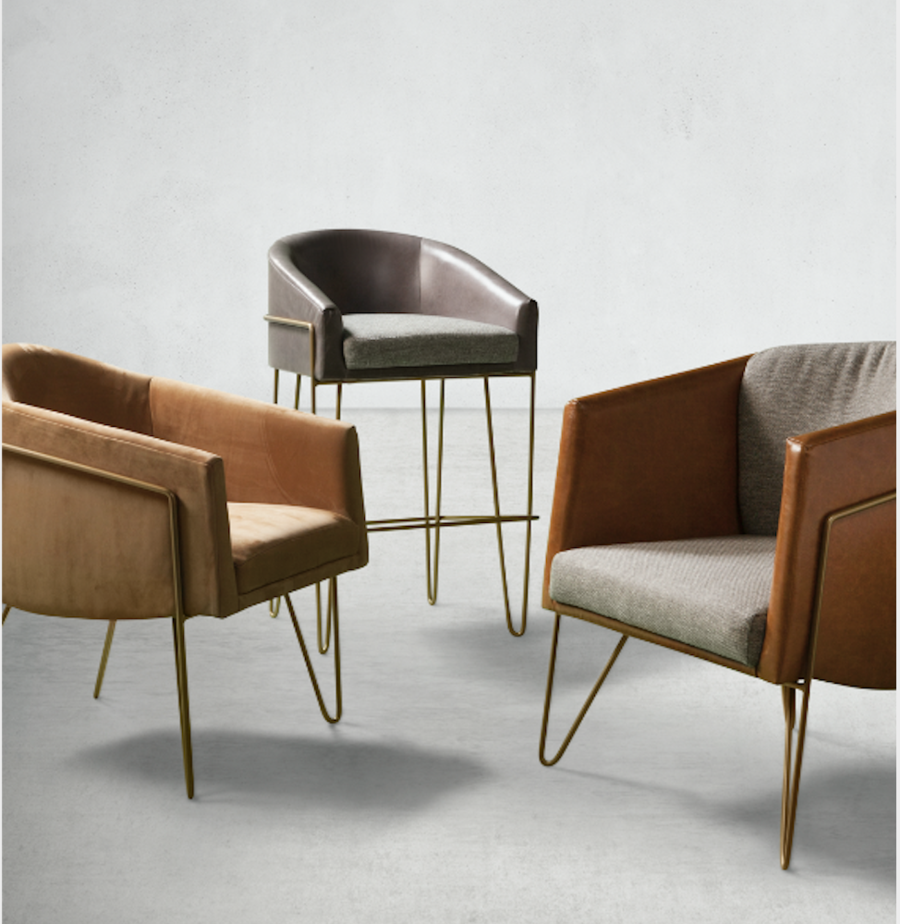 Courtesy of Jamie Stern Funiture, Carpet & Leather
New York–based textile company Haptic Lab is celebrating its 10th anniversary with a pop-up and gallery in Brooklyn, open from now until September 28. This year, Haptic Lab was officially designated as a Certified B Corporation.
British design and interiors brand Oka has made its U.S. debut with a website, nationally distributed magazine, and shipping from a Texas-based warehouse.
New York firm Dutch East Design partnered with New Jersey–based Jamie Stern Furniture, Carpet & Leather on the Float collection, which features rounded chairs and barstools with soft edges.
RECOMMENDED READING
For your inspirational needs, here is a story from The New York Times on Sheldon and Jill Bonovitz, who made their Philadelphia home a space "Where Outsider Art Got a Warm Welcome Before It Was Cool." Hilarie M. Sheets reported that among the couple's prized possessions are 6-inch-tall thrones made of leftover chicken bones and hand-carved wooden figures of the couple that are just under life size. (The figures, of course, are near the front door.)
CUE THE APPLAUSE
The 35th-annual Interior Design Hall of Fame inductees have been named: Rick Joy of Studio Rick Joy; India Mahdavi of India Mahdavi Studio; Paul Lewis, Marc Tsurumaki and David J. Lewis of LTL Architects; and Savannah College of Art and Design president Paula Wallace, who will receive the 2019 Leadership Award. Inductees will be celebrated at the annual gala at the Jacob K. Javits Center in New York on December 5.
Tomorrow is the last day to enter your firm's top project into Contract's 41st-annual Interiors Awards.
Calling all traditionalists: The Institute of Classical Architecture & Art is accepting submissions to its 2019 Stanford White Awards, which focus on classical and new traditional design in architecture, interiors, landscape, urban and build in the tristate area. The deadline to submit is October 4. Recipients will be recognized at a reception on December 4.
The International Furnishings and Design Association Educational Foundation has named its professional grant winners for 2019. Kansas State University professor Migette Kaup has received the $2,000 Irma Dobkin Universal Design grant; Mississippi State University assistant professor Glen Jeff Fulton Jr. won the $2,000 Ina Mae Kaplan Historic Preservation grant; the Stephen F. Austin University interior design program received the $2,500 Elizabeth Brown grant to interior design programs; Richmond, Virginia–based designer Diane Williams got the $1,500 Tony Torrice Professional Development grant; and Nelly Arnold, founder and principal of Personal Space, received the up-to-$3,000 Valerie Moran Memorial grant.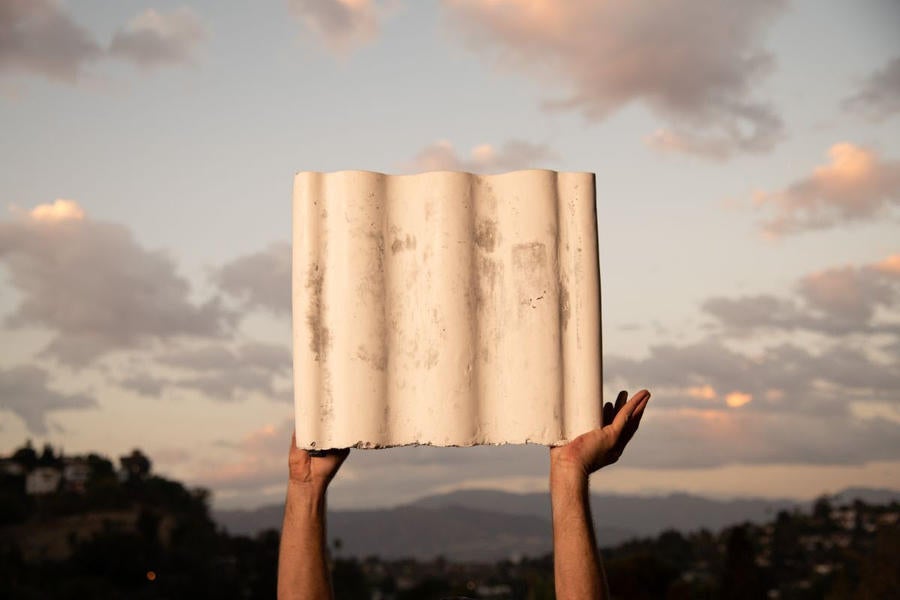 L.A.-based Patrick Cain Designs's recent launch, the Cloud Monolith, was named a finalist in the innovative decor category at this year's Etsy Design Awards. The wavy statement piece is made of lightweight, 99.9 percent recycled Styrofoam-based cement.
Homepage photo: St. Frank's collaboration with Sally King Benedict | Courtesy of St. Frank