Thirteen years into her time at Bunny Williams's firm, Elizabeth Lawrence had her eye on the exit. She had started as an intern right out of NYSID; after a brief spell elsewhere, returned as a junior designer and rose through the ranks to become a senior designer. She had grown up at the firm—but with someone else's name on the door, by 2016 Lawrence had hit a ceiling. "I approached Bunny and said, 'Listen, I have to figure out my future and make a name for myself," she tells Business of Home. "And Bunny said, 'Whoa, whoa, whoa, slow down. I have this thing I've been thinking about.'"
+ + +
A great business can last for generations, but Picasso's children don't paint under his name. Interior design firms, existing as they do in the nebulous space between art and commerce, make for interesting succession cases—it's possible to pass the baton, but not easy. Famously, the most iconic 20th century American design firm, Parish-Hadley, disappeared slowly after its founder Sister Parish died in 1994.
Williams, who worked at Parish-Hadley before going out on her own in 1988, was determined not to repeat the same mistake. "Mrs. Parish really didn't want to think about the future. Albert did, and it would have been different, but it just didn't happen," says Williams. For years, she had pondered taking on a partner, but the right person and the right time hadn't come together—yet.
Lawrence was in many ways the perfect candidate. She grew up in Wilmington, Delaware, in a home her mother would relentlessly redecorate, mostly in a traditional style ("She did have a little modernist period though where things got white and gray," says Lawrence with a laugh). Through family connections, she spent a good amount of time in England in her childhood, and fell in love with the country's grand old homes. Stylistically, she was a great fit for Williams's often traditional-leaning interiors.
I see myself as a steward, both of the firm and the furniture line. I hope we can continue this and it goes beyond me
Elizabeth Lawrence
Moreover, though Lawrence is ambitious, she was happy to pay her dues at the firm, embracing an apprenticeship model that can feel almost old-school in the "I got hired off of Instagram" era. "Nowadays, people finish school and start their own firm—which is fine, but I really do believe there's something in learning from someone and working under someone," she says. "You get the freedom to make your own mistakes without being too scared about it."
The time Lawrence had put in had another effect: It gave her a deep affection for the firm as an institution that could and should carry on to the next generation. When Williams's offer came, Lawrence was taken by surprise, but accepted the role. Now, two years in, what does it actually look like to start taking over for a legend? How do you preserve the legacy of the past while building for the future?
Carefully. Lawrence has been taking an incremental, day-by-day approach. Don't expect to see copious neon or gleaming metallics filling up the next Bunny Williams project in House Beautiful—nor will the firm suddenly be listing its services on Homepolish. Lawrence says the stylistic voice of the firm has always been a little more varied than the design press has given it credit for ("Our more modern projects aren't always published," she says) but that for the time being the firm's projects will look like, well, Bunny Williams.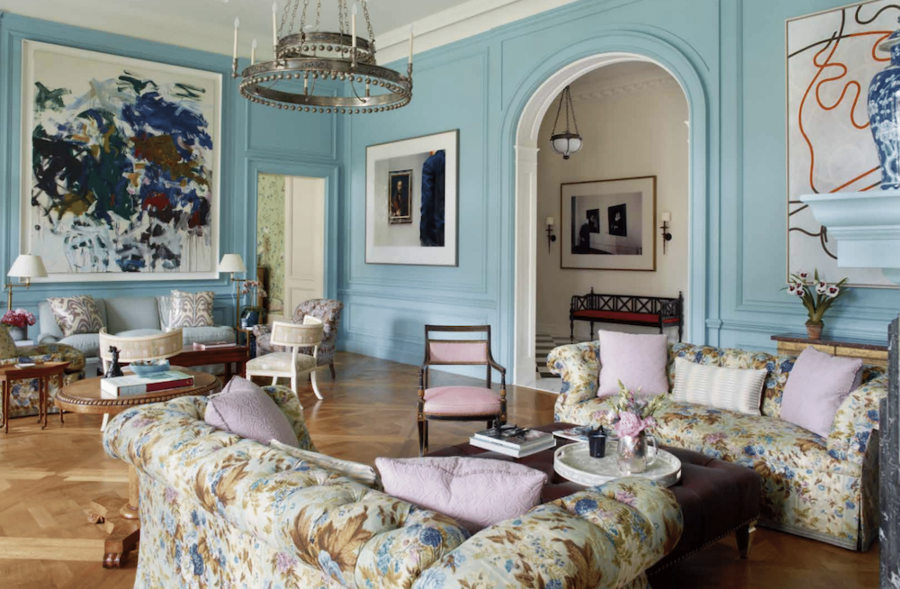 Courtesy of Bunny Williams
The biggest changes Lawrence has made have been behind the scenes. Her first goal after being promoted to partner was to reform some of the firm's internal policies to create a culture that fits a small, nimble design studio. "Some of the policies that had been put in place felt too corporate," says Lawrence. "We're fifteen people, not IBM. Maybe our manual says something, but you have to have a little bit of leeway for life."
She was also eager to create an environment where younger associates could suggest changes—whether it was a request for a new color copier or a new internal process at the firm. "I wanted to make sure people felt they could voice their opinions. Not that they couldn't to Bunny, but she's just very busy," says Lawrence. "I wanted them to feel like there was a structure in place to make changes."
Though being a long-term employee gave Lawrence a unique perspective on changes she'd like to make, it made her rise to partnership more complicated. Both Williams and Lawrence say that it's one of the more difficult aspects of the transition: Resetting the dynamics within the firm. "I've worked with a lot of these people for a long time," says Lawrence. "All of a sudden my role changes and that's confusing for them—and me. I have to remember that though I'm friends with everyone, they're not going to view me as much that way, and that's okay."
Another tricky aspect of succession: the name on the door. Though it's a superficial marker, the name of a design firm can set the narrative for how its covered in the press—changing the name can be a big deal, and so can choosing not to change it. Different firms handle the issue differently: When Jamie Drake took Caleb Anderson on as a partner, the name of the firm was changed to Drake + Anderson; David Kleinberg, another Parish-Hadley alumnus who now has partners, always styled his firm as David Kleinberg Design Associates—even before he began planning for succession. Bunny Williams is still Bunny Williams.
"At first we talked about changing the name of the firm, it was going to be 'Bunny Williams Associates,'" says Lawrence. But the issue was somewhat complicated by the fact that Williams's furniture line is in the process of merging more closely with the design firm—changing one name and not the other would create complications at a pivotal juncture. Williams, for her part, was open to a change (in an interview with Business of Home, she reiterated that Lawrence should at some point feel free to change the name of the firm to her own), but the matter was tabled for the time being. Lawrence is taking a "wait and see" approach.
"Maybe down the line, if someone were to approach me about doing a fabric line, that would be under the name Elizabeth Lawrence," she muses. "It's tough, you are your name, and it's something I wonder about."
It's still early in the partnership, and there's plenty of time to figure it all out. Williams, for her part, is happy to have passed on some of the day-to-day operations of the firm, but her version of a more carefree work life sounds a lot like someone else's busiest year ever. "I guess I am a little insane," she says, laughing. "But what's exciting for me is I'll get to design more for Bunny Williams Home, I've bought a building in Falls Village, Connecticut, and I'm opening a cooperative store for local art and artisans, hopefully in August … I love working with Kips Bay and we just this weekend had our first great Country Mutt show in Cornwall to raise money for the guild."
Lawrence is focused on the day-to-day workings of the firm, brainstorming how it will deal with a rapidly changing industry, shoring up operations for the furniture line and staying on top of projects. Perhaps the surest sign that she's a good fit to steer the ship: She isn't only thinking about her own role, but who comes next. "I see myself as a steward, both of the firm and the furniture line," she says. "I hope we can continue this and it goes beyond me, because that means we've all been successful."
Homepage photo: Fred Nicolaus