The 2018 Furniture Design Competition from Bernice Bienenstock Furniture Library was doubly competitive. Whereas last year's contest saw 21 entries, this year, 55 students competed for the prize. The challenge? To design an original, "aesthetically pleasing" chair. The scholarship competition is a collaboration with the American Society of Furniture Designers (ASFD) and the American Society of Interior Designers (ASID). There is also a separate Interior Design contest, whose winners will be announced next week.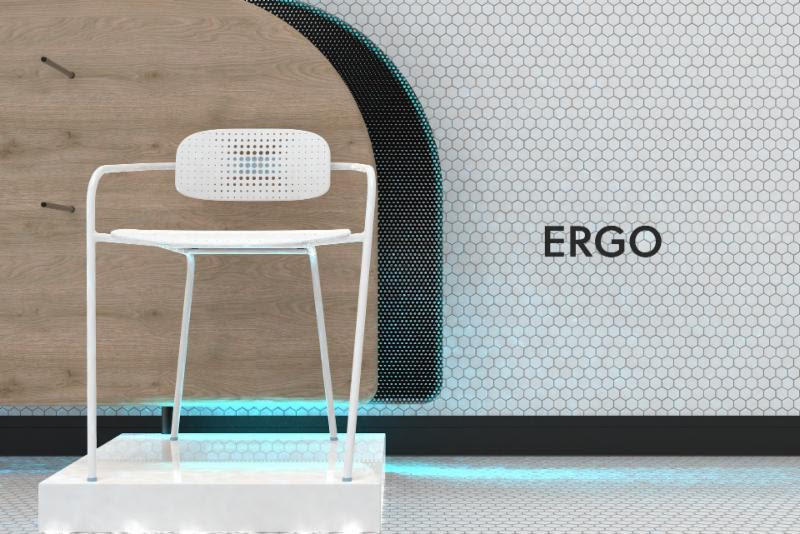 "Our founder, Sandy Bienenstock, advanced his long-standing desire to invest in the education and future of the furniture industry by establishing the Library itself and by initiating the Bienenstock Scholarships," said Russell Bienenstock, president of the Bernice Bienenstock Furniture Library board. "The intention of these scholarships is to encourage and inspire the best and most creative minds and to help them to develop their talents. To that end, this is the fourth year we added a scholarship for interior design to our long-standing award in furniture design, creating two substantial national scholarships."
Students were invited to submit designs for "an aesthetically pleasing chair of original design from any material," and "to create an offering that could be marketed to the residential and/or contract trade ... [and that is] visually stunning, appropriate for manufacturing, fiscally feasible, and suitable within the constraints of mass production."
In response, first-place winner Michael Dillon, a junior at the University of Houston, crafted Ergo, a multi-use chair inspired by the collaborative nature of work. Dillon said, "Work has become more collaborative. Space has become more limited, and as a consequence, the spaces we live, work and play in are becoming smaller. The legs of Ergo flip the traditional relationship of 'wider at the front, skinnier at the back' to enable more chairs to fit around a table. Whether it's in the common space of an office, around a table at your local cafe, or around your own kitchen table, Ergo does more with the space it is given."
"When the chair has no seat back, it can disappear fully underneath a table, tucking away neatly and keeping routes of egress clear in tight commercial spaces," Dillon added. "My studies in architecture at San Antonio College taught me empathy for the human condition and the importance of the human scale. Intensive practice with the team at the design-build firm TADA [Total Art Design & Architecture] imparted to me that joyful design exists in the details. In my studies at the University of Houston, I am learning the process, skills and language of the craft, making me ever more fluent in the communication of design ideas. Ergo communicates these values and the concepts I have learned to date."
Dillon won a $5,000 award, plus memberships to ASFD and ASID. And his school will receive $1,000 toward its academic programs.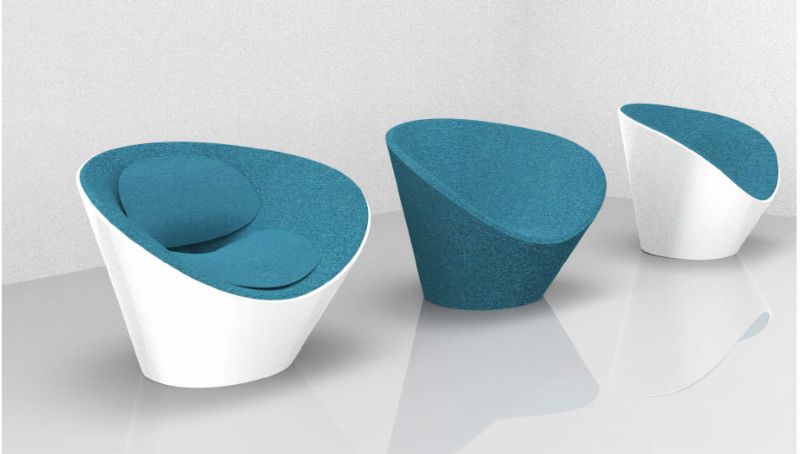 Judges for the Furniture Design contest included Dudley Moore Jr., Otto & Moore; Scott Coley, Scott Coley Designs; Royale Wiggin, Thayer Coggin; Danny Davis, Davis Furniture; Richard Frinier, Richard Frinier Designs; and Charles Sutton, Charles Sutton Design. Moore, chairman of the Furniture Design Committee, said of Dillon's winning design: "This is a fully realized design as opposed to just a concept." And Sutton called it "a standout design that had thought for the marketing approach."
Second place went to Walter Mingledorff, from Appalachian State University, for the Polly chair. Of his work, Mingledorff said, "The Polly chair was a result of an idea of not merely designing a chair, but a space. The design references a sculptural quality of fluidity and form, drawing inspiration from greats like [Romanian artist Constantin] Brancusi, while also keeping efforts to cater to the potential marketability of contract furniture." Mingledorff received a $1,500 scholarship prize.
The yearly Bienenstock Scholarship competition is open to any junior, senior or graduate student enrolled in an accredited college program of furniture design or interior design, and has, since its inception in 1984, awarded upwards of $430,000 in scholarships.
This year's participants came from 10 schools, including the University of Houston, Savannah College of Art and Design (SCAD), Kendall College of Art & Design, Appalachian State University, Indiana University–Purdue University Indianapolis, Forsyth Tech Community College, Cornell University, Syracuse University, Weber State University and San Diego Mesa College.