Bunny Williams stepped away to answer the phone. Less than a week after the soft launch of her new design and lifestyle shop 100 Main, located in Falls Village, Connecticut, word was spreading. On the line was an artist who makes walking sticks—not your standard boutique fare. He introduced himself and wondered if he could bring them by for a look. That charming, thought-I'd-ask kind of cold-call is something Williams and her collaborator Christina van Hengel will likely be getting more of.
While the design icon is no stranger to retail—her Upper East Side shop Treillage was an era-defining showroom for 25 years—this concept is different. Rather than curate antiques or a high-end assortment from well-established names, Williams and van Hengel are focusing exclusively on artisan-made pieces from creatives in the area.
"I'm always trying to think of what isn't there, what doesn't exist," Williams tells Business of Home about the new venture. "And over the years I would see artisans at craft fairs at farmer's markets. And you would realize there was all this talent in the northwest corner of Connecticut, Massachusetts and New York state that had small artisan studios, but it was hard to find. It wasn't in one place. So, it occurred to me that if there was a cooperative that brought a lot of these people together, it could be an interesting store and a destination—because you're not going to find these things commercially available."
The homecourt advantage helps. Williams has lived in the area for 37 years (her home is within walking distance of the store), while van Hengel is a newer resident of nearby Great Barrington. The pair met through a mutual friend and connected over their taste and interest in handcraftsmanship. "Working with Bunny is such an honor, and the fact that [the designs] are all locally made is exciting," says van Hengel, whose background includes time with ethical womenswear collection Maiyet. "Working with artisans is something I'm passionate about. In the past, I've [done it] in developing countries in the fashion industry, so to be able to do that in a place where I live and learn about things made in New England was really interesting."
The space, which Williams converted from an old grocery store and reimagined with local builder Seth Churchill, is situated within that well-regarded artist's community. While Instagram can be credited for launching design careers and giving smaller studios a global reach, most of the sourcing for 100 Main happened offline—at local markets and arts organizations, through word of mouth and studio visits—over many months, says van Hengel. The pair only showcase what they love, which includes decor, tabletop, furniture and gifts in a range of price points.
While 100 Main is a year-round venture, it's also evidence of the consumer appetite for pieces that aren't mass-produced, and a reminder that specializing in small-batch goods requires a different approach. Unlike traditional retail, where an owner can hope for brand recognition and a consistent supply of inventory, an artisan-centric model is inherently different; it thrives because of a diverse product mix—something Williams believes is essential in a time when the challenge is to be an individual in a sea of sameness.
"I think it's harder to find unique things," she says, reflecting on the marketplace. "I think everybody who has a store will tell you that. Twenty-five years ago, when we opened Treillage, you could load containers from all over the world, and that's changed. Now everyone says how hard it is to find something [at the shows] that they hadn't seen over and over again. What was appealing to me about this is you're not seeing this over and over again, because this artisan only made this one basket." ("In her living room," adds van Hengel.)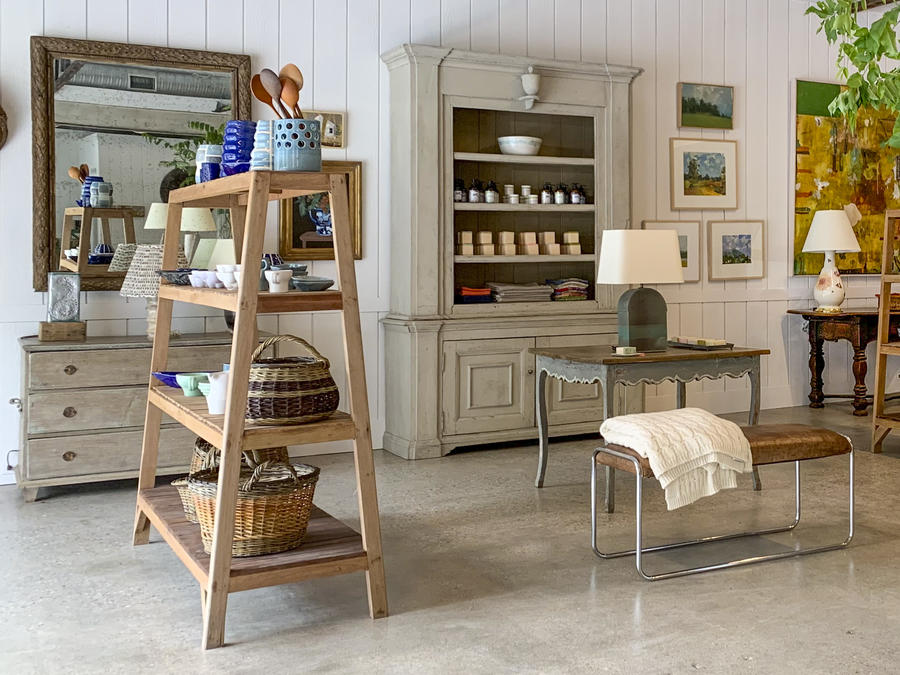 Williams also understands the power of editing. "The whole store doesn't look like the usual styled shop. There's a little bit of pottery, there are baskets, wood, fabric, jewelry. We're not trying to be a housewares or fashion store. We're buying because it's artisan work, whether it's a dog leash or furniture. So, it makes it a really eclectic place to walk into."
Retail is as much about real estate these days as it is about having a point of view. The staggering rents that have forced stores like Barneys into bankruptcy are common in big cities, but Williams owns the building where 100 Main is based—an asset that keeps overhead low. "It's allowed us to partner with artisans in a meaningful way," says van Hengel. "We're not a wholesaler. We're a cooperative, so we're able to take things on consignment and give them a better margin on their sale. And that's ultimately the priority: We want this business to thrive but it's really the artisans that we're looking out for and finding things that are really one-of-a-kind and special."
Next up, 100 Main will launch an e-commerce site, so customers near and far can experience the concept.
Even with her prolific career, Williams approaches this new enterprise with enthusiasm, and follows her instincts. "You have to be really convinced of your own sensibilities. That's what people look to me for. It may take years to develop, but you have to say and be honest about what you like and don't like, and what you find beautiful."
Homepage photo: Anne Day