St. Frank, the mission-driven furnishings and textiles brand, is branching out into tabletop. Its latest line is the Oaxacan Tabletop Collection, comprising pieces created by a number of artisan groups in the Mexican state. The materials vary, with one group working in black clay to create plates, mugs and serving bowls, another working in red clay to make serving platters and pans, a third working in hand-carved ironwood to craft salt and pepper bowls and a chessboard, and the last working in handblown glass to create tumblers.
The handmade pieces range in price from $15 to $120. What's the reason for the growth into the new category? St. Frank founder Christina Bryant wanted to expand into tabletop because "entertaining is central to the St. Frank home."
The company's mission is to partner with artisan-focused entrepreneurial organizations that work within their communities and offer jobs, training and other support.
Each of the four chosen materials, the brand says, brings to bear its own unique history. Black clay is achieved as a result of an oxidation process free of chemicals, lead and glaze. "These pieces have been fired at a high temperature, a technique used in the Oaxacan valley for centuries to reduce porousness and increase durability in Mezcal and water containers," explains the brand. The tabletop pieces made of red clay are crafted by hand, without the use of a potter's wheel, using a pre-Hispanic technique traditionally used to create kitchen tools—those tools were then used to cook tortillas. It's a technique that continues to be passed down among the women in the Central Valley of Oaxaca.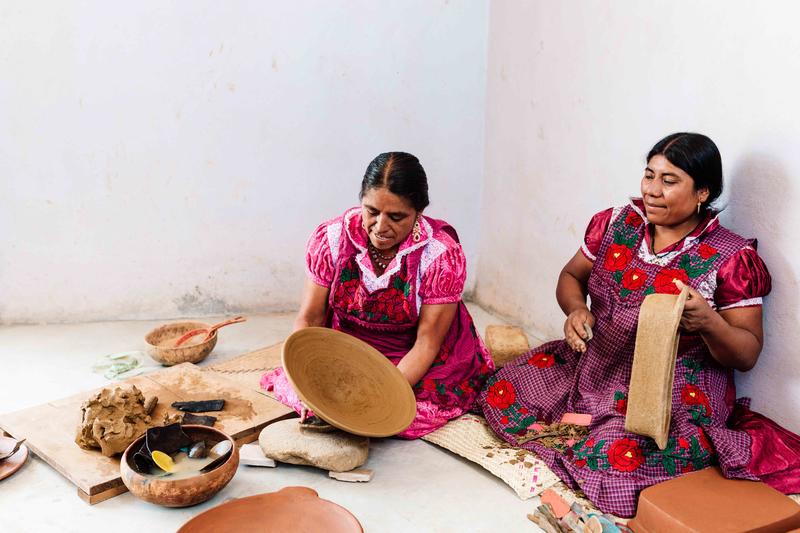 The crafting of ironwood is what St. Frank terms a collaborative process. "The men create the rough shape of a piece by cutting wood with a machete, then the women file in the details and add the final polish. Traditionally, ironwood was used to create a mortar, or molcajete, for grinding spices."
The pieces in the line made from handblown glass are from a longtime lineage—crafted in an area in the adjacent state of Hidalgo, where "the entire community works in a family-owned factory established 30 years ago," the pieces are handed back and forth among masters until they reach completion.
The collection makes its official launch this month.