Deep in the throes of the coronavirus, the business landscape has adapted in countless ways. This week, one of the first pandemic retail concepts (if not the first) has opened with surprising specificity—Covid-19 Essentials is a new nationwide chain specializing in of-the-moment wares like customizable masks, hand sanitizer, and devices to push elevator buttons. As the business world continues to stay nimble, read on for headlines, launches and events, recommended reading, and more.
BUSINESS NEWS
Small businesses across the U.S. that have taken advantage of the Paycheck Protection Program are facing the loan forgiveness phase—but what exactly does that mean? While many business owners are ready to apply for loan forgiveness, several lenders aren't accepting applications yet. Through the PPP, more than 5.2 million business owners borrowed a total of $525 billion from banks and other lenders, reports The New York Times. The momentum on these loans has come to a standstill, though, as lenders eagerly await a possible economic relief bill from Congress before allowing borrowers to apply for government payoff. With the election just weeks away, however, the passage of such a bill is far from certain.
Airbnb has had a stressful year. The home-sharing platform was slated to IPO, but when pandemic shutdowns all but halted the hospitality industry, the company was forced to reevaluate its business strategy. Analytics showed that people still wanted to travel, so the company quickly adjusted its algorithm, suggesting local vacation stays instead. As a result, the company is scheduled to report a profitable Q3, a feat that few imagined possible just six months ago, reports The Wall Street Journal. Airbnb is expected to list shares in late November or December, with a rumored valuation upwards of $30 billion (nearly twice its valuation in April).
Today, Curbed has relaunched through New York magazine. The real estate website, founded in 2004, has been redesigned to join the magazine's other sites, like The Cut, Vulture and The Strategist, as it sets out to cover life in New York City. The digital publication will feature four main sections, from coverage of the ideas and issues of city life to a curated online shop of home goods created in collaboration with Strategist editors.
There's no doubt that in real estate, it's a seller's market—wealthy city-dwellers continue to flock to areas with more space (read: doors to close), and they're willing to pay handsomely for it. Realtors, too, are benefiting from the increased demand: In a competitive market, the seller generally pays nothing to the buyer's broker, but today, many sellers are currently paying the buyer's share in addition to their own. A potential class-action lawsuit filed last year against the National Association of Realtors, which a federal judge in Illinois recently allowed to proceed, argues that that dynamic is unfair. According to The New York Times, the lawsuit alleges that the NAR artificially inflates rates paid to real estate brokers through commissions and property databases called multiple listing services.
Fredericia Furniture has acquired Svendborg, Denmark–based furniture manufacturer Erik Jorgensen, known for its production of the Hans J. Wegner Ox chair, Borge Mogensen's Spanish chair, and other modern designs. The acquisition will bring the two separate brands under one umbrella, keeping Erik Jorgensen's production in Svendborg while strengthening its ability to supply a global market.
As online shopping rates continue to soar, Shopify's recent investment into physical retail locations is proving savvy as the company faces an unrelenting demand for e-commerce fulfillment. Since the start of the year, Shopify orders and revenues have been steadily growing, reports The Wall Street Journal, and in utilizing the Shopify Fulfillment Network of brick-and-mortar warehouses, the company sees itself as a supporter of small retailers as they fight for survival in the age of Amazon. The market for retail logistics is continuing to grow, and investors are taking notice—the ecosystem of order reception, packaging and fulfillment is expected to grow by 23 percent by year's end.
LAUNCHES, COLLABORATIONS & PARTNERSHIPS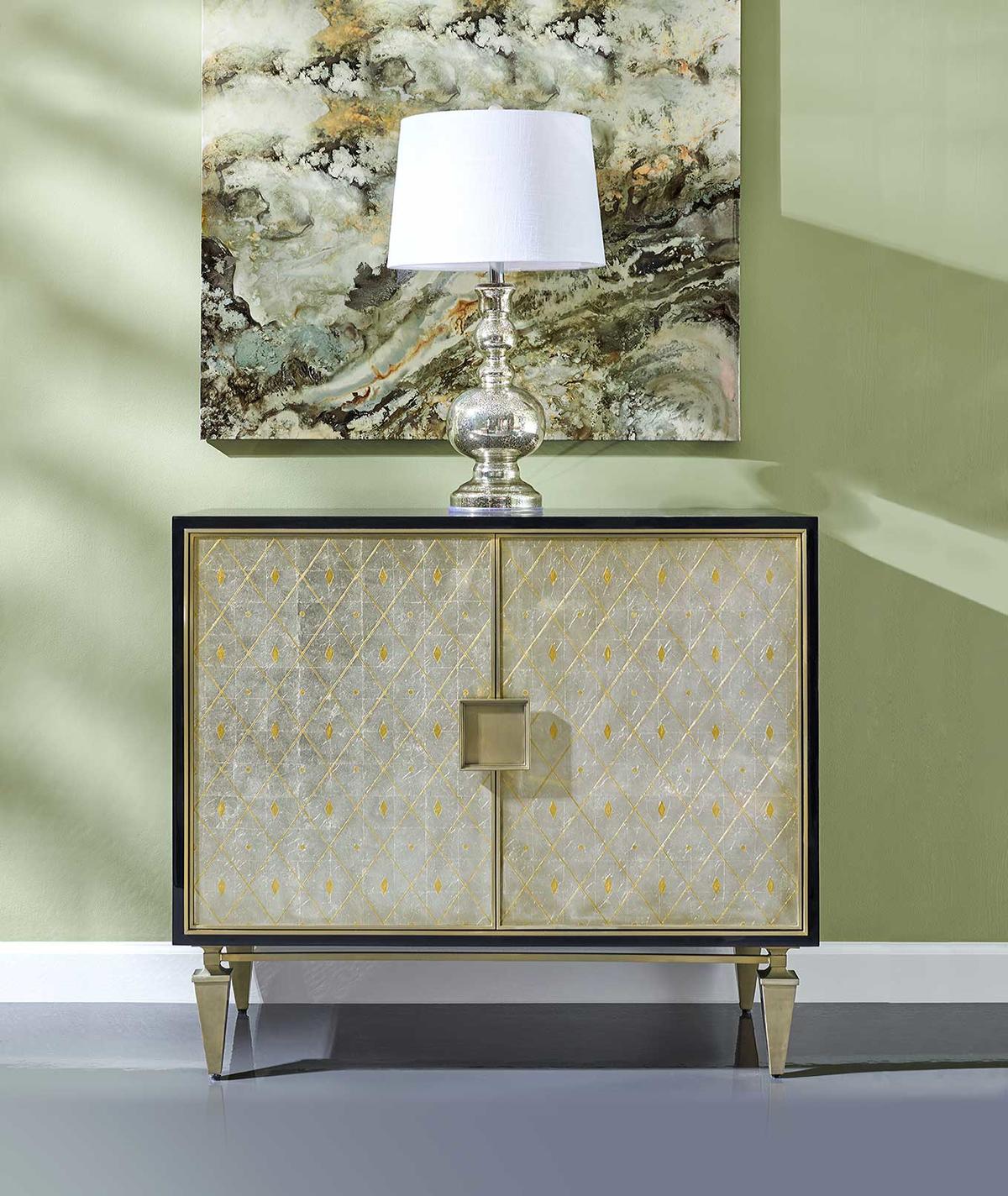 Courtesy of Jonathan Charles
Three new furniture manufacturers have joined the High Point x Design collective—Thayer Coggin, Jonathan Charles and Lancaster—bringing the total number of showrooms that have joined the initiative to pursue a year-round Market presence to 19.
Apple has announced a new version of its high-tech home speaker, HomePod Mini. Derived from the original HomePod speaker, this new model features the same suite of smart home capabilities, but in a more compact size (and a more affordable price point of $99). The HomePod Mini goes beyond playing music by acting as a control center for the home, bringing light control, door locking and other voice-automated commands into one system.
On the same day, Apple also debuted its new iPhone 12, which comes with a depth-sensing lidar sensor as part of the camera array—a technology that some are predicting will speed up the ubiquity of 3D modeling in the design industry.
Design Advocates, a New York–based nonprofit, launched in April as a response to the decline of local small design businesses. What began as a platform for collecting data and empowering companies has now expanded into a collective effort, matching designers with businesses in need, and offering pro bono design services to various community organizations.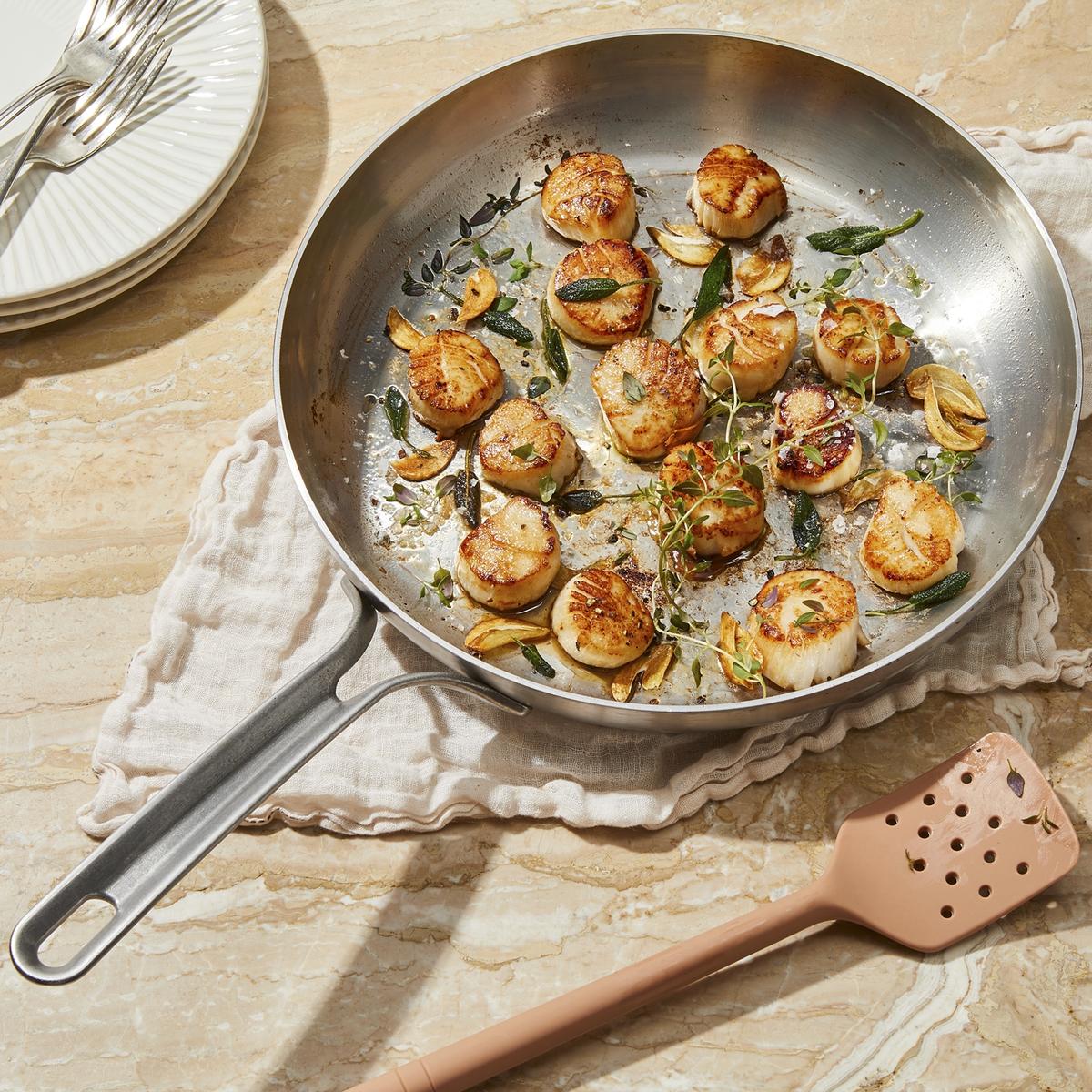 Five Two by Food52, the home cooking blog's line of home and kitchen products, has debuted at Nordstrom. The retail partnership marks the first time that consumers will be able to shop Five Two products in person.
Ceramics retailer Jono Pandolfi and digitally native bedding brand Parachute have teamed up to launch a limited-edition tabletop collection—a series of minimalist plates, bowls and oval serving dishes that come in a variety of sizes, in an alluring forest green glaze.
Fabricut is breaking into a new category: leather. With its first collection, the brand is bringing dozens of tones to market, from warm pinks and tans to turquoise and blue colorways.
GE is expanding its portfolio with the introduction of 19 new products in a breakout category for the company: small appliances. Items like coffee makers, toasters, blenders and food processors will join its existing repertoire of major kitchen appliances.
Lighting systems manufacturer Acuity Brands has partnered with Violet Defense, an innovator of patented germicidal UV lighting technology. The deal gives Acuity Brands access to patented bacteria- and virus-killing technology to create UV disinfecting solutions for various industries.
The Josef and Anni Albers Foundation, a Connecticut-based arts nonprofit, has launched a rug collection with British textile brand Christopher Farr—two geometric designs, each available in two colorways, that celebrate the renowned Bauhaus couple's designs.
CALENDAR UPDATES
The National Kitchen & Bath Association has announced that the 2021 edition of KBIS will transition to an entirely virtual format due to health concerns and travel restrictions. From February 9 to 11, the eighth annual trade event will feature extended programming, and registration is free to NKBA members.
SHOWROOM REPRESENTATION
Beginning this fall, New York–based artist and designer Sarah Von Dreele will bring her signature wallcoverings to the West Coast through Hewn Showroom in San Francisco.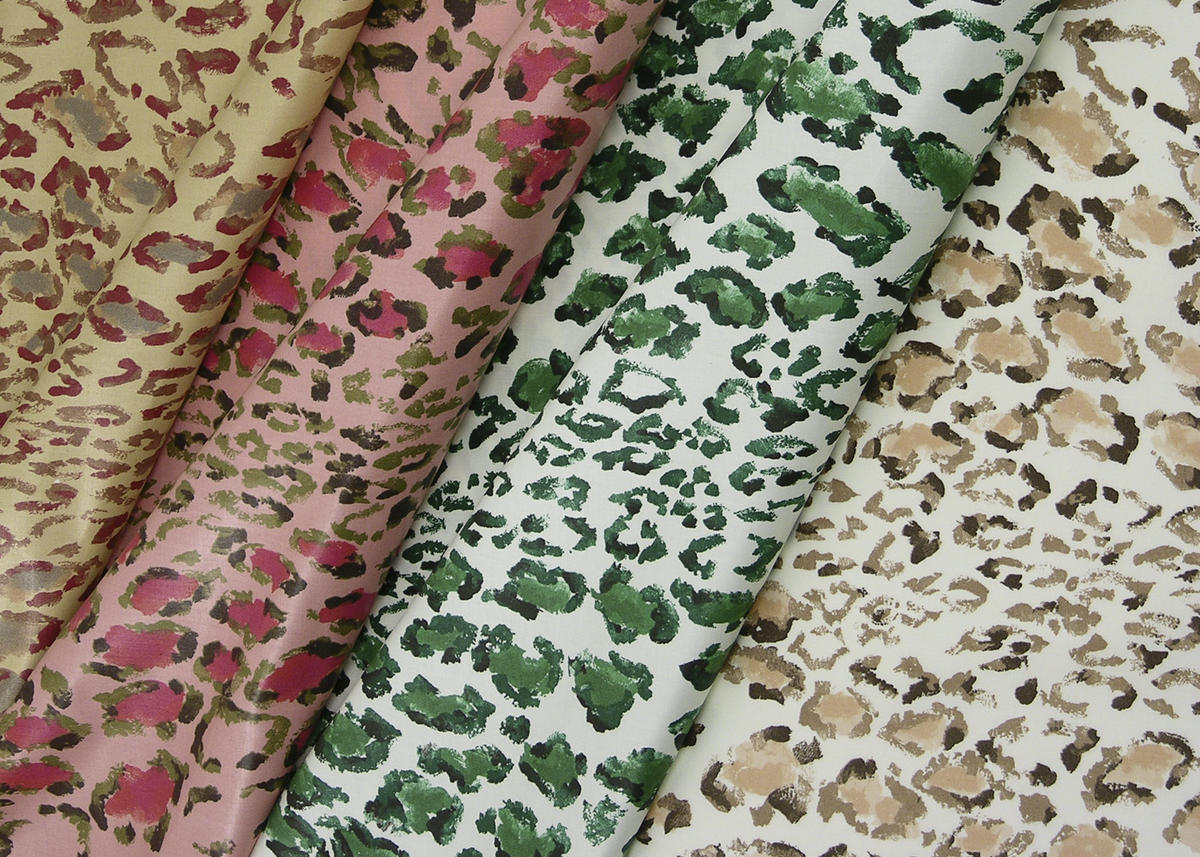 Courtesy of Rose Cummings Chintzes
Rose Cumming Chintzes and Classic Cloth are now being represented by Clarence House's New York showroom, a year after interior designer Lauren Hudson acquired the two brands and incorporated them into the Wells Textiles portfolio.
RECOMMENDED READING
This week, British luxury car designer Aston Martin revealed the plans for Sylvan Rock, a Hudson Valley home created in collaboration with the American firm S3 Architecture. The black cedar home is the first to be completed as part of Aston Martin's Automotive Galleries and Lairs service, an experiential residential concept that features car galleries as part of a livable home, and Dezeen spoke to the designers on the project.
While travel restrictions try our patience, New York Times photojournalist Alex Ingram has gifted a reprieve: A new photo series grants a look at the lives of the caretakers who live on the small islands peppering Britain's coast. From their personal collections and homes to the wildlife they oversee, it's a beautiful survey of the places they call home.
In the COVID era, comfort is key—and while there are many ways of creating cozy spaces, one obvious way is to round out the edges in a room. In The Wall Street Journal this week, writer Christina Poletto puts a pandemic spin on the curved sectional sofa, explaining why, aside from its versatility, the design is a fit for the times.
CUE THE APPLAUSE
The Interior Design Society has announced the recipients of its Designer of the Year Award. Announced virtually last week, the awards honor outstanding projects across more than 30 categories. The best Universal Design went to Juneau, Alaska–based Bauer/Clifton Interiors; Little Rock, Arkansas–based Shayla Copas Interiors was awarded the best whole home under 3,000 square feet; and Dallas-based firm Yates Desygn won best whole home 3,000 square feet and above. To view the full list of winners, click here.
Robert A.M. Stern Architects
New York–based architect and former dean of Yale School of Architecture Robert A.M. Stern has been awarded this year's Andrée Putman Lifetime Achievement Award, recognizing his lifelong contributions to advancing the architecture and design industry through his work and commitment to education.
U.K.-based interior designer Kelly Hoppen has been distinguished as Commander of the Order of the British Empire, an honor reserved for individuals who play a prominent role in leadership at the national level. Hoppen's proactive stance on small business government initiatives and the mentorship she provides to entrepreneurs has helped British businesses expand into international markets.
Hudson Valley–based luxury bed linen brand TL at Home has launched Gratitude & Giving Back, a new annual charitable program that will run every October. This month, the company is donating bedding sets, as well as directing its customers to donate directly to the organizations it selects. The initiative will benefit two partner agencies: PS21: Performance Spaces for the 21st Century (in nearby Chatham), which dedicates itself to providing arts opportunities to all; and the New Hampshire chapter of domestic violence victims support organization New Beginnings—Without Violence and Abuse.
Pelham, Alabama–based Gabriella White, parent company to furniture brands Summer Classics and Gabby, has announced a national partnership with Children's Miracle Network Hospitals. The company will focus on raising awareness for the collective support of children's hospitals across the country, and driving more than $100,000 to CMN Hospitals over the next two years.
The Sustainable Furnishings Council has announced its 2020 Wood Furniture Scorecard, an annual assessment of large retailers that ranks sustainable wood practices. Criteria include having a robust wood sourcing policy available in the public domain, demonstrating policy implementation, and effectively promoting forest preservation. Top-scoring big names include Williams-Sonoma Group, Crate & Barrel, Target, and Ikea North America. The awards will be announced on October 15 in a virtual presentation; to learn more, click here.
CALL FOR ENTRIES
Kitchen, bath and furniture recycler Renovation Angel and The National Kitchen & Bath Association are now accepting nominations for the second annual Luxury Kitchen Recycling Awards. The awards recognize outstanding design professionals for their commitment to responsible renovation—eligible projects must have been created using at least 50 percent recycled or donated materials. Nominations will be accepted until November 20; to submit a nomination, click here.
Homepage image: A table set with pieces from the Jono Pandolfi x Parachute collection | Courtesy of Parachute