Earlier this year, Fabricut announced it had purchased the iconic textile brand Clarence House from P/Kaufmann. The deal officially went through on August 1. After three weeks of taking stock, Fabricut's first big move? Pulling Clarence House offline. The brand will no longer be sold through third-party websites like DecoratorsBest or L.A. Design Concepts.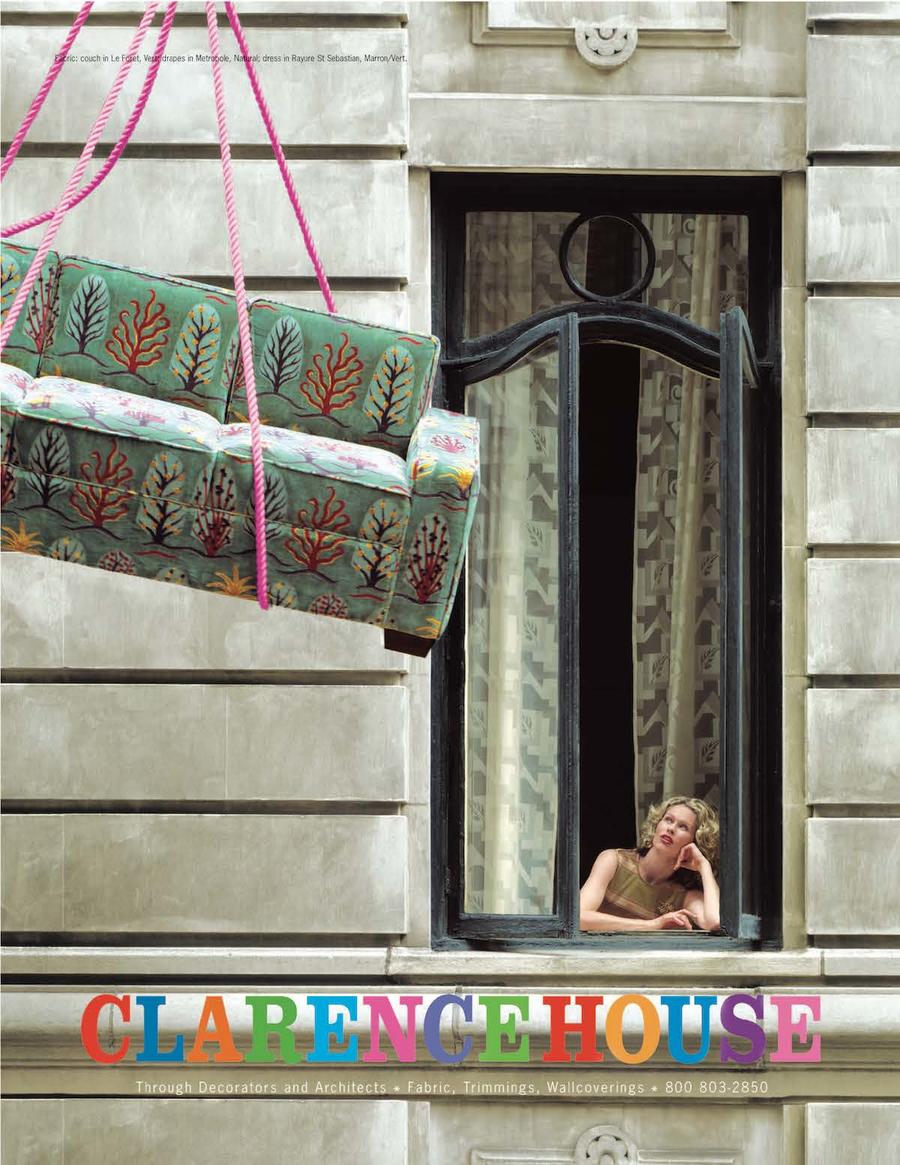 Courtesy of Clarence House
"We feel as a company that if we're going to market Clarence House as an iconic brand, we have to be true to it," David Klaristenfeld, vice president of Fabricut, tells Business of Home. "And if we're going to be true to it, we're going to be selling to interior designers, and it shouldn't be available to anyone who just wants to buy it online at a price that's pretty similar to what the designer is paying."
Online fabric sellers operate in a nebulous twilight zone between the trade and open retail—they're often used by designers, but are open to the public as well. Klaristenfeld says that Clarence House has historically earned between $150,000 and $200,000 per year through such sites—less than 10 percent of overall sales, but a solid stream of revenue. He hopes the move, although a temporary hit to income, will burnish the brand's reputation and pay off in the long run.
"We may be giving up hundreds of thousands of dollars from this online retail business," he says. "[But] we feel that in order to really bring Clarence House to the level that it was when Robin Roberts started it and when Kazumi Yoshida built it up, we have to make certain decisions that won't necessarily benefit us in the short term, but hopefully in the long term will help us."
The rise of e-commerce has presented fabric houses with a complicated set of parameters. Selling online offers access to a potentially huge market. However, getting into that market carries the risk of angering designers, who have historically enjoyed exclusive access to the product. Selling through third-party sites, where luxury goods are robbed of context and displayed next to budget options, also carries the risk of devaluing a brand.
Unsurprisingly, different companies have different approaches to the dilemma. Scalamandré has explored ways to sell its patterns online (like its collaboration with The Inside) while still maintaining certain protections for the trade—preferred pricing and exclusivity on certain colorways, for example. Chad Stark, president of Scalamandré, often describes these moves as an attempt to reach a younger, digitally native generation of designers who are less entrenched in traditional trade relationships.
Klaristenfeld acknowledges the complexity of the market, and sees this move as tailored specifically to a high-end, high-art brand like Clarence House. "Fabricut and our other brands do exceptionally well with online retailers, but our price points are so much lower to begin with than Clarence House," he says. "If you want this product, you should go find an interior designer to help you get this product. … I hope interior designers will understand that we're doing this in order to protect them."
The move is the first step in Fabricut's plans for Clarence House. Next, Klaristenfeld is planning to expand the brand's presence into international markets, starting with a more beefed-up presence in Canada and Europe. He intends to continue selling Clarence House through multi-line showrooms like Kneedler Fauchère and Jerry Pair, as opposed to bringing the product into Fabricut corporate showrooms. The goal is to let Clarence House keep being Clarence House—not to change it, but to grow its reach.
"We can really try and make this as iconic a brand in the United States as Pierre Frey is in France," he says. "We feel like we've been given an American national treasure that we want to take really good care of and make sure we do right by. We feel like this is a good first step."
Homepage photo: Courtesy of Clarence House