"Many people at the company thought I was trying to replace them with robots," says Chad Stark, of his efforts to introduce technological advances to his family's 80-year-old business, Stark Carpet. "To an extent, people still feel that." For the record: Seven years in, Stark has not hired a single robot. He has, however, continually pushed to bring experimentation and innovation to an industry that's often quite comfortable with the old way of doing things, thank you very much.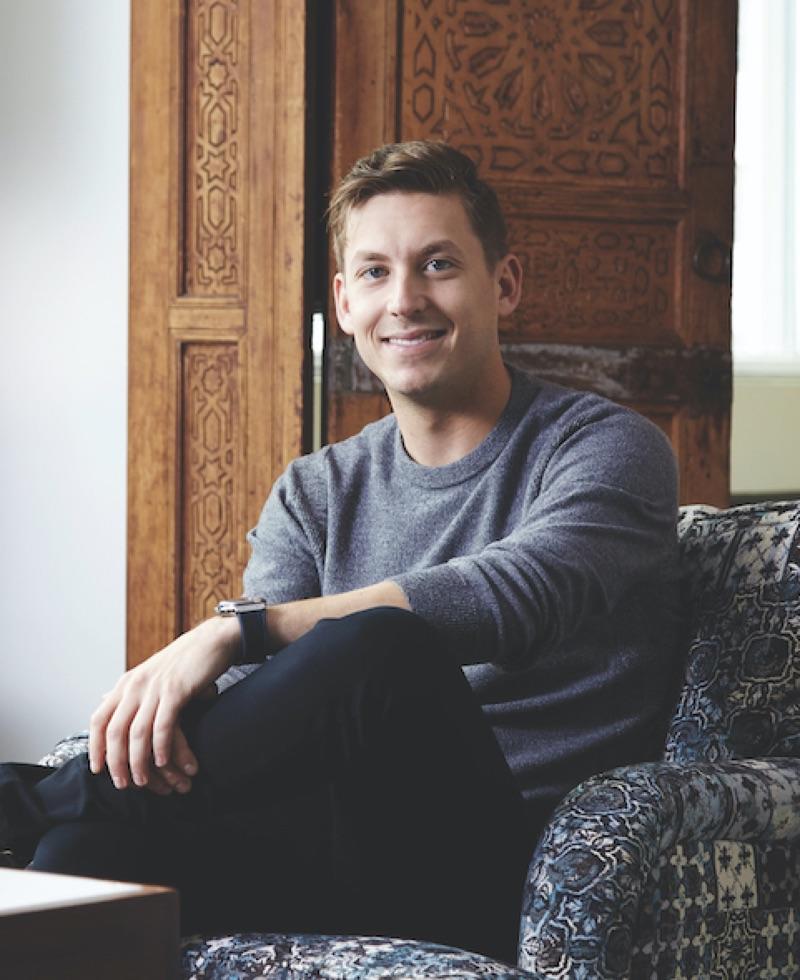 Genevieve Garruppo, courtesy of Stark
Stark grew up in the business, playing hide-and-seek among antique rugs and helping his father (who had taken over the company from his father) calculate commissions on sales at the kitchen table. After college, he worked briefly on a few startups, thinking he'd make a name for himself in tech. Eventually Stark was drawn back in, realizing he could bring the energy and innovation of a startup to build a legacy at a company that already bore his name.

His timing was fortuitous: The industry he grew up in has been changing. "It used to be, if you had the best product, you won," he tells host Dennis Scully on the latest episode of the Business of Home podcast, sponsored by Universal Furniture. "Our world had limited suppliers, and it was hard to find them. But the world is now flat, and we're not in a supply-driven economy—we need to generate the demand, not just the supply."
Most of the shifts—consumer demand for quicker service, more information and transparency—can be boiled down to the internet. But Stark argues it would be a mistake to bemoan the rapid pace of change. The real challenge, and the real opportunity, is less about "technology" than technology's ability to deliver customers what they really want. "There's nothing more threatening to a business than not being customer-centric," he says. "No technology [alone] can put you out of business. Netflix's technology didn't put Blockbuster out of business. Blockbuster thinking they knew everything and didn't need to change put them out of business."
So how can a legacy brand avoid getting Blockbustered? Stark has been experimenting with a variety of changes, many focused around reframing his company's selection in new ways, even selling direct to consumers via sites like One Kings Lane, Chairish and Perigold. Interestingly, Stark has discovered that these initiatives didn't (or haven't yet) really connected with a consumer audience. They have, however, made an impression on a new generation of digitally native interior designers, who may have previously considered Stark out of reach.
"Whether they can buy from us today or not, we need to make sure they know our brand," says Stark. "The two biggest threats to our business are that people will stop using designers—which I don't think will happen—and that we can't relate to the next generation of consumers."
Stark sees these kinds of changes as bullets versus cannons, he says. They're small-scale tests designed to collect information about the market's direction. Some will work, others won't. However, they're all organized around a central thesis: As a generation of clients raised on the speed and transparency of the internet comes of age (and budget), the business of design will pivot toward greater convenience and openness. Makers who can adapt will thrive. Those that cling to opacity and exclusivity will fail.
"The reason [doing business in design centers] is not consumer-friendly is because of this notion that our industry has always been trade-only," says Stark. "Until people can wrap their head around the reality [that] we're not all trade-only, we're trade-preferred—that's the answer. Until we have that mindset, it's never going to change."
The same changes, Stark thinks, will apply to designers themselves. Not that changing will be easy. "I believe that the model of fixed fee plus hourly is [an interior design pricing] model for the future," he says. "I think it's the most customer-centric. The challenge is the most profitable way designers make money is doing a markup on product. So it's hard to move away from that—and not every firm has to move away from it. If you have clients who can afford it, then no problem. But I think the consumer of the future is not going to trust [markups on product]."
It's a lot to process, but Stark is optimistic. He encourages his own staff and future-oriented designers to adopt a mindset of innovation. "It's playing to win, not playing not to lose," says Stark. "We're often worried about upsetting what we have, so because of that we don't try to go after something new. It's tough, but to be innovative, you have to play to win."